DJI Mavic Mini Drone – Aerial photography Gadget for Novices
Before the release of DJI Mavic Mini, DJI Mavic Series drones has always been the high-end product oriented towards common consumers. Recently, DJI has released the new drone – Mavic Mini, which weighs just 249 grams. Mavic Mini, designed for those novices in aerial photograph with drones, will go on sale officially on November 11th.
Contents:
Overview:
Mavic Mini drone keeps adopting the unique foldable design of the Mavic series and it weighs only 249 grams. This Mavic Mini was equipped with a 3-Axis Gimbal and CMOS sensor of 1/2.3 inches in support of 12 million pixels. And this device supports 2.7K/30fps or 1080P/60fpd HD videos.

Moreover, the dedicated remote controller for Mavic Mini maintains an HD video feed at a distance of up to 4 km. And a fully-charged Mavic Mini battery enjoys up to 30 minutes of flight time with the highest flying altitude of 3,000 meters. Thanks to GPS and advanced sensors, Mavic Mini can also hover precisely.
Pros:
1. 249 g foldable Ultralight, making it rather light and portable.
2. Easy-to-use. Mavic Mini is equipped with a DJI Fly app built in numerous aerial photography and editing templates, so you do not have to learn how to operate and edit.
3. Enjoy up to 30 minutes of flight time with a fully-charged battery.
4. 4km HD Video Transmission
5. 3-Axis Gimbal 2.7K Camera
Cons:
1. Micro USB Charging ports
2. Loss of professional mode
3. Weak wind resistance
4. With only Bottom-view obstacle avoidance
5. Image transmission available only with WIFI
Besides, compared with other products of the Mavic series, DJI Mavic Mini reduced the equipment about the Flight control and safety system, but it kept the GPS and lower visual sensor, hence making it supportive of automatic return. Mavic Mini is firstly equipped with DIY Creative Kit and a series of fashion accessories, so users are able to build their first drone on their own.
Appearance
Mavic Mini is almost as small as a can of coca-cola and as light as a smartphone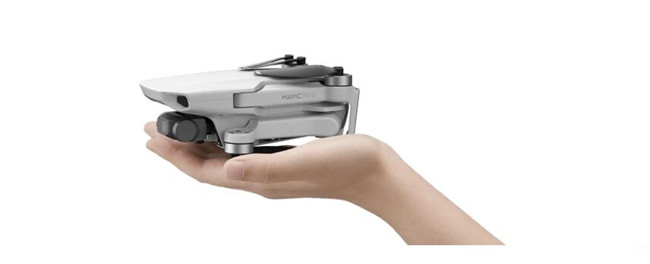 How small is it? The 3D structure of Mavic Mini resembles that of coco-cola (or even thinner than coco-cola). We can recall that when the first generation of Mavic has been released, it was officially announced that this series can be placed in bags like a bottle of mineral water. While, two years later, Mavic Mini has been shortened to a can of coca-cola. To our astonishment, Mavic Mini with a weight of 249 grams, weighs less than a can of cola. It weighs just like my iPhone 11 Pro Max plus the phone case.
Previously, although Mavic Spark was also the drone featuring compact and small, its flight arm was unable to fold. That was also the flaw of the Mavic Spark at that time. On the contrary, the BWH and size of Mavic Mini are well-managed. If you are to spread it out, Mavic Mini will still look like the size of a book; along with the Propeller Guard on this device, perhaps there is also a need to place the drone on the storage box.
Mavic Mini is exceptionally portable
In terms of drones, it seems more exciting to see their size and weight shrunk than to see the performance enhanced. For most people, they can only fly the drones in the places that are not no-fly zones for a few times, so there are no more demanding requirements for the drones. But if the size of the drone can be smaller, it will make it more portable. In this way, users can put their Mavic Mini in their pockets, and at the same time, they can fly it on more occasions.
249 grams
Especially, the weight of 249 grams is also a special design of Mavic Mini. Apart from its portability, this drone, a product from a Chinese company, also caters to the need of the Chinese market. In accordance with the related regulations in China, it is required to register with the real name if you are to purchase a drone with a weight over 250 grams, otherwise, you do not have to.
Camera
Due to the smaller size of the drone, the smaller camera is unable to equip with a larger CMOS, therefore Mavic Mini almost shares the same camera hardware as Mavic Air. That is to say, Mavic Mini will continue using a CMOS sensor of 1/2.3 inches in support of 12 million pixels.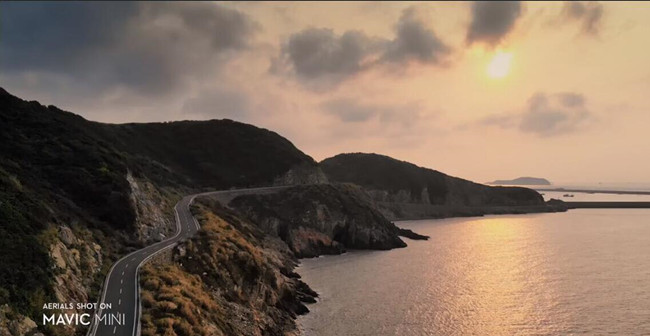 This Mavic Mini was equipped with 3-Axis Gimbal and CMOS sensor of 1/2.3 inches in support of 12 million pixels. And as for videos, this device supports 2.7K/30fps or 1080P/60fpd HD videos.
Mavic Mini's QuickShot modes
There are no fancy shooting modes on the Mavic Mini. By contrast, what you will see are some pragmatic modes customized for novices. For instance, Mavic Mini supports one-click video shooting, and with simple settings, the drone will fly automatically in line with the default path and shoot a video automatically along the path. And it is also convenient if you want to share the shot videos to Facebook or Twitter.
Four shooting modes available for Mavic Mini
Dronie: Suitable for group photographs. Mavic Mini will go up straightly with the camera looking down the targets.
Rocket: Suitable for selfies and photographing of a small group. In this mode, Mavic Mini will fly backward and upward with its camera following the targets.
Circle: Suitable for photographing stationary buildings. In this mode, Mavic Mini will circularly fly centering on the targets and shoot fantastic videos.
Helix: Mavic Mini will spirally fly focusing on the targets.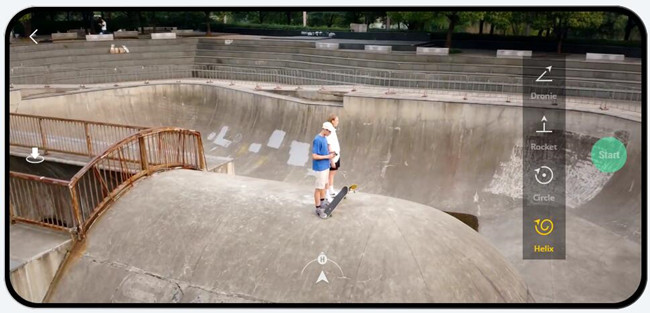 Overall speaking, it is not required for novices to use complicated settings. Basically, a click will be powerful enough to photograph the photos as you wish.
A new mode of stability
There is also a serious problem facing the novices. Most novices would be afraid that the drone would fly unstably and it is dangerous if the drone flies too quickly. Under this circumstance, Mavic Mini has not only kept the Sports Shift but also added the Stable Shift. In the Stable mode, the drones will be slower and more controllable in flying, which is suitable for novice as they will not be mentally pressured even in a complicated environment or indoors.
The Charging Base
It has improved a lot regarding the battery. Mavic Mini has changed its battery from the integrated battery case on the previous Mavic series to the changeable charging batteries. And each changeable battery on Mavic Mini has a capacity of 2400 mAh and it is installed like the structure of DSLR. In order to prolong the enduring time of Mavic Mini, DJI has equipped three batteries and a charging base for it. And all these equipment along with the monitor can be perfectly put in the storage box.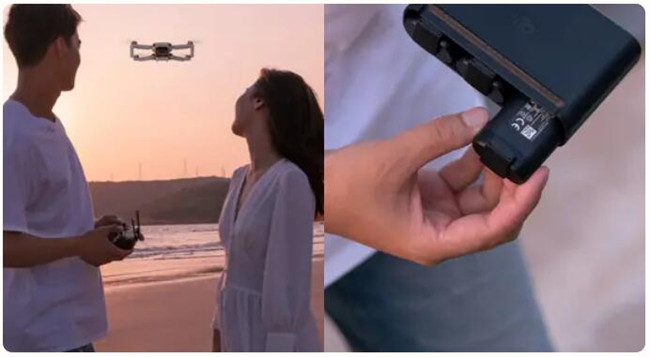 The customized DJI Fly App
The interface of DJI Fly App is must simpler than that of DJI Go and you can also learn some knowledge like flight functions, techniques, and safety in DJI Fly App. In this new app, it is available for you to edit the videos directly, which is exceptionally similar to the function of DJI MIMI targeting the Motion cameras. Additionally, users will be recommended the popular spots for aerial photograph by this app, hence you can find it convenient and fast to find out the best place for aerial photograph nearby.
Summary:
Mavic Mini may not be the best drone, but it is absolutely the best drone for novices.
DJI Mavic Mini has stepped onto a new stage in striking a balance in drones. Mavic Mini is more portable than Mavic Air, more powerful in performance than Mavic Spark, and more user-friendly for novices with no significant decline of user experience even at the expense of transmission distance of image transmission, the size of the monitor, and some modes of photographing.
Simple Q&A:
1. What size does the smartphone should be to fit for the monitor of Mavic Mini?
Mavic Mini supports all the common smartphones on the market, but it is not advised to use the phone shell when using the Mavic Mini monitor.
The size reference range for suitable mobile phones: thinness: 6.5-8.5mm; length: no more than 160mm.
2. What methods does Mavic Mini support to control the drone?
Only the standard monitor can control the drone and Mavic Mini does not support to be controlled by WIFI.
3. What is the battery life of Mavic Mini?
When fully charged, the fight time of Mavic Mini reaches 30 minutes.
Measurements were taken with no wind at a constant speed of 14 kilometers/hour.
4. How long does Mavic Mini need to charge?
At the fast charging speed of 18W, it will take a battery 90 minutes to be fully charged.
5. What app does Mavic Mini need to control the drone?
Just use the DJI Fly App. It is specially designed for aerial photography. And with its simple and brand-new interface, intuitive operation, understandable Fly Tutorials, and a better editor, Mavic Mini will help you fly the drone so long as you get it.
6. How to upgrade the firmware?
Upon DJI Fly App is connected, it will automatically detect the current firmware version and then prompt you to upgrade your firmware if there is any. And you can successfully upgrade the firmware in line with the instructions.
Review overview
Summary
DJI Mavic Mini is an aerial photographer suitable for beginners. As a cost-effective product, it allows beginners to quickly enjoy the fun of aerial photography.