MalwareFox Review – Full Protect Your Computer
Review overview
Malware Detection (Adware, Ransomware, Rootkit, Spyware)
9.3
Summary
malwarefox is a very powerful software. It can remove viruses from your computer with one click, remove Adware, Spyware and other Malware, etc. It is also a Browser Hijacker removal tool, you can use it to clean annoying ads, unwanted toolbar and search in one click.
MalwareFox is an anti-malware program that provides your computer with advance protection against various types of malware attacks such as Adware, Ransomware, Spyware, Trojans, Browser Hijackers. It claims to work on signature-based detection and also analyze the behavior of the program.
Contents:
Is MalwareFox Free?
When you install MalwareFox for the first time, you will get the premium features enabled for the first 15 days, without any payment. After 15 days, it will be still available for free but the premium features will be disabled.
For getting the premium features there are 3 plans to choose from.
What are the Features of MalwareFox?
The Premium Version of the MalwareFox provides really good and useful features. They don't provide any fancy feature and that is their best part because it makes their application very light and effective. The premium version of MalwareFox includes the following features:
Malware Detection and Removal
Repair files damaged by Rootkits
Browser Cleanup
Ransomware Protection
Prevent Infection Real-Time
Zero-Day Attack Protection
24×7 Support
You get the top three features in the free version too.
Pros and Cons of MalwareFox
After looking at the features if you are still confused about buying the MalwareFox let us list out the Pros and Cons for better understanding.
Pros of MalwareFox Anti-malware:
(1) Easy to Download, Install, and Set-up
From amateur to advanced, everyone uses the computer or mobile system and need anti-malware programs to keep their device safe from external threats.
So, such anti-malware programs must be designed in such a way, that even a basic system operator can install it easily. They shouldn't need any expert to handle the installation process.
MalwareFox doesn't let you drop a sweat in this part. It is quite light, just around 6 MB in size.
For installing MalwareFox you have to follow basic, simple steps.
Enter your preferred language
Read and Accept the terms and conditions
Choose the installation location
Create a desktop icon or add it into Start Menu
That is, it. The program is installed on your system and now will update itself by the latest files. The update also happens quickly, though it depends on the internet speed.
(2) User Interface
The User Interface of the MalwareFox looks classy and not at all confusing. It has all the basic features which should be available at the home interface. A user who rarely uses a computer can easily understand and navigate throughout the program.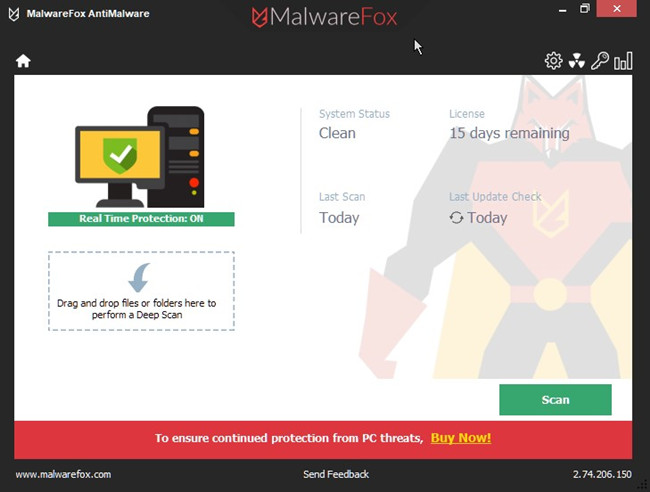 (3) Performance
As mentioned earlier, the MalwareFox is a quite light application. It doesn't have heavy features to overload the anti-malware program's work.
When I scanned a file of size 33 GB with MalwareFox, it took just 29 seconds for a full scan.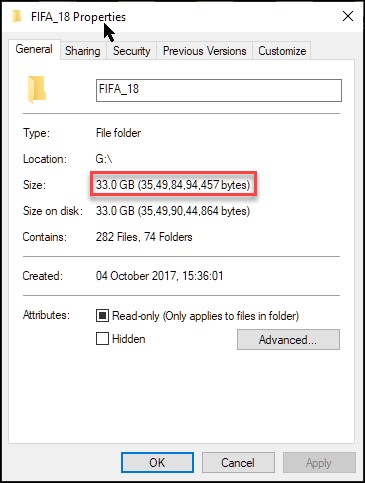 During scanning, the CPU usage of MalwareFox was just 20% and RAM occupied was just around 100 MB. Even during the real-time protection, the RAM usage was just 50 MB.
Since it doesn't use much of the system resources, you can easily perform other tasks on your system while it is scanning your device in the background.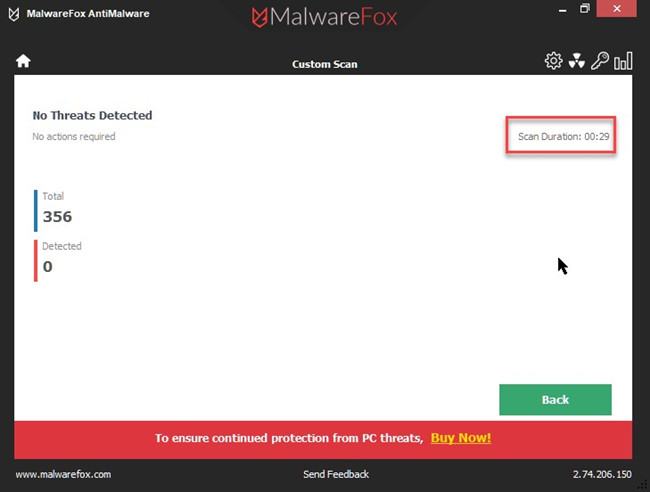 (4) Doesn't interfere with other security suites
Another great advantage of MalwareFox is that it compliments with other security programs already installed on your system. It doesn't force the user to uninstall other anti-virus or anti-malware programs.
The best compatibility of MalwareFox is with the Windows Defender. Whenever you install MalwareFox in your system, the Windows Defender will stop its real-time protection and let MalwareFox do the work.
Cons of MalwareFox Anti-malware
It is really difficult to find cons among so many pros of MalwareFox, but here are some of them.
(1) Does not Provide Password Vault
Unlike other premium anti-malware providers, MalwareFox does not provide the password vault even in its premium version. Although, this doesn't affect its malware protection power, having this added feature will provide a complete package to the user and they don't have to look somewhere else.
(2) Absence of firewall
MalwareFox does not come with firewall protection. Though with Windows Defender enabled, it makes MalwareFox a complete package.
(3) Only 15 days trial period
Though 15 days is sufficient for a trial, still 1-month trial can be given for a proper testing.
How to use MalwareFox for scanning?
Using MalwareFox anti-malware program is very easy. Just open the application and click on the scan button for a full system scan.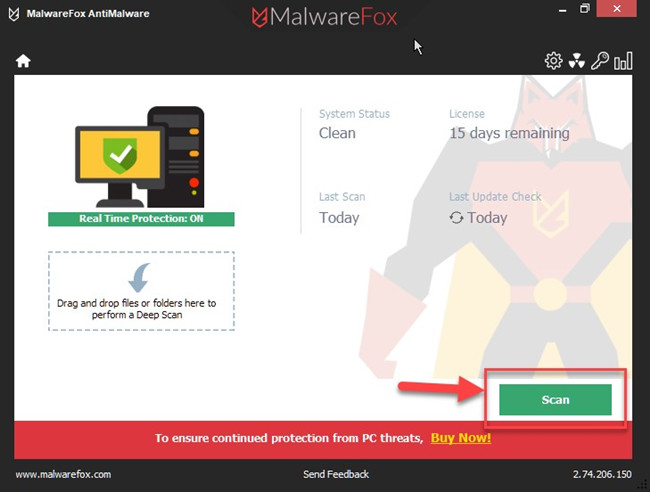 If you want to scan any file individually, right-click on it and select Scan with MalwareFox Antimalware.
Pricing
MalwareFox comes with a decent pricing. For a single computer system, you have to pay $24.95/year. If you want to buy it for your business or for multiple systems, they provide attractive offers for that.
MalwareFox is also available for Android devices at $9.95/year.
Final Verdict
MalwareFox is a great anti-malware for the people who like to use simple, easy-to-use and straight forward applications. It is lightweight yet a very strong force against the security threats coming on its way.
It doesn't come bundled with heavy features but does the best what it is meant for i.e. finding and removing malware from your system. It works silently without much troubling you with constant notifications.
All in all, it is one of the best anti-malware programs available in the market. If you are still in dilemma, you can give a try to its trial version and then opt for buying it.
More Articles:
Stay Safe With The Top 7 Windows Antivirus Software Solutions Of 2020