IObit Software Updater Comprehensive Review (2023 Update)
Outdated software may lead to usage deficiency and security affairs. So, it is necessary to update your PC's software timely. There is a tool called IObit Software Updater, which can help you manage this easily. Let's give it a review.
What is IObit Software Updater
IObit Software Updater 5 is an equipment optimization tool, which was developed by IObit in 2022. Anyone can download it to update outdated software and install recommended essential software.
Features
1. Automatic scan and update
This is the main feature of IObit Software Updater 5.
This tool will automatically scan all the outdated software on your PC each time you open it. And display it on top to let you update. You can update all by one-click or choose to update one by one.
It can also update all your outdated software automatically and keep them always up-to-date.
2. Larger update database than other software
IObit Software Updater 5 has a larger database for the mainstream and some not commonly used software, and keep renewing all the time. It can help you find newer versions for your software as much as possible.
3. Installed essential software
IObit Software Updater 5 has a Recommendation menu which will provide you essential software for you to install.
Under this menu, you can find and install different categories' software for specific purpose. Like Browsers, Remote Work Tools, Security, Social Multimedia software and so on.
4. New updating algorithm
IObit Software Updater 5 optimized updating algorithms and increase the updating speed by 150% so that you can get available software updates more quickly.
5. Safer installation
IObit Software Updater 5 abide by strict updating process to ensure no bundles or malware during installing.
6. System restore
This tool also has a feature called system restore, which can revoke careless unwanted installation by creating a restore point before installing.
Advantages
Free version can provide all main functions
Push available software updates timely
Update and install instantly
Recommend useful software for your PC
Disadvantages
Only supports Windows OS
Free version with unwanted advertisements
How to Use IObit Software Updater
Before using IObit Software Updater, you should Download, install and run it on your PC.
Update outdated software
Process:
1. When you open IObit Software Updater on your PC, it will automatically scan for program updates.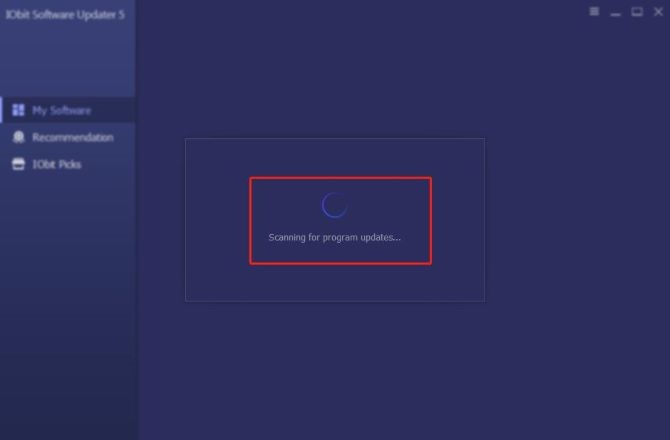 Then list all the outdated software and all the other already up-to-date software on your PC.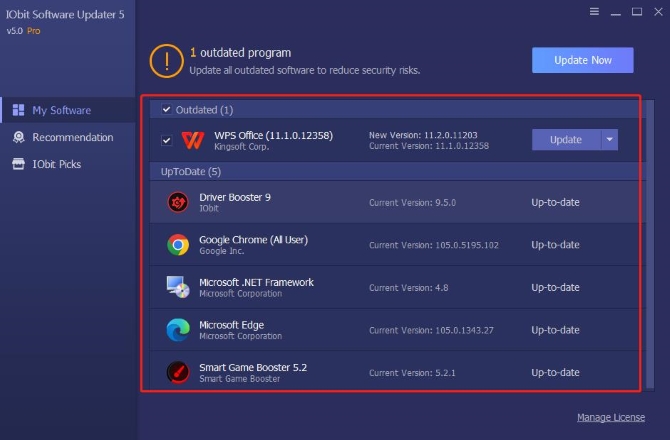 2. Click Update button on the right of each outdated software to update one by one or click Update Now to update in bulk.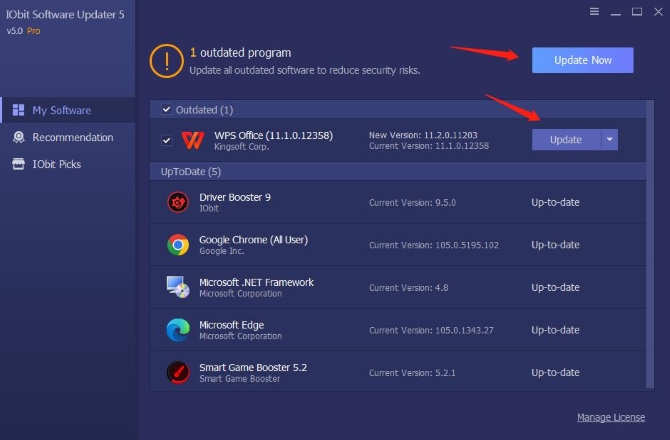 If you don't want to update the software, you can choose Ignore item from the drop-list menu.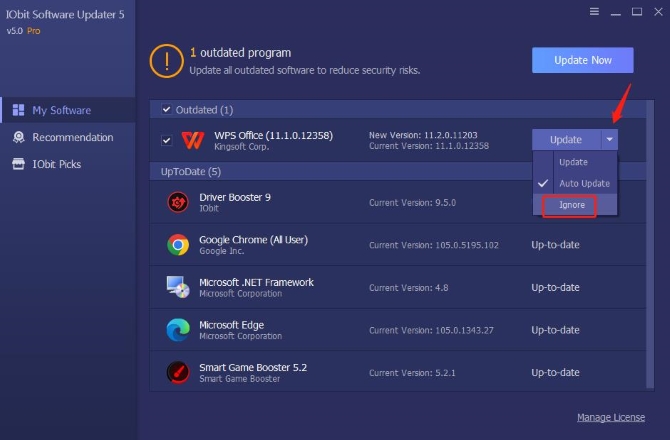 Then the next time you run IObit Software Updater, it will not scan for the ignored software.
If there are much software need updating and you don't want to waste time waiting for completion, select Automatically reboot PC or Automatically shut down PC will be a good choice.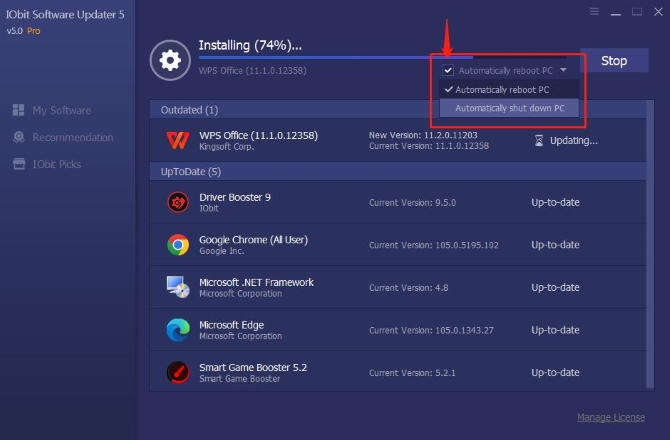 3. After update completed, open this tool again and you can see the updated software is in the UpToDate list.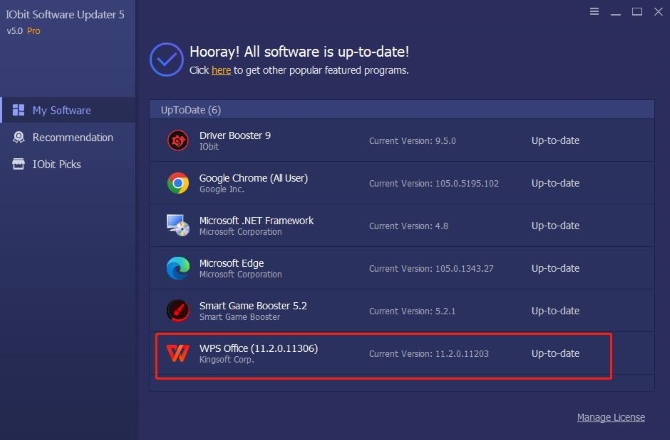 Install recommended software
If you need to install any useful software on your PC, you can switch to Recommendation menu and choose the wanted software in specific category.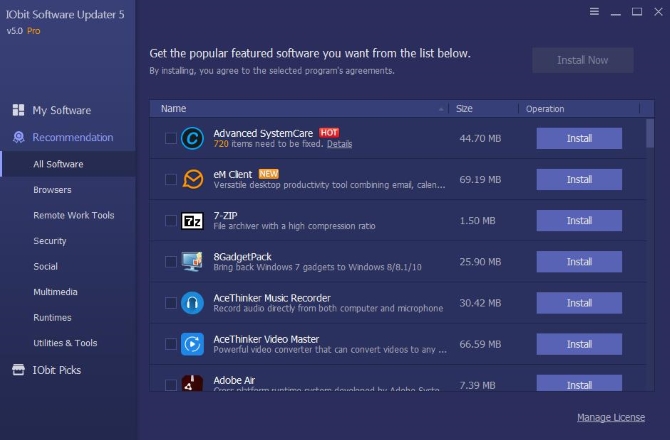 To know more information about the recommended software, you can right-click it in the list to Search Online/EULA/Privacy Policy.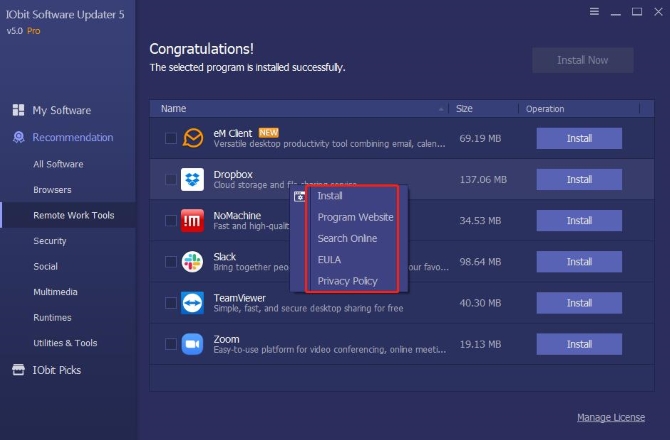 Install process:
1. Tick the checkbox to choose the wanted software, and click Install or Install Now will start installing.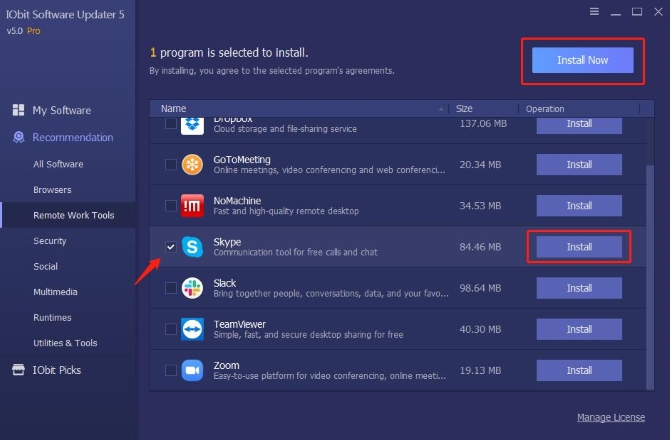 2. Click Stop will stop installing.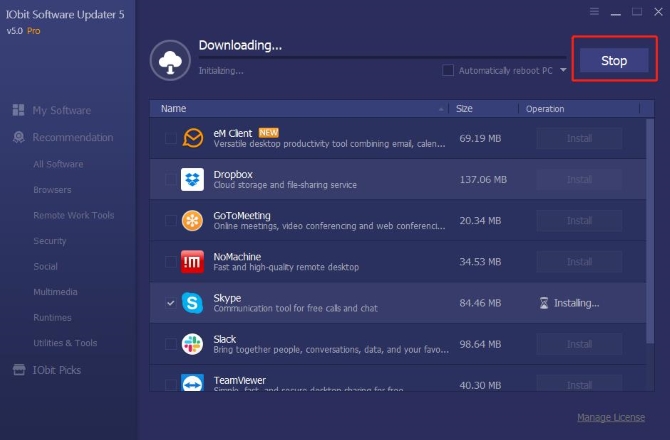 3. Click Install again will continue installing.
4. Choose Automatically reboot PC or Automatically shut down PC will reboot or shut down your PC after installing completed.
5. Open this tool again and switch to My Software, and you can see it displays in the software list.
Create Restore Point with IObit Software Updater
Before updating or installing, you can create a restore point to restore your PC to the previous state by undoing all the changes after creation. The detailed steps are as follows:
1. Click the Options icon in the top right corner on the main interface.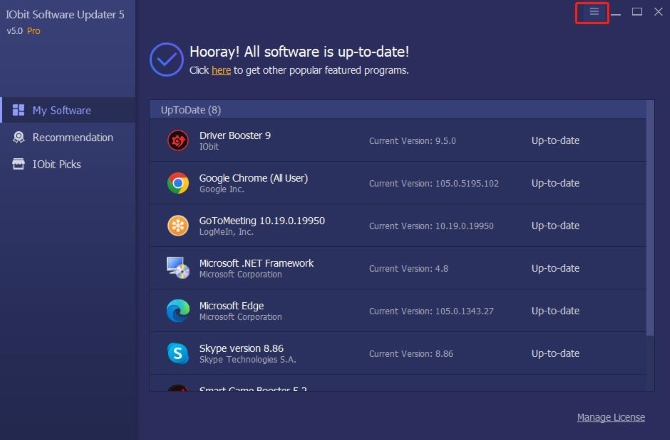 2. Choose Restore to enter System Restore function.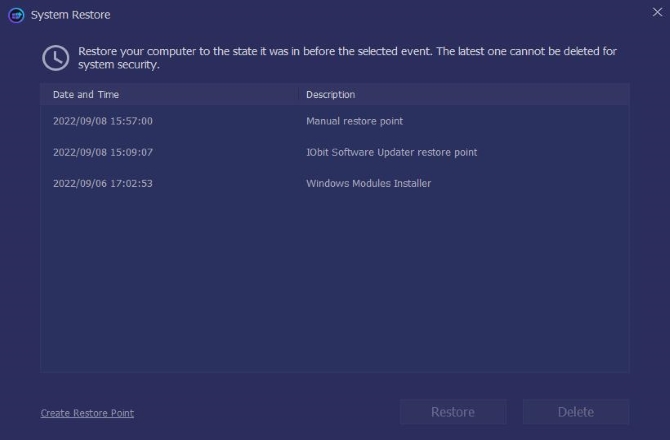 3. Click Create Restore Point link in the bottom left corner will pop up a confirmation box.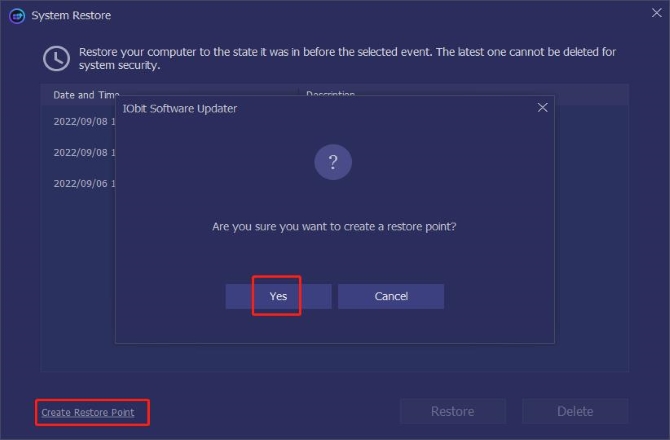 4. Click Yes to complete creation.
5. Select the created restore point and then click Restore to undo all changes made after that restore point.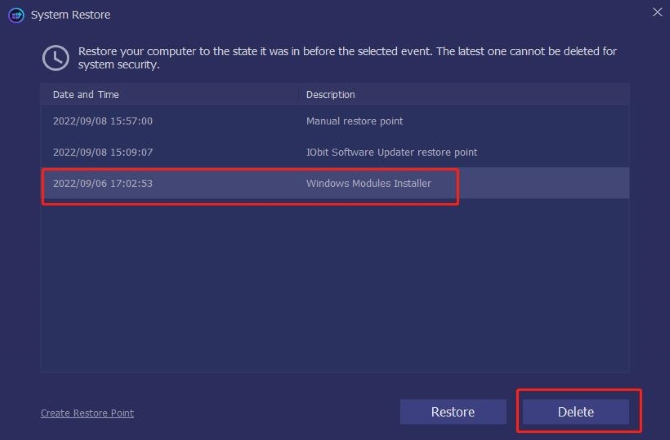 6. Select the unwanted restore point and click Delete, and it will disappear from the list.
FAQ about IObit Software Updater
Q1: What can IObit Software Updater do?
It is a tool to focus on keeping all the software on your PC up-to-date. It can check for software updates and install them automatically. And help you download and install popular software for various purposes.
Q2: Is IObit Software Updater safe?
Though it is a third-party software, it is safe like Google Chrome. And we recommend you download it from the official site rather than other unknown or unsafe sites.  
Q3: Is IObit Software Updater free?
It has a free version that anyone can download to use the basic software update functions.
Q4: What OS do I need to run IObit Software Updater?
It supports Windows XP/Vista/7/8/8.1/10/11 now.
Q5: How can I update IObit Software Updater?
It will update automatically by default. But you can also use its menu function to check for updates manually.
More Articles:
IObit Advanced SystemCare Review – All-in-One System Optimizer
Driver Booster Review – Update All Drivers With One Click