Is there any software that enables acceleration while you are playing games? Is there any software that enables graphics card overclocking?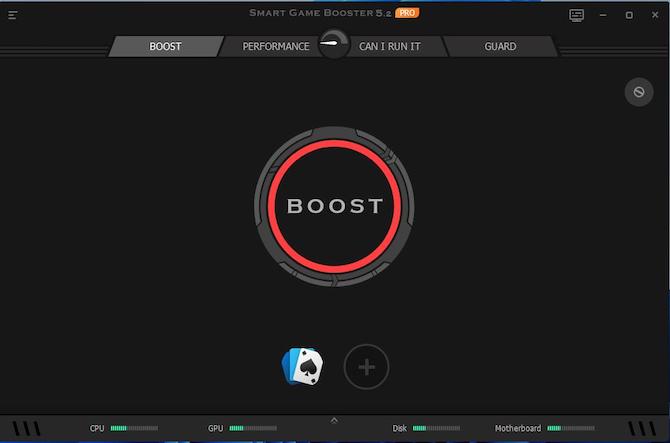 In fact, there is software to boost games. Smart Game Booster is one of the best game accelerators developed by IOBIT. IOBIT is a well-known software company with two best known software on the market, Advanced SystemCare for system protection and Driver Booster for driver updates.
Smart Game Booster is also a very powerful game management software. Unlike other Game Boosters on the market that focus on overclocking GPU and increasing FPS, Smart Game Booster accelerates your games in all directions and delivers the ultimate gaming experience.
Features:
One-Click to Boost Your Game
A great game accelerator must be simple to use, and Smart Game Booster fits the bill. It frees up your computer's CPU, RAM and GPU in one click and then puts your computer into gaming mode.
Overclock GPU
The Super Boost feature allows you to adjust your GPU clock and RAM clock. Smart Game Booster offers two different levels of overclocking settings. Of course, you can also customize your GPU and RAM overclocking data to suit your computer's graphics card and RAM.
Optimize PC Status
In addition to speeding up games, it can also optimize your computer's hardware and software resources.
When you are not running a game, the acceleration function will end a lot of background services that take up memory and CPU. The advantage of this is that it keeps your computer in good condition all the time for running games.
Update Graphics and Audio Drivers
Outdated graphics drivers may cause blurring and lagging in games with high quality graphics such as Halo Infinite.
Smart Game Booster will detect your graphic driver and then update it to the latest version to keep the best game experience. Of course, this software will find the latest audio driver and update it for you.
Test Your PC's Compatible Games
It can help you test over 37000+ games to see if your computer can meet the minimum/recommended requirements to run them. The search function and select function can help you to deal with this more easily.
Protect Your Game Account
The security of your game account and the safety of your transactions must also be considered.
Smart Game Booster protects your gaming account in two ways. On the one hand, it scans your computer for viruses. On the other hand, it protects your account and protects your device from hackers when trading with your account.
How to Boost Your Game on PC with Smart Game Booster
How to use Smart Game Booster to run the game smoothly? It only takes three steps to speed up the game.
1. Download, install and run Smart Game Booster on your PC.
2. In the Interface, select the game such as Microsoft Solitaire Collection, and then click Boost.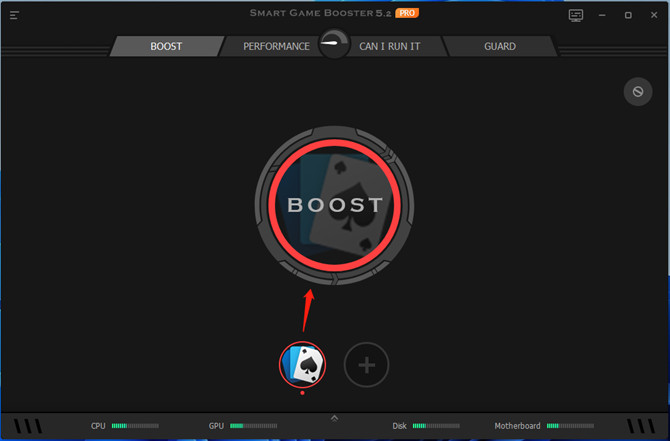 You will see that your PC has been boosted, and the CPU, GPU and RAM are optimized for your game.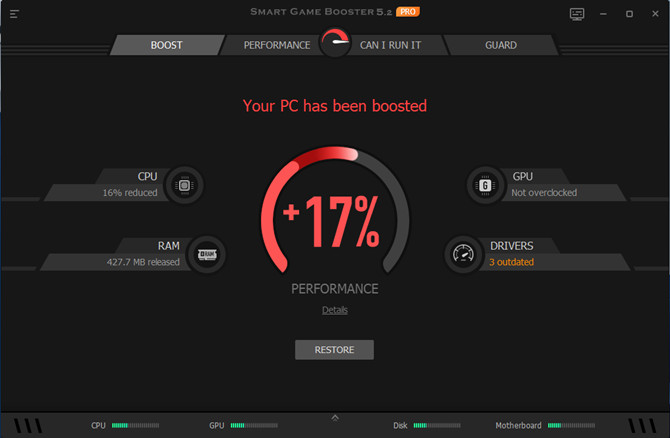 Add Games to Boost it Automatically
If you have more games on your computer, you can click + button to add it.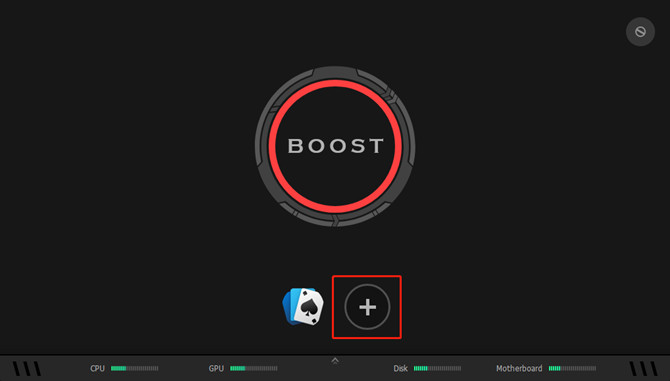 From here, you can add games from local disk and online.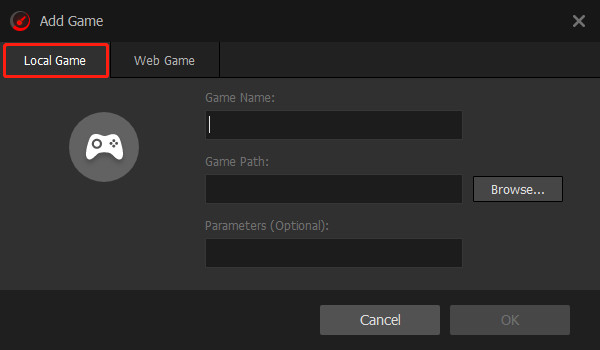 Overclock GPU to Boost Game
In the main interface, click Super Boost > Configure. In this tab, you can overclock GPU and graphic RAM. There are three levels you can select: Level 1, Level 2 and Customize.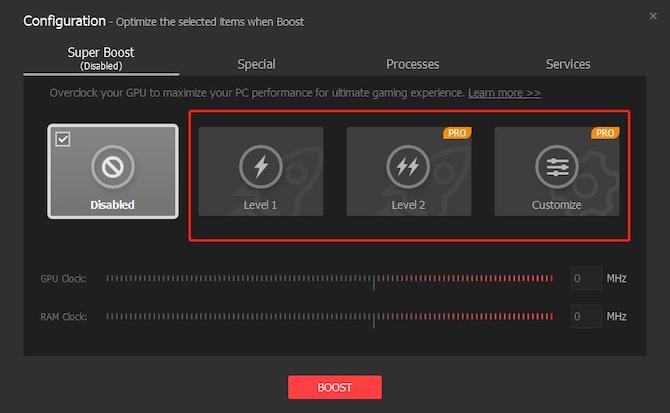 Update Game-related Drivers:
In the boosted screen, Click Drivers.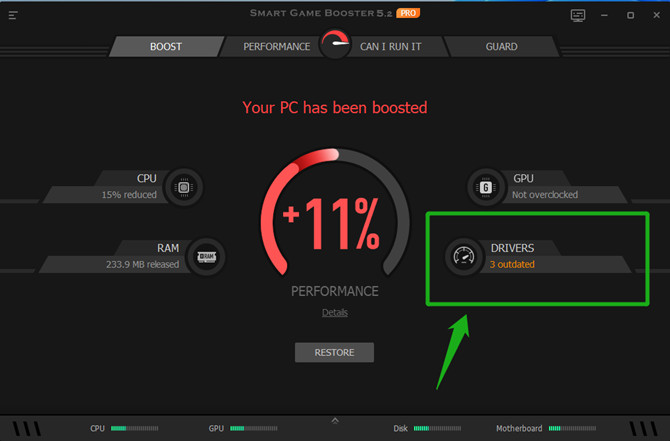 Select the driver you want to update,and then Click Update. If there is graphic driver, you should update it. Or you can click Update All to update drivers one time.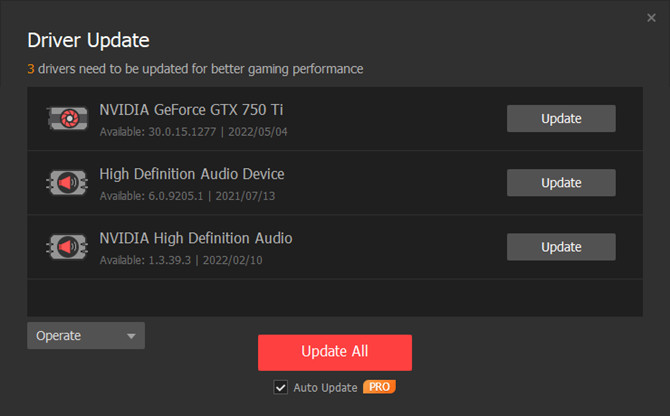 How Many Games Can Run on My PC and How to Test it?
Can my PC run New World? How many games can my PC run? If you want to know how many games your computer can actually play, Smart Game Booster is perfectly suited to your wishes.
After you launch Smart Game Booster, click Can I Run It to enter this function.
For My PC:
In this screen, you can see your computer's configurations. It shows the four main configurations: processor, graphic card, memory, and system version. You can also rate your PC.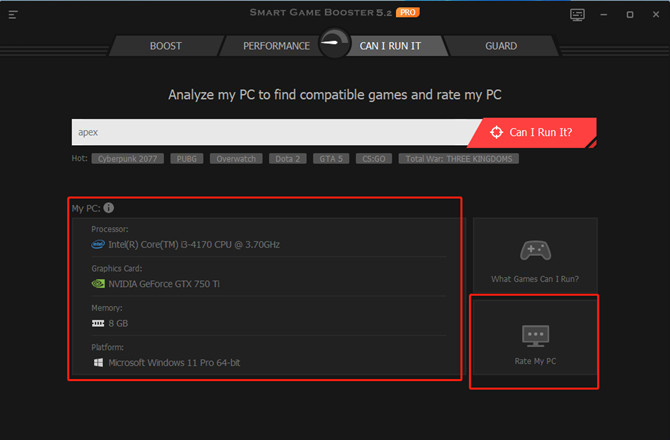 For Game:
As a powerful Game Booster, it contains over 37000+ game database, and you can find almost all games from here.
In the search box, type the game you want to know if your computer meets its minimum requirements and recommended requirements.
Here, type Apex Legends as an example.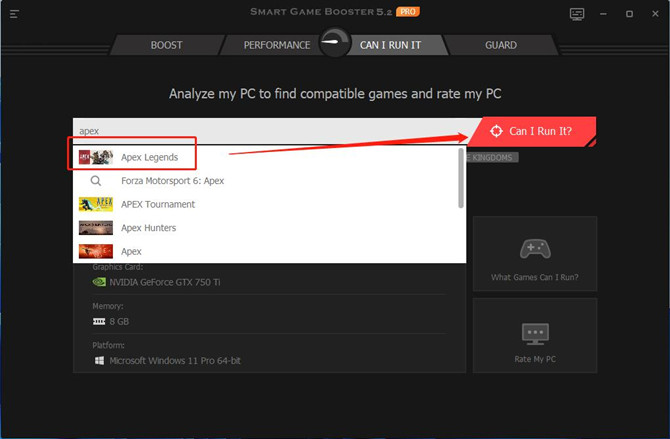 From the screen, you can see this PC does not meet the Apex Legends' minimum requirements because the processor is Intel® Core™ i3-4170 CPU, it is lower than Intel Core i3-6300.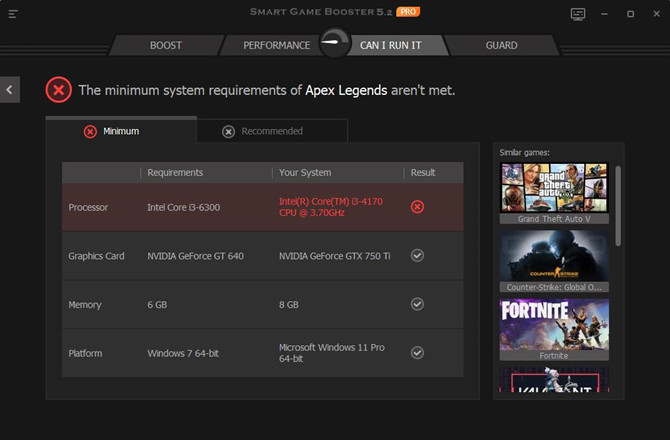 Of course, it does not meet the Apex Legends' recommended requirements, both the processor and graphic card are lower than the recommended specs.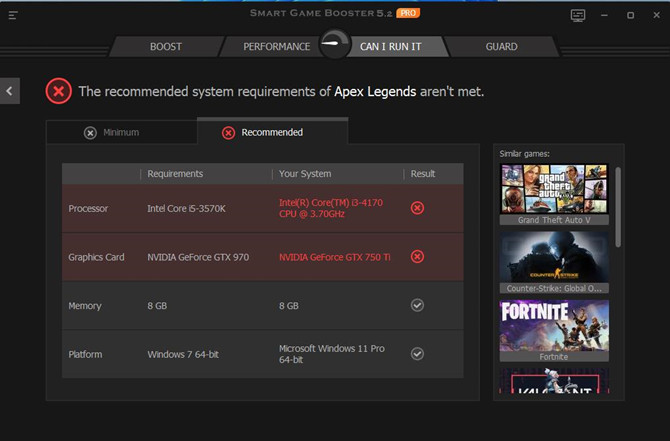 In additional, as an effective game software, Smart Game Booster has a powerful database with over 37,000 games, and it automatically matches them to your computer. With this function, you can clearly see whether your computer meets the minimum and recommended requirements for a particular game.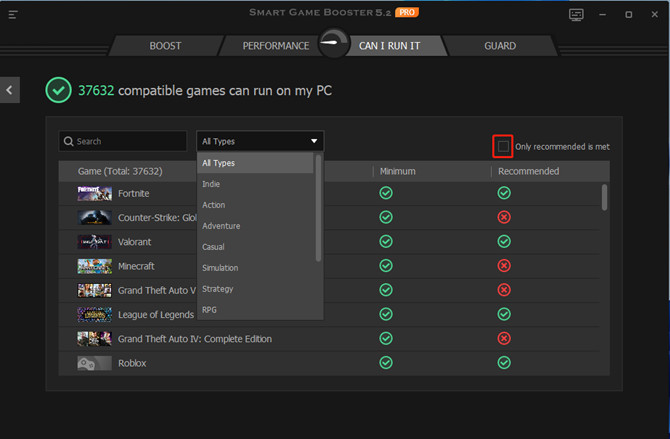 How to Protect Your Game Account and Transactions When Gaming?
Game account security and transaction security are definitely very important issues, Smart Game Booster offers a range of automatic protection measures and you can also protect your game account manually.
The GUARD option is designed for game account protection, and it protects your gaming account on three different levels.
The Security Guard protects your computer and Internet access, the Account Guard directly protects your account and game transactions, and Diagnosis provides automatic and manual protection.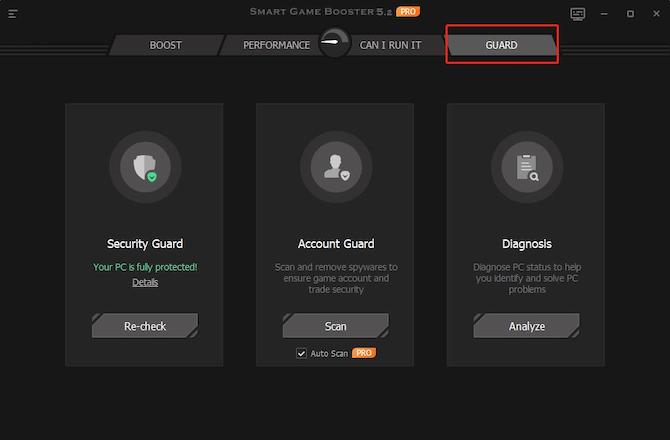 Summary:
Smart Game Booster is a program worth trying, both for overclocking and for the help it provides for gaming. It has taken into account all the problems you may encounter when playing games and you can solve them with just a few clicks.
More Articles:
Fix Games Stuttering with FPS Drops After Creators Update
Fixed: Forza Horizon 5 Crashing on Startup on Windows 11 and 10