Fixed: Forza Horizon 5 Crashing on Startup on Windows 11 and 10
You may find that the video game Forza Horizon 5 keeps crashing at startup on Windows 11, especially after Windows upgrade or update from Windows 7 or 10 to Windows 11.
The Forza Horizon isn't launching at all on Windows PCs. You can't play this racing video game as Forza Horizon crashes when you try to play it on Xbox One. Luckily, there are some effective solutions to help you stop Forza Horizon 5 from freezing at startup.
How to Fix Forza Horizon Crashing at Launch on Windows 11 and 10?
If you feel like playing a game smoothly on the Windows systems, you need to ensure the system specifications, the hardware, and the software are running well.
Once any of these factors runs into problems, for instance, your device doesn't meet the minimal requirements of Forza Horizon 5, odds are that the Forza Horizon 5 stops working at a startup. You need to troubleshoot this game crashing error from different perspectives.
Solutions:
Solution 1: Check the Minimal System Requirements of Forza Horizon 5
There are usually higher system requirements for games than other programs like music players. It is only when the minimal system requirements are satisfied that you can play the game smoothly. You can know whether you can run Forza Horizon 5 after checking its minimal system requirements:
CPU
Intel i5-4460
AMD Ryzen 3 1200
Or equivalent
GPU
NVIDIA GTX 970
AMD Radeon RX 470
Or equivalent
RAM
8GB
Storage
110GB HDD
Operating system
Windows 10 version 1909 or later
DirectX
12
Network
Broadband internet connection
Above are the minimum system requirements for Forza Horizon 5. In This PC > Properties, you can view the system specifications for your PC, if it does not meet the minimal requirements, it makes sense that you encounter Forza Horizon 5 crashing on startup.
Solution 2: Uninstall Third-party Antivirus Programs
If your PC meets the minimum system requirements for the game, but Forza Horizon 5 just doesn't respond at startup, you may as well get rid of the antivirus programs that are downloaded online.
According to gamer reports, some third-party antivirus applications such as Trend Micro may cause this game not to work. Hence, you can manage to remove this antivirus program to avoid conflicts or negative-positive by it.
1. In the search box, enter the control panel and then press Enter.
2. In Control Panel, find out Programs > Uninstall a program.
3. In Programs and Features, locate and right-click the problematic antivirus software to Uninstall.
4. Reboot the system if prompted.
In so doing, you can launch Forza Horizon 5 to see whether it crashes at startup on Windows 11 and 10 without conflicts from the third-party antivirus programs. If the third-party application blocks Forza Horizon 5 from working, this game now may be working once the application is uninstalled.
Solution 3: Troubleshoot the Network Errors
Network crashes can also lead to the game crashing. In this case, to avoid Forza Horizon 5 crashing on startup, you would better troubleshoot the Windows network problems.
This racing video game requires a network at a high speed so that gamers can play it as smoothly as possible. You can follow the steps below to troubleshoot the network problems effectively.
1. Power off the modem and then power it on again.
2. Reconnect the device to the network and open the game to see whether Forza Horizon 5 runs without crashing.
3. Switch to using the broadband network connection by connecting to the network with the network adapter rather than WIFI.
For some users, the "Forza Horizon 5 crashes on startup on Windows 11" error has been resolved once the network issues have been fixed. In most cases, it is recommendable that you try to connect to the wired network for a better gaming experience.
Solution 4: Update the Graphics Driver
The graphics driver is essential for video games. If your NVIDIA or AMD or Intel or any other graphics driver is outdated, missing, or corrupted, chances are that Forza Horizon 5, 4, or 3 won't respond on Windows 11, 10, 8, and 7.
If so, you would better keep the display driver up-to-date automatically with Driver Booster. This is a professional and efficient driver tool that helps you download and install any device drivers.
1. Download, install and run Driver Booster.
2. Click Scan.
3. In the scanning results, locate Display adapters and then Update the display driver.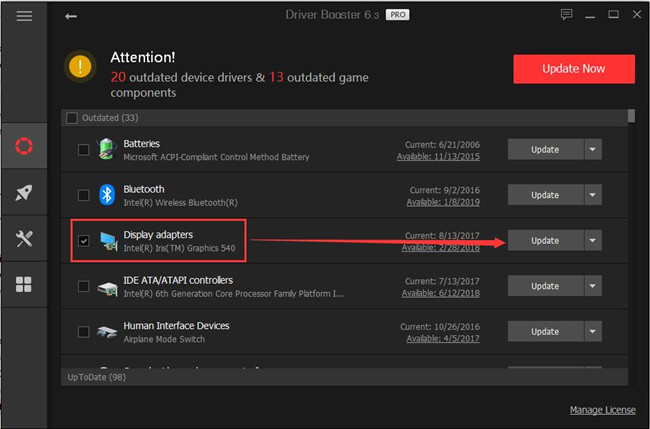 You can also rely on this tool to update various device drivers like the network driver. Upon the installation of the latest device drivers, start the game and you will notice that Forza Horizon 5 runs as normal.
Solution 5: Download the latest Visual C++ Redistributable
The Microsoft Visual C++ Redistributable packages are also crucial for games to run properly on Windows systems. Now that the Forza Horizon 5 is a new version of this game, you might as well install the new patches of Visual C++ Redistributable.
You can choose to navigate to Microsoft's official website to search for, download, and install the Visual C++ package yourself, or you can also use Driver Booster to update this gaming component automatically.
Solution 6: Run Forza Horizon 5 as Administrator
This solution is often ignored by many gamers. That is to say, running this video game may require advanced privileges, so you need to run it as the administrator. The administrative rights sometimes can quickly fix Forza Horizon 5 crashing at launch issue. On the Windows desktop, locate and right click Forza Horizon 5 to Run as administrator.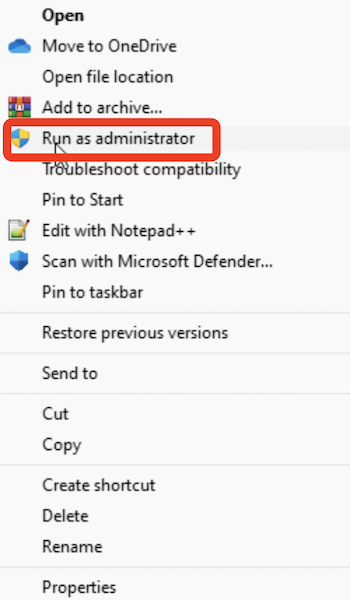 You can start and run this racing video game smoothly without any crashes. In later use, you can also run this game as administrator to assign it with administrative privileges. The Forza Horizon 5 opens and runs correctly on Windows 11 and 10.
Solution 7: Uninstall and Reinstall Forza Horizon 5
If the above solutions fail to fix the Forza Horizon 5 crashing on startup error, perhaps you have to remove this problematic gaming software from your Windows PC and then reinstall a new one. For most users, Forza Horizon not launching disappeared if you tried to install a brand-new gaming package.
1. Go to Control Panel > Programs > Uninstall a program.
2. In Programs and Features, pinpoint Forza Horizon 5 and right click it to Uninstall.
3. Reboot the Windows PC.
4. After the computer boots up again, go to Steam or Xbox One official website to install the Forza Horizon 5 package for the Steam or Xbox One platform.
This time, Forza Horizon 5 launches and loads correctly, and you can enjoy racing with other players in this video game as you wish.
Related: How to Uninstall Program on Windows 11/10
Solution 8: Check for Updates
The Windows system is also to blame for Forza Horizon loading after the launch, especially when you run into this gaming error after upgrading from Windows 7 or 10 to Windows 11.
Hence, it is worth trying to check for Windows updates to get new features for the system. Sometimes, programs like games can work well after a system update.
1. In the search box, enter check for updates and then press Enter.
2. Under Windows Update, on the right pane, choose to Check for Updates.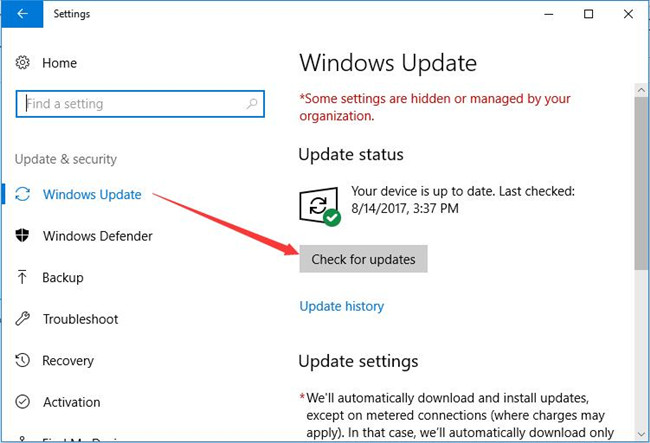 Wait until the system automatically checks for the system updates and install them on your device. Once the updates are installed, run Forza Horizon 5 to check whether it crashes at launch.
Summary:
You can learn to fix Forza Horizon 5 crashing on startup error on Windows 11 and 10 by handling the hardware, software, and system problems. In most cases, uninstalling the annoying third-party antivirus programs and updating the display driver can work for many gamers to get the game back to normal.
More Articles:
How to Fix Fallout 4 Crashes on Startup on PC (2022 Update)
How to Disable Logitech Download Assistant from Startup
How to Stop Discord from Opening on Startup on Windows 11, 10, 8 and 7
Tags :
startup