4KFinder Video Downloader: Download HD Videos from YouTube and 1000+ Sites
You can easily download videos when you see a download button. Sometimes, while you watching an interesting video on YouTube, Vevo, Facebook, or any other popular video-sharing website, you may wish to download it to your device.
There are many reasons why you want to download videos from YouTube or other websites – being able to watch them offline when you're on airplane, subway, train, etc. Unfortunately, most video sharing sites don't allow downloads videos, usually to protect copyrights or you need to subscribe its service to download their videos.
For example, only YouTube Premium subscribers can download videos and playlists for offline watching on its app, you need to sign in to the YouTube app or YouTube Music app on iOS/Android with your YouTube Premium account, then you able to download videos and playlists to watch offline. But there are tools and tricks you can use to download HD videos from YouTube and other video sharing sites even you haven't subscribed its service.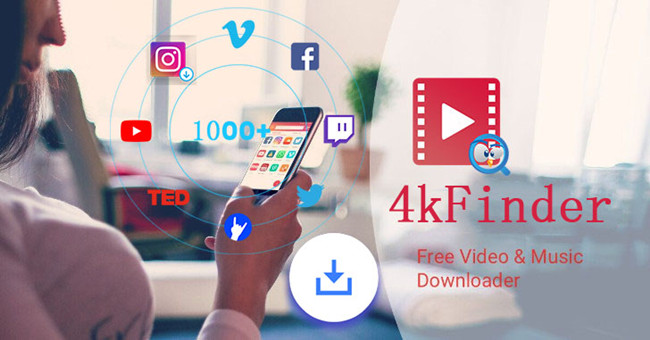 Sometimes, you may watch a free movie online and you want to save it to watch later on where you aren't connected to the internet, you'll want to download the video. Sometimes, you may want to download YouTube videos for offline playing on iPhone, iPad, Android tablet, and another MP4 player everywhere you want.
In this article, we will be reviewing 4kFinder Video Downloader. We will first take you through all the highlights and its important details about this product so that you can easily download HD videos from YouTube and 1000+ hot sites using this video downloader. Finally, we will also discuss the availability of this tool.
4kFinder Video Downloader is a desktop app for Windows and Mac, which lets you download HD and UHD videos from YouTube, Dailymotion, Vevo, SoundCloud, Veoh, Vimeo, Facebook, Niconico, Tumblr, and other 1000+ video sharing sites.
Besides, it also lets you extract audios from videos without sound quality loss. Unlike other online services, this great tool supports to download videos, playlists, entire channels, or subtitles from YouTube to your hard drive directly, you can use it to download online videos to MP4 in HD 720P, 1080P, 2K, 4K and 8K resolution.
Powerful Features of 4kFinder
4kFinder Video Downloader contains powerful features that can easily save video and audio content from video sharing websites to your PC or Mac.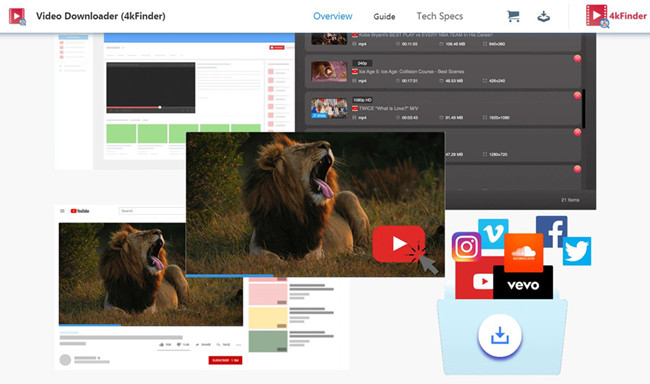 Download videos and music from 1000+ sites like YouTube, Vevo, Facebook, Soundcloud, etc.
You can download and save online videos in 720p, 1080p, 4k, and 8k quality.
It supports various formats like MP4 or MP3, M4A to compatible your players and portable devices.
6X downloading speed, helping you get the original quality videos quickly.
Supports to download 3D, 180° or 360-degree video from YouTube and other popular websites.
Allows you to download private, blocked, age-restricted videos from YouTube and other hot sites.
You can extract MP3 audios from online videos in 320kbps, 160kbps, 70kbps, 50kbps.
You can also download gaming video streams from Twitch and YouTube.
Supported Video Services
4kFinder Video Download not only can download HD videos from YouTube but also helps you download videos from a lot of other popular sites.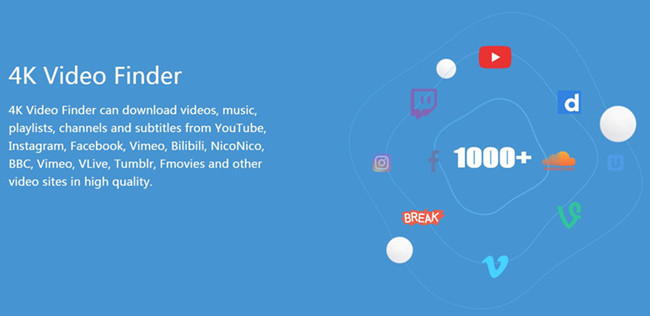 Below is the list of the websites which are officially supported by this tool:
YouTube
Facebook
Twitter
Instagram
Bilibili
Vimeo
Vevo
DailyMotion
TED
SoundCloud
Metacafe
CNN
Nicovideo
Nasa
Vlive
Espn
Supported Formats and Quality:
4kFinder Video Downloader allows you to save your downloads in the below-supported formats:
MP4 – Video
FLV – Video(Windows)
MP3 – Audio
M4A – Audio
High Output Resolutions and Audio Quality Available
High resolutions available for video: 720p, 1080p, 4K, 8K
High bitrate available for audio: 160kbps, 320kbps
Download Videos and Audios to Your Mobile Devices
4kFinder Video Downloader gives you the ability to select the audio and video quality for your preference. You can select the MP4 video format and video resolutions up to 8K to match your iPhone, HD TV, Apple TV, Android, PSP, Xbox, etc. You can also select MP3 or M4A format in 320kbps bitrate for your music device and player.
It provides an easy-to-use interface and supports English and Japanese. Everyone can use it in very basic English without any skills. Even better, it offers batch downloads, so you can download multiple tasks at the same time. As for the download speed, it supports 6X faster download speed, so it is appreciated.
Also want to access a private, age-restricted or even blocked YouTube video? 4kFinder Video Downloader can also do a great job, it can help you save it on your computer for offline viewing even if you switch accounts.
How to Download HD Videos from YouTube with 4kFinder Video Downloader
Downloading HD videos from YouTube is one of the most convenient features of the 4kFinder Video Downloader. You can save online HD video as MP4 files or extract MP3 audios from online HD video.
Step 1. Install and launch 4kFinder Video Downloader on computer.
Step 2. Copy the video link from the address bar in YouTube or other websites, then paste the video URL to 4kFinder Video Downloader's searching bar and click "Analyze".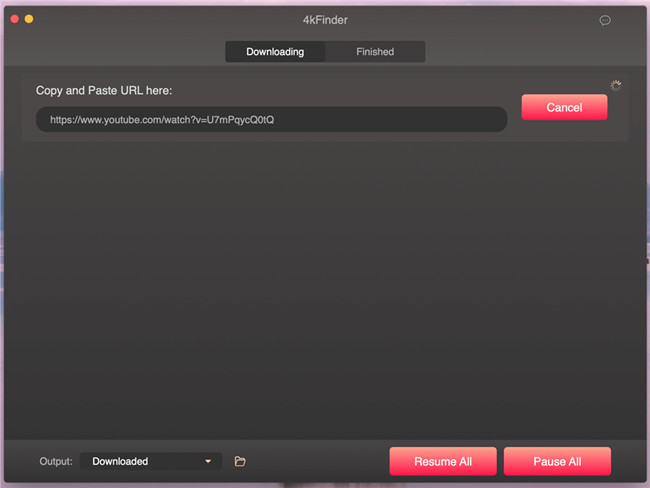 Step 3. Select output format and video quality, MP4 or MP3 format, HD to UHD resolution.
Step 4. Press on the "Download" button to download HD video from YouTube.
Step 5. After downloads are completed, you can find the downloaded video under "Finished", and open the videos to watch.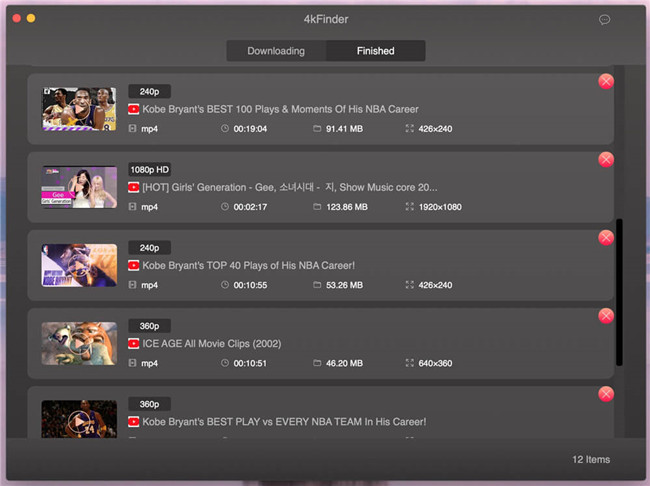 Price and Availability
4kFinder Video Downloader is popular shareware, but its price is very reasonable and good value-for-money. The personal plan is $29.95 for 1 computer. The family plan is $49.95 on up to 5 PC/Mac. Better still, 4kFinder Video Downloader also offers a free trial for 15 days. You can download 10 UHD/HD full videos in 8k, 4k, 2k, 1080p or 720p in 15 days. Of course, with full version, you can download unlimited HD or UHD videos from popular websites!
Supported OS:
System Requirements:
Windows: Windows 10/8/7/XP/Vista
macOS: Mac OS X 10.12 or above

Pros
Clean UI and easy to use.
Able to convert YouTube playlist and video to MP3.
Supports download HD/4K/8K quality videos.
Support downloads from 1,000+ sites.
Provide extra built-in video to MP3/MP4 converter.
Enable 6X faster downloading speed.
Cons
After downloading is completed, it needs takes time to merge the downloaded videos.
The free version limits the number of playlists and channel downloads.
This software is currently not available on mobile platforms.
Conclusion
4kFinder Video Downloader is an all-in-one video download software for downloading videos and audios on 1000+ popular sites like YouTube, Vevo, Dailymotion, Niconico, Facebook, Twitter, etc. Downloading the videos using this tool is super easy. You just need to copy-paste the URL and it's done!
This is one of the most powerful tools so far for downloading videos. If you want to download 8k quality videos from YouTube, we highly recommend this tool, its downloads quickly & saving your time! For the music lover, try to use 4kFinder Video Downloader to download and convert YouTube playlist and music video to MP3 right now!
More Articles:
How to Fix Youtube Black Screen
Tags :
youtube