Solved: YouTube Black Screen Windows 10
Contents:
How to Fix Black Screen on YouTube Windows 10?
YouTube Screen Black Overview:
That is what often happens to you: YouTube video is black but the voice is on and on or Youtube 500 interal server error. YouTube videos show the black screen with audio on, which sometimes lasts for the whole videos until it ends, sometimes it lasts only for several seconds and the black YouTube videos turns into normal videos.
You can only hear people speaking in the black video on YouTube. It is quite annoying, isn't it? Or to make things worse, some YouTube videos have no sound as well. You can only see the black screen on YouTube like a motionless picture in black.
Here for purposes of changing YouTube videos showing black to the normal videos, you can go further to troubleshoot your YouTube video error step by step.
How to Fix Black Screen on YouTube Windows 10?
It is likely that after YouTube videos went black for some time, YouTube video and audio out of sync will happen. But if the YouTube screen keeps in black, you can do nothing. So here you are supposed to take some measures on your own to turn the black YouTube videos to normal.
With deep research, it is found that the YouTube video black with sound results from different aspects, including YouTube advertisement, YouTube account data, browser extensions, hardware acceleration, and the YouTube video platform itself. That is why YouTube black on Windows 10.
Just take time to deal with it until YouTube screen won't go black randomly in browsers like Microsoft Edge or Chrome or in YouTube app.
Solutions:
1: Disable Ad Blocker and Reload the Video
2: Sign out the Account and Restart YouTube Videos
3: Restart the Browser or YouTube App
4: Disable Hardware Acceleration
7: Check Windows 10 Network Connection
8: Open YouTube Videos on another Browser
10: Uninstall and Reinstall YouTube Desktop App
Solution 1: Disable AdBlock and Reload the Video
It is said that the Ad Blocker is able to block ads for users, but if it works improperly, it may cause YouTube videos black. Therefore, on seeing this black screen on YouTube video, firstly go direct hit the disable AdBlock in the browsers or YouTube app.
Here for your reference, you can refer to the following steps to turn off AdBlock in Microsoft Edge as many users reported Microsoft Edge YouTube videos go black randomly.
1. In Microsoft Edge, hit the three-dot menu icon and then find Extension.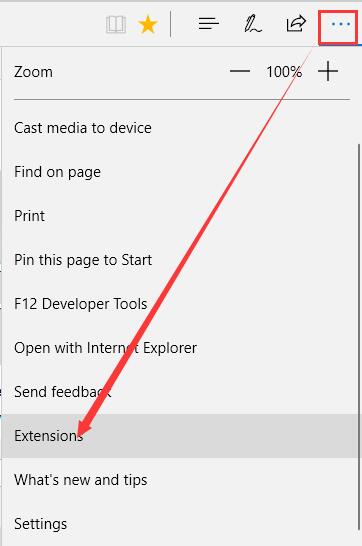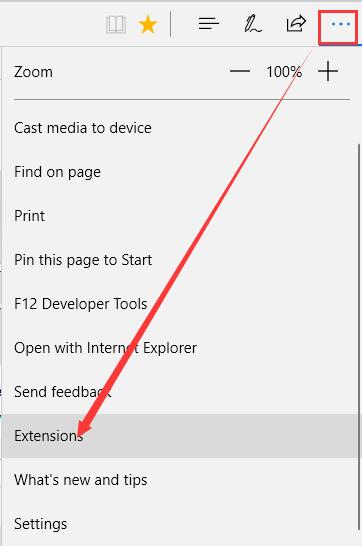 2. Then you can see all the installed extensions, from which locate AdBlock.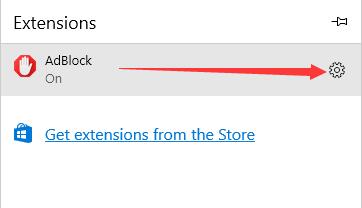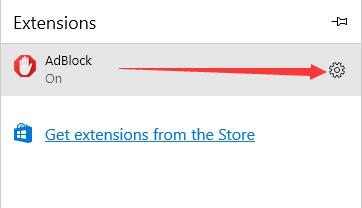 3. And choose to switch off AdBlock for the browser.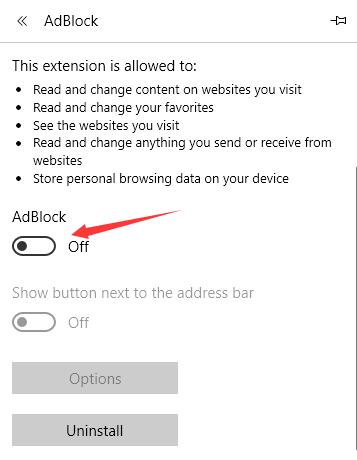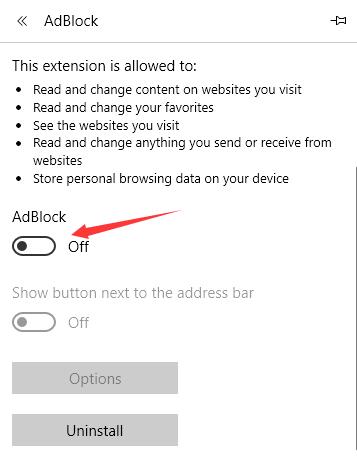 Once the Ad Blocker is paused, try to reload the video to see if this YouTube video will still show in a black screen with or without audio.
Related: How to Block Ads on Twitch (2021 Update)
Solution 2: Sign out the Account and Restart YouTube Videos
Users utilize browsers or YouTube app to watch YouTube videos tend to log in with an account so that the video platform will save the users data for you automatically, and it will prompt you some notifications or videos from some subscribed posters. But chances are that the logged-on account leaves you numerous errors as well.
It seems absurd, but anyway, it does work to sign out the Chrome account or YouTube account. Then turn on a video on YouTube website or YouTube app. You will find the black screen on YouTube disappeared.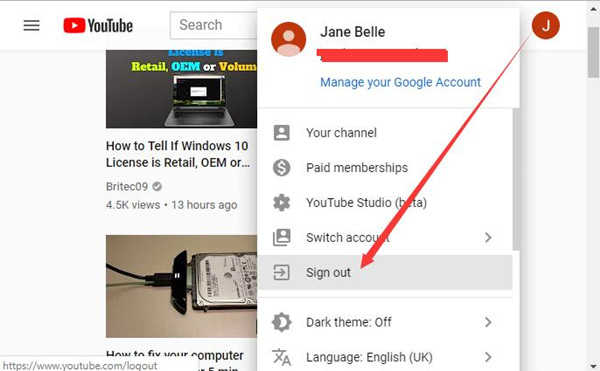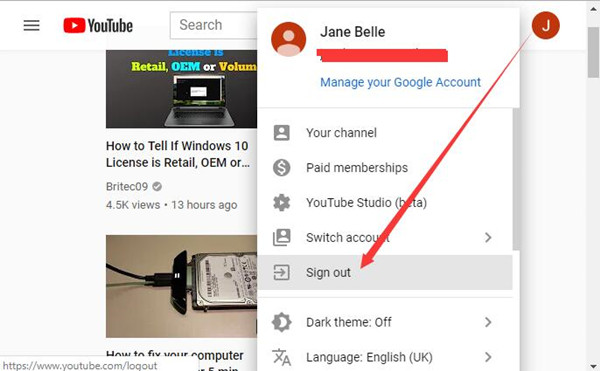 Solution 3: Restart the Browser or YouTube App
If opening YouTube videos without account logging in is useless to remove the black videos on YouTube with sound, you would better choose to close the browser or the YouTube app and then turn it on again.
After that, restart the video on YouTube, you may notice it plays smoothly with both video and audio.
Solution 4: Disable Hardware Acceleration
As you understand, hardware acceleration in such browsers like Google Chrome, Firefox, and Microsoft Edge works to alleviate the burden of CPU, thus boosting the performance of the browser. And actually, there is hardware acceleration on the computer itself used to improve PC performance.
Here if you are using Browser to view YouTube videos, you would better determine to disable hardware acceleration in browsers at first as hardware acceleration is listed as one of the culprits that lead to YouTube videos black with audio.
In line with your reports, you are to learn how to turn off the hardware acceleration feature in Google Chrome. But many clients are experiencing Microsoft Edge won't play YouTube videos and shows them in black screen, so if you are meeting black screen on YouTube videos in other browsers, such as Microsoft Edge and Firefox, you can take the similar steps.
1. Open Google Chrome.
2. On the top right corner of Chrome, hit the three-dot menu icon and then select Settings from the options.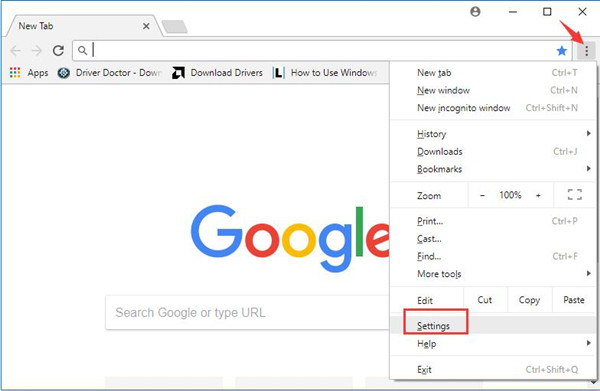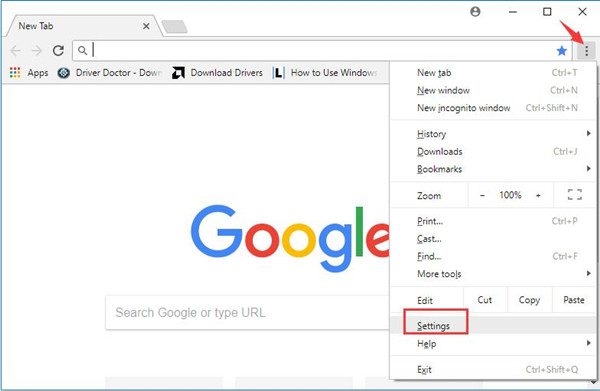 3. Scroll down to locate Advanced Chrome settings.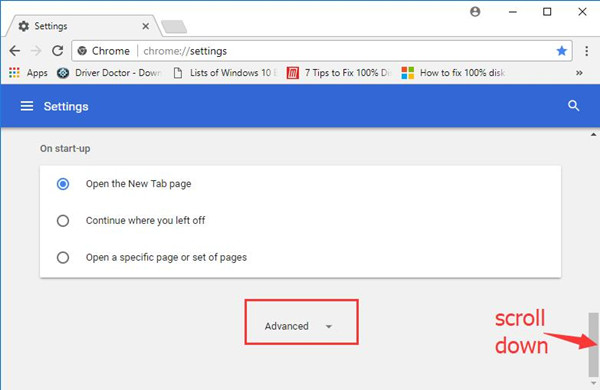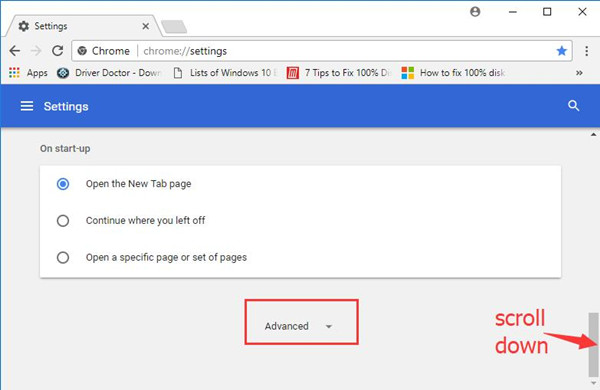 4. Then under the Advanced settings, locate the System tab, and choose to uncheck the box of Use hardware acceleration when available.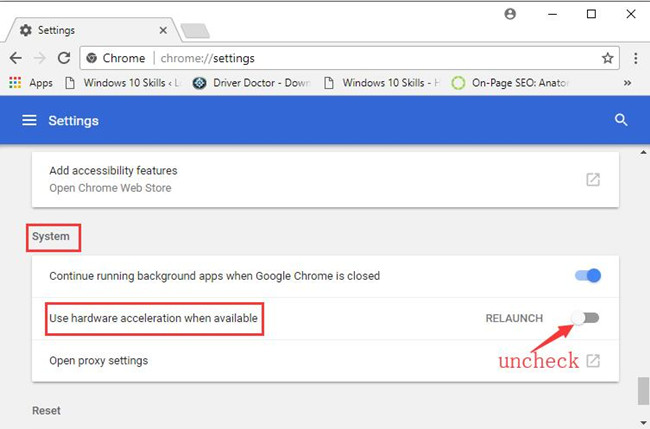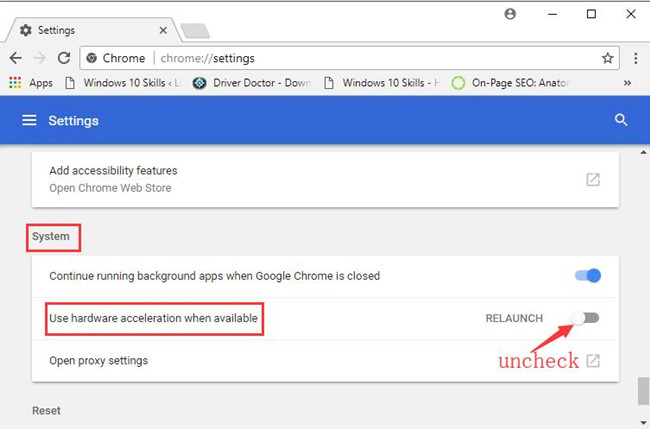 Hence, you will have disabled chrome hardware acceleration. In terms of other browsers, you can follow similar steps to turn off hardware acceleration as well.
If you watch videos on YouTube app, it is available to disable hardware acceleration on Windows 10, 8, 7.
Solution 5: Clear Browsing Data
Sometimes, the browsing left data will make clues for some ad developer to deploy ads to you. Too many ads will impede YouTube from playing videos normally for you, which is why you hit upon YouTube videos black on Windows 10. In this way, it makes sense for you to clean up the browsing data on your browsers in the hope that the black YouTube screen will vanish from your sight.
Here take clearing browsing data in Chrome as an example, and you can use a similar way to sweep up the browsing history in Microsoft Edge, Firefox, and YouTube Desktop app if you use it.
1. Go to Chrome Settings > Advanced.
2. Under Advanced, find out Clear browsing data.
3. Then select which data you are to delete, such as Cookies and other site data, Browsing data, and Cached images and files.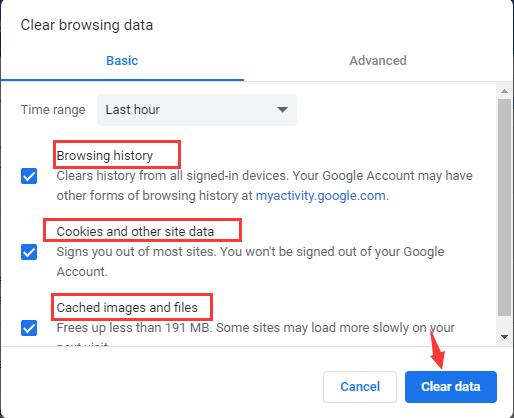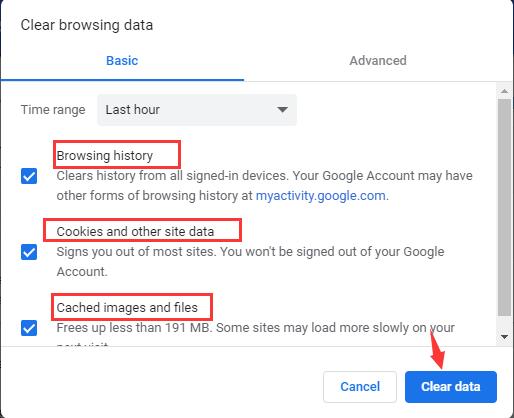 4. Then hit Delete to confirm to delete the browsing history.
Now, it is worth trying to open a video on YouTube again. If lucky, you will notice that the blacked videos on YouTube have been removed. You can watch YouTube videos with sound as usual. In some cases, twitch black screen in Chrome can also be fixed.
Solution 6: Disable Browser Extensions
Like browsing data, browser extensions can facilitate your usage of Chrome, Firefox, Microsoft Edge, etc. they will also cause YouTube video buffering or even the black screen on Windows 10.
So try to disable all the browser extensions temporarily to see if it will turn YouTube black videos into normal.
1. Open the Brower like Microsoft Edge or Chrome.
2. Go into its Settings and then pick out Extensions.
3. Choose to turn off all the installed extensions in the browsers if possible.
4. Restart the browser and go to YouTube website to see if the videos are black.
Solution 7: Check Windows 10 Network Connection
Actually, when browsers or YouTube desktop app shows a black screen on YouTube videos, the most potential cause is the lost network connection, but if YouTube videos black with sound occurs, it implies the network works fine on your PC as YouTube can load the audio on Windows 10.
Nevertheless, if YouTube videos are showing black screens without sound, you may as well check whether your network connection is connected with no connection or just lost.
Check if you can open any other websites or apps requiring network connections.
Try to open a VPN when watching YouTube online videos.
Check whether the network router or Ethernet cable is plugged in properly without loss.
If the network on your PC works in any other apps, perhaps it is high time that you updated the browser or YouTube app for Windows 10 as this error may fall down to browser corruption issue.
Solution 8: Open YouTube Videos on another Browser
To further ascertain if it is the browser problem that shows YouTube videos in black screen, it is worth a shot to open the same YouTube video on another browser. For instance, if you used Chrome to watch YouTube videos, now you would better open Firefox or Safari or Microsoft Edge to see if the YouTube video will go away from the black screen on the other browser.
If the same YouTube video doesn't go black randomly other browsers, try to update the problematic browser.
Solution 9: Update the Browser
Probably, once there comes out an update for Chrome, Firefox, or any other browsers, it will keep reminding you to update it to enjoy the improved features and functionalities. As a result, if you have not updated to the latest version, various problems will pop up and prevent the browser from functioning normally.
In this sense, it is necessary to update your browser so that it can better serve YouTube videos. For the sake of security, you are supposed to navigate to the reliable source like the official site to check the browser update. On some conditions, the updated browser version is able to fix YouTube video lags, too.
Solution 10: Uninstall and Reinstall YouTube Desktop App
For users who have downloaded YouTube app to watch videos, much as you tried, disabling hardware acceleration, restarting the video, log out the account, but to no avail. It is likely that you have to uninstall the YouTube app and then reinstall a new one without errors.
1. Go to Control Panel > Programs > Uninstall a program. Here you need to View by Category.
2. In Programs and Features window, slide down to pinpoint YouTube app and then right click it to Uninstall.
Then you can just watch videos on the YouTube website rather than on the YouTube app. Or you can also navigate to YouTube official site to get the YouTube app if you like.
In a word, YouTube videos black screen is nothing new for viewers. Sometimes, they just not show up on Windows 10, but you can fix this black screen on YouTube videos effectively with the comprehensive solutions in this post.
More Articles:
How to Download 4K Videos on Youtube (2021 Update)
Youtube Audio Renderer Error on Windows 10, 8, 7
Tags :
youtube