How to Block Ads on Twitch with Adblock on Windows
Adblock is a very well-known advertisement blocking software, which can help you block various browser pop-up ads such as that on Google Chrome, Microsoft Edge, Firefox, computer desktop pop-up ads and various video media (YouTube, Facebook, Twitch) Advertising screen. This article will focus on how to use Adblock to block ads in twitch.
Contents:
4 Types of Twitch Ads
Before removing Ads on Twitch, you need to know what types of ads are on Twitch. Generally, there are four types of ads on Twitch:
1. Ordinary Web Banner Advertisements. This type of ads are banners in your Twitch or other websites. It is very easy to disable it.
2. Ads that cannot be easily but possibly to be removed. This type of advertisement is PPC (pay-per-click) advertisement such as Google AdWords, and you can also remove it.
3. Ads that are impossible to remove. Normally, these advertisements are sponsored and cannot be blocked.
4. Ads in streaming videos on demand (VoDs). This is the latest type of ads and most difficult to block.
Why Block Ads on Twitch is Difficult and Should I Block It?
Recently, twitch's advertising methods have undergone tremendous changes. Its ads have been embedded in the video, which seem to be more rogue than that on YouTube. This type of advertising occurs mainly in the following situations: when you are playing your favorite video, this type of advertisements will be delivered in the same form exactly.
On the other hand, when these video ads are played, the sound is much louder than it is in normal videos, which is very annoying. In addition, some twitch users complain that they will often see the same advertisement, which makes them feel bombarded by advertisements.
Related: How to Fix Twitch 2000 Network Error
Using Adblock to Block Ads on Twitch
Although twitch ads are very difficult to block, and many blocking products are unable to accurately block it, Adblock recommends several methods. If you also want to block annoying twitch ads, you can try it as follows.
Method 1: Update Adblock to the Latest Version
Since the insertion and presentation of advertisements are constantly changing, it is very useful to have a new version of Adblock. The new version of Adblock will update the new ad removal algorithm and filter out some scripts and rules, which can help you better block some new types of ads.
Method 2: Enable Twitch Ad Options on Adblock Extension
When you install Adblock in your browser, it can help you block browser pop-up ads automatically. However, for some special websites, the automatic blocking settings may not block all ads. So Adblock adds additional functions to help you use some platforms better without ads, such as YouTube and Twitch. To hide steaming ads in Twitch, follow the next steps.
1. Enable Adblock on your Google Chrome, Firefox and Microsoft Edge.
2. Click the Gear icon from Adblock Menu to open the Adblock Option Page.
3. Turn on this option: Enable hiding of streaming ads of on Twitch.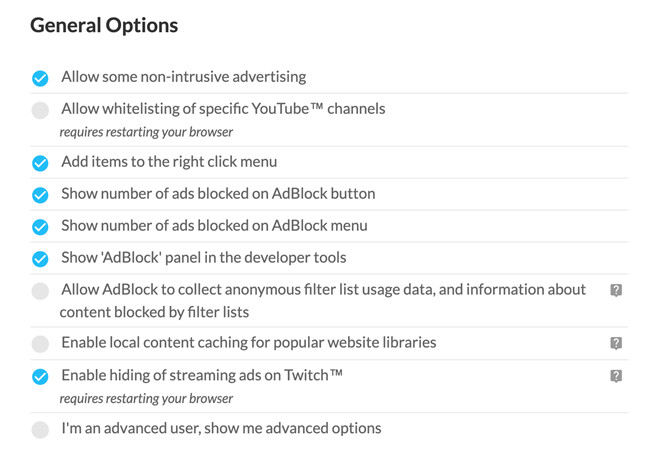 4. Restart the browser.
There is another thing you should know is that this function is only supported on Google Chrome, Firefox and the new version of Microsoft Edge.
Here the hiding function is to hide twitch ads. But because the video streaming ads are inserted into video, so it will play as a blank screen with no sound.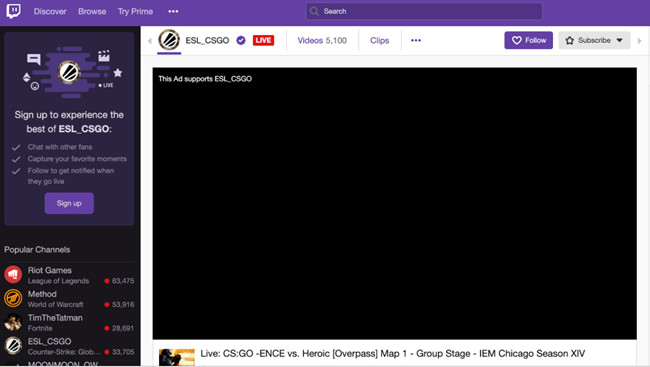 Of course, you can also use other extensions such as AdGuard to blocks ads in Twitch.
Other Ways to Block Ads on Twitch
In addition to using Adblock to block twitch ads, here are some other methods recommended to remove Twitch ads.
Method 1: Using Alternate Player for Twitch.TV
Here, the alternate Player for Twitch.tv is also called Twitch 5, which can be used to block Twitch ads. In the Chrome extension downloading page, you can see it says that it does not insert ads.
For the Chrome users, you can download it from: Alternate Player for Twitch.tv
For Firefox users, you can download it from: Alternate Player for Twitch.tv
For Microsoft Edge users, you can download it from: Alternate Player for Twitch.tv
Method 2: Buy Twitch Turbo Subscription
This is easy to understand. Twitch Turbo is a subscription service provided by twitch, whose cost is $ 8.99 a month, and it can remove all the advertisements from Twitch.
Conclusion:
Actually, blocking ads is very necessary. After all, most of the time we only want to focus on our own things. However, blocking ads requires using right methods. When you block twitch ads according to the above method, you will find that blocking ads on other webpages has also become very simple.
More Articles:
Fixed: Twitch Black Screen in Chrome on Windows 10
Tags :
chrome