How to Fix No Sound on Youtube [6 Ways]
Some people may encounter that when you are playing online videos on Youtube, the picture is fine but you are unable to get any sound from the video. Some people may find that there is no sound in all audios or videos. But no sound on all YouTube videos on Windows 10 occurs to some users as well.
It is known that YouTube is the most popular video streaming website and no sound from the computer is a very common problem, so when your YouTube video or audio has no sound, don't worry, it is easy to be solved. Here are several ways available for you to fix the error that there is no sound on YouTube with Chrome.
Solutions:
Solution 1: Check Sound Settings on YouTube and Your Computer
If you find there is no sound on all your Youtube videos or some has sound but some has no sound, the first thing is to check the audio settings on Youtube.
Adjust Youtube Audio Icon
Make sure the sound icon on the video is not crossed out, it is opening.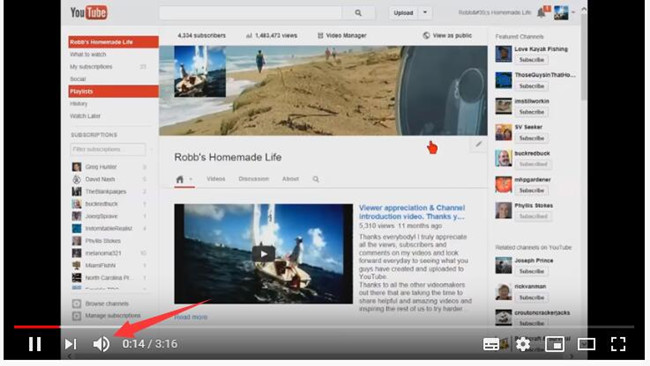 Adjust Computer Sound Icon
Another thing you should check is the computer volume control. If there is no sound on your computer, it is inevitable that no sound on YouTube would show up. Therefore, you should make sure your computer is not muted.

Related: How to Fix Youtube Audio Renderer on Windows 10, 8, 7
Solution 2: Update Browsers to the Latest Version
The browser may be another culprit causing sound not working on YouTube. And there are two solutions to fix this problem.
The first is to change another browser to play the YouTube video. Some people reported that the YouTube sound does not work on Chrome or Microsoft Edge, etc. If it does no work on Chrome, you can download a Firefox browser and play it on Firefox. It will helps. But if you find that there is no sound on YouTube, but sound on Netflix. You may need to move on.
Another one is to update browsers. Most people reported that updating their Chrome has get the Youtube sound back.
Related: Cannot Install Google Chrome on Windows 10
Solution 3: Update the Adobe Flash Player
If you have problems viewing Youtube videos with your browser but it has no sound, it may be caused by Adobe Flash Player. Therefore, make sure to update your Adobe Flash Player to the latest version.
1. You should go to the Adobe Flash Player official site to download the latest version and install it manually.
2. Reboot your browsers such as Chrome and replay the Youtube video.
Now, after playing the Youtube video, you can hear the sound again. No sound on YouTube when playing videos is solved.
Solution 4: Close Other Multimedia Programs Temporarily
Some multimedia software may prefer to occupy your speaker or microphone when it is started in the background, but you don't know. This may cause no sound when you play Youtube videos. Therefore, please close them so that you can better determine what went wrong.
Solution 5: Update the Audio Driver
In some cases, after you upgrade to windows 10, your Youtube has no sound, at this time you need to consider updating your sound card driver. Updating the sound card driver can solve many hidden sound problems at once, but it is also necessary.
Updating the driver is a technical task, which requires your patience. You need to go to the official website of your sound card to download the latest driver, and then install it step by step. When all is done, restart your computer.
If you think this is a complicated step, you can also use an automatic method to update your sound card driver to solve no sound problem on Youtube. You can use Driver Booster to help you.
1. Download, install and run Driver Booster.
2. Click Scan. Then Driver Booster will start searching all your devices including sound card and its driver.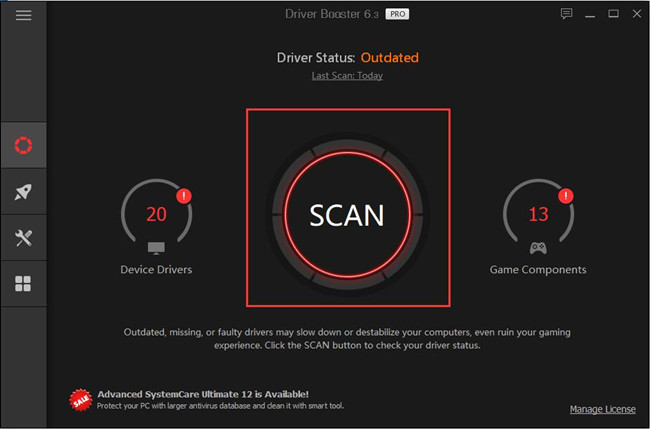 3. Find Sound, video and game controllers, and then click Update. The downloading and updating process is automatic, so what you should do is to wait for some minutes.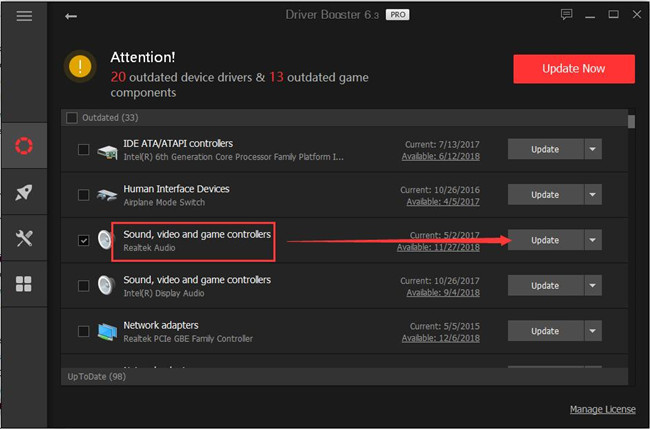 After the latest audio driver is installed, reboot your computer and you will see the sound is back when playing anything on YouTube.
Related: How to Fix Youtube Black Screen on Chrome
Solution 6: Playing Audio Troubleshooter
Whether your YouTube has no sound or computer has no sound, you can use Windows Audio Troubleshooter to test it and fix it automatically. It is easy and necessary.
1. Type troubleshooter in the search box to open Troubleshoot. In Troubleshoot window, you will see different items.
2. Select Playing audio, and then click Run the Troubleshooter. Here you will see the explaining that playing audio is to fix sound issue on browsers and other media players, etc.

After that, Windows will test the playing audio problem and fix it step by step.
Conclusion:
As one of the most well-known and popular streaming media platforms, YouTube no sound is a common problem. Once it happens to you, just check the settings of each sound program, update your browser, adobe flash player, sound card driver, etc., and you can basically solve the problem. As for users who no sound on YouTube on iPhone or Android, you can also refer to the similar ways to get sound to YouTube website or even YouTube app or TV.
More Articles:
How to Download Playlists from YouTube
Fixed: YouTube Keeps Buffering Windows 10, 8, 7
Tags :
audio issues
youtube