Solved: DNS_Probe_Finished_No_Internet on Windows 10, 8, 7
On browsers like Google Chrome, DNS_Probe_Finished_No_Internet seems too common. You are unable to access the webpage as you are told that this webpage not available. Sometimes, dns probe finished no internet happens to your PC but there is network connected. For different users, this DNS error either persists on all browsers or only on Google Chrome.
How to Fix DNS_Probe_Finished_No_Internet on Windows 10, 8, 7?
Overall speaking, the DNS settings, IP and DNS addresses, and the antivirus programs will lead to DNS_Probe_Finished_No_Internet error on Opera, Google Chrome, Firefox, etc. on Windows 10.
In other words, if it is found that the DNS is outdated or the IP address is incompatible or the network connection is blocked by the third-party antivirus software, there is a probability that DNS Probe Finished No Internet will come up. So you need to get down to these aspects so as to enter the browsers as usual.
Solutions:
Solution 1: Flush the DNS on your PC
Now that it is the DNS probe finished no internet, the first thing you need to do is to refresh the DNS on Windows 10. In this sense, the outdated DNS caches will be remove, which is helpful to fix the DNS error.
1. Type in Command Prompt in the search box and then right click to Run as administrator.
2. In Command Prompt, input ipconfig /flushdns and then hit Enter to flush the DNS caches.
Here, apart from refreshing DNS, it is also feasible for you to renew the IP settings. To this end, just run the command ipconfig /release and ipconfig /renew separately in the Command Prompt.
3. Reboot to take effect.
Open your browser like Google Chrome and access the webpage before to see if DNS_Probe_Finished_No_Internet Windows 10 will appear again.
Solution 2: Update the Network Adapter
Besides, to fix this network error on browsers or Google Chrome singly, the network adapter driver is also an important factor. According to user reports, it is said that the outdated, missing or corrupted network driver will cause DNS no internet even if there is internet or VPN.
Hence, you would better rely on Driver Booster to help you download and update the network driver automatically. In a large sense, it will be useful in fixing the DNS failed issue.
1. Download, install and run Driver Booster.
2. Click the Scan button. Driver Booster is scanning your PC.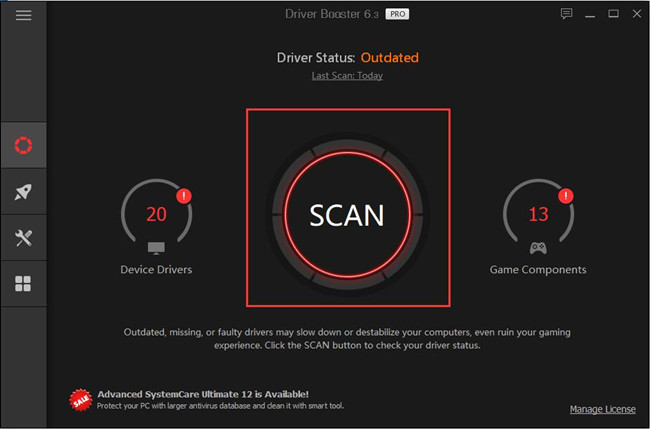 3. Find out Network adapters and Update the network driver.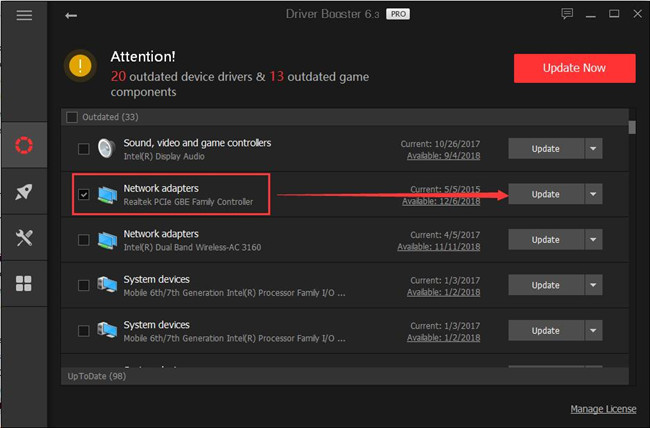 Driver Booster is installing the newest network driver automatically for you.
With the latest network driver updated, it is possible that the webpages are available for you without the DNS Probe Finished No Internet error.
Solution 3: Change the IP and DNS Addresses
It is also necessary for you to check the IP and DNS server addresses to ensure they are compatible with your PC and the browsers. Either manual or automatic, you need to change the IP and DNS addresses viable on Windows 10.
1. Go to Start > Settings > Network & Internet.
2. Under WIFI or Ethernet, scroll down to locate Change adapter options.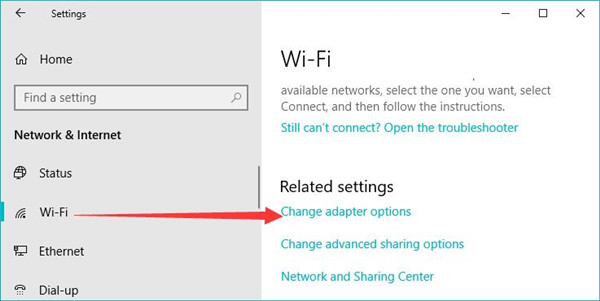 3. Then right click the network your PC has connected to open its Properties. Here, you are supposed to right click WIFI or Ethernet depending on your case.
4. In Properties window, find out and double click Internet Protocol Version 4 (TCP/IPv4) to navigate to its Properties.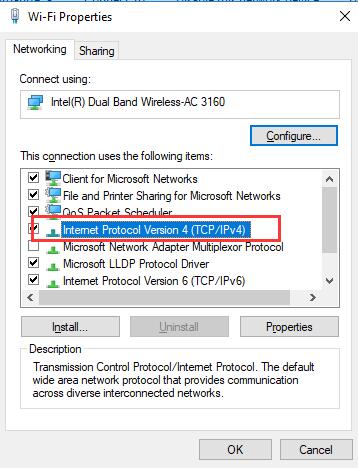 5. Tick the circle of Use the following DNS server address, and set the Preferred DNS Server 8.8.8.8 and Alternate DNS Server: 8.8.4.4.
Hit OK to save changes. You can check in Google Chrome whether DNS_Probe_Finished_No_Internet shows up after you refresh the webpage.
Related: Windows Has Detected An ip Address Conflict on Windows 10
Solution 4: Disable or Uninstall the Antivirus Software
Occasionally, it is possible that your antivirus program like Avast, AVG, etc. blocks the network access, making Google Chrome display DNS Probe Finished No Internet, this webpage is not available error.
It lies in that the application has just mistaken your operation as unauthorized. For this part, there is much need to disable that problematic software temporarily. Or if you are afraid that it will cause DNS error to browsers, you would better get rid of completely from Windows 10.
1. Open Control Panel.
2. Try to View by Categories and then find out Programs > Uninstall a program.
3. In Programs and Features window, scroll down to locate the antivirus software and right click it to Uninstall it.
4. Reboot Windows 10.
Re-launch Google Chrome or other browsers like Firefox and enter a website. Fortunately, DNS Probe Finished No Internet disappeared and you are able to search online as you wish.
Related: How to Disable Avast on Windows 10
In a word, in order to fix DNS_Probe_Finished_No_Internet, what you are supposed to do is to make sure the DNS and IP addresses, antivirus software, and the network driver are working well on Windows 10, 8, 7. As such, the DNS not working error won't occur to browsers such as Google Chrome.
More Articles:
Fixed: DNS Server Not Responding Windows 10
Fix: DNS PROBE FINISHED BAD CONFIG in Google Chrome
Tags :
chrome