[3 Ways] Download MSI Sound Drivers on Windows PC
If you have an MSI motherboard and you're having issues with your audio, updating your audio drivers should be your first choice. But some users have complained of issues while downloading MSI sound drivers. If you don't know where to get your audio drivers quickly and easily, don't worry.
The following contents will give you three methods of downloading and updating the MSI audio drivers on your Windows. It helps many Windows users get MSI driver updates more efficiently.
Method 1: Use Device Manager for updating the MSI audio driver
After upgrading your computer to a new version of Windows, if MSI Audio is not working properly, you can fix the problem by updating the drivers. Your sound/audio drivers may not be compatible with newer versions of Windows. If you don't have the skills to manually search for drivers, use Windows' built-in utility, Device Manager.
Device Manager is a feature of Microsoft Windows that detects and lists hardware devices and their status information. This repository stores all driver-specific data and provides driver updates in a partially manual manner. Here are the simple steps to perform an MSI sound driver update on your Windows 10 or 11 device.
Step 1: Right-click on the Windows icon. Choose the Device Manager option.
Step 2: Find the Sound, Video, and game controllers category from the list and double-click on it to expand.
Step 3: Right-click on the MSI Audio device and select the Update driver option.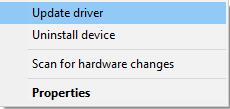 Step 4: In the following window, click Search automatically for drivers option to download the latest MSI Audio driver for Windows 10 or 11 devices.
Step 5: Wait till the driver updates are automatically downloaded and installed. After the driver is installed, restart your computer for the changes to be fully implemented.
Tips:

If the driver is up-to-date, you will be notified that "The best driver software for your device is already installed". Then you should move to the next method.
Method 2: Use Driver Booster for updating the MSI audio driver
As mentioned above, the built-in Windows Device Manager update service may not be able to properly update your drivers. Instead, use a driver update utility that can automatically identify your computer's operating system and sound/audio make and model to find the latest drivers. Novice computer users can automatically update drivers quickly and efficiently with just a few clicks, taking all the guesswork out of it.
Driver Booster is a program designed to update any outdated audio, video, USB or other device drivers on your PC that may adversely affect your computer's performance or cause system errors. It supports more than 8,000,000 device drivers. And to ensure the safety of users' computers, Driver Booster only provides qualified WHQL drivers. Besides, the newly adopted HTTPS connection can encrypt your connection with the server when downloading drivers.
Driver Booster will also protect your computer from hardware failures, conflicts and system crashes. It's very easy to use and works automatically, making it an excellent solution to help keep your system up and running. Now you can confidently download Driver Booster to update MSI audio drivers.
Step 1: Download, install and run Driver Booster on Windows 11 or Windows 10.
Step 2: One-click the Scan icon.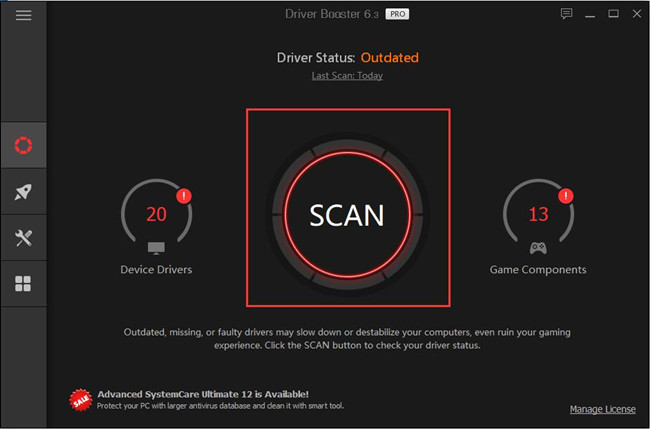 After you click the giant Scan button, Driver Booster checks your system for outdated drivers. After scanning, it will display all outdated device drivers on your computer.
Step 3: Find out the MSI audio device and click the icon Update on the right of this device.
Tips: You can also choose to update all drivers with one click. You just need to click the Update Now button on the upper right side.
Step 4:After the update is complete, the computer may need to be restarted to apply the new changes.
Method 3: Use the official site for updating the MSI audio driver
MSI Audio devices require compatible drivers for smooth and uninterrupted operation. Therefore you need updated device drivers from time to time. Manufacturers regularly release driver updates on their official websites, so you can download and update MSI audio drivers from the MSI website.
But remember, if you want to download the drivers for your MSI sound card, you have to find its motherboard information. All that said, finding driver updates yourself can be a chore, and you might have some trouble in the process, but it's not impossible. The following steps will help you download the MSI driver from the official website smoothly.
Step 1: Go to the official site of MSI.
Step 2: Click the Support option on the top.
Step 3: Input your product in the search box (Take this PC for example, input Z270-S02) and press Enter.

Step 4: Click your product in the resulting list.

Step 5: Under the Drivers & Downloads panel, click Driver.
Step 6: Choose an Operating system that is compatible with your PC.

Step 7: Choose On-Board Audio Drivers.
Here you can download the latest audio driver for your device.
Step 8: Click the Download icon to download and install the MSI audio driver on your PC manually.

# FAQ about MSI audio driver
Q1: How do I update my MSI audio drivers?
You can update MSI audio drivers by using Device Manager, Driver Booster or visiting the official site of MSI.
Q2: How to fix MSI audio static problem?
If your MSI speaker has no sound, please check if there is any other audio device connected to the computer's headphone jack. If yes, please pull out the sound device and check again. If not connected any audio devices, please check "System Setting" and "Re-install the Driver".
Q3: Does MSI have Realtek?
Yes. After you install the Realtek HD Universal Driver, an application called Realtek Audio Console will be downloaded from the Microsoft Store and installed automatically.
Q4: What is the MSI sound software called?
Nahimic audio software is a high-definition sound technology that boosts your MSI computer's audio and voice performance.
Q5: Do I need an MSI audio driver?
Yes. Your sound card handles all the sound coming out of your PC, but your sound card drivers are the small pieces of software that control how it works. Outdated sound card drivers can cause various problems.
More Articles:
3 Ways to Update MSI Drivers for Windows 10/11
Tags :
audio issues
drivers