Download MSI Motherboard Drivers for Windows 10, 8, 7
Normally, you will be told that it is of no necessity to update your MSI motherboard drivers. But, the truth is that your MSI motherboard may not boot or not detect GPU, SSD, SATA, etc. In these cases, there is much need for you to download the latest MSI motherboard drivers for Windows 10, 8, 7, Vista, or even XP.
Now, in this post, you will gain the most effective and powerful ways to get the most recent drivers for MSI motherboard, such as MSI n1996 motherboard driver. For better understanding, you will first learn why you need to update this driver and how motherboard function for applications, like your games.
What is a Motherboard and What Does it do for your PC?
In short, the motherboard is a circuit board on your computer, and it is also called system board or mainboard.
Speaking of its functions, the motherboard plays a vital role in enabling the communications between all computer hardware like GPU, RAM and many others. Moreover, it also allows such components like GPU, hard drive, and the graphics card to receive power to run from the power supply. In this way, you can see, motherboard matters for a PC. Especially for games who feel like enjoying high-quality games, it is a must to make sure your MSI motherboard is in good condition with the right driver.
How to Update MSI Motherboard Drivers on Windows 10, 8, 7?
In terms of downloading the latest MSI driver for your motherboard, there are mainly two ways. You can choose the one suitable for your case. So either your MSI Motherboard driver is missing, corrupted or broken, or you simply wish to get it updated, follow up.
Methods:
1: Automatically Update MSI Motherboard Driver
2: Manually Update Drivers for MSI Motherboard
Method 1: Automatically Update MSI Motherboard Driver
Here is the case: you tried your best online and offline to find the motherboard driver, but to notice the MSI motherboard keeps not booting or not detecting the GPU, SSD, etc. More often than not, it implies you get the wrong driver. It is true that downloading motherboard driver can be troublesome and annoying as you have to ascertain your product model.
On this occasion, it is strongly recommended to ask a professional and reliable driver tool for help. Here Driver Booster, the top one driver updater, can find, download, and install the right or the latest device driver for you automatically, including MSI motherboard driver. You can depend on it as what most users do now.
1. Download, install and run Driver Booster.
2. Click Scan. You can observe that Driver Booster is searching for the missing, corrupted or broken drivers carefully.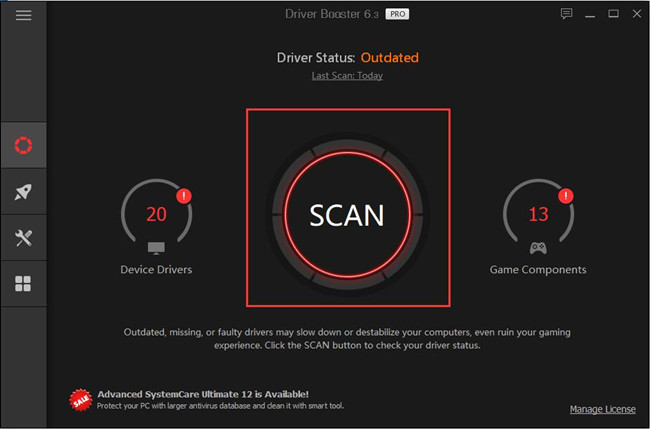 3. In the search result, find out MSI Motherboard driver and Update it automatically. You can also choose Update Now to update all the drivers.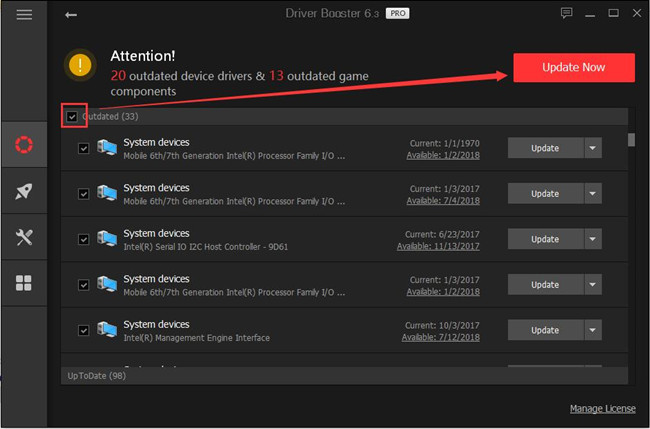 Driver Booster is able to locate Windows 10, 8.1, 7, Vista, XP MSI motherboard drivers for you. And then install it automatically. Hence, you will notice that you have installed the latest MSI g45, z87-g45gaming, MSI audio, Ethernet, or 553 motherboard drivers easily and quickly. Start your game to see if it brings improved GPU, RAM performance.
Method 2: Manually Update Drivers for MSI Motherboard
Or, of course, it is also up to you whether to navigate to MSI official site to search, download, and install the MSI motherboard drivers for Windows 10 on your own. For users with computer skills and knowledge, it is worth a shot to install MSI drivers by yourself.
But the challenge lies in that you need to know exactly what your MSI motherboard model is on your computer. Only in this way can you download the right MSI driver for your motherboard.
1. Go to MSI Support.
2. Find out and hit Motherboard. Here you can see other MSI products like MSI graphics card, MSI desktop, monitor, etc.

3. Search or Find your product. Task MSI Z170 Gaming M3 Motherboard as an example.

If you know what your product model is, you can search it directly, such as ASRock H370M Pro4 Micro ATX Motherboard, MSI Z170A Gaming M5 ATX Motherboard, and MSI Z270 M5 ATX Motherboard.
4. Click the Download icon to get the driver.
All the available drivers will come up.
Install the MSI drivers step by step.
For now, you will have updated MSI gaming, audio, and other motherboard drivers. Nevertheless, most clients may have no clue about the MSI motherboard model, therefore, in a large sense, you would better turn to Method 1 to download the driver automatically and accurately.
In summary, hope you can find the quickest and the most useful way to update MSI motherboard driver for Windows 10, 8, 7, Vista, and XP.
Tags :
drivers
motherboard