3 Ways to Update MSI Drivers for Windows 10/11
Is it a difficulty for you to download drivers such as keyboard, mouse, graphics drivers for your MSI on Windows 10? If drivers cannot work well on your MSI, people may also fail to work or study on their MSI laptop or desktop.
Thus, it is urgent for us to download the latest drivers for our MSI. But if you are not so professional enough to download drivers by yourself, you can refer to this article to know more about the details.
Here come the ways which will be the simplest and quickest when compared with other solutions.
Methods:
1: Download drivers by Device Manager
2: Automatically download drivers to MSI (Recommended way)
3: Manually Download MSI drivers for Windows 10
Method 1: Download drivers by Device Manager
Device manager is a convenient tool for computer users to fix the problem about drivers, for example, mouse is not working or audio device is disabled, laptop keyboard cannot type in or many other driver problems. So it is no doubt that it will be a great help for you if you know how to use device manager.
The way using Windows 10 to download drivers such as mouse, keyboard driver, means to use the function of Device Manager which controls the device drivers for Windows 10. In this way, you can simply download drivers for MSI on Windows 10.
You can know more information from here: How to download drivers for Windows 10 with device manager.
Method 2: Automatically Download Drivers to MSI (Recommended Way)
Driver Booster is a professional and perfect tool for drivers, whether it is for driver downloading or driver updating. If Windows 10 cannot find the exact drivers for your MSI in device manager, you can choose to use Driver Booster.
With only three clicks, you can get all the drivers you want to download or update, for instance, in which you can download MSI laptop, MSI desktop, MSI Chromebook drivers, etc.
Download, install and run Driver Booster on MSI laptop or desktop.
After you have downloaded Driver Booster, it will be much easier for you to download drivers for MSI on Windows10, for it will download drivers for you automatically and completely with the two clicks – Scan and Update.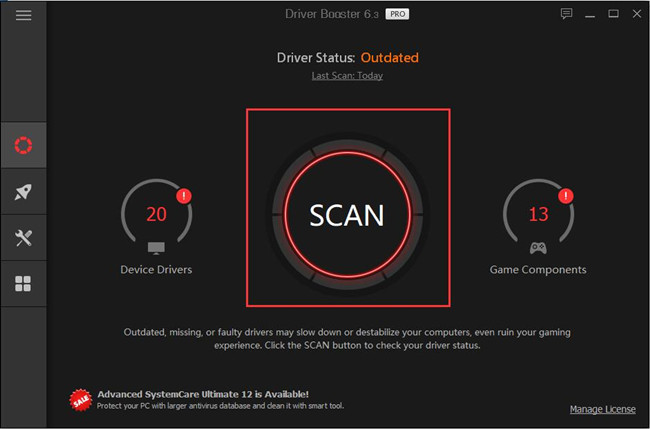 Driver Booster makes it possible to download drivers of Windows 10 for MSI in several minutes, so take it, and solve the problem easily.
Method 3: Manually Download MSI drivers on Windows 10
When you want to download drivers for your MSI laptop or desktop in a manual way, this way may be the most official one.
You can directly head to the site from here: MSI drivers download center.
Step 1: Type your MSI model in the search box in the pop-up window.
As an example, type "GE60 Apache Pro", but maybe your MSI model is MSI DK-7592, MSI E3-7528, MSI 7003, MSI MASTER-LS2 or some other models of MSI, you should input the exact MSI model.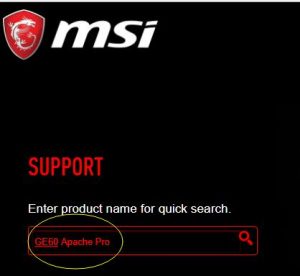 Step 2: Choose the exact MSI model from the "matching results" and then click "download ".

Step 3: Find out "Driver" and click it.
Step 4: choose the right system type of your MSI. At this point, use "Windows 10 64 bit" as an example.
All finished, there will appear lots of drivers for you to download on your MSI of Windows 10 such as MSI Audio, Wireless LAN, Bluetooth, and VGA, etc.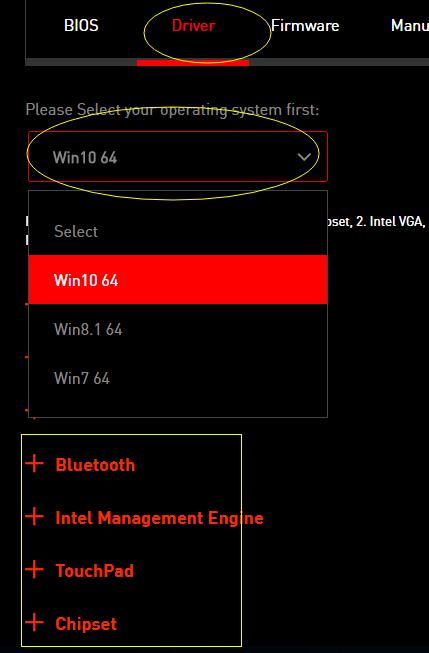 It is a way in which you are supposed to complete all the things on your own, but if you are able to follow the above steps, it will be not so complicated and you may download drivers for your MSI easily.
Automatic way or manual way, it all depends on your choice, but maybe you are tired of the old way to download or update drivers for MSI laptop or desktop on Windows 10, it may also be a good choice to try the automatic way of using Driver Booster.
More Articles:
Download ASUS Drivers for Windows 10, 8, 7
Fixed: PCI Data Acquisition and Signal Processing Controller Driver Missing
Tags :
drivers