[3 Ways] Download HP Thunderbolt Dock G2 Driver On Windows 11/10
The HP Thunderbolt dock G2 is a modern extension that simplifies the connection of different peripherals. Are you having connectivity issues with your HP Thunderbolt G2 device? If yes, you need to update the HP Thunderbolt dock G2 driver. Because you can encounter problems with your HP Thunderbolt G2 when its device drivers are corrupt or outdated.
Therefore, it is very important to update your HP Thunderbolt dock G2 drivers. Here are three ways you can update your Thunderbolt G2 drivers. This will help resolve issues caused by corrupt or outdated drivers.
Method 1: Update HP Thunderbolt Dock G2 Drivers in Device Manager
There are many ways to update HP Thunderbolt Dock G2 drivers, for example, upgrade Windows 10 to update drivers, use a driver updater tool, or use Device Manager. The easiest way to update drivers is to use Device Manager. You can view and manage hardware devices and their software drivers in Device Manager.
You don't need to install additional software or upgrade your Windows system. The process is quick and easy. So, if you know exactly which driver is causing the problem, try updating and installing the HP Thunderbolt Dock G2 driver Windows 11/10 or any driver using Device Manager.
Methods as below:
Step 1: Press Windows + X and select "Device Manager" to open Windows Device Manager.
Step 2: Expand the "Universal Serial Bus controllers" category.
Step 3: Right-click your HP Thunderbolt Dock G2 device and select "Update driver".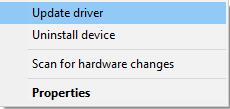 Step 4: Click Search automatically for updated driver software.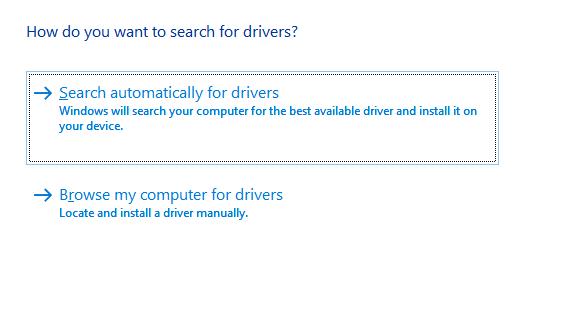 Windows will automatically search and download the latest HP Thunderbolt Dock G2 driver on your Windows 10/11 computer. What you need is to follow the on-screen instruction to finish the installation process.
Method 2: Automatically Update HP Thunderbolt Dock G2 Drivers via Driver Booster
The second way to update HP Thunderbolt G2 Dock drivers on your computer is by using the best driver update tool, Driver Booster. If you don't like spending too much time on things that are easy to accomplish, this method is for you. With this advanced driver update utility, you can update the Thunderbolt Dock G2 driver and other drivers in no time.
Driver Booster automatically scans your PC for outdated, missing and corrupt drivers and updates them with the most compatible drivers. You don't need any technical training to use this powerful driver update application. Also, you don't need to collect information about your system or device. Driver Booster will help you handle all things.
Driver Booster has more than 3.5 million supported drivers in its database, and the software maker guarantees that all drivers have passed WHQL testing (Windows Hardware Quality Labs). This test ensures that the driver is bug-free and fully compatible with the system. Therefore, you can safely use Driver Booster to update HP Thunderbolt Dock G2 drivers automatically. Methods as below:
Step 1: Download, install and run Driver Booster on Windows 11 or Windows 10.
Step 2: Click the icon Scan.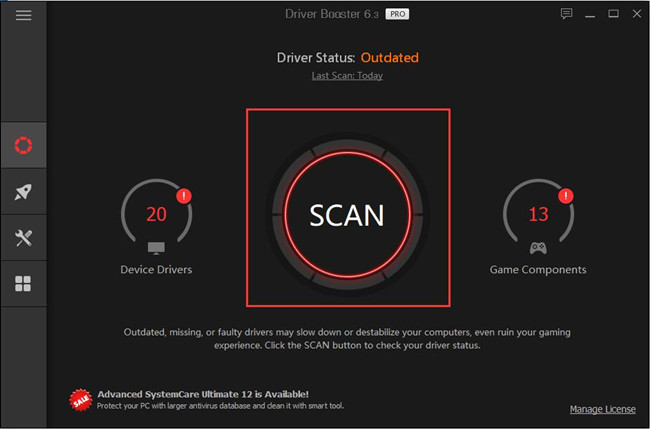 You can click the "Scan" button on the dashboard, after which Driver Booster takes about 30 seconds to analyze your system. After that, it shows a list of components with outdated drivers.
Step 3: Update drivers.
You can update all drivers at once or manually select the drivers to update. If you want to update all drivers at once, just click the Update Now button in the upper right corner. If you don't want to do this and only want to update the HP Thunderbolt Dock G2 driver only, then you can just check it and click the Update button next to it.
Method 3: Use Official Website to Manually Download HP Thunderbolt Dock G2 Drivers
To update your own HP Thunderbolt G2 Dock driver, you can go to the official HP website and download the driver. To use this method requires some technical knowledge as well as time and effort to complete. If you have specific technical knowledge, especially with drivers, you can find the best drivers for your device online through the manufacturer's official website.
You first need to gather information about the device model, operating system, and bits you're using. This will help you find the correct driver. Here's how to manually download and install HP Thunderbolt Dock G2 drivers from the official website:
Step 1: Go to HP's official website for the HP Thunderbolt Dock G2 device.
Step 2: Choose your Windows version and bits. HP will detect your OS and bits automatically. You also can choose or change it by clicking the "Choose a different OS" option.
Step 3: Expand the section named Docks-Firmware and Driver (2).
Step 4: Click the Download icon next to the file named Realtek USB Audio Driver for HP Thunderbolt Dock G2.

Tips: This package contains the driver that enables the Realtek USB audio for the HP Thunderbolt Dock G2.
Step 5: After downloading, double-click the executable file and follow the on-screen instructions to initiate the installation and get the HP Thunderbolt G2 dock driver update on your computer.
Step 6: Restart your computer for the changes to take effect.
# FAQ about HP Thunderbolt Dock G2 Drivers
Q1: Does HP Thunderbolt dock G2 need drivers?
Yes. When connecting a Thunderbolt dock G2 device, the host operating system should install all the necessary drivers.
Q2: How do I update my HP Thunderbolt Dock G2?
To update the HP Thunderbolt dock driver, you can use the official website or Device Manager and download updated drivers from there, or you can use third-party software to get the latest drivers automatically.
Q3: How do I connect my HP Thunderbolt dock G2?
1. Connect one end of the USB Type-C cable to the USB Type-C Thunderbolt port on the docking station.
2. Connect the other end of the cable to the external Thunderbolt device.
Q4: How do I reset my HP Thunderbolt dock g2?
Power off the computer and disconnect the AC power cord. Press and hold the power button on the computer for 15 seconds.
Q5: What is the HP Thunderbolt Dock G2 used for?
You can expand your notebook with up to 200 W of charging, fast transfer speeds, support for dual 4K displays, connectivity to your accessories and wired network, plus advanced network manageability.
Tags :
drivers
hp