Download Netgear WIFI Drivers Windows 10, 8, 7
Such Netgear WIFI adapters like Netgear A6100, A6210, WNA3100M are widely used among users to connect to the wireless network. While, recently, many client reported that their Netgear USB WIFI adapter stops working and there is no internet access on Windows 7, 8, 10.
More often than not, if not a hardware issue, the culprit of the Netgear WIFI adapter consists in the Netgear drivers. Only with the compatible Netgear wireless adapter driver can Netgear adapter work well and grant you network connection.
How to Download and Update Netgear Wireless Adapter Drivers?
For many of you, it is a common phenomenon that the Netgear WIFI driver not installing or not working after power outage or there is no network access on programs like Netgear Genie on Windows 10. Hence, you need to take the right way to get the proper and updated driver for your Netgear AC600, AC6100, AC1600, R8000, etc.
There are different alternatives for you to download the most recent Netgear WIFI router drivers.
Methods:
1: Update Netgear WIFI Drivers Automatically
2: Update the Netgear Drivers in Device Manager
3: Update Netgear WIFI Adapter Drivers Manually
Method 1: Update Netgear WIFI Drivers Automatically
In the first place, if you intend to update Netgear drivers like that of A6210 quickly and precisely, it is suggestible that you resort to the driver tool – Driver Booster.
As the top one driver updater, Driver Booster is capable of figuring out whether your Netgear Wi-Fi USB mini adapter driver is outdated or incompatible with the operating system. Based on that, it will recommend the right or latest driver in most cases to you. Usually, without wireless connection due to the Netgear Wi-Fi driver error, you may tend to this way.
1. Download, install and run Driver Booster.
2. Click Scan. That will allow Driver Booster to scan for all the missing, outdated, and corrupted device drivers, including the Wi-Fi driver.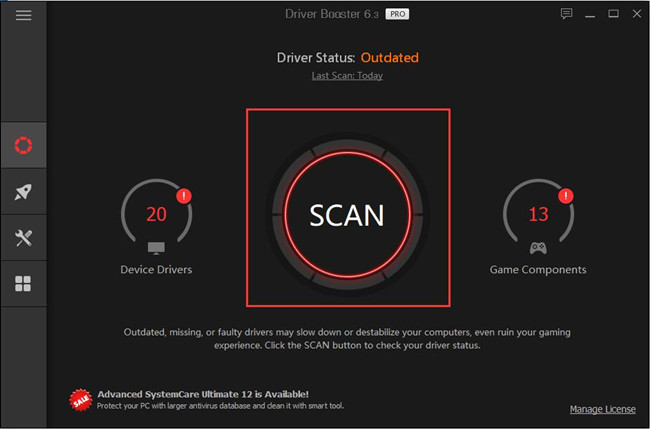 3. Find out Network adapters and then Update the Netgear WIFI driver automatically.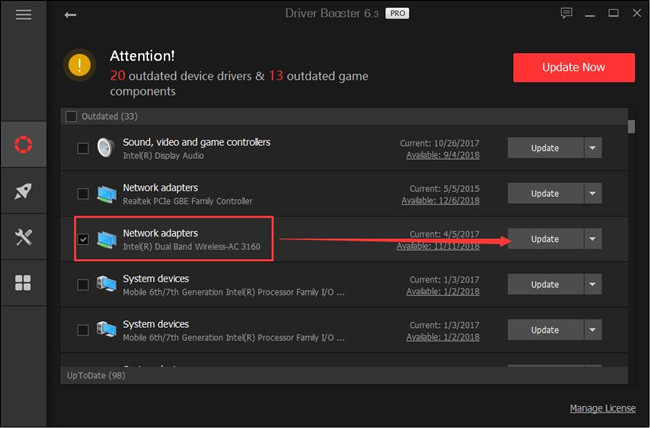 Tips: You can also use Driver Booster to fix this network error by Netgear adapter driver.
In Driver Booster, on the left side, hit Tools and then on the other pane, click Fix Network Failure.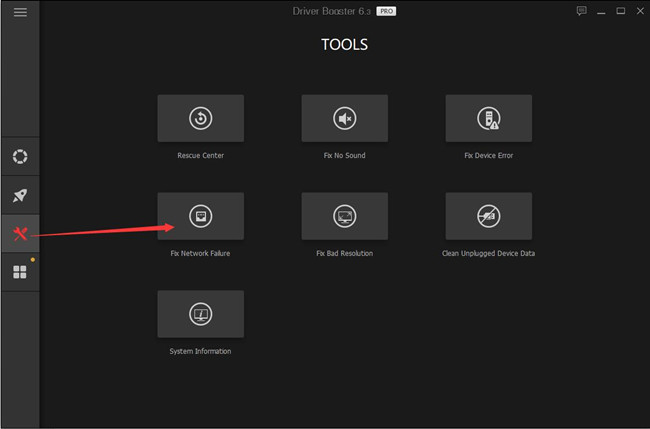 It is likely your Netgear WIFI router lose connection error will disappear with the updated driver and fixing by Driver Booster.
Method 2: Update the Netgear Drivers in Device Manager
You can also make full use of Device Manager to install Netgear A6210, A6100 and many other Netgear drivers for Windows 10, 8, 7. On some conditions, Device Manager will find online the driver you need and enable the Netgear WIFI to work.
1. Go to Device Manager.
2. Expand Network adapters and then right click the Netgear WIFI adapter driver to Update driver. Here your Netgear driver may be Netgear A6100 WIFI Adapter driver.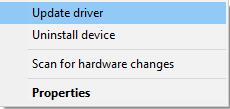 3. Decide to Search automatically for the updated driver software.
At this moment, you can see Device Manager is searching for the WIFI driver online. If it shows the driver found, install it on Windows 10 on your own. In this way, it is possible that the Netgear wireless network error has been resolved as well.
Method 3: Update Netgear WIFI Adapter Drivers Manually
Last but not least, as for computer savvy, there is a high probability that you would rather get the driver installed all by yourself. Under this circumstance, it is your privileges to navigate to Netgear site to search, download, and install the driver manually on your computer.
Here, on Netgear official site, all the available drivers for all Netgear WIFI adapters, routers will be listed clearly before you, not only Netgear WIFI adapter drivers but also Netgear WIFI router drivers, and wired adapter drivers.
1. Head to Netgear Support.
2. In the search box, enter your Netgear WIFI adapter model.
Here take Netgear A6210 as an example, but yours may be A6100, AC1700, A7000, N900 Dual-band WIFI adapter.
3. Then choose to Download the Netgear WIFI adapter driver.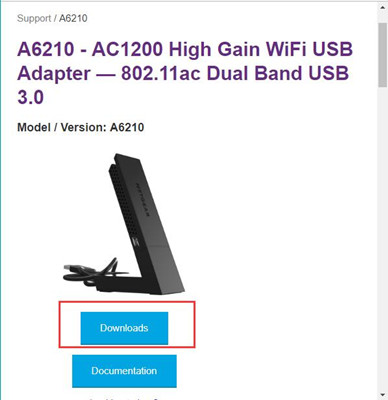 Go with the on-screen instructions to install the WIFI USB adapter driver on Windows –10, 7 32 or 64 bit.
Once done, try to connect to the WIFI again and you will get a much more smooth connection as you wish.
In short, here with the help of this article, you will get the effective ways to download and update Netgear drivers for Windows 7, 8, 10.
Tags :
drivers
wireless issues