Fix Windows 10/11 Not Recognizing Toshiba CD/DVD Drive
After updating to Windows 10/11, some Toshiba computer users may find that their Satellite laptop CD/DVD Drive cannot be recognized. This problem may appear as no CD/DVD device showing up in Device Manager or it's missing in File Explorer. There is probably something wrong with your drivers or programs. If you are faced with this kind of issue, do not afraid. These solutions provided may help you to fix it.
Solutions:
Solution 1: Uninstall the Toshiba Programs
As it is mentioned in the FAQ from Toshiba, you can fix this problem by uninstalling two programs, TOSHIBA Recovery Media Creator and TOSHIBA Disc Creator. These two applications may have caused your satellite DVD drive to not be recognized properly or to start up properly.
1. Type Control Panel in the search box and click it.
2. Select Uninstall a program.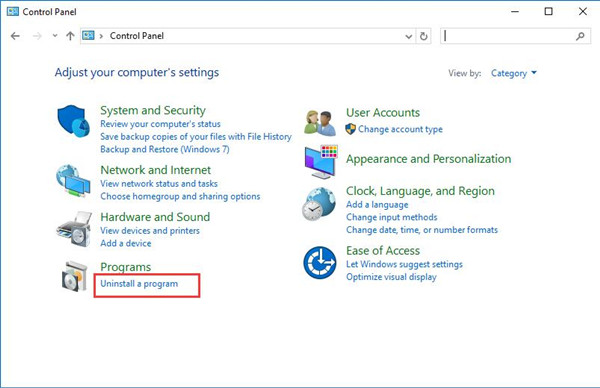 3. Find the two programs, TOSHIBA Recovery Media Creator and TOSHIBA Disc Creator, in the list. Then right-click them and uninstall them.
4. Restart your computer. The CD/DVD drive should be available after restarting. If not, try the below solutions.
Solution 2: Uninstall and Reinstall the DVD/CD-ROM Driver
In some cases, it is the oudated or missing DVD/CD-ROM driver that makes your Toshiba DVD/CD-ROM not detected by Windows 10, so you can try to uninstall and then reinstall a new driver.
First, you need to uninstall the DVD/CD-ROM Driver by this path: Device Manager > DVD/CD-ROM drives > Uninstall.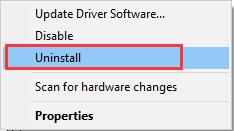 Reboot Windows 10 to let Device Manager reinstall Toshiba DVD/CD-ROM driver for Windows 10.
Or you can manage to do update the driver to make it compatible with Windows 10.
Solution 3: Update the Satellite CD/DVD Drive Driver
Sometimes this problem is resulted from an outdated Toshiba DVD/CD-ROM driver. So it is necessary for you to update it. To save your time and energy, you are now recommended to make full use of Driver Booster to update the DVD drive drivers for Windows 10/11 for your Toshiba laptop.
1. Download and install Driver Booster on Windows 10 or 11.
2. Run Driver Booster and click Scan.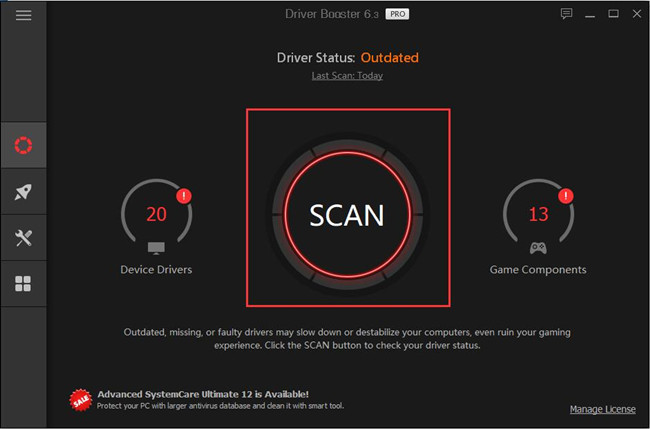 Then it will tell you how many devices need updated drivers and how many devices missing drivers.
3. Locate DVD/CD-ROM drives and then choose to Update this driver.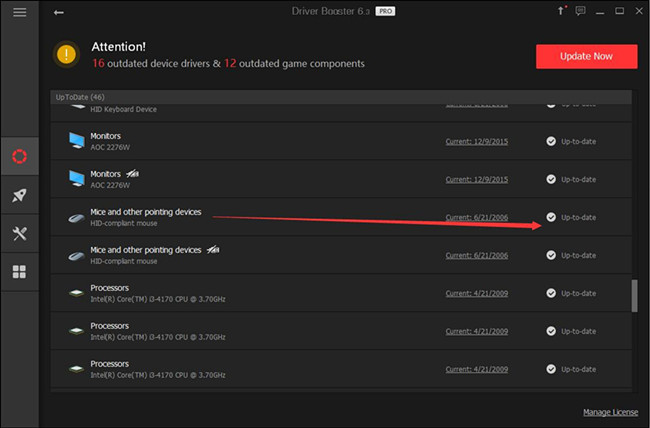 Then Driver Booster will automatically install the Toshiba DVD/CD-ROM driver, which will save much time for you compared with updating them one by one. This method is recommended if you cannot find the driver you need in TOSHIBA's official website or you think it troublesome to download on the website.
After the DVD/CD-ROM Driver is reinstalled, the CD/DVD drive should be recognized.
All these above are about how to resolve the problem of Toshiba CD/DVD Drive not recognized on Windows 10. If you had this problem after updating to Windows 8, these solutions also apply.
Supposed that these solutions cannot solve your problem, or that you want to know more ways applying to other computers, click here for help with DVD drive not working on Windows 10.
More Articles:
3 Ways to Download Toshiba Driver for Windows 10/11
Solved: 0xc0000034 Error Code on Windows 10