Fix Outlook 2016, 2013, 2010, 2007, and 2003 Stuck on Loading Profile
You have been using the Outlook application on the laptop or desktop over the years. But all of a sudden, Microsoft Outlook could not be opened, but instead, Outlook is stuck on the loading profile screen. Even after running this program in the background for hours, Outlook 365 did not start and stopped working on Windows 10, 8, 7.
As a free personal email and calendar from Microsoft, Outlook office allows users to keep in contact with friends and families via e-mail and view the calendar conveniently.
However, as per user reports, Outlook 2010, 2013, and 2016 are likely to stumble upon "loading profile" error when you try to launch this Microsoft Office program.
Why is my Outlook Stuck on Loading Profile?
Your Outlook can't load profiles as normal when the profile itself runs into problems like profile corruption. In some cases, you just can't load Outlook profiles on your computer in that your PC settings have hindered the loading of Outlook profiles. Or the network on your device does not allow Outlook to load profiles and then run on Windows 7, 8, and 10 properly.
How do I Fix a Loading Profile in Outlook?
If you are to get rid of the "loading profile" loop from Outlook Office, there is much need for you to fix the profile as well as the system issues. Hence, once you noticed that Outlook is stuck on starting or processing, try the following solutions to help the Outlook load successfully and work for you.
Solutions:
Solution 1: Run Outlook as Administrator
Without administrative privileges, sometimes, Outlook 2010, 2013, or 2016 will be stuck on the loading profile. Therefore, it is necessary for you to run this Office program as an administrator to see if the profile can be loaded completely.
On the Desktop, right click Outlook to Run as administrator. Or you can also open File Explorer, and then go to C:\ Program Files \ Microsoft Office \ Office 14\15\16 and then find your Outlook version to run as administrator.
Solution 2: Reset Outlook Navigation Panel
Normally, the Outlook navigation panel on Windows systems allows users to quickly access emails, calendar, and contacts. However, the navigation panel may run into problems and result in an Outlook profile loading loop. In this sense, you can just take time to reset the navigation panel.
1. Press Windows + R to open the Run box and then copy and paste Outlook.exe / resetnavpane in the box.
2. Immediately Outlook will be reset automatically.
3. Try to start Outlook to see whether Outlook can load successfully and whether it will maintain running without being interrupted by the profile loading screen.
Solution 3: Open Outlook in Airplane Mode
Airplane mode on PC and mobile phone usually means that there is no network or Bluetooth available. Although this solution seems irrelevant or even absurd, some users did report that it worked for them to get out of the "Outlook loading profile" screen by temporarily enter the airplane mode.
1. Click the network icon on the right corner of your desktop and then hit Airplane mode to enable it.

2. Open Outlook.
3. Click Airplane mode to disable it and then connect to the network.
Fortunately, some people can see "loading profile" error does not come up during this process, and Outlook loads properly.
Actually, the process of disabling and then enabling the airplane network may have refreshed the network or even other relevant settings so as to fix the Outlook 2010 stuck on loading profile issue.
Solution 4: Launch Outlook in Safe Mode
This solution will help your device access Microsoft Office Outlook without additional add-ins. In Outlook safe mode, only required add-ins and files are activated, so you can detect and fix the Outlook 2013 stuck on the loading profile more easily and smoothly. On some occasions, Outlook loading failed error can just be resolved after you start this program in its safe mode.
1. Press Windows + R to go to the Run box and then type Outlook.exe /safe.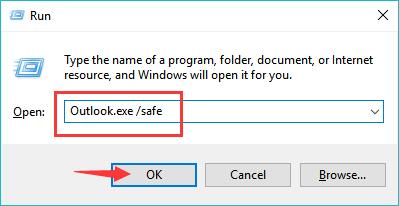 2. Confirm the Outlook profile.
3. In Outlook in safe mode, on the left pane, select File > Options.
4. Under Add-ins, on the right pane, locate Manage and then select COM Add-ins.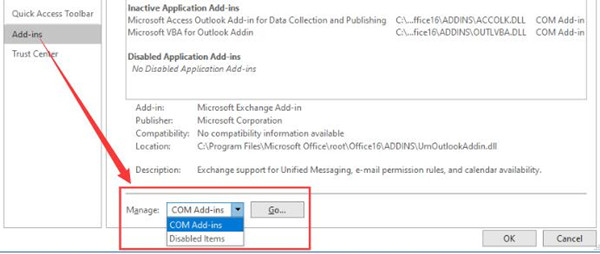 5. Hit GO.
6. Uncheck the boxes for all add-ins and then click OK to save changes.
You can close Outlook and then open it in normal mode to see whether Outlook 2016 or 2013 or 2012 or 2007 or 2003 will still be stuck on the loading profile page.
Solution 5: Delete Microsoft Office Keys
Since Outlook is one of the programs in Microsoft Office packages, it is possible that errors with the office keys cause Office Outlook not to load correctly. In other words, you can try to remove the problematic or old MS keys to ensure they will conflict with the current MS programs.
1. Stroke Windows + R the combination key to open the Run box and then enter regedit in the box.
2. In Registry Editor, find out
HKEY_CURRENT_USER\Software\Microsoft\Office.
Locate the older keys of Office and right click to Delete the key or keys.
After removing the erroneous office keys, you can follow on to create a new Outlook profile. That will help Outlook load successfully since the new profiles will not meet with problematic registries.
Solution 6: Create a New Outlook Profile
When Outlook 2003, 2010 or 2013, or 2016 is stuck on the loading screen even in safe mode and just can't load completely, you might as well try to create a new profile for Microsoft Office 14, 15, or 16.
1. Press Windows + R to access the Run box and then input control mlcfg32.cpl in the box.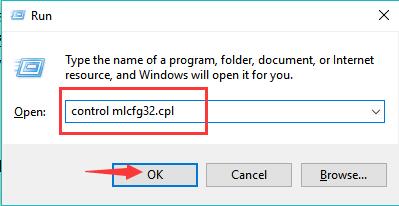 2. In Mail Setup – Outlook, click Show Profiles.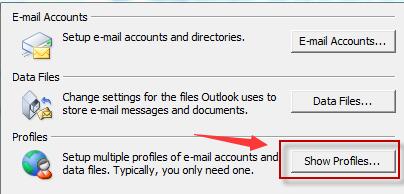 3. Hit Add > OK in the pop-up, and give a Profile name.
4. In Add Account, choose the Auto Account Setup and then enter the E-mail Account information.
You need to input Your Name, E-mail Address, Password, and Retype Password.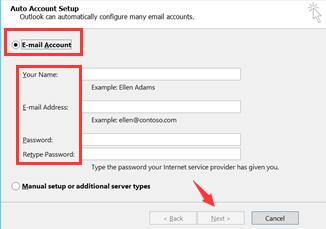 5. Go back to the Outlook Mail window, under "When starting Microsoft Outlook, use this profile", tick the circle of "Always use this profile" and then select the name of the newly created Outlook profile.
6. Hit Apply and OK to save changes.
With the new account, re-launch Outlook again to see whether Outlook 2010 or any other version is stuck on the loading screen on Windows 10, 8, 7 and won't load after you wait for it to respond for a long time.
Solution 7: Release the IP Addresses
If the network on your computer is not working or responding, Outlook won't load and gets you stuck on the "loading profile" screen. You then need to refresh the IP Addresses to ensure the network will be working in your IP Addresses when you are running Office Outlook on Windows systems.
1. Type Command Prompt in the search box and then right click the result to Run as administrator.
2. In Command Prompt, enter the command ipconfig/ release, and then press Enter to run the command.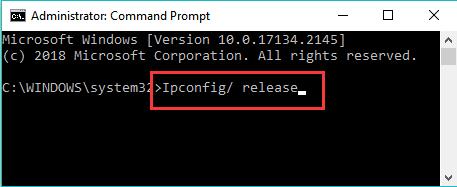 3. Then run the command ipconfig/ renew.
In so doing, the IP addresses of your device will be reset for Outlook. You can start the Outlook, and possibly, Outlook stuck on loading profile 2010, 2013, or 2016 won't plague you anymore.
To sum up, hope solutions in this article will help you fix Microsoft Office Outlook stuck on loading profile and not loading correctly on Windows 7, 8, 10.