Windows SmartScreen Can't Be Reached Right Now (Quick Fixes)
Overview:
When you are installing an app, Windows SmartScreen can't be reached right now, and it reminds you to check your internet connections. Windows SmartScreen is unreachable and can't help you decide if this app is okay to run. Following others' advice, some of you decide to bypass Windows SmartScreen by clicking "Don't run".

However, if so, Windows SmartScreen fails to play its role to protect your device. Hence, users tend to find some effective solutions to get rid of this SmartScreen unavailable" (smartscreen.exe) error from Windows 10, 8, 7.
What is Windows SmartScreen?
In short, Windows SmartScreen is a Windows-embedded feature introduced from Windows 8 to protect the safety of your PC by monitoring the files and programs downloaded from the browser. Normally, Windows SmartScreen is displayed in task manager as smartscreen.exe and works by allowing or prohibiting files or programs on Windows 10 and 8.
For instance, if Windows SmartScreen detects an app or file that it has not seen before, it will prompt users with a warning, and it is up to users whether to stop the program from running or bypass the warning.
Why Can't Windows SmartScreen be Reached Right Now?
When Windows SmartScreen is unreachable for now, it means there are problems with this feature, your network connection, or your Windows user account. To be specific, if you have not yet enabled this smartscreen.exe, this feature will not available. Network connection errors such as proxy servers are also likely to prevent this Windows feature from working.
How to Fix "Windows SmartScreen can't be reached right now" Error?
If you are to remove the "Windows SmartScreen can't be reached right now" problem, you need to make sure the SmartScreen feature is enabled. Besides, now that the error message prompts that you should check your internet connections and that Windows SmartScreen is unreachable and can't help you decide if this app is okay to run. For instance, it is said that the proxy server is likely to cause SmartScreen not to be reached right now, so you may as well disable it temporarily to see whether it works.
Solutions:
Solution 1: Enable Windows SmartScreen
As Windows SmartScreen is designed to monitor files and programs from Microsoft Edge and Internet Explorer, if you are to turn on this Windows feature, you are to check its settings in Windows Defender Security Center.
In some cases, if you have downloaded a third-party antivirus program to protect the PC, you can also allow Windows SmartScreen to run on Windows 8 and 10.
1. Type Windows Defender Security Center in the search box and then press Enter to move on.
2. On the left pane, under Windows Security, on the right pane, hit App & browser control.
3. Under Check apps and files, tick the circle of Warn.
4. Locate SmartScreen for Microsoft Edge and SmartScreen for Microsoft Store apps, and select Warn for them.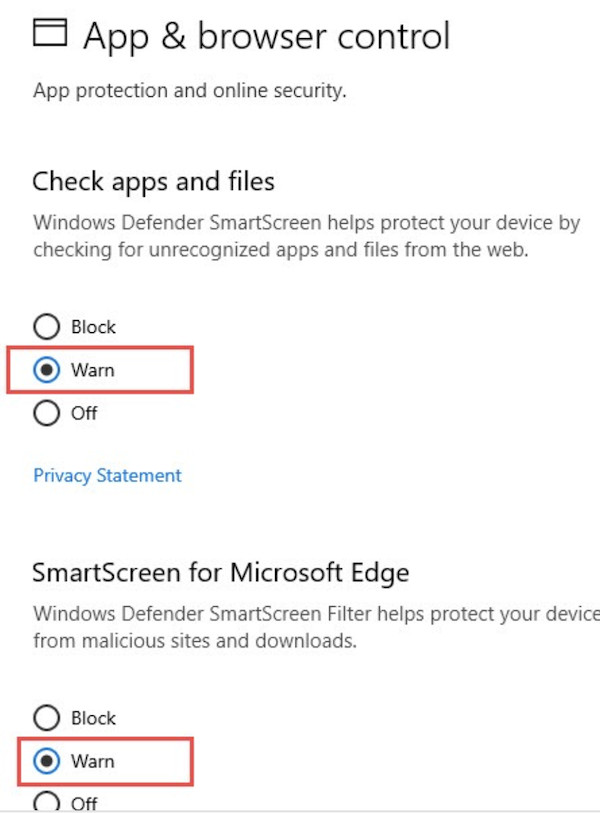 5. Reboot the PC to take effect.
When you boot up your device again, you can see that Windows SmartScreen is reachable and works to protect PC security. For instance, it warns you when finding an app from an unidentified source.
Solution 2: Check the Network Connection
As reminded in the error message, you need to check your network connection to ensure it works fine and won't lead to an unreachable Windows SmartScreen feature. To check whether your network connection works well, you can try to:
1. Turn off and unplug the WIFI adapter.
2. After 3 minutes, plug the adapter.
3. Try to connect the WIFI again.
4. Connect to the network on another device like a smartphone whether there is only a network error on your computer.
In this way, you will have an idea of whether your network or your device runs well with the network. If there is any network error, restarting the network adapter may also help.
Solution 3: Turn off Proxy Server
Although a proxy server is required in some locations, it may cause conflicts with the Windows SmartScreen, leading to the smartscreen not being available at this moment. In this way, you can just disable the proxy server settings on your device. After that, if needed, you can turn it on.
1. Go to Start > Settings > Network & Internet.
2. Under Proxy, on the right pane, choose to turn off "Use a proxy server".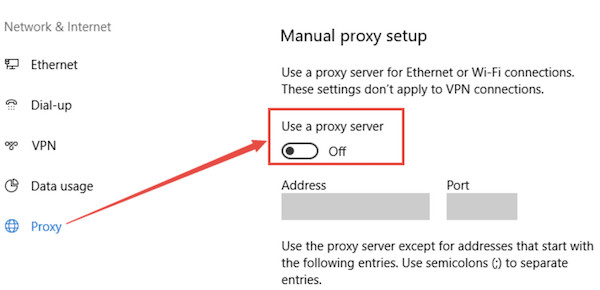 In so doing, your proxy server won't work. You can install a new program from internet explorer to see whether Windows SmartScreen will be elevated to work. For instance, Windows Smart Screen will pop up and remind you that the program is not safe.
Solution 4: Create a New Windows User Account
In case of user account corruption or user account errors, you can also try to create a new user account so that Windows SmartScreen can work well with the new account. Possibly, smartscreen.exe is available after you created a problem-free account.
1. Go to Start > Settings > Accounts.
2. On the left side, locate Family & other people, and then on the right pane, hit Add someone else to this PC.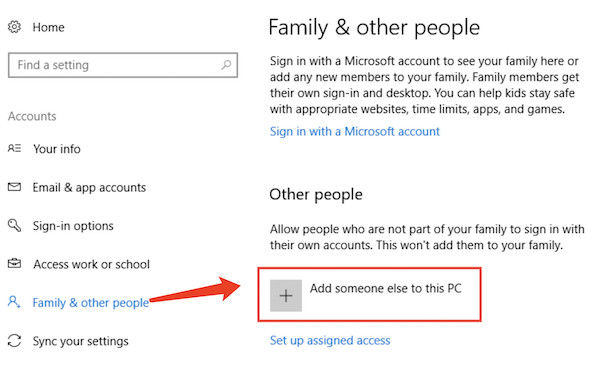 3. In the Microsoft account window, click "I don't have this person's sign-in information".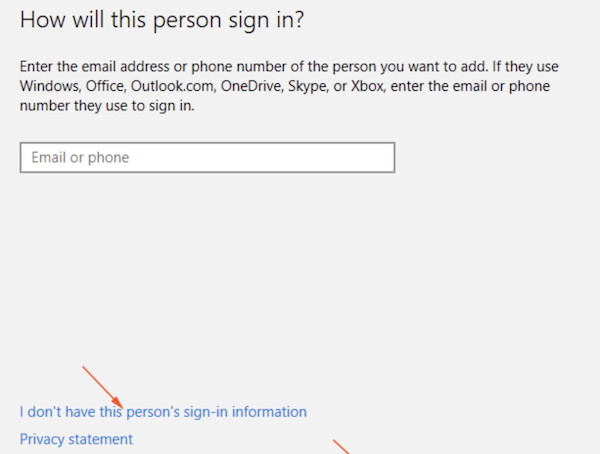 4. hit "Add a user without a Microsoft account".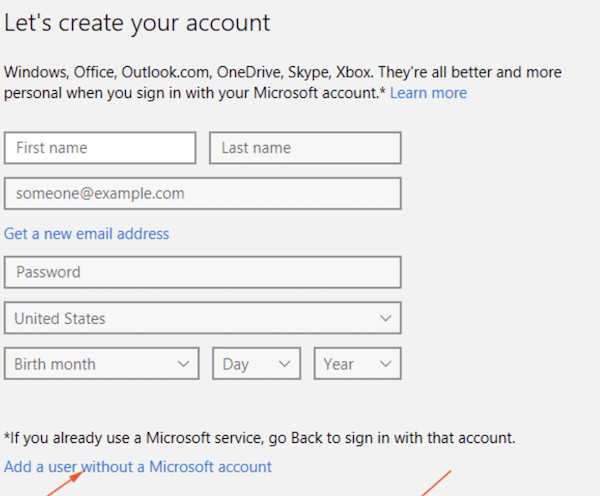 5. In Create an account for this PC, enter a username, and then enter and re-enter a password.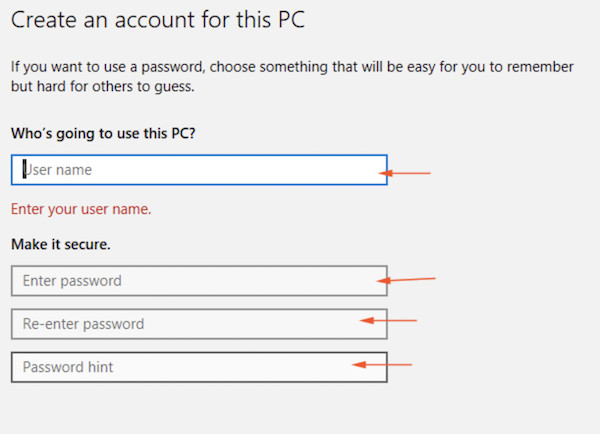 6. Then click "Next" to log out of the existing account and sign in with the new account by entering your account and password.
After signing in to the device with the new local user account, you can run the app installer to check whether Windows SmartScreen is reachable and works to protect your PC from malicious files and programs.
Summary:
This post tries to introduce to you the most common and powerful solutions to fix the "Windows SmartScreen can't be reached right now" error when you run the latest installer, for instance, by enabling the SmartScreen feature in case it has been disabled carelessly.