Download and Update UGEE Drivers for Windows and Mac
Overview:
Ugee tablets and pens are widely used. But recently, it has been reported that ugee m708 can't detect tablet or ugee pen is not working on Windows 10, 8, 7, so fixing ugee issues on Windows is needed. In most cases, when the ugee tablets like ugee m708 cannot be recognized by Windows 10 or Mac, updating the ugee driver may be helpful.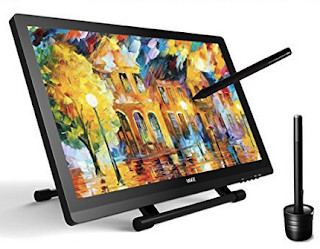 Or for some users, if you simply wish for improved features of ugee tablets or pens on Windows 10, it is also necessary to download or update ugee drivers, such as ugee m708 driver, ugee 1910b driver, and 1060 drivers.
How to Download UGEE Drivers for Windows 10, 8, 7, and Mac?
Normally, there will be an ugee driver installed on Windows systems upon it recognizing the ugee device. While sometimes ugee pen display may not be recognized as a tablet on Windows 10, an error message that "No tablet was detected, please connect your tablet to the computer before driver installation" comes up, and ugee device like ugee m708 stops working on the computer.
Three options are available for people who hope to download Windows 10 ugee drivers, within the system, automatic and manual downloading. Hence, whatever ugee problem you are facing, for instance, can't find drivers for ugee 1920b, you may need to check and then download ugee tablet or pen driver for Windows 10, 8, or 7. With the right driver, ugee device will work well again on the computer.
Methods:
Method 1: Download ugee Drivers in Device Manager
When you try to connect the ugee tablet to the computer, Windows 10 is said to automatically install an ugee tablet driver like ugee 2150 driver to get the ugee device detected and to work. However, in some cases, you may need to update the ugee drivers within Windows systems for better performance or to fix ugee not detected error.
Therefore, you can try to allow Windows embedded tool – Device Manager to search for and download the latest ugee drivers for Windows 10, including both ugee tablet and pen drivers.
1. Open Device Manager.
2. Find the ugee tablet or pen driver and then right click it or them to Update driver.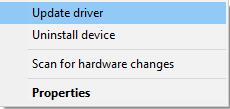 3. Choose to Search automatically for the updated driver software.
Then you can see that the device manager is searching for the latest ugee driver for Windows 10, and once it finds it online, it will install the ugee driver automatically, like ugee m708 driver and ugee 1910b driver for Windows. And you can also try to check whether ugee pen not working or ugee tablet not detected by Windows 10 is solved.
Method 2: Download ugee Drivers Automatically
No matter what Windows drivers you need for the ugee pen tablet or pen display, such as ugee m708 tablet driver, ugee UG-2150, and ugee UG-1910B driver, it is feasible for you to leverage a professional and safe third-party driver tool to help you install ugee drivers automatically.
In this case, Driver Booster is always available for you as the top one driver tool that can not only automatically update drivers but also solve various system issues like audio errors on Windows 10. So you can rely on this tool to download UGEE graphic tablet or drawing tablet or pen display driver to fix UGEE tablet not working issue.
1. Download, install and run Driver Booster.
2. After the Scan, locate the ugee driver to let Driver Booster Update it automatically.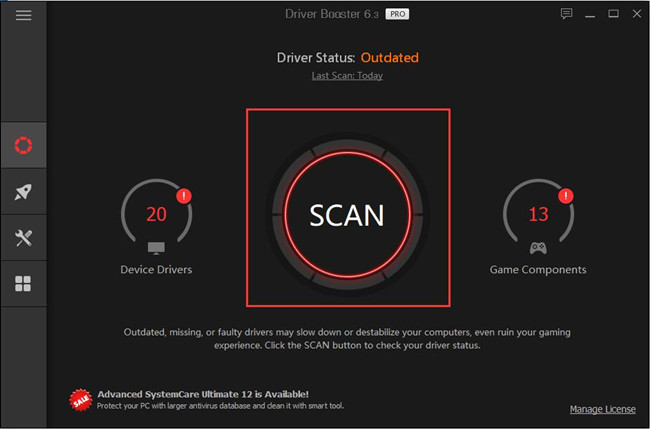 3. Driver Booster will be installing the ugee tablet or pen driver.
If Driver Booster finished the installation, you can check whether the ugee tablet is detected and working well on the PC. Whatever ugee model you are using, such as ugee m708, ugee ex08, or ugee u1000I, Driver Booster will update its driver quickly and automatically for you.
Method 3: Download ugee Driver Manually on Mac and Windows
If you are proficient in fixing computer issues on your own, installing ugee drivers for Mac, Windows, or even Chromebook and Android from UGEE official website may also be a good option. On UGEE Support, you can get ugee tablet or pen driver downloads for different devices or systems. It is worth noting that on UGEE official website, you can not only obtain the latest ugee drivers but also ugee software downloads such as ugee m708 software.
1. Go to UGEE Support.
2. Under Service and Support, hit Download. Then you can find and install the latest ugee drivers.
3. Select a Product line, a product, and the required download. Here make Product line ugee Pen tablet, product ugee m708, and the required download User manual download.

4. Then hit the "Click download" button to get the ugee m708 driver on the local folder on your device.
5. Follow the on-screen instructions to finish installing the driver on Windows, Mac, Chromebook, or Android devices.
If needed, you can also try to download ugee tablet software on your PC to better manage the ugee device on computers.
Bonus: How to Fix UGEE Tablet Not Detected?
For some users, you may have noticed that even if you installed the latest UGEE driver on Windows or Mac, ugee pen display or tablet not recognized persists on Windows 10. Especially after Windows updates, ugee errors like ugee 2150 pen display not recognized as a tablet on Windows 10. If so, you can follow the solutions below to resolve ugee issues. And here is another tutorial about how to fix Wacom no device detected error.
Solution 1: Roll back Windows 10 Fall Creators Version 1709
Particularly, it is said that Windows 10 Fall Creators Update 1709 may cause various problems to your PC. If your PC happens to ugee tablet not detected or ugee pen not working error right after Windows 10 Fall Creators Update, you may as well roll this Windows version back in case it leads to more issues.
Go to Start > Settings > Update & Security > Recovery. And then the system will reset to the previous version.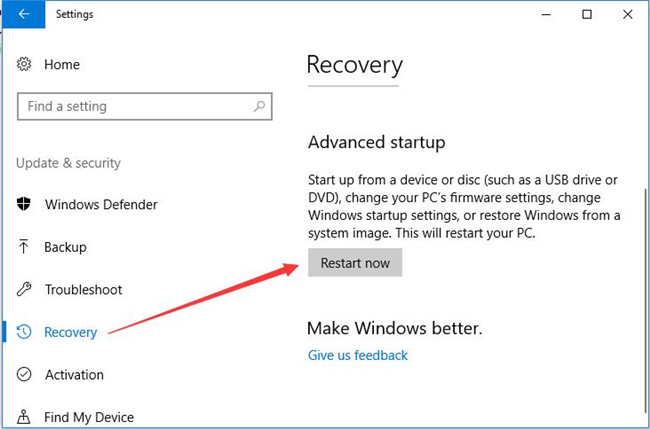 Without the problematic Windows update, you can connect the ugee m708 or other tablets to see whether ugee tablet can be recognized by Windows 10.
Solution 2: Make sure WinTab Service is running
Simply put, WinTab service is automatically installed for the tablet. So you need to ensure this service is running well to get ugee tablet or pen display detected as a tablet on Windows 10 or other systems.
1. In Task Manager, find out WinTab task and right click it to Start the service.
2. In File Explorer > C:/ drive, search wtclient file in the file search bar, double click the pop-up file, and then click Yes when you are prompted "Do you want to allow this app to make changes to your PC". In this way, WinTab service may be running on Windows 10.
Once you noticed that WinTab service is not available in task manager, you may need allow it to work from its file location.
3. In Services, locate WinTab service and right click it to Start this service.
After that, you can check whether ugee tablet can be detected by the system.
Above all, in this post, you can learn how to download and update ugee drivers for Windows and Mac, such as ugee m708 driver, ugee 1910b driver, ugee ex07 driver, and ugee HK 1560 driver. Besides, if you are encountering ugee pen not working or tablet not recognized, there are also effective solutions for reference.
More Articles:
Download Wacom Tablet Drivers for Windows 10, 8, 7 and Mac
Fix Wacom Tablet Driver Not Found Windows 10/11
Tags :
drivers