Fix Video Controller (VGA) Driver Issue for Windows 10/11
Contents:
Video Controller Driver Issue Overview:
The case is that when you open device manager on Windows 10 or Windows 11, you find the Video Controller driver is showing in Other devices tab with a yellow mark next to it, you are completely at a loss when you are experiencing the Video Controller driver error.
Sometimes, your video controller (VGA Compatible) is just not showing up in Device as your VGA driver is missing or not detected by Windows 10, instead, you can only see a standard VGA graphics adapter in device manager.
To make things worse, you even have no idea what the Video Controller is used for, on condition of that, you now are at the very beginning supposed to learn about what it is.
What is a Video Controller? What is VGA Compatible?
A Video controller is an essential component allowing computers to generate graphics information to any video display devices, such as a monitor or projector. They are also known as graphics or video adapters.
As the first introduced display software, VGA is short for Video Graphics Array, once we talk about the Video Controller, VGA is an accompanying topic. Meanwhile, VGA Compatible is what works on most PC with a screen resolution of 640×480.
How to Fix Video Controller (VGA Compatible) Driver Issue on Windows 11, 10, 8, 7, and XP?
Apart from the purpose of Video Controller, it is necessary for you to know what can be the Video Controller driver issues. It is reported that the driver problems of Video Controller can be the Video Controller is missing or not installed.
On that occasion, to fix the Video Controller not installed or recognized or missing errors, for most cases, you should try to download or update the Video Controller drivers for different Windows systems.
Solutions:
1: Uninstall and reinstall Video Controller driver
2: Update Video Controller driver
Solution 1: Uninstall Video Controller driver
Now that the Video Controller driver not installed or detected issue is caused by the driver, why not uninstall it and reinstall a new and compatible one? From most users, it is found that this video controller (VGA Compatible) driver can be fixed principally by the suitable VGA driver for Windows 11, 10, 8 and 7.
But before you get down to updating the VGA Compatible driver, there is much need for you to uninstall the problematic VGA driver from your PC.
1: Go to Device Manager.
2: Locate Other devices and right click it to expand it.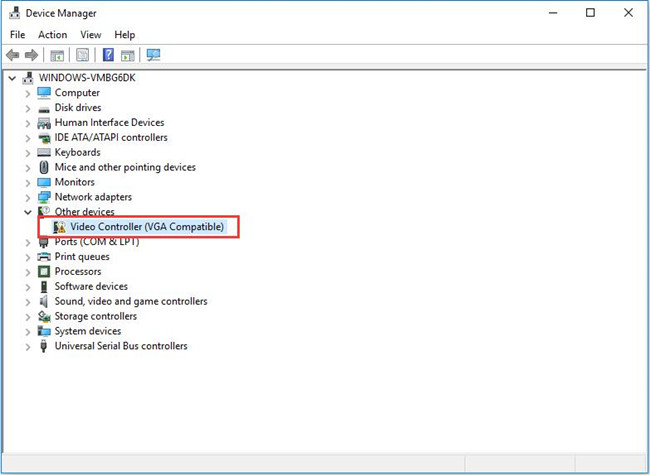 3: Under Other devices, right click Video Controller adapter to Uninstall it.
4: Head to Control Panel > Programs and Features to find the graphic software to Uninstall it.
5: Restart your PC.
Even if you tried to remove the video controller driver from Device Manager, it is also a necessity for you to completely uninstall graphics software.
However, Windows 10 may fail you to find the compatible or the latest Video Controller driver, in this way, you may as well try the following ways.
Solution 2: Update Video Controller driver
Here in terms of getting the video controller driver, actually, in most cases, you are to find the updated or compatible VGA Compatible for older Windows systems like VGA driver for Windows XP, or Windows 7, 8. But it does make sense if you would rather install a suitable video Controller driver for the upgraded Windows 10 or Windows 11.
And even though you are able to download or update the video controller driver on your own, you cannot make sure that it is legitimate or the suitable one, on the basis of this aspect, you would better make use of Driver Booster — the quick but safe and professional driver downloader and updater.
Download, install and run Driver Booster, then follow the steps below.
1. Click Scan. Then Driver Booster will search for your PC for the outdated, missing or corrupted drivers, which include video Controller driver. You can know how many drivers are outdated, how many drivers are missing, and how many drivers have new drivers available.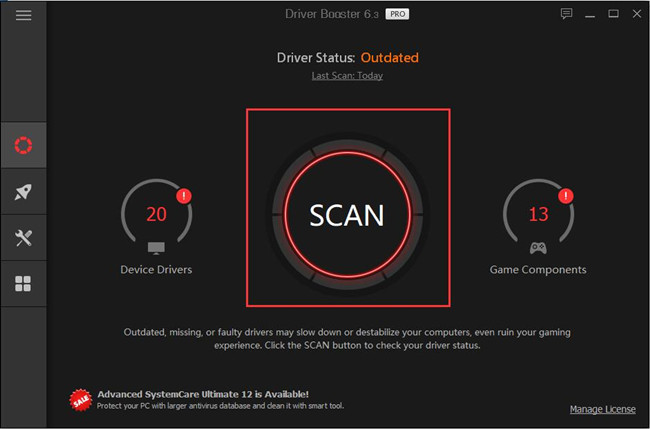 2. Find the Display adapters, and click Update.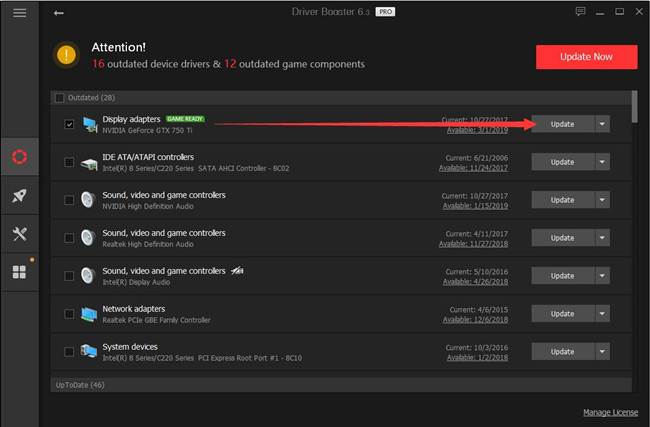 Driver Booster is of great use if you can try to employ it as soon as possible, with the tremendous storage of drivers for Windows 10, you can find any driver you need. With the help of Driver Booster, you will find it rather foolproof to remove this video controller (VGA Compatible) driver issue from Windows 10.
As it is shown above, you can refer to this post to find the right Video Controller driver to solve the driver issues about Video Controller, such as Video Controller not detected or recognized or installed or missing on Windows 10 device manager.
More Articles:
Fix Standard VGA Graphic Adapter Issue on Windows 11/10
7 Ways to Fix Display Driver Stopped Working and Has Recovered on Windows 11/10
Solved: Every Time I Restart Computer I Have to Install NVIDIA Driver
Tags :
graphic issues