2 Ways to Download M-Audio Drivers for Windows 10/11
There are many factors that urge you to download or update M-audio drivers, such as M-audio Fast Track drivers, USB audio drivers, keystudio drivers, and M-audio M-Track series drivers.
On the one hand, with the release of Windows 10, you must keep your M-audio drivers compatible after Windows 10 upgrade. On the other hand, you can enjoy a wonderful and high-quality sound after you update your M-audio to the latest version.
In this article, you can learn to download or update Windows M-audio drivers, not only manually, but also automatically.
Method 1: Update M-audio Drivers Manually
If you have enough time, energy and computer knowledge, you can go to M-audio official site to manually download M-audio Fast Track Ultra, M-audio Axiom Pro 61 and many other latest driver for Windows 10. What's more, you can also download or update M-audio Keyboard, Headphones, Microphone, Monitor drivers on the M-audio site.
1: Navigate to M-audio Drivers Center.
2: Choose your M-audio Series, Product, and OS in the scroll box. Here Select USB Audio and MIDI Interfaces, M-Track, Windows 10, 64 bit in order.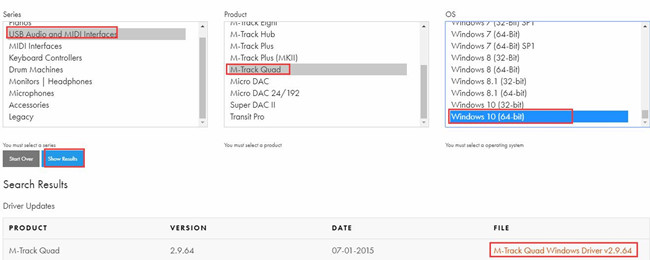 3: Click Show Results and open the M-audio driver file by clicking it.
After you clicked Show Results, you can see the available M Audio drivers can be updated showing up in the box below, click it to open it. Here you can see the M-Track Quad Windows driver v2.9.64 file in Search Result.
4: Click Download Now. It also means that you have accepted the agreement if you choose to download the M-audio driver.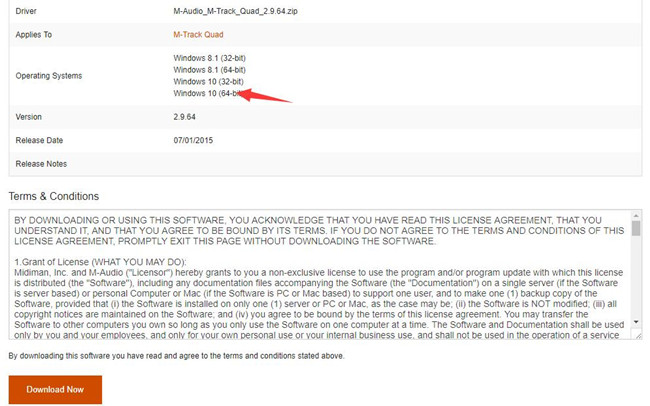 5: Install the downloaded M-audio driver by following the installation instructions.
You can download not only M-audio drivers but also M-audio software and firmware from the M-audio site if you choose the manual way.
Method 2: Update M-audio Drivers Automatically
For some people, it may be a little complicated to download or update the latest M-audio drivers manually, under this circumstance, there is an automatic way you can take.
You can use Driver Booster to download or update the drivers for you. Driver Booster is an extremely safe and fast tool, especially for driver updating, so you might as well try to take advantage of it.
Driver Booster will detect your missing, outdated and corrupted drivers automatically, so there is no need for you to update keystation 49 driver, radium 49 driver, oxygen 25 driver on your own.
Besides, it will help you download the latest drivers, including M-audio drivers, such as M-audio Delta 1010LT drivers within several minutes.
1: Download, install and run Driver Booster on your computer.
2: Scan. Once you have clicked this button, Driver Booster will search your computer for the outdated, missing or corrupted drivers.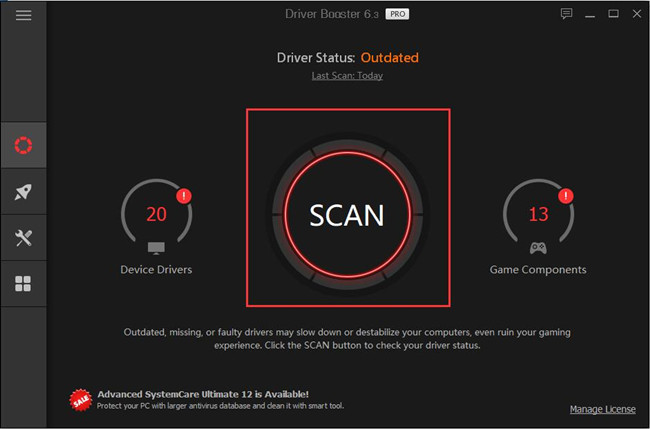 3: Update. Find the M Audio device your computer have, and then click Update.
These are two ways to update M-audio drivers, you may want to do it for the purpose of solving M-audio no sound or M-audio driver missing issue in Windows 10. You can pick out one way, but it is of great convenience for you to use Driver Booster to update M-audio drivers, you must try to make the best use of it.
More Articles:
2 Ways to Download Creative Drivers for Windows 10
3 Ways to Update Conextant HD Audio Drivers for Windows 10
Tags :
drivers