Windows 10 Volume Control Not Working – Easy to Fix
Contents:
Volume Control Not Working Overview
When you watch a movie, listen to music or play computer games on Windows 10, you would often use the volume control to adjust the sound.
After you opened the volume control to move the slider to adjust the volume, it cannot move to left or right, the volume icon stops working. And another case is that whatever level you adjust to, the volume slider is locking in 100% or another value.
And some people may also find taskbar volume control icon won't open or has no response when click it, you will not see volume control bar showing up.
In some conditions, you cannot use the volume control left-click, instead, you can only right-click it to open the volume mixer setting. Even worse, you will find there is no sound icon in the taskbar, the volume control icon is missing.
Once the problems hanging over you, you are unable to make an adjustment to the sound volume according to different performance on Windows 10.
For instance, if computer sound is too low, you cannot turn the sound up if you want to appreciate the beautiful music more clearly.
Where is Volume Control in Windows 10 and How to Open It?
Volume control is an sound control tool to adjust sound level easily. You can use your mouse or keyboard hotkeys to enable it.
Where is the Volume Control for Windows 10? As a frequently used tool, it is located in the lower right corner of the taskbar, it is easy to be found. Of course, if there are more icons in this place, you can click the angle icon to find it.
After you find it, you can use mouse to adjust the sound level or set the mix volume. And some people will use volume control keyboard shortcut to set it.
How to turn up the volume on my computer with the keyboard on Windows 10? For laptop, you will find there are several F keys with icons. These icons are used as functional keys. There are two volume control keyboard shortcuts, one is to adjust to lower and another one to adjust to higher. Sometimes, you should press FN + Volume hotkey.
Related: Volume Keys Not Working on Windows 10
How to Fix Volume Control Not Working Issue?
Although you can find it and then use it, but when the volume control is not working, what can you do to solve it?
Why is my Volume on my Computer not working? With regard to the cause of the volume control won't open on Windows 10, it consists of two parts, namely, the corrupted audio sound settings and driver issues. On condition of these two reasons, the following solutions are put forward.
Solutions:
2: Change Windows Audio Services
4: Playing Audio Troubleshooter
5: Fix Windows 10 Volume Control Panel by SFC and DISM
Solution 1: Restart Windows Explorer
Many people reported that restarting Windows Explorer can fix the Windows 10 Volume Control not working issue. And this is the easiest way. So follow the tutorial about it.
1. Right-click your mouse in the taskbar, and choose Task Manager.
2. In the Process tab, find the Windows Explorer. Then right-click it to select Restart.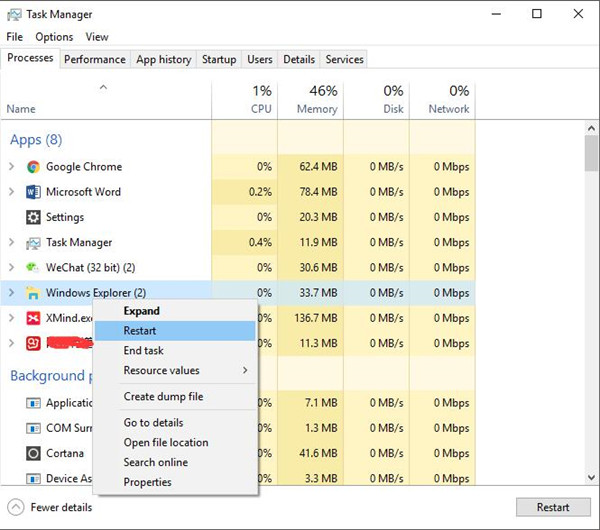 After the Windows Explorer restarted, you will find the missing Volume control appears, and the volume button can work properly. You can open the mouse left-click and right-click of the sound icon normally.
Solution 2: Change Windows Audio Services
Once you ran into the volume icon not responding or missing from the taskbar, you can at the beginning try to choose to change some settings of the Windows audio in Services tab. And restart Windows audio can also fix audio services is not running issue.
1: Press Win + R to open the Run dialog.
2: Search Services.msc in the search box and click OK to open it.
3: Scroll down to find out Windows audio and right click it to open its Properties.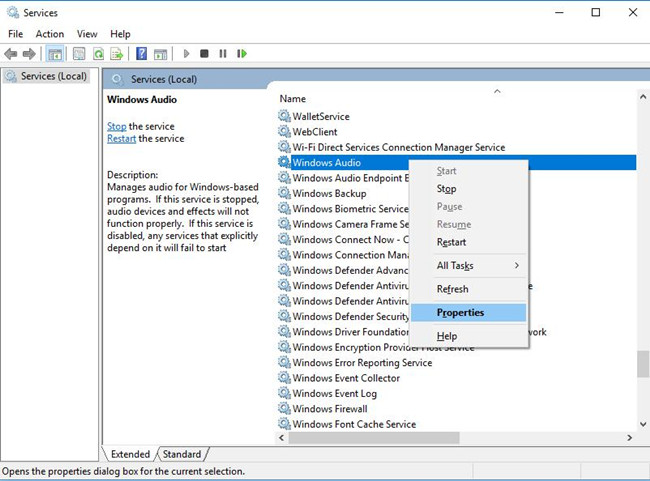 4: Locate Startup type and set it as Automatic.
5: Click Stop and after a while, click Start.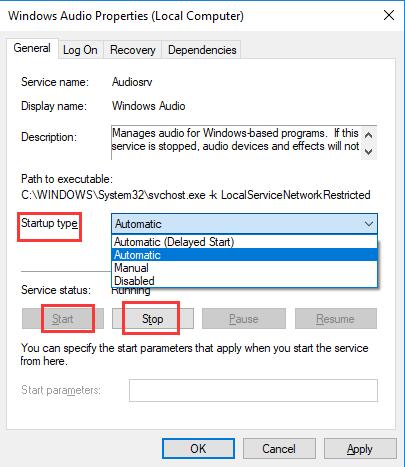 6: Reboot your PC to let the setting take effect.
Now, you can try to open the volume control icon again in the taskbar and check if can be opened and work properly on Windows 10.
Unless you have resolved the problem that the volume control has no response or the volume keys is not working on Windows 10, or you should keep going on for this audio sound issue may result from the audio driver error.
Solution 3: Update Audio Driver
If the volume control failed to work even after you changed the Windows audio settings, you can make sure that the not working volume control is derived from the missing or corrupted or outdated audio driver, it is the time that you should update it to the latest version, such as Realtek or M-audio drivers.
There are three different ways offered to you when you are on the way to update the audio driver.
1: Update the audio driver via Device Manager
Go as the path: Device Manager > expand Sound, video, and game Controllers > right click the audio driver to Update the driver > Click Search automatically for driver updates.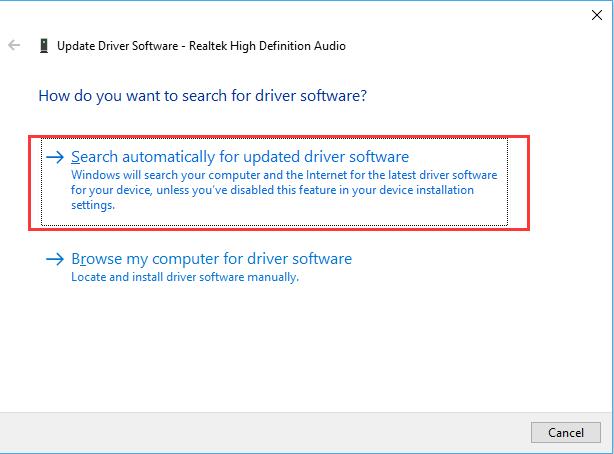 Then Windows 10 will automatically scan online for the latest audio drivers for you, such as the latest Realtek HD audio driver.
2: Update audio driver automatically
If you find the volume control icon is still not responding or turning on, it means Windows 10 failed to get the latest or compatible audio driver for you, hence you are advised to use Driver Booster to help you download and update the audio drivers, no matter you are using Realtek HD audio, Dolby audio or any other audio device, it is able to find the latest audio drivers for you.
Driver Booster is a safe and professional driver downloader and updater, with it, you can download the advanced audio drivers to enjoy the high-quality music.
Besides the driver function, it supports to download and update the game components such as Microsoft Visual C++ Redistributable, Microsoft XNA Framework Redistributable, OpenAL, etc.
Download and install Driver Booster on your computer. After you launched this software on your PC, you will find it rather foolproof to update the Realtek HD Audio or IDT HD audio, etc.
You're only to click two clicks — Scan and Update, then the Driver Booster will finish the remaining part for you.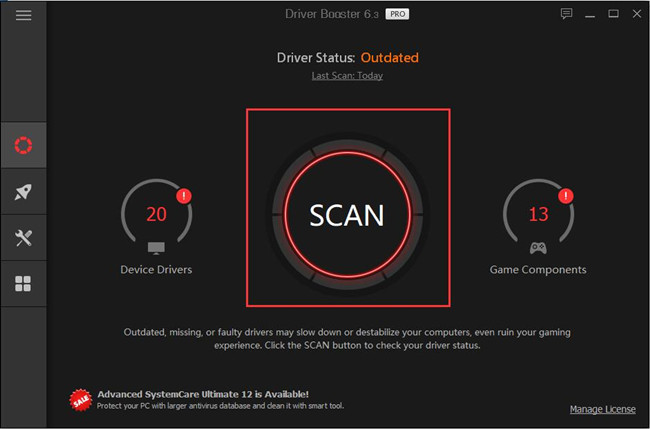 The updating process will only last for several seconds, after that, you are able to see the missing volume control icon show up and it can respond or work well in the taskbar on Windows 10.
However, you can also choose to download the up-to-date Realtek or IDT HD or M-audio driver for the audio official site or PC's site.
The moment you updated the audio driver for Windows 10, you will find the volume control can be turned on and you can adjust the sound volume depending on your liking.
You will find this volume control not working or responding issue is either for your faulty audio settings or the corrupted audio driver. By virtue of the methods above, it is straightforward to fix this audio sound issue.
Related: Realtek Audio Stuttering or Buzzing on Windows 10
Solution 4: Playing Audio Troubleshooter
If your computer has no sound, volume icon stopped working or cannot open the Volume Mixer, you can run the playing audio troubleshooter to fix it.
1. Go to here: Start > Settings > Update & Security.
2. Locate to Troubleshoot.
3. Find the Play Audio, and then click Run the troubleshooter.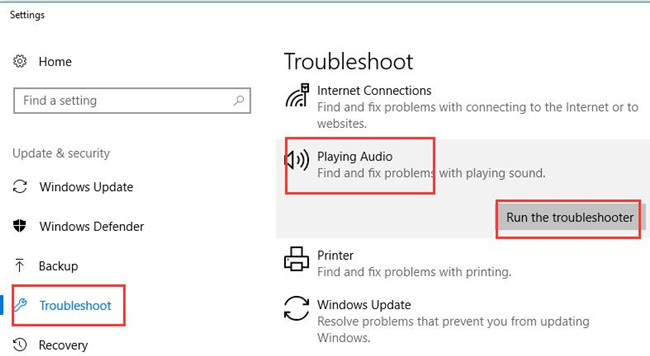 Now Windows system will detect the audio problems such as the audio driver install failed, audio file corrupt, volume control issue and then fix it automatically.
Related: How to Fix Skpe Audio Not Working Issue
Solution 5: Fix Windows 10 Volume Control Panel by SFC and DISM
The corrupted system drivers or system settings may cause your Volume Control toolbar out of work or the volume control hotkeys invalid. So run the System File Checker and DISM tool to check the reason and fix it to make it runs smoothly on Windows 10 is necessary.
1. Type command prompt in the search box, and you will see the best match result. Right-click it to select item of Run as Administrator.
2. In the command prompt window, type sfc /scannow and press Enter to run it.
Windows will detect all the errors automatically, this process will take a few minutes, and if there is one or more error is detected, this tool will fix it automatically. Of course, after the System File Checker finished, you can continue to use the DISM to scan and fix it.
DISM.exe /Online /Cleanup-image /Scanhealth
DISM.exe /Online /Cleanup-image /Restorehealth
After that, your file will be repaired and the Volume Control should start working again.
Other Solutions
If you cannot use the computer Volume Control on Windows 10, you can add a new user at first and then login in with the new user to use your computer.
This is a temporary solve way. If you exit the new user account and return to use the original account, the Volume Control will stop working again.
Of course, you can through restore Windows 10 system to get the Windows 10 back to the previously version to solve the problem.
Summary:
These are all the solutions to help people who meet the problem of Windows 10 Volume Control not working problem. And of course, these ways are applied to Windows 8, Windows 7, Windows Vista and Windows XP.
More Articles:
Download Sades Headset Drivers Windows 10, 8, 7
Fixed: Logitech G930 Cutting Out Issue
Tags :
audio issues