What is OpenAL? Is it a virus? Is it Safe to remove it? These are all the questions haunting your mind.
Contents:
Open AL Overview
Normally, OpenAL will not consume you much CPU or memory on Windows 7, 8,10, and 11. For gamers, this Open AL program is a game component which dispensable when playing games, like NFS, Jedi Knight II, Running With Rifles, etc.
You can even notice the presence of this OpenAL until one day someone got a new graphics card installed on your PC. You observed there is a program named OpenAL in installed programs.
If you are still wondering whether it is safe to remove this OpenAL and what it is used for on your PC, let's dive into it.
What is OpenAL?
As the abbreviation of Open Audio Library, the OpenAL program is a cross-platform API (Application Programming Interface). With the similar style to OpenGL, OpenAL is dedicated to displaying multichannel three-dimensional positional audio, which is also why sometimes Open al program is embedded in your PC.
Especially, when you would like to play some games, the OpenAL is needed. Along with it, you can enjoy a more vivid game with perfect sound effect. Of course, some audio applications require OpenAL as well on Windows 7, 8, 10 or Windows 11.
At the very beginning, OpenAL is developed by Loki software for the purpose of transplanting Windows commercial games to Linux. After the closure of Loki software, the OpenAL program is kept by Freeware.
Now, it is the Creative Technology that takes control of OpenAL software. OpenAL by Creative Technology has made great progress.
Tough not being a vital system program, OpenAL is usually used by some computer experts in order to take advantage of the simulated attenuation, Doppler effect, and material densities it provides for games or audio software.
The problem is that some of you may do not need it or you are worried about its safety on your PC. You have no idea what to do with this al OpenAL on Windows 7.
Related: Fallout 4 Crashes on Startup (2022 Update)
Should I Remove OpenAL?
It seems that Open AL software on your PC is useless, but in reality, just as you have been prompted, OpenAL is necessary for certain applications.
For instance, in some games, OpenAL offers you 3D realism. In this way, you would better not uninstall OpenAL.exe from your PC. And by default, it brings you benefits rather than a virus, so there are no negative effects if you keep host OpenAL on your computer.
Although OpenAL comes to you along with the audio card or sound card, it is safe if you feel like to remove OpenAL on Windows 10.
To conclude, you can uninstall the OpenAL. But whether or not you should remove it depends completely on you.
If you find you have never used this OpenAL program and will not use it in the time to come, you can try to delete it from Windows 7, 8, and 10, especially when there is OpenAL high CPU or memory or any other Open AL errors on your PC.
While, if you need to make use of this host OpenAL software in games or audio applications, you are supposed to leave it alone. Do not remove it, as there will be troubles without the Open AL.
Once you decide to leave the OpenAL on your PC, there is much need for you to get the idea about how to download or update Open al drivers for Windows 10.
How to Download OpenAL?
Apart from learning about the concept of the program host Open AL, for the people who have not yet installed OpenAL software before, you may now consider downloading it on Windows 10 so as to make full use of its cross-platform 3D audio effect. That is fantastic in games and audio devices. And download OpenAL can also fix OpenAL32.dll missing issue.
It is foolproof to get a OpenAL on your PC, just navigate to OpenAL site and all the available OpenAL downloads will be available for you.
Hit Download and you can get both the OpenAL core SDK and the OpenAL Windows installer.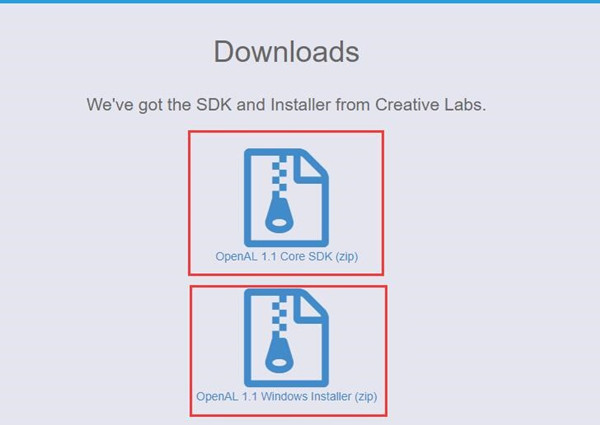 They are essential parts for installing OpenAL on your PC.
There is another way to download and update Open AL easily and fast. You can use Driver Booster to help you. It can help you to scan all the outdated and missing game components such as Microsoft Visual C++ Redistributable and Open AL files, and then update them by one click.
1. Download, install and Run Driver Booster on Windows 10.
2. Click Scan. Driver Booster will scan your computer to find if there is an OpenAL or if it is outdated.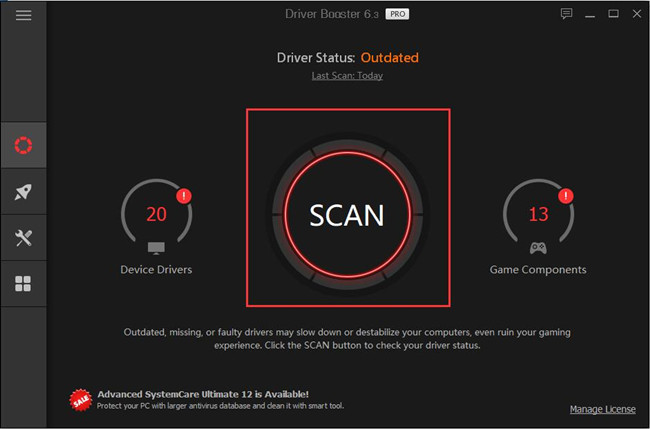 3. Find the OpenAL item and Click Update.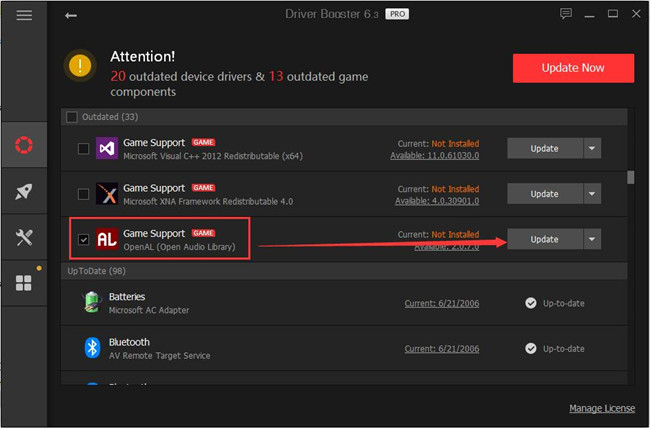 Now you can obviously see Open AL program is downloaded and installed. You may as well attempt to run it in games or audio software.
How to Update Rapture3D OpenAL Driver
If you noticed that your OpenAL cannot function as well as before, maybe it indicates that you should get a new Open AL driver for this software 3D audio.
It is said that Rapture3D is the driver for OpenAL. You can get it simply online. With the help of it, your Open AL is able to provide 3D headphone surround service for you.
In some games, the Rapture3D is included automatically and for other games, you need to modify the config file so as to activate this Rapture3D player in OpenAL.
Hope the updated Rapture3D Open al driver is capable of bringing you the high performance of games.
In summary, this post helps you better understand what the OpenAL is, where it comes from, if it is safe to remove Open AL from your PC and how to download OpenAL driver for your PC.
More Articles:
Fix the unsecapp.exe Issue on Windows 11, 10, and 7
How to Share Games on Steam on Windows 11/10
Download and Update OpenGL Drivers for Windows 11, 10, 8, and 7