Broadcom NetLink/NetXtreme Gigabit Ethernet Driver for Windows 10, 8, 7
For most people who upgrade the system from Windows 7, 8 to Windows 10 with their Dell, HP, Lenovo, ASUS or other laptops or desktops, the Broadcom Ethernet adapter out of work will be a trouble.
Broadcom has produced many different types of network cards and works with relatively large computer manufacturers such as Dell, Lenovo and more others. So, on your desktop or laptop, you might have a Broadcom network card such as NetLink gigabit adapter or netxtreme gigabit adapter. So if your Broadcom network adapter stops working, you can fix it with this article.
How to Update Broadcom Netlink/Netxtreme Gigabit Ethernet Driver on Windows 10, 8, 7?
There are several ways available for you to download and update the Broadcom drivers for Windows 10, 8 and Windows 7. You can select one of them to update your driver.
Method 1: Update Broadcom Network Drivers Automatically
I think the first method is the easiest way, so you can have a try. Broadcom product lines are complex as some drivers is on the official site but some drivers can only be downloaded from other cooperation site, hence, maybe you cannot find the right driver by yourself. So you should first try the automatic way.
Driver Booster is a professional driver finder, downloader and updater, so you can use this software to find all the outdated, missing and erroneous drivers for your desktop or laptop to make sure all the hardware run normally. If your desktop or laptop has no network, you can use the network failure tool to fix it at first.
1. Download, install and run Driver Booster on your computer.
2. Click Scan. Then Driver Booster will run on your system to show you the outdated, missing and erroneous drivers including the Broadcom adapter driver.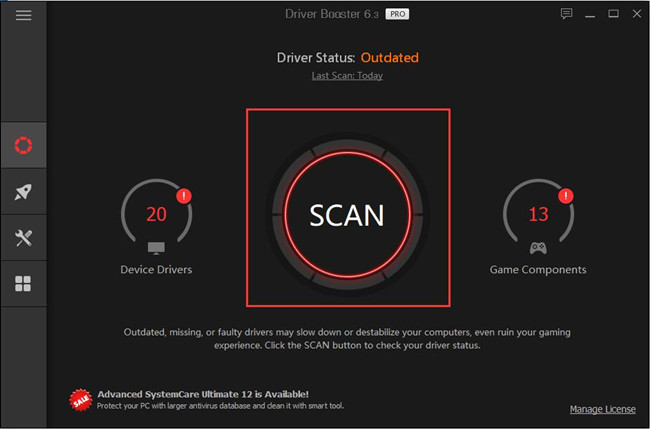 3. Click Update. Find the Broadcom Ethernet Adapter and click Update to update the network driver.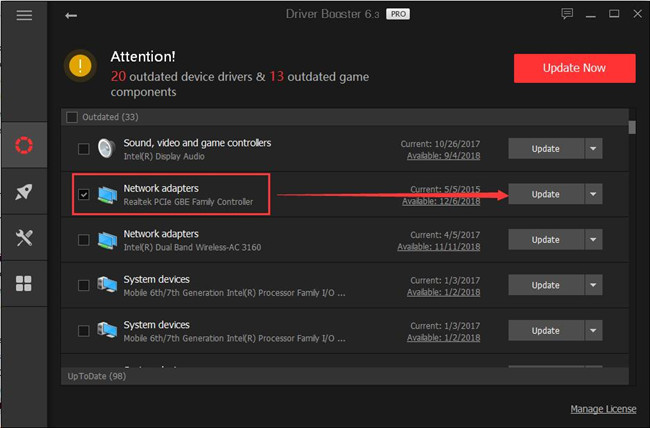 So after you updated Broadcom Ethernet adapter driver or Broadcom wireless adapter driver, you can connect to the Internet successfully.
Method 2: Download Broadcom Drivers from Official site
Speaking of downloading the Broadcom driver such as Broadcom BCM20702A0 Bluetooth drivers, it is almost a thing taken for granted to download it from the official website. So when you use a Broadcom product such as broadcom bcmwl63a and want to download its drivers, the first thing in your mind is the official website. You can download the driver from here: Broadcom Drivers Download Center.

In this page, follow the different items to select the product you are using and then download the driver from the results.
Method 3: Download Broadcom Drivers on Manufacturer's Site
There is another condition that some manufacturer's drivers download center has some Broadcom Ethernet adapter drivers or Broadcom wireless adapter drivers. So you can also download the Broadcom drivers from the laptop and desktop manufacturers' driver center. So if your upgraded Dell laptop system led to the Broadcom wireless adapter drivers problem, you can find the right driver from the Dell official site.
And there are some common Broadcom drivers you can download:
Broadcom NetXtreme Gigabit Ethernet Driver for Dell laptop and desktop: https://www.dell.com/support/home/us/en/04/drivers/driversdetails?driverid=rxxh4&lwp=rt
Broadcom Wireless LAN Driver (802.11a/b/g/n, b/g/n) for Lenovo: https://pcsupport.lenovo.com/us/en/downloads/ds035033
Broadcom Wireless LAN Driver for Sony: https://www.sony.co.uk/electronics/support/downloads/Z0001301
So this is also an easy way to download Broadcom drivers for your desktop and laptop.
Method 4: Download Broadcom Drivers from Microsoft Update Catalog
The last way to update Broadcom NetLink or NetXtreme Gigabit Ethernet drivers or Broadcom 802.11n network adapter driver is downloading it from Microsoft Update Catalog page.
Microsoft Update Catalog is a download center for the Microsoft update packages. And from here you can also download the Broadcom drivers for Windows 10, 8, 7, Vista and XP.
For example if you want to download the Broadcom 802.11n network adapter driver, navigate to https://www.catalog.update.microsoft.com/Home.aspx, on this page, you can type the search keyword Broadcom 802.11n network adapter driver to search it and then you will get the driver result.

Related: How to Update Windows 10 Manually
Method 5: Using a Wireless USB Adapter or Dedicated Network Card
In some cases, after upgrading to Windows 10, the Ethernet controller on your motherboard is not compatible with Windows 10 and can't access the Internet. The easiest way is to choose a wireless network connection or use a USB WIFI Adapter instead. Of course, you can also choose to replace a new dedicated network card.
Once you use a wireless adapter or a new network card, you can fix the Broadcom network driver issue.
The Popular Broadcom Network Drivers You May Know
Broadcom NetLink Gigabit Ethernet Driver
Broadcom NetXtreme Gigabit Ethernet Driver (NetXtreme 57xx, NetXtreme NDIS 6)
broadcom 802.11n network adapter drivers
broadcom bcm4360 driver
broadcom bcm94313hmgb driver
broadcom bcmwl63a driver
broadcom USH driver
Broadcom BCM4313 driver
Broadcom 4313gn driver
Broadcom 802.11b/g wlan driver
Broadcom NIC driver
Broadcom 43225 driver
Broadcom BCM43228 driver
Broadcom BCM5709c driver
Broadcom NetXtreme NDIS driver
Broadcom 802.11n wireless adapter driver
Broadcom BCM57780 Driver
Broadcom BCM4310 Driver
Broadcom BCM4318 driver
Broadcom 802.11a network adapter driver
Broadcom BCM94318 driver
Broadcom BCM94312 driver
Broadcom BCM4306 Driver
Broadcom 440x integrated controller driver
Tags :
drivers