[3 Ways] Download Brother MFC-7860DW Driver On Windows 11/10
Brother MFC-7860DW, an all-in-one multi-function printer for copying, printing, faxing and scanning documents. However, many users reported that the printer is not working properly or responding at all. Do you also have problems with your Brother MFC-7860DW printer? If yes, updating your drivers can keep your Brother printer performing at its best.
If you're wondering "What's the best way to update and download Brother printer drivers on Windows 10/11?" This post shows you three easy and safe methods to download or update Brother MFC-7860 drivers for Windows.
Method 1: Update Brother MFC-7860DW printer drivers via Device Manager
Device drivers, like your Brother MFC-7860DW printer drivers, are not physical things. It's actually a small software program installed in Windows that enables your computer to communicate with and control certain hardware devices. Your system must install device drivers for every piece of hardware installed and connected to your computer, or the device will not work.
Therefore, you need updated Brother MFC-7860DW printer drivers from time to time in order for your printer to function properly. The most common method of checking and updating drivers on a Windows operating system is through Device Manager. Device Manager is a built-in component of the Control Panel that helps in updating, installing and uninstalling device drivers.
To update Brother MFC-7860DW printer drivers through Device Manager, follow these steps:
Step 1: Right-click on the Start button and select Device Manager from the context menu.
The Device Manager window will be opened, where you can see all the installed drivers.
Step 2: On the Device Manager window, look for the Printer or Print Queues category and expand it.
Step 3: Right-click on the Brother MFC-7860DW printer and select Update Driver from the list.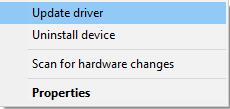 Step 4: On the next window, select the Search automatically for drivers option if you do not have the latest printer drivers installer on your PC.
Step 5: Follow the on-screen prompts to proceed with the process of installation.
Step 6: Restart the system after installation.
Method 2: Automatic way – Update Brother MFC-7860DW printer drivers by Driver Booster
Using the Device Manager updating method mentioned above, you can easily update your Brother MFC-7860DW printer drivers manually. However, updating drivers manually can be tedious, especially if you have a large collection of drivers. It's okay to do it once or twice, but doing it often can be challenging and time-consuming. So, you can use a dedicated tool for driver updates.
Driver Booster can scan your entire system to find out which drivers are missing or outdated. It not only shows you the drivers you need, but also fetches them from the internet and installs them instantly, thanks to its huge database (4,500,000+). In order to guarantee its safety and authority, Driver Booster provides drivers that pass the Microsoft WHQL test and strictly abide by IObit Review Rules.
In addition, Driver Booster has added a new great tool, Offline Driver Updater. Due to missing/faulty network drivers, this tool provides users with an alternative method to update drivers and game components without internet support. Using Driver Booster, you can also fix many Windows-related issues, including system glitches, frequent game crashes, and more.
So, download Brother MFC-7860DW printer drivers by Driver Booster now!
Step 1: Download and install Driver Booster on Windows 11 or Windows 10.
Step 2: Click the icon Scan.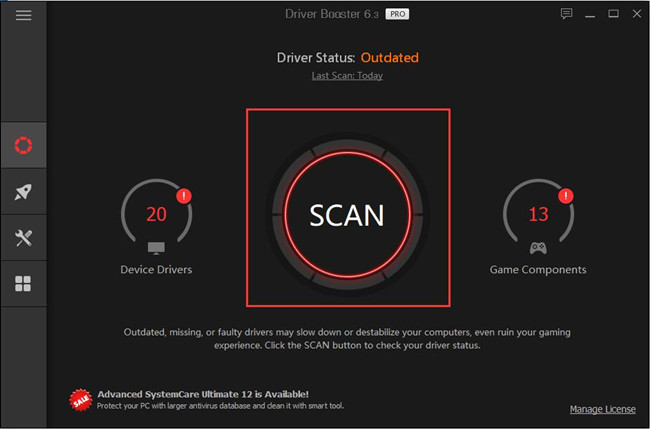 Run Driver Booster and click the Scan button. Driver Booster will then scan your computer and detect any outdated drivers. After the scan is complete, it will provide you with a detailed list of drivers that need to be updated.
Step 3: Check the Brother MFC-7860DW printer device and click the icon Update next to it.
Tips: Also, if you also want to update other outdated drivers, you must click the "Update Now" button in the upper right corner. Update all outdated drivers with just one click.
Method 3: Manual way – Update Brother MFC-7860DW printer drivers from the Official Site
Printer drivers are important because they allow the printer to work smoothly and efficiently. Printing can be done without problems and errors. It also helps to transfer print data to the printer when needed. Don't want to ask any third-party driver update tool for help? You can manually download the Brother MFC 7860DW driver from the Brother website.
This method may require your time, technical savvy skills, and patience. As you can see, the manual method can be a bit dangerous. Sometimes the file you download has bugs or worse, you end up on a completely useless website.
Here is a step-by-step guide to update Brother MFC-7860DW drivers from Brother's official support page.
Step 1: Go to the official website of Brother for MFC-7860DW printer drivers.
Step 2: Select your operating system and click OK.
Tips: Depending on your web browser, your OS Family and Version may already be selected. You can also change it on this page.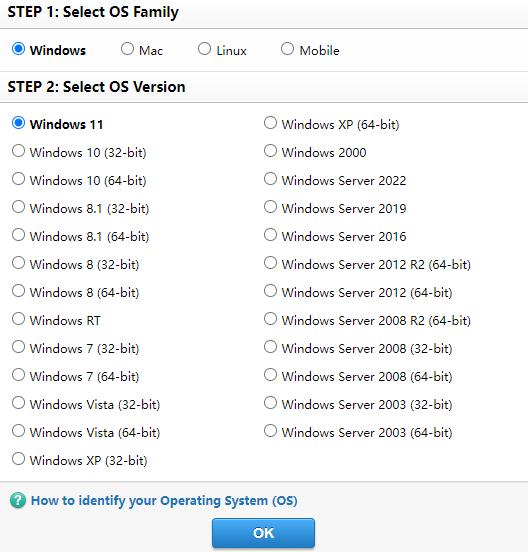 Step 3: Click the file named Full Driver & Software Package (Recommended).
Tips: This is a comprehensive file containing available drivers and software for the Brother machine.
Step 4: Click Agree to the EULA and Download.

Step 5: Open the downloaded file and follow the on-screen wizard to install.
# FAQ about Brother MFC-7860DW printer drivers
Q1: Do Brother MFC-7860DW printers need drivers?
Yes. Brother MFC-7860DW printer drivers allow your Brother printer machine to talk directly with your device.
Q2: How to update the Brother MFC-7860DW printer driver?
Update your Brother MFC-7860DW printer drivers by Device Manager or re-install the printer drivers by downloading them from the official website. You can also use Driver Booster to update it automatically.
Q3: Why is my Brother MFC-7860DW printer driver unavailable?
An incompatible driver or corrupt file may be the reason you experience the Driver Unavailable error.
Q4: Is the Brother MFC-7860DW wireless?
Yes. Brother MFC7860DW device is a wireless monochrome printer with a scanner, copier and fax.
Q5: Is Brother MFC-7860DW AirPrint compatible?
Your Brother MFC-7860DW machine does not support the AirPrint function.
More Articles:
3 Ways to Download Brother Printer Drivers for Windows 10/11
Download Brother HL-3170CDW Drivers for Windows 10, 8, 7
Download Brother MFC-l2700DW Driver for Windows 10/8/7/XP/Vista
Tags :
drivers
printer