[3 Ways] Download Epson 2720 Driver on Windows 11/10/8/7
Epson ET 2720 is a very popular printer nowadays. If you have an Epson ET 2720 printer and it is not connected to your computer, there may be a problem with the driver. You must update the drivers on your computer before it can be read by your computer. If you don't know how to update outdated Epson 2720 printer drivers, the following article will help you.
This article will give you three methods to download and update Epson 2720 drivers on Windows 11/10/8/7. You can update your drivers manually, or use a third-party driver updater to do this. Therefore, refer to the procedure below to download and install the Epson printer driver.
Method 1: Updating Epson 2720 Driver By Using Device Manager
It is important that the Epson ET 2720 driver be installed on your system because it is the program that helps your Epson printer communicate with your computer to understand print, scan, and copy commands. Therefore, if your system does not have the Epson 2720 printer driver, printing will not be smooth or you may encounter problems and errors.
If you already have an Epson ET 2720 printer connected to a Windows system, you can use Device Manager to update it. Device Manager provides a complete view of all hardware installed on a Windows computer. In addition to viewing functions, Device Manager also allows you to manage and control the workings of various hardware connected to your PC.
So you can use Device Manager to easily update your Epson 2720 drivers:
Step 1: First, click the Start button or tap the Windows key on your keyboard, then type device manager into the search box.
Step 2: The top result will show Device Manager and then click it to open device manager.
Step 3: You'll see a list of entries here. Scroll to the Print queues and then expand it to see the Epson 2720 printer underneath.
Step 4: Right-click the Epson 2720 printer and select Update Driver from the menu that appears.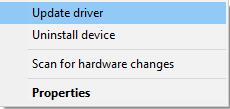 Step 5: Select the option for Search automatically for drivers.
Step 6: Follow and wait for installation.
Method 2: Updating Epson 2720 Driver By Downloading Driver Booster
If you are unable to install the latest Epson 2720 drivers via Device Manager, then we recommend using an automatic driver update tool. Driver Booster is one of the most popular tools which detects the operating system you are using and displays a list of outdated drivers. It will then quickly install your Epson et-2720 drivers without any interruption.
Driver Booster is one of the most recommended driver updater programs that can help you update outdated drivers. It is a well-known driver updater tool that updates outdated and missing drivers in just a few mouse clicks. This is an automatic driver updater software that does the job in minutes and also effortlessly. So even if you are a novice, don't worry about how to use it.
Driver Booster includes over 4,500,000 drivers and popular game components. Apart from that, this software is designed to make your PC smoother and provide stable gaming performance. Driver Booster also provides the ability to fix common problems related to your PC, such as backup, restore, fix device errors, and fix network failures, including resolving audio and display resolution issues.
Now use Driver Booster to update Epson 2720 driver:
Step 1: Download, install and run Driver Booster on Windows 11/10.
Step 2: Click the big Scan button on the home screen.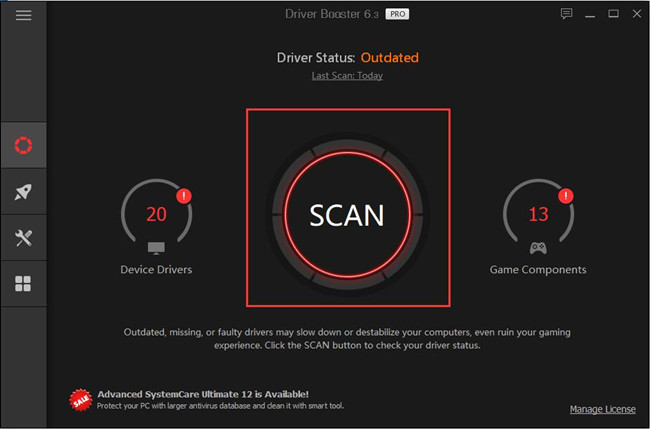 After pressing the "Scan" button on the main interface, the Driver Booster program has performed a quick scan, and the relevant percentage progress will indicate the progress. The time it takes to complete the scanning process depends on the configuration of your PC.
Step 3: Update Epson 2720 printer driver.
To update Epson 2720 driver, you can either select the red "Update Now" button located in the upper right corner, or update the printer driver individually by just checking it.
Tips: You can perform other actions, such as uninstall and rollback, by selecting the "Down" arrow to the right of the "Update" button.
Method 3: Updating Epson 2720 Driver From Epson's Official Website
Epson is committed to continually updating drivers. So if you want to update the Epson 2720 driver, you can go to their official website to download the driver for free. Visiting the official website is probably one of the best and safest ways to install Epson ET 2720 software. You can update these drivers manually by simply browsing the "Support" section.
You'll have to find the link for your specific device and OS. Once you have found the relevant drivers, you should download these drivers to your system and install them properly. While it sounds complicated and it's easy to download an incompatible driver, the steps below will help you successfully get the correct Epson 2720 driver. Follow the steps below:
Step 1: Go to the official support page for Epson 2720.
Step 2: Choose your OS.
Epson's official website will automatically detect your operating system. However, if your operating system cannot be detected or is detected incorrectly, be sure to manually select your operating system in the operating system drop-down menu below to ensure you are only viewing compatible files.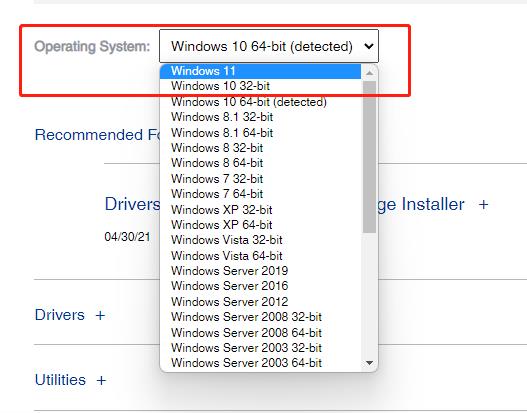 Step 3: Expand the Drivers tab.
Click on the Download icon behind Printer Driver v2.60.03. This file contains the Epson ET-2720 Printer Drive.

Step 4: After downloading the file, follow the instructions to install the setup entirely.
# FAQ about Epson 2720 Driver
Q1: What is an Epson 2720 printer driver?
The Epson 2720 printer driver allows the computer to control the Epson 2720 printer according to the settings you make for your printing requirements.
Q2: Why is my Epson 2720 saying the driver is unavailable?
The answer is when your Epson printer drivers get outdated or incompatible with the operating system of your computer.
Q3: Is the Epson et-2720 compatible with Windows 11?
Yes. The ET-2720 is compatible with Windows 11.
Q4: Can I download the Epson et-2720 driver on Mac?
Yes. Epson et-2720 driver is compatible with macOS 13.x, macOS 12.x, macOS 11.x, macOS 10.15.x, macOS 10.14.x, macOS 10.13.x, macOS 10.12.x, Mac OS X 10.11.x, Mac OS X 10.10.x, Mac OS X 10.9.x, Mac OS X 10.8.x, Mac OS X 10.7.x, Mac OS X 10.6.x.
Q5: What driver does Epson ET 2720 use?
The latest driver for Epson ET 2720 is Printer Driver v2. 60.03.
More Articles:
Solved: Epson Scanner Not Working on Windows 10/11
[3 Ways] Download Epson ET-3760 Driver on Windows
How to Download Epson ES400 Drivers for Windows 11, 10, 8, 7 and Mac
Tags :
drivers
printer