Download & Update HP Bluetooth Driver on Windows 11/10 (2023 Update)
We know that incorrect, corrupt, or missing drivers may affect the performance of the HP Bluetooth device. Therefore, you need to update your HP Bluetooth drivers from time to time to keep your Bluetooth devices working properly.
In this article, we will discuss how to update HP Bluetooth drivers, luckily here are three ways to update outdated Bluetooth drivers for Windows & 11 and 10.
# What is Bluetooth Driver?
A Bluetooth driver is a software program that allows your operating system to communicate with Bluetooth devices. A Bluetooth driver, also known as a Bluetooth stack, is required for a Bluetooth adapter on a computer to communicate with Bluetooth devices such as mobile phones, Bluetooth printers, keyboards, and mice.
# Updating HP Bluetooth Driver via Device Manager
Device Manager in Windows 11/10 provides a centralized and organized view of all Microsoft Windows-aware hardware installed on your computer. From here, you can use Device Manager to uninstall, disable, roll back or update device drivers. Device Manager is also helpful for troubleshooting devices when they are not working properly.
Therefore, if you are experiencing connection issues with Bluetooth devices such as HP X400b Bluetooth mouse, HP K4000 Bluetooth keyboard, or any HP Bluetooth devices, you can update the HP Bluetooth driver through the Device Manager to enable wireless communication between Bluetooth-enabled laptops or desktops.
Step 1: Select Search on the taskbar, type device manager, and then select Device Manager from the list of results.
Step 2: In Device Manager, select Bluetooth, and then select the Bluetooth adapter device you are using.
Step 3: Right-click the Bluetooth adapter, and then select Update driver > Search automatically for driver.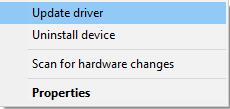 Step 4: Select Next, and follow the steps to install the driver. When the installation is finished, select Close.
Step 5: After you've updated the driver, restart your PC.
# Updating HP Bluetooth Driver Automatically (Recommended)
Manually downloading a Bluetooth driver from Device Manager can take some time, and, at some point, Microsoft will tell you that the driver you downloaded is already the latest version, even though in fact, it is not. So, try Driver Booster, a powerful Windows driver update tool.
Driver Booster is a straightforward driver update tool, which automatically scans your system for outdated and problematic drivers, then downloads and installs the newest drivers with one click. The program is exceptionally easy to use. No complicated interface, and no need to search around to decide what you need to do, just launch Driver Booster, it will scan your PC immediately, and a detailed report will appear after a few seconds.
Driver Booster has expanded its driver database and now includes over 8.5 million device drivers and game components. Despite the extended database, IObit still guarantees that all supported drivers come directly from the official manufacturer website or Windows itself, and pass the Windows Hardware Quality Labs (WHQL) inspection. It also promises "better gaming drivers and more stable drivers" than before.
Step 1: Download, install and run Driver Booster on Windows 11 or Windows 10.
Step 2: Click the icon Scan.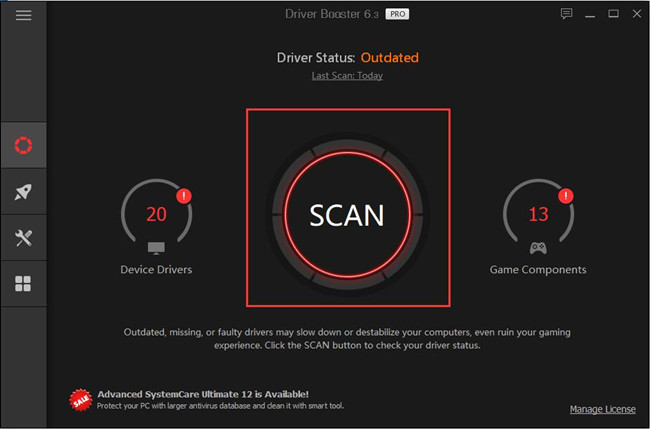 Driver Booster will start to detect all the drivers installed, and it will inform you how many outdated, missing, faulty drivers, and not installed game drivers you have.
Step 3: Find out your Bluetooth driver and click the icon Update next to this device.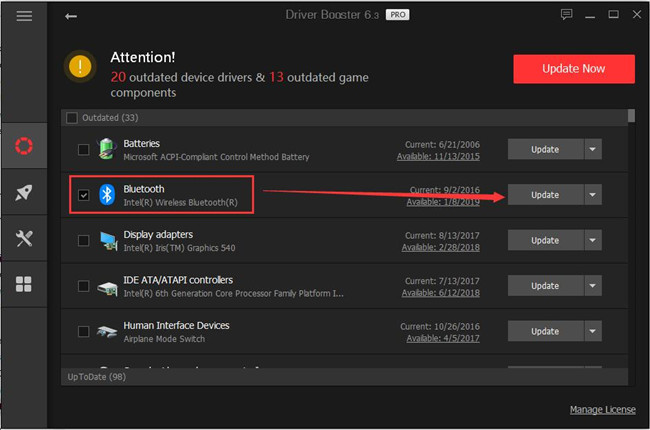 You can click the Update button individually for specific drivers, which is handy if you want to have precise control over what's going on. Or, if you're in a hurry, just click "Update Now" at the top right and Driver Booster will download and start every update.
Step 4: Wait for the updating to be completed.
# Updating HP Bluetooth Driver manually via the official site
If you can't turn on your HP Bluetooth device or are having trouble pairing or using it, the first thing you should do is update your Bluetooth drivers. Outdated or incompatible drivers are one of the most common causes of Bluetooth connectivity issues.
If you can't get the latest HP Bluetooth device drivers through Device Manager or the Windows updates, you should also check HP's official website.
You can visit the official website of HP and download the latest Bluetooth driver from there as the HP manufacturer will provide more detailed and up-to-date product-specific information and driver update download packages.
Go to HP's website and download the latest drivers by doing the following:
Step 1: Go to the HP support center.
Step 2: According to your device model, choose the product category.
Step 3: Input your Device model in the search bar and click the result which is suitable for your device.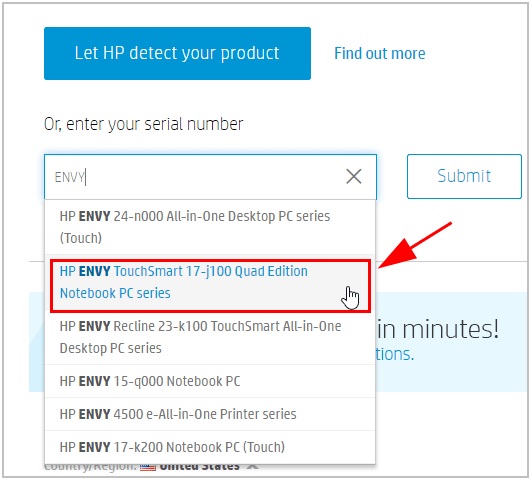 Step 4: Select the operating system's name and the bit you are using.
HP's official site can automatically detect your OS's name and bit. But if you want to change your system version or download drivers for other PCs, you can click Choose a different OS, which provides you with other system versions.
Step 5: To get the latest version of the HP Bluetooth driver, click the Download option next to the file that is compatible with your OS and your device.

Step 6: Wait for the driver file to be downloaded.
Step 7: To install the latest driver update, after downloading, double-click the .exe file and follow the on-screen instructions to install the latest driver.
Step 8: Reboot the PC to save changes.
# FAQ about HP Bluetooth Driver
Q1: Why is my HP Bluetooth not working?
You need to troubleshoot your Bluetooth connection. Use Device Manager to confirm that your computer supports Bluetooth.
Make sure the Bluetooth signal is turned on.
Restart the device and computer to resolve any connection errors.
Also, you may need to uninstall the device and then pair it with your computer to reinstall the device drivers to resolve any errors.
Q2: What do I do if the HP Bluetooth driver is missing in Windows 10?
In Device Manager, select Bluetooth > the Bluetooth adapter name.
Right-click the network adapter, and then select Update driver > Browse my computer for driver software.
Q3: Why is Bluetooth missing in Windows 11?
If the Bluetooth option is missing in the Settings app, the hardware is probably disabled, damaged, or not supported, or there's a driver problem. You can quickly check or re-enable the device in Device Manager.
Q4: Which Bluetooth versions does Windows 11 support?
Windows 11 supports Bluetooth Core Specification version 5.1.
Q5: Can Windows Server 2019 support Bluetooth?
No. Windows Server 2019 does not support Bluetooth.
More Articles:
Fixed: Generic Bluetooth Adapter Driver Error Windows 11/10
5 Ways to Solve Bluetooth Mouse Not Working on Windows 10
Download Broadcom BCM20702A0 Bluetooth Drivers on Windows 11/10/8/7
Tags :
Bluetooth
drivers
hp