3 Ways to Fix Generic Bluetooth Adapter Driver Error Windows 11/10
Contents:
Generic Bluetooth Adapter Problem Overview
On Windows, Bluetooth errors are rather common. People often complain the Bluetooth devices, such as Bluetooth mouse, Bluetooth speaker and Bluetooth keyboard not detected or working on Windows 11/10.
Usually, once one or more of these Bluetooth problems happen to you, the Bluetooth device driver would display itself as Windows Generic Bluetooth Adapter in device manager.
There are even some people who have just checked the Bluetooth driver status in Properties finding the code error 10 (This Device cannot start) with their Bluetooth devices.
Concerning this Windows Generic Bluetooth Adapter stopped by Windows 10 error, it has been proved the driver issue is mostly to blame.
As long as your Bluetooth device, such as the mouse, speaker or USB driver is outdated or corrupted on Windows 10, you device driver would be detected as Generic Bluetooth Adapter would appear rather than the manufacturer's Bluetooth driver.
What is the Generic Bluetooth Adapter on Windows 11/10?
It is the device built-in computer. If you have not yet installed any Bluetooth mouse (such as Logitech), speaker (Such as Creative) or USB devices, you will be using this Windows Generic Bluetooth Adapter.
But sometimes, even when you have already used these Bluetooth wireless tools, the real Bluetooth drivers would also disappear on Windows 10.
How to Fix Generic Bluetooth Adapter Driver on Windows 11/10
Accordingly, in this post, you are mainly to fix the Bluetooth driver problems by uninstalling and then updating it to make it compatible with Windows 10.
Solution 1: Uninstall the Generic Bluetooth Adapter in Device Manager
The first thing you need to do is to remove or uninstall the Generic Bluetooth Adapter from your PC. May it can help you fix this Bluetooth problem on Windows 10/11.
You can complete this task in device manager.
1. Go to Device Manager.
2. Expand Bluetooth and then right click Generic Bluetooth Adapter to Uninstall device.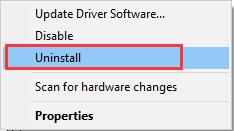 3. Confirm to Uninstall the Generic Bluetooth Adapter.
4. Then in Device Manager again, click Action and then Scan for hardware changes.
Windows 10 would automatically reinstall the Bluetooth device drivers for you. If it can find you the updated Bluetooth driver, the Generic Bluetooth adapter may be disappeared from your PC. And this Bluetooth driver issue would have also fixed.
However, once you failed to solve this error by reinstalling the Bluetooth drivers, you are supposed to try other ways.
Solution 2: Update the Bluetooth Drivers
You must make sure the Bluetooth device drivers are the most up-to-date, including Bluetooth mouse, speaker, Keyboard, and USB device.
If you can download or update these Bluetooth drivers for Windows 10, there will be no Generic Bluetooth Adapter in your PC.
In view of the complexity of downloading all the Bluetooth devices drivers from the manufacturer's website, now you are strongly recommended to update these drivers by Driver Booster.
Driver Booster is a professional driver updating tool and it is reliable, too. In this case, you may as well try to take advantage of it to download all the latest Bluetooth drivers for Windows 10 in order to fix the Generic Bluetooth Adapter driver problem.
1. Download, install and run Driver Booster on your PC.
2. Click Scan.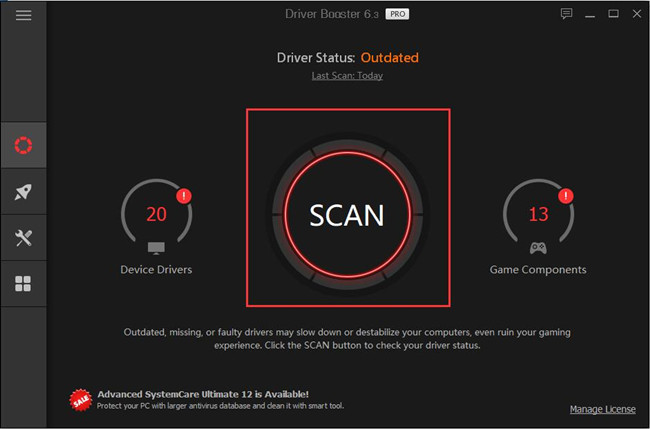 Driver Booster would search for your PC for the corrupted or outdated drivers on your PC and would let you know what the drivers are you need to update for Windows 10.
3. Click Update or Update Now. You can choose to download all the updated drivers, including all the Bluetooth drivers.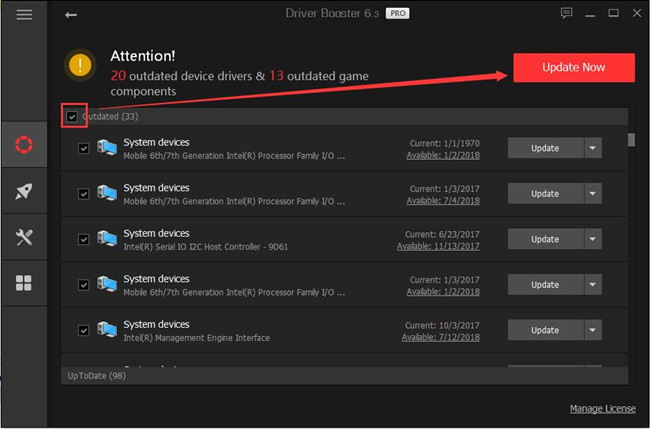 At the moment you install the Bluetooth mouse or keyboard drivers on your PC, you can see again in device manager, the Generic Bluetooth Adapter missed.
Solution 3: Run Windows Update
It is possible that right after you upgraded to Windows 10 or the Fall Creators Update, the Generic Bluetooth Adapter shows in device manager rather than the real Bluetooth devices drivers.
Under this circumstance, no one can exclude the possibility that it is the new features on the Operating system that conflict with the Bluetooth device.
Check for Windows Update to see if it works to resolve the Generic Bluetooth Adapter driver issue on Windows 10.
1. Go to Start > Setting > Update & Security.
2. Under Windows Update, choose to Check for updates.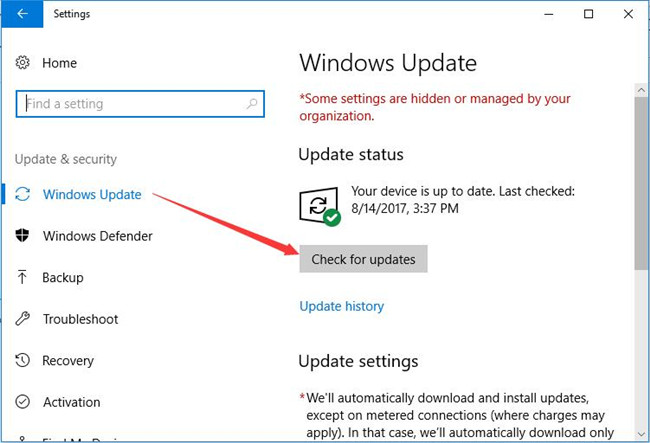 If there are any Windows updates on Windows 10, with this method, your computer would be installed with the new system with the new version.
On that basis, you can find the Bluetooth drivers are working well on Windows 10.
Above all, you would better manage to update the Bluetooth driver to solve your system detecting Generic Bluetooth Adapter error.
More Articles:
How to Connect Creative Bluetooth Speaker to Laptop
How to Connect Bluetooth Headphones to PC Windows 11/10
Tags :
Bluetooth