Fix Logitech C920 Webcam Not Working on Windows 10/11
Someone experienced this problem that after upgrading from Windows 7 to Windows 10, the external Logitech C920 webcam cannot be used normally. And it is the same result when you test it in online. So the Logitech webcam is out of work. Here are solutions you can try to solve it.
Solutions:
1. Check USB Port and Camera Hardware
2. Uninstall Logitech Webcam Driver
3. Update Logitech Webcam Driver for Windows 10
Solution 1: Check USB Port and Camera Hardware
If your Logitech C920 webcam cannot be found or cannot be used, you can do these things at first:
1. Connect the webcam USB port to another PC USB port
If the USB port is USB 3.0, changes to a USB 2.0 port
2. Test the camera on another computer
Make sure you do not plug the webcam to a USB hub
If you can make sure the USB port on the PC and Logitech HD Pro Webcam is in good condition, just go ahead for more ways. But once you noticed your Logitech camera doesn't work on another PC, it is high time that you should change the physically bad or old camera.
Related View: Fix USB Ports Not Working on Windows 10
Solution 2: Uninstall Logitech Webcam Driver
To some degree, the Logitech webcam driver is also responsible when Logitech webcam is detected but isn't working on Windows 10. So you need to ensure your camera driver is compatible with Windows 10 and can enable Windows 10 to recognize Logitech camera.
1. Go to device manager.
2. Expand Imaging devices, you will see the Logitech webcam devices such as Logitech HD Pro Webcam C920.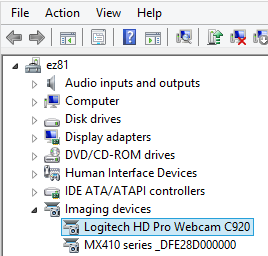 3. Right-click the Logitech C920 webcam and choose to Uninstall button to uninstall the driver for this software.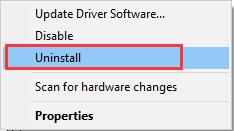 4. Plug out of the USB webcam and plug into the PC USB port again.
After that, Windows 10 will detect the Logitech webcam. If the webcam is detected, Windows 10 will automatically install a basic Windows 10 Logitech webcam driver to make it run properly. If the webcam could not be detected, it is likely that you are supposed to update the webcam driver to fix this Logitech webcam detected but not working error on Windows 10.
Related: Your Webcam is Being Used By Another Application
Solution 3: Update Logitech Webcam Driver for Windows 10
If uninstalling drivers without effect, try to download the latest version of Logitech Webcam driver for Windows 10 to fix it. For example, there are many users which are using Logitech C920 webcam had this problem. So update Logitech C920 driver for Windows 10 to make it work again.
Update Logitech Webcam Driver Automatically:
To save your time and energy, you can use Driver Booster to help you fix the webcam cannot work problem. Especially after upgrading to Windows 10, there are many drivers need to be updated.
1. Download, install and run Driver Booster on Windows 10.
2. Hit Scan to search for missing, outdated, and faulty drivers on your PC. Driver Booster can help you scan all your computer devices including the Logitech USB webcam.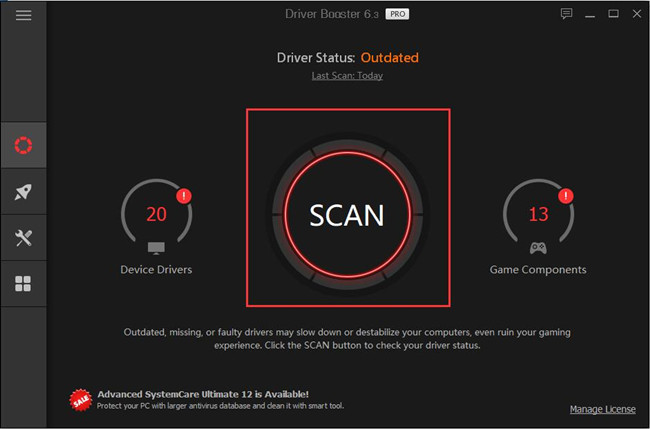 3. Then locate your Logitech c920 camera driver to Update the camera driver.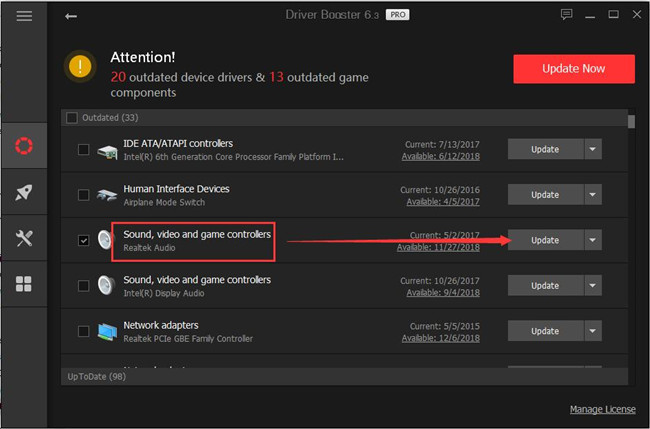 Driver Booster will quickly find and update the Logitech webcam driver you need. Then you can connect the Logitech webcam again to see if it can work on Windows 10.
Update Logitech Webcam Driver Manually:
Or you would rather download Logitech c920 Webcam driver from the Logitech support on your own, follow up.
1. Enter the Logitech Webcam C920 Drivers Download Center. Of course, you can enter the Logitech support center to find this product step by step.
2. Find the Logitech webcam software and click DOWNLOAD NOW.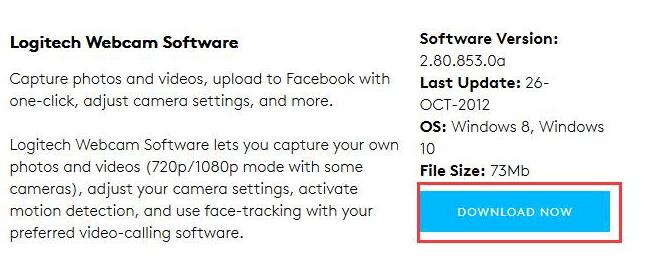 This download file is named as lws280.exe, but it is no longer supports video effects again.
And if you are using other Logitech webcam, the more details about updating drivers you can view it from here: Logitech Webcam Software and Driver Support for Windows.
3. After the Logitech C920 webcam downloading finished, install it step by step. Then restart your computer to take effect about C920.
So if your Logitech webcam cannot work on Windows 10, you can try to uninstall the driver and then reinstall the updated driver to see if it works. After that, if your Logitech webcam is working properly, you can refer to how to install and setup Logitech C920 webcam on Windows 10.
More Articles:
Fixed: Skype Camera not Working on Windows 10
We Cannot Find Your Camera on Windows 10
Tags :
camera
logitech