How to Manage Disk Storage Space in Windows 10
As we all know, how important the disk storage is on Windows 10! Only do you know about it, then you can have a better space to store something you want. Hence, it is very necessary for us to know how to manage its space.
Contents:
What is Disk Storage?
Disk storage has another name that is drive storage. It is a general category of storage machine. It is used to save operating systems, programs and data.
How to Manage Disk Storage Space in Windows 10?
Step 1: Click the windows key on your computer and find the settings. Then get into it.
Step 2: In this interface, press the system.
Step 3: In the system, click the Storage.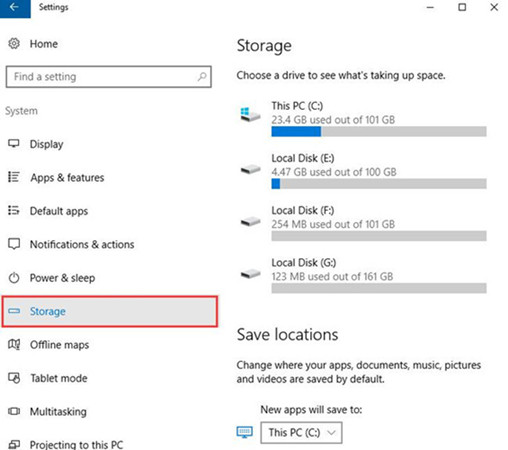 Now you can manage your disks.
You can click one of the storages to view its usage.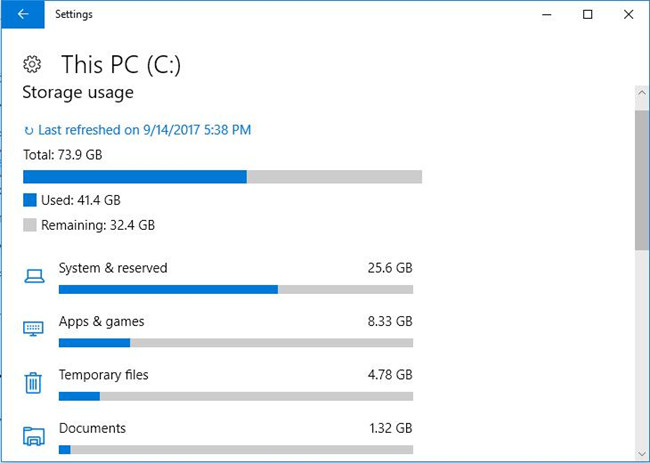 Here you can see the C disk total storage is 73.9GB, the used space is 41.4GB and the remaining space is 32.4GB. So the C disk has enough space to install other programs. And you can also know what the storage of these folders you used. Like the system, applications, temporary files and other usage.
Storage Sense:
Of course, you can turn on storage sense, then Windows will automatically clean the temporary files and contents in your cycle bin.
Click Change how we free up space, you can free up space now.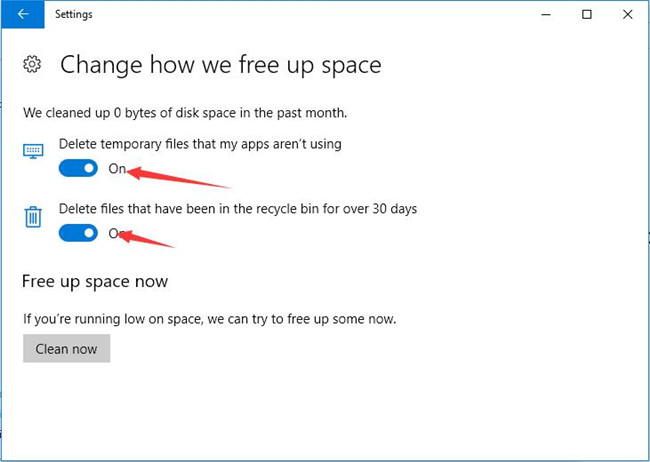 You can turn on all options to clean all unnecessary files and temporary files.
In this window, you can adjust the places that your applications, documents, music, photos, and movies saved. If one of the disks is full, you can select the other one. Then your local disks won't fill and they can be utilized well.
How to Free Up Disk Storage Space in Windows 10?
We know that the disk storage is finite. If we have saved too many things in it, it will be small or full. Meanwhile, your computer will slow even crash. When you meet it, you need to release disk storage space on your computer. The best way is to delete something.
Delete Unnecessary Files
If your disks are nearly full and you want to store some more important movies, photos, and documents, you need to free up the local disk space. You can walk into your disks and find some unnecessary files to delete them. Then you can get some space to save others that you need.
Uninstall Applications
Usually, the applications are stored in C disk. If it is full, the computer will run slowly and crash. So you should uninstall applications that you needn't in this disk. After that, your computer will run smoothly. And you can install the programs and applications to other disks.
Clean Disks
The third way to free up your storage space is cleaning the disk. You can use the built-in disk cleanup tool or the third-party applications such as CCleaner. When you open the applications, they can help you to clean your computer directly.
Now, you can manage your disk storage well and you can use these ways to free up your disk storage space.
Tags :
disk usage