Fixed: Sedlauncher.exe High Disk Usage on Windows 10
Contents:
What is Sedlauncher.exe on Windows 10?
How to Fix Sedlauncher.exe Full Disk Usage on Windows 10?
Sedlauncher.exe Overview
Sometimes, soon after you got Windows 10 update patch KB4023057, you found a program sedlauncher.exe occupies much of the disk space, thus leading to slow PC performance.
You can't help going to the program files folder, just to find there are many strangers, like sedsvc.exe, rempl.exe, remsh.exe and waaSMedic.exe files in a subfolder called REMPL folder in C:\Program Files.
Sedlauncher.exe high disk error can be quite disappointing as not much RAM available to run tasks, such as viewing a video, opening a webpage. So you would better get down to tackle this full disk usage problem for Windows 10 immediately.
What is Sedlauncher.exe on Windows 10?
Just like what Microsoft has explained, it released a Windows 10 update patch KB4023057 to improve the reliability of Windows 10 update service components.
This update includes reliability improvements to Windows Update Service components in Windows 10, versions 1507, 1511, 1607, 1703, 1709, and 1803. It may also take steps to free up disk space on your device if you do not have enough disk space to install Windows updates.
In terms of Windows 10 program files like sedlauncher.exe, it comes together with KB4023057 to help update Windows 10 perfectly without any unexpected error and make your computer safer to install the latest Windows 10.
As for how sedlauncher.exe work, it is included in Windows Remediation Service to safeguard and speed up the process of Windows 10 update. That holds true for sedsvc.exe, rempl.exe, Luadgmgt.dll, and Sedplugins.dll as well.

Of course, this sedlauncher.exe is digitally signed and by no means a virus on Windows 10. But what if sedlauncher eats up CPU, memory or disk usage and cause Windows 10 problems?
Related: Microsoft Officle Click to Run High Disk Usage
How to Fix Sedlauncher.exe Full Disk Usage on Windows 10?
Being a part of KB4023057, sedlauncher is essential for Windows 10 update, but if you stumble upon 100% disk usage by it, it is understandable to temporarily disable sedlauncher.exe on Windows 10.
It is said that the components of KB4023057 try to access your internet, such as sedlauncher and sedsvc, which may be the reasons why sedkauncher high disk pops up.
What's more, now that sedlauncher belongs to Windows Remediation Service, in order to remove high disk error by sedlauncher, you are proposed to turn off the Windows Remediation Service in both task manager and Service program.
Solutions:
Solution 1: Disable Selauncher.exe in Task Manager
At the very beginning, to prohibit sedlauncher from working in hope that 100% disk can be fixed, you might as well end the task – Windows Remediation Service.
1. Right click the Start menu and then select Task Manager from the list.
2. In Task Manager, scroll down to locate Windows Remediation Service and then right click it to End task.

3. Reboot Windows 10 to take effect.
From now on, program files like sedlauncher.exe, sedsvc.exe, rempl.exe, remsh.exe and waaSMedic.exe won't function as you have terminated the program Windows Remediation Service.
Not working, it is a thing of course that sedlauncher high disk or CPU disappeared from Windows 10.
Even for clients plagued by sedsvc or waaSMedic.exe 100% disk, you will be relieved as it has been fixed, too.
Solution 2: Disable Sedlauncher.exe Related Services and Programs Automatically
It is not uncommon that you find it of no use stopping the Sedlauncher.exe in Task Manager as some third-party applications pretend to be a Windows-based program utilizing this Sedlauncher process. If it is the case, there is a high probability that you need to get the most of Advanced SystemCare to disable this Windows-update relevant service without any interruption.
As an all-in-one system optimizer, Advanced SystemCare will monitor the process, program, service and application performance using its tool Performance Monitor and it can also enable you to stop certain programs from running at startup, such as Sedlauncher.exe.
1. Download, install and run Advanced SystemCare.
2. Then under Toolbox and then click the Startup Manager.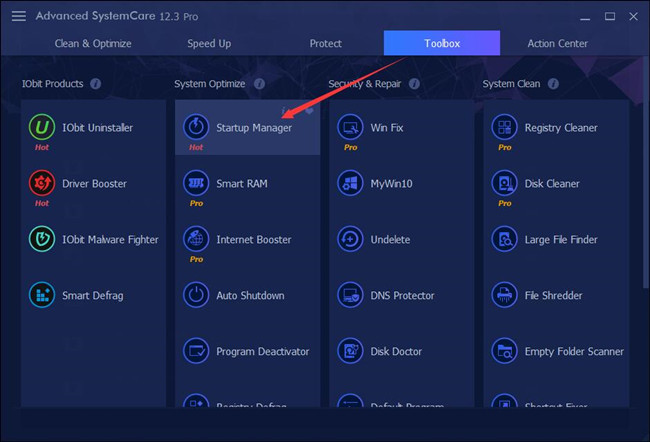 The moment you hit Startup Manager, you can see Advanced SystemCare is installing this toolbox quickly and directly.
3. In IObit Startup Manager, under Services, scroll down to find out Sedlauncher.exe and then set it Disabled.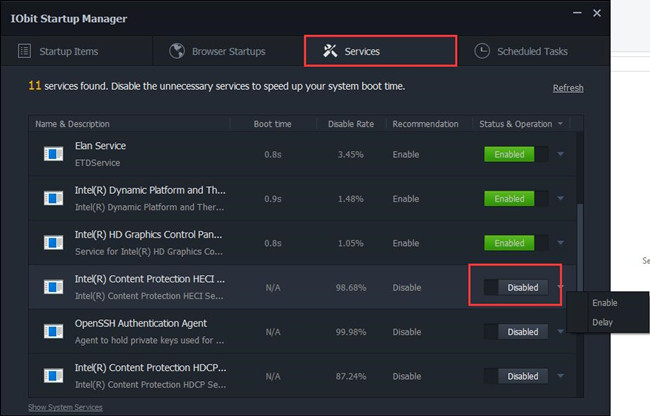 4. Then locate Startup Items, and then disable Sedlauncher process at startup as well.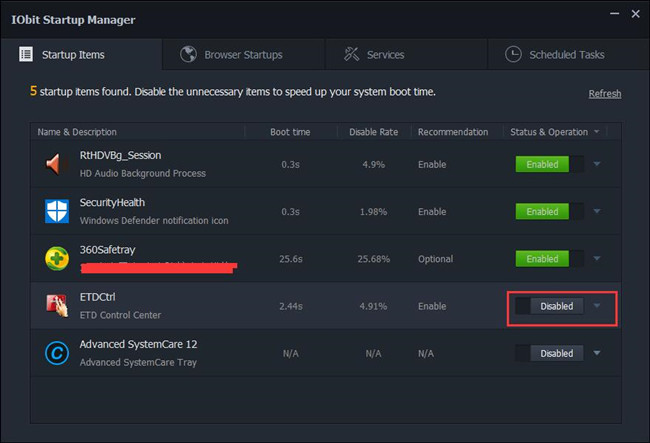 Now, without the Sedlauncher.exe running at startup or background by malware, you can see Sedlauncher.exe high disk usage disappeared from your sight.
Solution 3: Turn off Sedlauncher in Services
Apart from the task manager, Windows Service is also a management tool for programs. So there is a high probability that you can disable the sedlaucher.exe here, thus there will be no more high disk usage caused by sedlauncher.
1. Press Windows + R to open the Run box and then type in services.msc in the box.
2. In Services, slide down to find out Windows Remediation Service and then right click it to navigate to its Properties.
3. Then under the General tab, locate the Startup type and then set it Disabled. Under Service status, Stop it.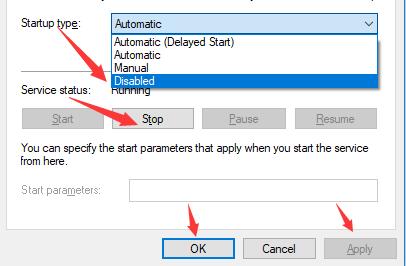 Here you can find a service titled Windows Update Media Service, try to disable it to solve WaaSMedicSvc high disk issue on Windows 10.
4. Restart your PC.
After Windows 10 login, you can go to task manager to check whether sedlauncher.exe disk pegging persists.
If it remains, perhaps you have to supervise Windows 10 update patch KB4023057 and prevent it from running in anti-malware software or Windows 10 Firewall.
Related: Windows Host Process Rundll32 High Disk Usage
Solution 4: Block Sedlauncher.exe with Antivirus Programs
Thirdly, the time you observed full disk usage by sedluancher, if possible, you may as well determine to uninstall this rempl file on Windows 10.
In other words, even though the updating patch KB4023057 requires sedlauncher program when not is use, this sedlauncher process can be disabled via the third-party software or Firewall.
Therefore, it will not go through the Windows 10 Firewall, not to mention using much disk space. You can download Malwarebytes from the official site and then set it to block Windows Remediation Service from working.
Or upon you failed to tackle sedlauncher.exe full disk using this way, you can attempt to restore Windows 10.
To conclude, this post will teach you what the sedlauncher means for Windows 10 update KB4023057 and how you can fix sedlauncher 100% disk usage error on Windows 10.
More Articles:
What is Open AL on Windows 10/11?
What is Alljoyn Router Service?
Tags :
disk usage
Windows 10 update