How to Check How Much RAM You Have on Windows 10
What is RAM? Random-access memory is also called main memory. Its abbreviation is RAM, which is an internal memory that directly exchanges data with the CPU. The so-called random access refers to that the time required to read and write the data of the memory has nothing to do with the location of the information. And RAM is usually used as a temporary data storage medium for operating systems or other running programs.
Contents:
How to See How Much RAM You Have on Windows 10?
Some people may ask how much RAM does my computer have? There are many simple ways to view your computer RAM. Now take check RAM size in Windows 10 as an example.
Methods:
Method 1: See RAM on System Information
1. Right click This PC on your desktop and select Properties.
2. In basic information about your computer, you can see there is an option of Installed memory(RAM). And here you can see the size of memory is 4.00 GB (3.89 GB usable).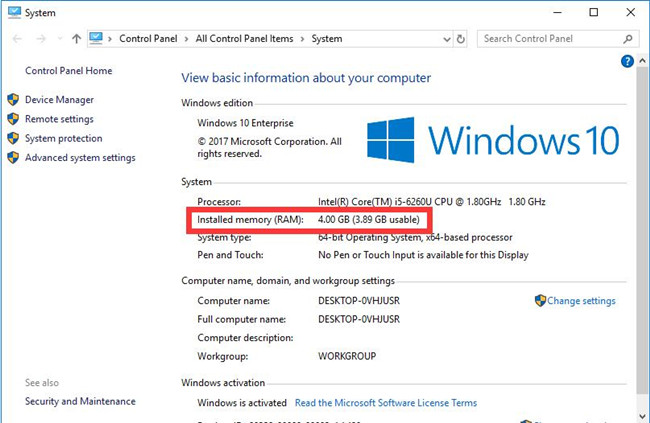 Tips: Installed Memory vs Usable Memory
Here you will find some computers have an option called usable memory. The installed memory is your hardware memory. What is usable memory? It is the amount of available memory equal to the value of the physical memory minus the hardware reserved memory. Generally, if your computer has usable memory, its size may be less than the installed memory.
Related: How to Check Computer Specs on Windows 10, 8, 7
Method 2: Check RAM on Task Manager
1. Right click your mouse on the taskbar and select Task Manager.
2. Click the Performance tab in Task Manager, and you will see the usage of hardware resources such as CPU, memory, disk, etc.
3. In the left side, click Memory image, and you will see how much RAM on your computer.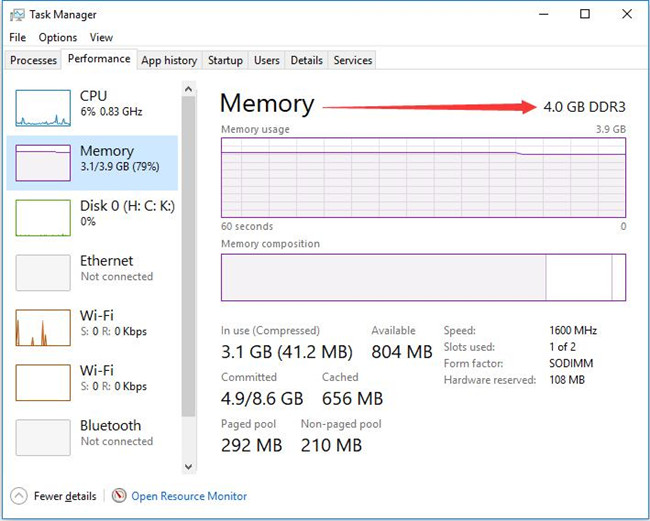 Here you can also see the RAM speed is 1600MHz.
Method 3: Use DirectX Diagnostic Tool to Check RAM Size
Although DirectX Diagnostic Tool is used to show the information about DirectX components and drivers, you can see RAM size from this tool.
1. Type dxdiag in the search box, and click DirectX Diagnostic Tool to open it.
2. In the System tab, you will see the System information including the Memory value. Here you can see the memory value is 4096MB (4GB).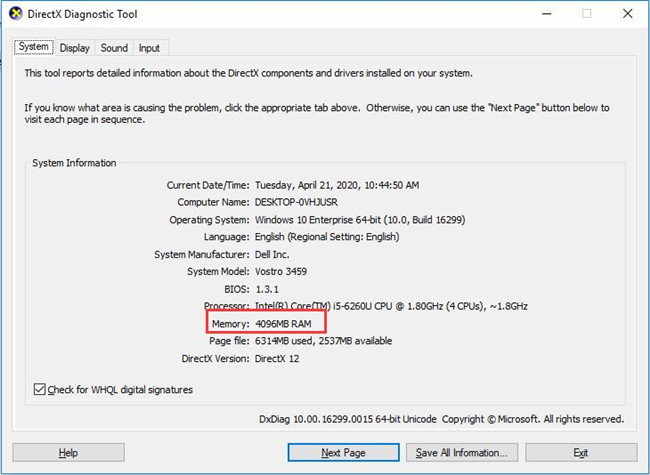 Method 4: Check All Memory Information with Driver Booster
Besides checking memory size, how to check other information about the PC memory ? Those methods above may be unable to allow you to view other information about the memory. So you can use the third-party software such as CPU-Z or Driver Booster to see the comprehensive memory information such as total memory, used memory, free memory, memory bank, memory speed, manufacturer, etc.
Here use Driver Booster as an example. (Driver Booster is a professional driver and game component updating software, which can also help fix many hardware errors.)
1. Run Driver Booster on your computer, and then select Tools > System Information.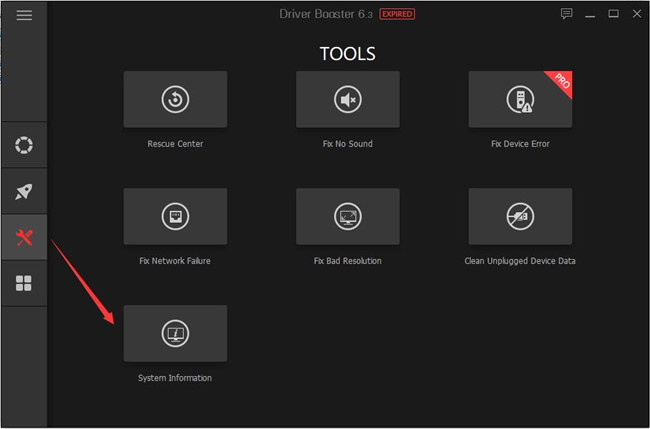 2. In System Information, select Memory Device, and you can see two sections clearly: Memory Resource and Physical Memory.
Here the Total Memory is your computer RAM size. In Driver Booster, it shows the usage memory as the total memory.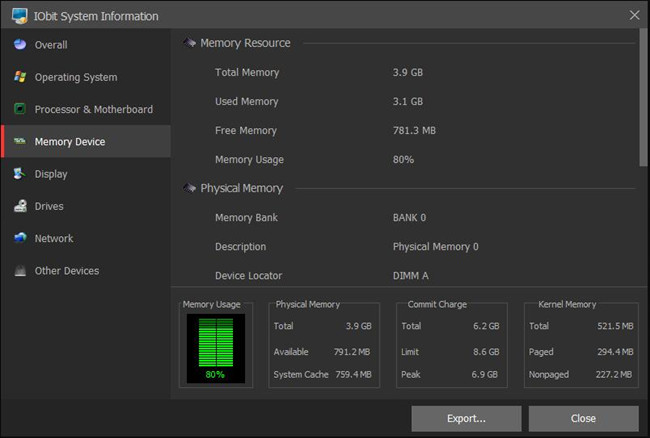 How to Check RAM Speed on My Computer?
Drop down the vertical-scroll bar, and you will see the memory speed. Here is 1660MHz.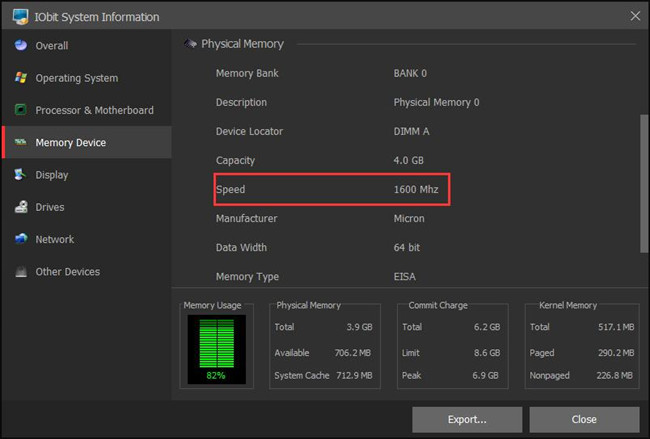 What RAM Do I Have on My Computer?
Drop down the vertical-scroll bar, and you will see the RAM manufacturer. Here is Micron.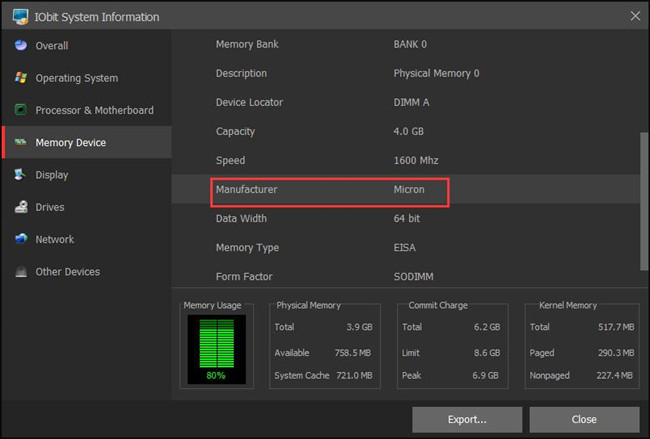 How Much RAM Do I Need and Should I Increase RAM?
Now you have known how much ram your computer has. Here comes another question: how much ram do you need? Should I upgrade my RAM to speed up my PC?
This is a simple and complex thing. In a simple word, it depends on what you want to do with your computer. Here are some simple explanations.
Question: How Much RAM Do I Need If my PC runs on Windows 10 System?
Answer: Although in the Microsoft Windows 10 installing requirement page, it says the minimum RAM requirement is 1GB for 32 bit and 2GB for 64bit, your computer may get stuck and many programs cannot get the maximum hardware support if it only meets the minimum RAM requirement.
It is suggested that if your Windows 10 system is 64 bit, the RAM should be more than 4GB if you wish your PC to run more smoothly. And if it is 32 bit, RAM more than 2GB would be better.
Question: Does Bigger RAM Boost Computer Speed?
Anwser: Sometimes yes, but it isn't always the case. In fact, the speed of the computer depends on other hardware and software configurations. For example, if your memory reaches 8GB, but your system is 32bit, then you may have nearly 5GB of RAM wasted. In fact, the maximum memory used by a 32-bit Windows system is 4GB. Therefore, with a limited budget, the computer's memory is not as bigger as better.
More Articles:
How to Increase Virtual Memory on Windows 10?
How to Set a Program to High Priority on Windows 10, 8, 7