402-935-7733 Paypal Charge Message – What Does it Mean
What is 402-935-7733 on my credit card or bank account? Does it a scam number? There should be many people who have seen this phone number, and it is usually accompanied by a consumption record.
Contents:
Messages about 402-935-7733 Paypal Charges
Different people receive different information from this phone number. The following descriptions are from two different users:
Users 1: A charge for $xxxx has appeared on my bank statement citing "PayPal *Igottrade402-935-7733/VISA Purchase (non-pin) as the payee. There is no corresponding notation in my PayPal on-line records.
User 2: I have seen these charges popping up every month for $ 9.99 on my bank account. It says Purchase Authorized on XXX Paypal * Microsoft 402-935-7733 WA. I have NO idea what this is. How do I get it to stop?
What is the Phone Number 402-935-7733 and Where can you find it?
The phone number 4029357733 is the number of Paypal customer service. On the Paypal help page about Unauthorized transactions knowledgebase, you will see this phone number. And next is the information you may care about: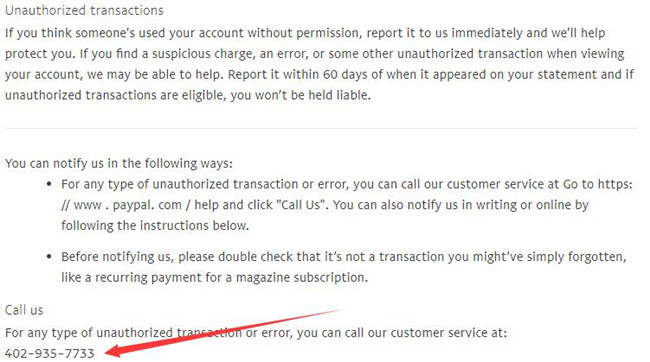 Related: Have You Received 800-692-7753 Phone Call Scams?
Why is the Number 402-935-7733 Showing on My Bank Statement or Credit Card Transactions?
What you may care about is not this phone number, but why there is such a mysterious record of PayPal charges. If you are concerned about this, please see the explanation below:
When you register for a Paypal account, you need to provide a bank card account or credit card account as a backup payment method. In this way, your bank card account is linked to Paypal.
Then when you use Paypal to pay for an order online, if the amount in your Paypal account is not enough to pay for the order, then it will enable the bank card account to make the payment. In this way, there is a record charge on your bank statement about PayPal and the phone number 402-935-7733.
How to Fix the Suspected Fraudulent Charge – 402-935-7733?
The first thing you need to do is to confirm whether this is your personal routine paid subscription, for example, you forget that you have a monthly Spotify subscription or magazine subscription. Sometimes your family member may subscript service with your PayPal account. If you don't want it, you need to cancel it.
Part one: Cancel Paid Subscription Service in PayPal
1. Go to your PayPal account.
2. Click Settings icon to enter your account settings.
3. Click Payments.
4. Click Manage pre-approved payments.
5. Click Cancel or Cancel automatic billing and follow the instructions.
Now, you will not see this subscription information about this phone number with PayPal next month.
Part Two: Report an Unauthorized Transaction or Account Activity
For the suspected fraudulent charges on PayPal, for instance, you don't have a consumption record at the displayed time, but it happened, you can report it on PayPal.
1. Go to PayPal Resolution Center.
2. Click Report a Problem.
3. Find the unauthorized transaction you want to report and click Continue.
4. Select I want to report unauthorized activity.
5. Follow the step to finish it.
6. Change your PayPal password and security questions. This change is to prevent other abnormal deduction records in your PayPal account.
After the dispute is finished, you will received an email within 10 days from PayPal.
Part 3: Call Your Bank
If you find that your bank card or credit card has been stolen and a deduction record has been generated, you need to call your bank to charge this payment back. Normally, they have an independent department to handle similar issues. After that, you may have your money back.
Conclusion:
The 402-935-7733 is not a threatening or fraudulent call, it is a customer service phone number of PayPal. When you encounter an abnormal PayPal deduction record, you can follow the above instructions step by step to get your money back.
Tags :
Smartphone