NETGEAR A6210 Drivers Download for Windows 10, 8, 7, XP, Vista
The NETGEAR A6210, as an AC1200 WiFi USB 3.0 adapter, is very fast and stable. Besides, it only takes up minimal space on your desktop or workstation. Now with the help of this NETGEAR AC1200 WiFi USB adapter, even with old Windows Laptops and desktops, you can get the speed of 802.11ac, the world's fastest WiFi technology, which makes it faster to browse the web, stream media, and play games.
Nevertheless, some NETGEAR users report that they are getting internet drops randomly for like a second or two and then it comes back. It's hardly noticeable when browsing the net, but when it comes to gaming, it can be frustrating. At this point, updates of NETGEAR drivers would be greatly appreciated.
There are three methods to update the NETGEAR A6210 driver.
Methods:
Method 1: Update NETGEAR A6210 Driver Automatically
Updating NETGEAR A6210 driver can be a bit troublesome for those who are not adept at computer operation, to save your time and energy, we suggest using a safe, fast, and professional driver updater tool–Driver Booster.
Driver Booster can provide you with an easy way to download and install the latest drivers, after scanning your computer and finding out outdated or missing drivers. So, Driver Booster is an ideal option for you to update the NETGEAR AC1200 Wi-Fi USB adapter driver, as well as resolving other driver-related system issues and device malfunctions.
Here are the specific steps telling you how to make the NETGEAR A6210 driver up to date.
Step 1: Download, install and launch Driver Booster.
Step 2: Click the Scan button to find the NETGEAR A6210 driver. You can easily operate it since its interface design is very simple. Checking the sidebar, you will find more function which can be helpful for your PC performance.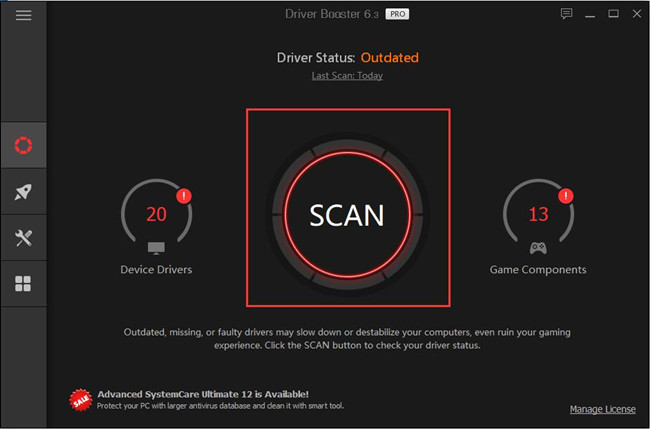 Step 3: Click on Update button when you find the NETGEAR A6210 Driver from the scanning results. Except for updating NETGEAR Wi-Fi drivers, other outdated or missing drivers can be updated as well. So, you can click on Update Now as an alternative to update all the outdated drivers.
Soon later, you will get the latest version of NETGEAR A6210 Driver downloaded from the official website on your PC.
Note: Since you are handling a network adapter issue, under this circumstance, if your computer happens to be disconnected, you can also use the Driver Booster to fix the network error.

Just click on the Tools in the sidebar, and then click Fix on network connectivity problem of your network device.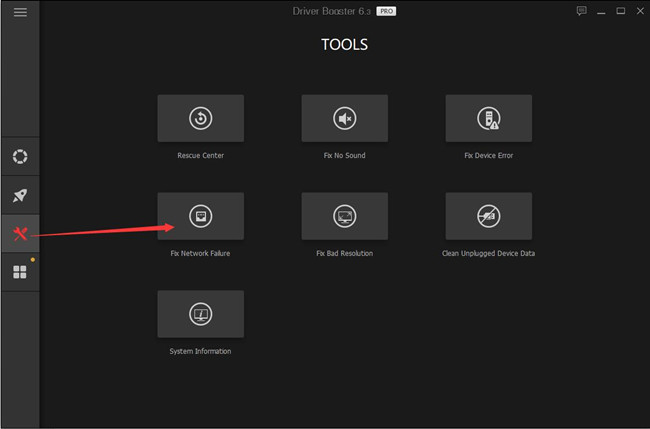 After a few minutes, the network error can be detected and repaired. As for how to update the drivers manually, let us check the following methods.
Method 2: Update NETGEAR A6210 Driver via Device Manager
As a Control Panel applet in Microsoft Windows operating systems, Device Manager allows users to view and control the drivers attached to the computer. So, when this NETGEAR AC1200 WiFi USB adapter is not working well, we can also use the Device Manager to update the drivers.
Step 1: Open Device Manager by typing "device" or "device manager" in the search box and click on the appropriate search result.
 Step 2:  Expand Network adapters to find "NETGEAR A6210 WiFi USB3.0 Adapter".
Step 3: Right click on the NETGEAR driver and select Update driver.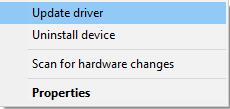 Step 4: Click on Search automatically for updated driver software.
Then, your Windows system will try to search the latest NETGEAR A6210 drivers from the website. Just follow the on-screen guides, and you can complete the driver update.
While in some cases, Windows might fail to find the correct drivers, or there is an issue with the installation, do not worry, you can try another method to update the NETGEAR A6210 Driver manually.
Method 3: Download NETGEAR A6210 Driver from NETGEAR Website
NETGEAR official website regularly releases drivers updates for its products. So, you can download its drivers from the NETGEAR website.
Step 1: Visit NETGEAR Support where you can download NETGEAR drivers and get assistance to fix a variety of NETGEAR product issues.
Step 2: Type A6210 in the search box, and hit Enter. If you want to download other NETGEAR drivers such as Netgear A6100 driver, you can type A6100 here in the search box.

Step 3: Scroll down the page, click on Download to get the whole package of firmware and software downloads, which support Win 10/8/7/XP/Vista systems.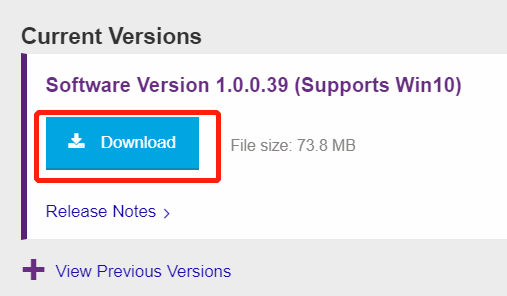 Note: Do not insert the A6210 adapter until drivers are installed or instructed by on-screen instructions. If you want to install the adapter drivers including the NETGEAR utility (genie), run A6210_V1.0.0.39.exe and follow the on-screen install instructions. If you want to install just the adapter drivers without the NETGEAR utility, run A6210-Standalone_V1.0.0.39.exe and follow the on-screen install instructions.
Conclusion:

No matter which method you choose, after downloading and installing the latest version of the driver, the NETGEAR A6210 driver issues can be fixed. If you have any other issues related to this NETGEAR AC1200 WiFi USB adapter, do not hesitate to leave your comments to contact us.
Tags :
drivers
wireless issues