How to Fix Modern Warfare Unable to Access Online Services
Many people are huge fans of Modern Warfare (MW) where provides good campaigns and great multiplayer. It is so much fun and there are so many cool weapons like dogs to electric snipers.

However, just like other online games, it may occur some network issues such as Modern Warfare connection failed. Some players even doubt: Are Modern Warfare servers down? Don't worry too much, when Activision releases some updates that may include a new setup of server for their games, thus, some users might not be able to access the server.
When you are having a problem with Modern Warfare online services, you can choose to adopt corresponding measures according to different situations:
Solutions:
Method 1: Check Modern Warfare Is Online or Offline
In the first place, we suggest you to check if the Modern Warfare servers are offline. By launching the game, it shows "Modern Warfare connecting to online services".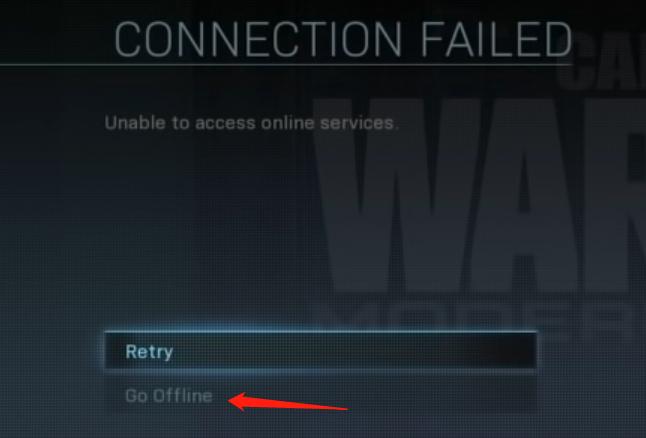 If Modern Warfare connection fails, go offline. Then choose to go to Local Multiplayer, on this page, you will find that no game is available, next, you just head to your settings, and then go to the account for a second.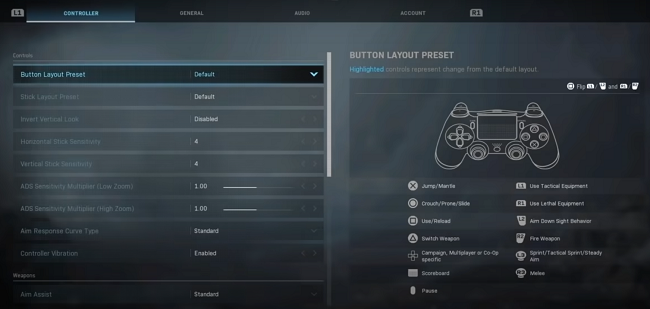 Soon later, Modern Warfare will try connecting to online service and be running again.
Method 2: Try Playing on Other Regions
Though there is a server maintenance in the Call of Duty (COD), not all servers in all regions will be affected at the same time, changing to different region can also take you back to the game for a while.
In some cases, when you are bothering by the issue of Modern Warfare online servers, while it has nothing to do with the COD servers, then you might as well try the next methods.
Method 3: Check the Network Status on Your PC
The server maintenance will also lead to a different hostname and IP address of the Modern Warfare server. Therefore, you need to identify your network status, if you are using Ethernet, change it to Wi-Fi connection, and vice versa.
Method 4: Change Ethernet or Wi-Fi DNS Server Addresses
After trying the last method, if Modern Warfare is still unable to access online services, you can move on to change the DNS server addresses of your Wi-Fi or Ethernet.
Here are the steps you can follow:
Step 1: Open Settings> Network & Internet.
Step 2: Click on Ethernet (or Wi-Fi).
Step 3: Click the Edit button under the IP settings section.
Step 4: Drop down the menu and select the Manual option, and turn on the IPV4 switch.
Step 5: Change the "Preferred DNS" and "Alternate DNS" addresses, and then click the Save button.
You can choose from Cloudflare, Google Public DNS, or Cisco OpenDNS as below:
Cloudflare: 1.1.1.1 and 1.0.0.1
Google Public DNS: 8.8.8.8 and 8.8.4.4
OpenDNS: 208.67.222.222 and 208.67.220.220
Method 5: Flush DNS Cache
If switching DNS addresses does not work, you can also flush DNS resolver cache, flushing the cache will remove all the information stored in the cache, which can force your computer to check for new DNS information. It is easy to operate.
Step 1: Type "command prompt" in the search bar, and enter it.
Step 2: In the open prompt, type "ipconfig /flushdns" (without the quotes).
Then, you will receive a message notifying "Successfully flushed the DNS Resolver Cache".
Method 6: Reboot Your Router or Factory Reset Router
When you are suspecting your network is not working as usual, "Modern Warfare connecting to online services" seems to take forever, in this case, either reboot or reset your router can also be a good choice to cool off and flush out its memory.
The router is just like a computer containing house memory, local storage capabilities, an operating system and so on. But not all these components will always function as they should do. At this point, you can reboot it to fix many issues.
Resetting your router to its default factory settings can also be helpful, but it is usually as a last resort since it may take a long time, and you need to reset your router's password.
If you have tried all the six methods above, and Modern Warfare servers' connection still failed, you might as well think about it from another perspective, does your hardware driver work well?
Method 7: Update Network Driver
From time to time, you feel slow connection speeds of online services, or complete loss of connectivity. These issues may also indicate that your network adapter driver is outdated.
You can use device manager or a reliable driver adapter utility, Driver Booster to update the network adapter to the latest driver.
Driver Booster enables you to update any outdated or missing hardware drivers on your PC. With just one click. it will automatically download and install the latest network adapter driver for you.
Step 1: Download , install, and run Driver Booster.
Step 2: Click on the Scan button to detect all the outdated hardware drivers on your PC.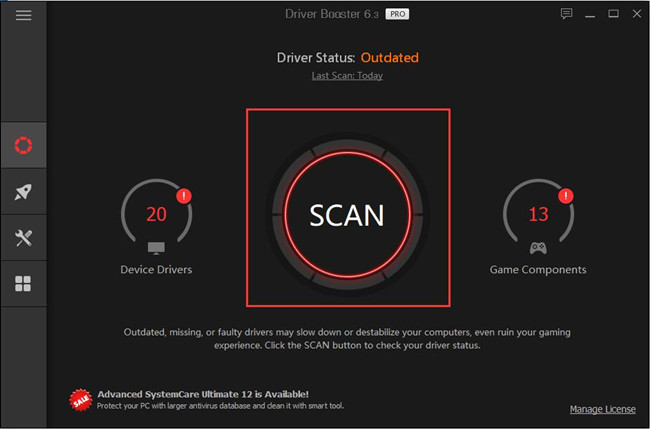 Step 3: Find your network adapter driver from the result list of scanning, click on the Update button beside the driver.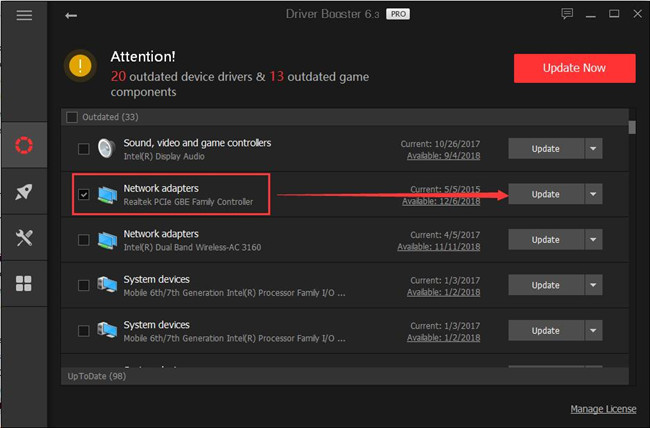 After following these three steps, you can get the network adapter driver up to date, very soon.
Conclusion: In all of the above mentioned solutions for Modern Warfare unable to access online services issue, no matter which one or ones you have chosen, we hope they are helpful. If you have any questions related to Modern Warfare servers, feel free to comment below.
More Articles:
Fixed: A Ubisoft Service Is Currently Unavailable on Windows 10, 8, 7
Solved: Could Not Connect To The Steam Network