Is your Uplay service unavailable? For some users, when you start a Ubisoft game or login in Uplay, an error pops up showing you that A Ubisoft service is currently unavailable and block you from launching the game or Uplay as normal. In some cases, the Uplay connection lost shows up as well. In this way, you may be wondering how you can solve this Ubisoft service unavailable issue and play the game again.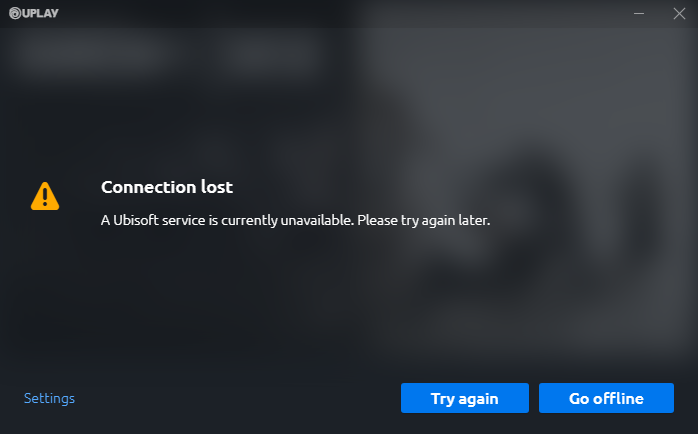 Overview:
Why is a Ubisoft Service is Currently Unavailable?
When a Ubisoft service status is down or unavailable, it usually means that something wrong that hinders your device from accessing the right Ubisoft service. According to user reports, the following factors are the most to blame.
For instance, if there is any problematic process or task on Windows 10, 8, 7, the problem that Ubisoft service is not available may show up. Or if the time is detected wrong by Ubisoft services, it is understandable that this Uplay error comes to you.
Similarly, network issues like the outdated drivers and erroneous network settings would also be underlying culprits. Therefore, just get down to resolving the Uplay or Ubisoft server down issue.
Solutions:
Solution 1: End Unnecessary Processes
The Ubisoft service unavailable can be caused by conflicts of processes or tasks, so you would better stop some conflicting services from running in case Uplay server unavailable happens to Windows 10.
1. Open Task Manager.
2. Under Processes, locate Background processes and then right click the tasks to End task one by one.
3. Launch the game or Uplay to see if the problem that "a Ubisoft service is currently unavailable" persists.
Normally, without program conflict, some users may notice that the Uplay server unavailable has been fixed.
Solution 2: Adjust Time and Date Settings
Once the system detects that your time and date do not conform to your location or come across to any errors, Ubisoft services unavailable could appear. Therefore, you may as well try to configure your time and date settings, for instance, manage to Synchronize with an Internet time server.
1. Go to Start > Settings > Time & Language.
2. Under Date & Time, locate Additional date, time, & regional settings.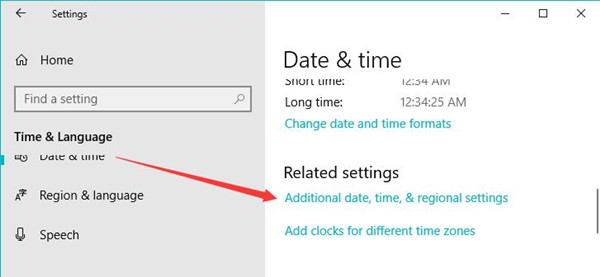 3. Click Date and Time.
4. Then under the Internet time tab, try to Change settings.
5. Then tick the box of Synchronize with an Internet time server and then hit Update now > OK.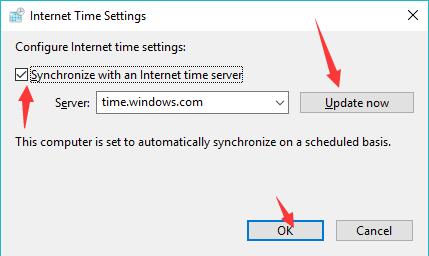 In so doing, the time and date on your PC will be synchronized automatically in line with the internet time.
Solution 3: Uninstall Hamachi Application
As a tool to create and manage a virtual private network (VPN) between multiple remote computers, Hamachi is said to be a potential reason why Ubisoft service is currently unavailable. Therefore, to get your game or Uplay to run, it is a wise option to get rid of the Hamachi program. If needed, you can reinstall this VPN service.
1. Open Control Panel.
2. View by Categories and then find out Programs > Uninstall a program.
3. In Programs and Features window, scroll down to locate Hamachi and right click it to Uninstall it.
Once the Hamachi application is removed, check if the Uplay server down is resolved.
Solution 4: Update the Network Driver
The network issues could also lead to the Uplay error, and the first thing you need to do to fix the network problem is to keep the network driver updated. And to save your time and energy, it is strongly recommended to turn to Driver Booster, the top one driver tool to get the latest network adapter drivers automatically and quickly.
1. Download, install, and run Driver Booster.
2. Click the Scan button. Then you can observe that the Driver Booster is searching for problematic drivers on your PC, including the network driver.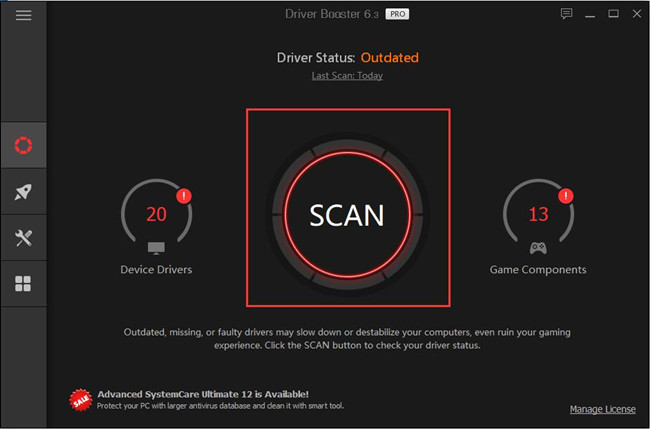 3. Find out Network adapters and then Update the network driver by Driver Booster.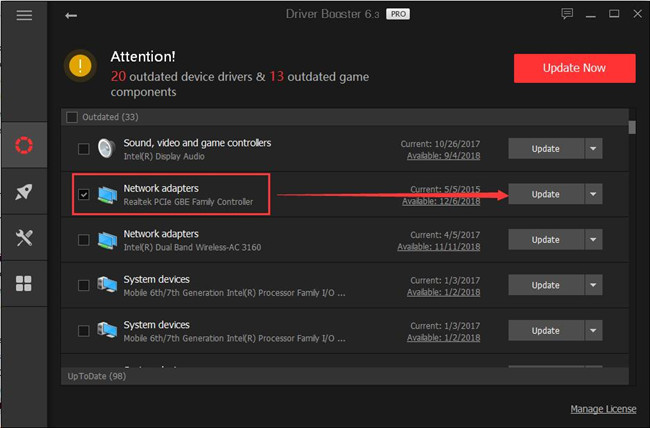 Wait until Driver Booster installs the latest network driver on your device. Then re-launch the Ubisoft game or Uplay service to see if the Ubisoft service not available error remains.
Solution 5: Change to IPv4
Apart from the network driver, the Internet Protocol Version on your PC will also result in unavailable Ubisoft. Usually, this service can work well with IPv4. And for some people, Ubisoft service inaccessible might show up after you change to IPv6. So it is worth a shot to change the network version to IPv4.
1. Go to Start > Settings > Network & Internet.
2. Under WIFI, choose to Change adapter options.
3. Right click the network your device is connecting to access it Properties. Here, the connected network is WIFI.
4. In WIFI Properties, tick the box of Internet Protocol Version 4 (TCP/IPv4) and uncheck the box of Internet Protocol Version 6 (TCP/IPv6).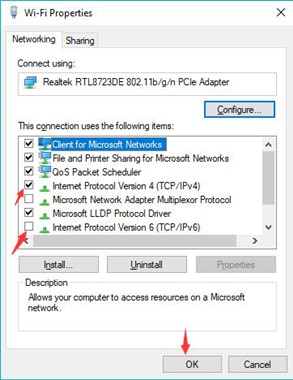 5. Hit OK.
Therefore, your PC will use IPv4 instead of IPv6. And for Ubisoft or Uplay services, most of them can run well with IPv4. So it is likely that the unavailable Ubisoft services disappeared and you can play the game or login in Uplay as you wish.
Solution 6: Change the IP and DNS Addresses
Similarly, the IP and DNS addresses can also affect the performance of Ubisoft services. And it is said that the automatic IP or DNS address can give rise to the issue that the Ubisoft server is unavailable at this time. It may result from that Windows considers that you are using a VPN, thus changing your IP or DNS address frequently. Therefore, it is also advised to try to use the static IP and DNS addresses.
1. Follow steps 1- 4 in Solution 5 to open WIFI Properties.
2. Double click Internet Protocol Version 4(TCP/IPv4) to go to its Properties.
3. Then tick the circle of Use the following IP address and change the IP address that conforms to your location, and tick the circle of Use the following DNS server addresses and set the Preferred DNS server as 8.8.8.8 and Alternate DNS server as 8.8.4.4.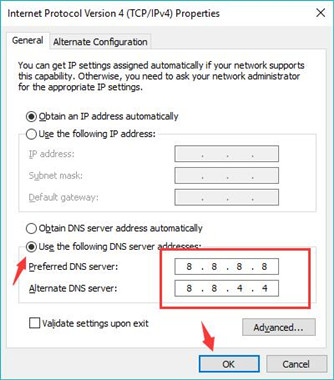 4. Click OK to save changes.
At this moment, Ubisoft service unavailable is nowhere to be seen and you can enjoy your game and Ubisoft services as you wish.
Additional Information: What is Uplay? What are Ubisoft Services?
In case you have inadequate knowledge about Uplay and Ubisoft service, you can check the details about them. Simply put, developed by Ubisoft, Uplay is a digital distribution, digital rights management, multiplayer and communications service to provide an experience similar to the achievements/trophies offered by various other game companies.
While Ubisoft services include the games, downloadable contents, season passes, and other game software (contained on disc or other physical medium or downloaded or streamed), and other software products and online and mobile services, including their online functions and other features.
In a word, with the help of this post, you can learn to fix the Uplay server unavailable error that a Ubisoft service is currently unavailable using powerful and efficient ways.
More Articles:
Fixed: The Action Directory Domain Services is Currently Unavailable Windows 10
Fixed: Service Registration is Missing or Corrupt Windows 10