3 Ways to Download Sony Drivers for Windows 10
It is a necessary step for SONY users to download the latest drivers if they have just upgraded their computer to Windows 10. But many people do not know how to download drivers, such as SONY Keyboard and Mouse.
But drivers play an important role in computer operating. So here will be some solutions for you to download the Mouse, Graphics, and so on.
Methods:
Method 1: Download Drivers in Device Manager
In the first place, you can utilize the built-in tool to update your Sony drivers, namely, updating Sony VAIO drivers in Device Manager.
1. Open Device Manager.
2. Find out your Sony driver and then right click it to Update driver.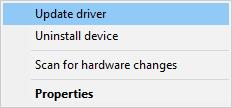 3. Then choose to Search automatically for updated driver software.
Right after that, Device Manager will search for Sony VAIO keybaord driver, VAIO WIFI driver for you automatically.
Method 2: Update SONY drivers for Windows 10 Automatically
If you cannot find the right drivers for SONY of Windows 10, maybe you can try to use Driver Booster, which is a professional and fast tool for driver downloading and updating, it can download SONY Mouse, SONY Audio driver and so on perfectly and completely. Especially when your SONY has been upgraded to Windows 10, it may be a significant helper of Windows 10.
1. Download, install and run Driver Booster firstly.
2. Click Scan. After that, Driver Booster will scan all your Sony drivers and game components.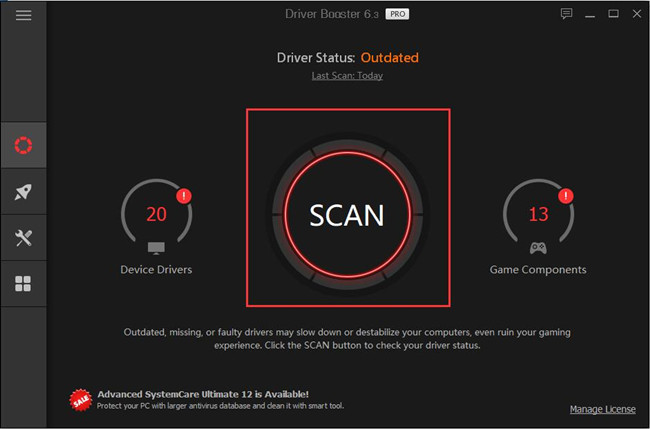 3. Click Update or Update Now. You can select update one driver or update all drivers one time.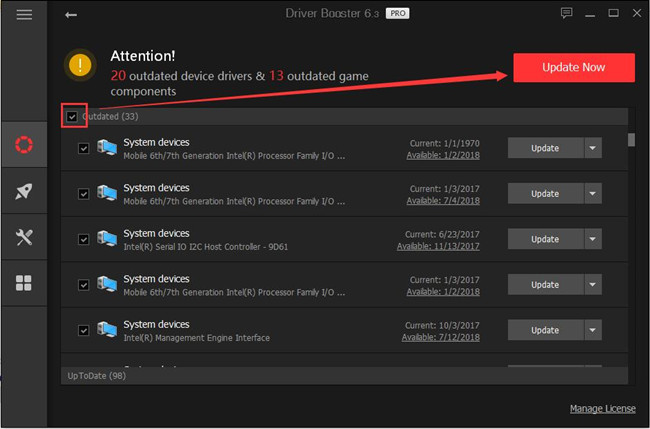 Method 3: Download Drivers for SONY Manually
When it comes to the problem of drivers, many people tend to turn to the official site for a help, which is natural. As for SONY users, if you also want to download drivers manually, you can refer this way.
You can directly go to the download interface from this link: SONY Drivers.
Step 1: Choose your SONY model and type it in the search box.
If you have some trouble in finding your SONY model, there will be a link on the interface how do i find my model number when you get in the link offered before.
We here choose "VGN–FW550F" just for your reference.

Step 2: click the "DRIVERS & SOFTWARE" and later you will see all the drivers available.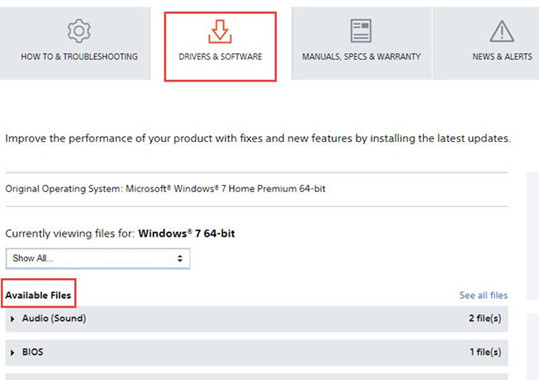 Or if you want to show the specific drivers you want to download or update, you can pull down the option box, to set an example for you, we choose "audio (sound) — 2files" here. And then the related Audio driver option will appear.
After the options showed up, you can click the "download instruction" button.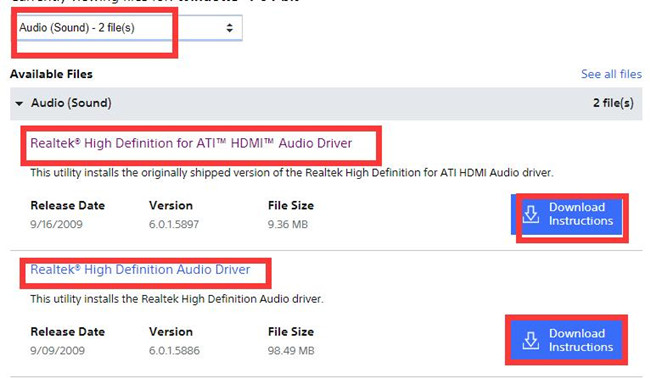 Step 3: Download. When you click "Download Now" and you can get the driver on your SONY devices now.

Step 4: Install the drivers you have downloaded on the site.
After that, you can goes to device manager to see if all the drivers are normal. Of course, if you are not good at find the driver by yourself, you can use the the way.
In conclusion, whether you want to download SONY drivers for Windows 10 manually or automatically, you would better follow the downloading guideline, in this way, the whole process will be much easier.
More Articles:
2 Ways to Update Razer Drivers for Windows 10
How to Download Lenovo Drivers for Windows 10
Tags :
drivers