Download 3Dconnexion Drivers for Windows 11, 10, 8 and Mac
3Dconnexion's SpaceMouse Pro is popular among people because it offers professional 3D navigation, advanced ergonomics, a reliable connection to a high-performance universal receiver, and up to two months of battery life. But are you bothered by a 3Dconnexion mouse that doesn't work? Are you getting a mouse not detected error when using a wired mouse?
These could all be due to outdated drivers. When the drivers are out of date, it can prevent basic functions, such as recognizing the same mouse you've had for years. Don't worry, keep reading this article, and you will find that you can easily solve these problems.
This post provides you with three manual and automatic methods to download and install the latest drivers for your 3Dconnexion products in Windows and Mac.
Method 1: Update 3Dconnexion Driver with Device Manager
Generally speaking, if users experience a blank display when logging in, or sudden problems with their webcam, one of the effective solutions they need to try are to update the drivers for these hardware components.
And they report that the most efficient way to update drivers is to navigate to your hardware through Microsoft's own Device Manager and manually update the appropriate drivers.
Step 1: In the search box on the taskbar, enter device manager, and then select Device Manager.
Step 2: Expand Mice and other pointing devices, then Right-click the SpaceMouse or the CadMouse you are using and click Update Driver.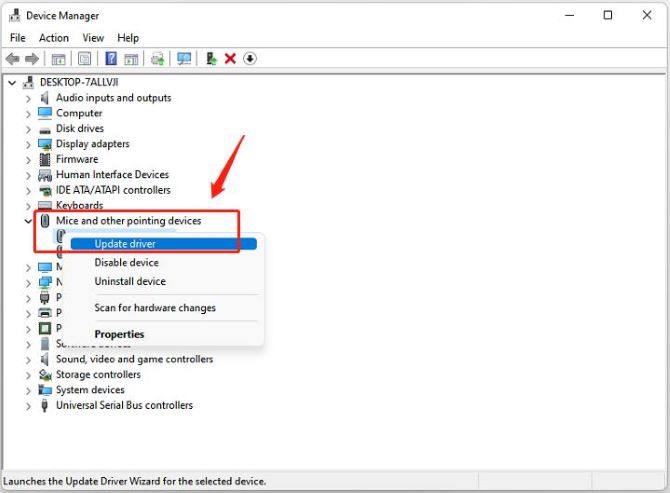 Step 3: Select Search automatically for drivers.
Tips: If you are using the 3Dconnexion Keyboard Pro, you should find it under the Keyboards category.
Method 2: Update 3Dconnexion Driver automatically (Recommended)
Of course, not all devices can be updated through Device Manager. At this time, you need a tool that can automatically scan all the drivers on your computer.
Driver Booster is a useful and powerful free driver updater program that helps users scan for outdated, missing, and faulty drivers and provides you with the latest and best matching drivers that you can download and install directly from the vendor. More than 8,500,000 drivers can be scanned and updated automatically, quickly, and safely.
So, if you're a newbie, it's a must-have utility for you that you can use to download and install the latest version of 3Dconnexion driver.
Step 1: Download, install and run Driver Booster on Windows 11 or Windows 10.
Step 2: Click the Scan.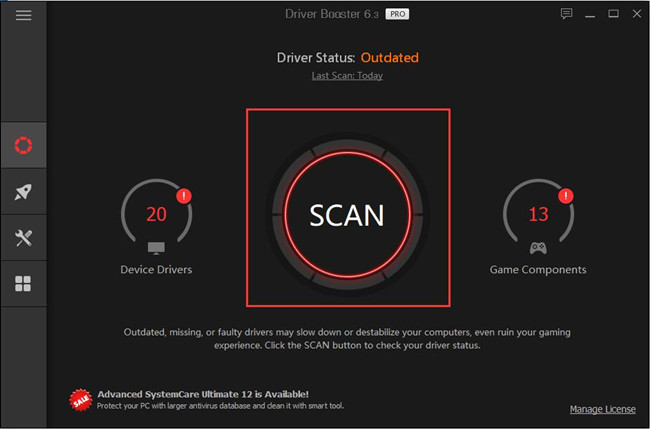 When clicking the icon Scan, Driver Booster will scan all the drivers installed on your PC and give you a list of outdated and missing drivers.
Step 3: Check the product you are using, for example, the SpaceMouse Pro or the WirelessCadMouse Pro and click the icon Update next to it.
Besides, Driver Booster will not only be used to update drivers, it also provides a safe and stable display driver uninstaller to completely uninstall graphics card drivers, and remove all traces of display driver leftovers. If you want entirely new driver installation, delete drivers that are causing issues, this driver removal is a must-have.
Method 3: Update 3Dconnexion Driver manually on the official site
For the less tech-savvy, there's no doubt that updating drivers manually will be a headache. Updating drivers manually is not only extremely tedious, which can lead to hours of head-scratching, but potentially risky to execute, especially for those relatively tech-naive. If you're lucky, or just stubborn, here's how to update your own drivers manually on the official site.
Step 1: Go to the 3Dconnexion website.
Step 2: Choose the operating system of your PC.

For Windows 8, 10, 11:
You should click the 3DxWare 10 for Windows icon and download the driver according to your operating system (Make sure your PC is 64-bit or 32-bit).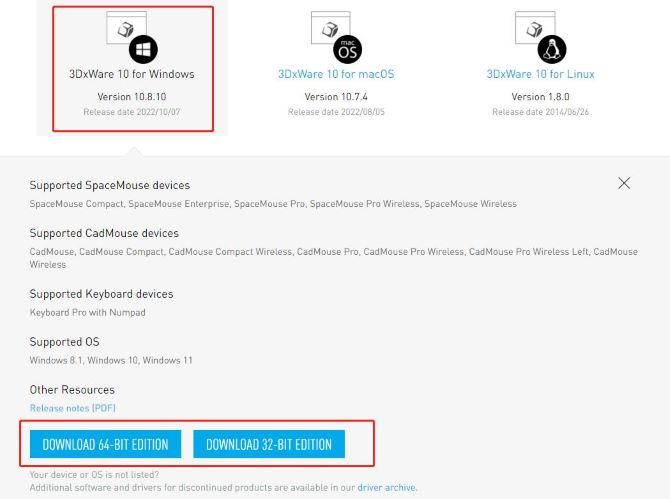 For Mac:
If your OS is macOS 10.15, macOS 11, or macOS 12, you should click the 3DxWare 10 for macOS icon. And then scroll down to click the DOWNLOAD icon to install the latest version of drivers.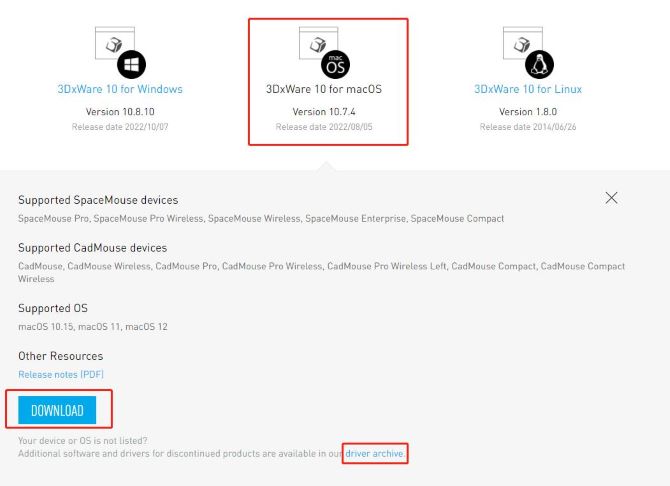 Tips:

If your device or OS is not listed, you can scroll down and click the blue words: driver archive to find your device or OS and download and install the latest drivers.
Step 3: After downloading the driver that fits your PC, you can follow the on-screen instructions to install the driver.
FAQ about 3Dconnexion Driver:
Q1: What can I do when I installed the latest 3Dconnexion driver but my SpaceMouse is not working within my application?
Firstly, check if your application supports SpaceMouse. Secondly, verify that SpaceMouse is enabled in your application. Certain applications require specific steps to activate SpaceMouse.
Q2: Does 3Dconnexion work with Mac?
Yes. 3Dconnexion supports Mac, Windows, and Linux.
Q3: Does 3Dconnexion work with FreeCAD?
Yes. 3Dconnexion input devices are supported on OS X, provided that FreeCAD is built and used on a system with the 3Dconnexion drivers installed.
Q4: Which components are included in the driver?
The downloaded driver package of 3DxWare 10 for Windows may be extracted two times and it includes all important components, such as Core driver 3DxNLServer, PlugIn for Microsoft Office, and so on.
Q5: Can I use 3Dconnexion SpaceMouse as a normal mouse?
Yes. There is some capability to make it act like a 2D mouse.
More Articles:
Download and Update OpenGL Drivers for Windows 11, 10, 8 and 7
Download and Update DYMO LabelWriter 450 Drivers for Windows 11, 10, 7 and Mac
Tags :
drivers