Solved: Creative Sound Blaster Not Detected on Windows 10/11
So long as your sound card doesn't detect the hardware, you are unable to get any sound from the creative audio card and the setup is unable to detect a supported product on your system. Or as for other users, your audio sound issue is that your audio device cannot be detected, please check your connection.
Both of these two sound errors are closely related to audio connection on Windows 10/11.
It seems normal that the creative Sound Blaster is not working, especially after Windows 10 Creators Update. Thus, when the Sound Blaster is not detected on Windows 10, you have to try some ways yourself to resolve Sound Blaster not working.
How to Fix Sound Blaster Not Detected Windows 10/11?
Why after Windows 10/11 installation or Windows 10/11 updates, Sound Blaster issues in Windows 10 come to you accidentally? This is because you need to download and update creative Sound Blaster Z drivers if the Windows system was updated.
But the problem lies in that there is something wrong with Sound Blaster Z drivers. For instance, Windows 10 doesn't detect your sound card. On the other hand, the antivirus software is also responsible for the Windows 10 Sound blaster not recognized or other audio devices unavailable.
Solutions:
Solution 1: Plug out the Power Cord
First and foremost, you would be suggested to take measures to solve the hardware issues related to the creative Sound Blaster Z on Windows 10/11.
It is available and feasible for you to unplug the power cord for several minutes and then plug it in.
Maybe Sound Blaster not detected occurs resulting from the problematic power supply. So try to plug out and then plug in the power cord to deal with the no sound from Sound Blaster Windows 10.
Solution 2: Reconnect the Sound Blaster
Now that the creative Sound Blaster connect 2 was not detected on Windows 10, there is much need to plug out your audio device cables and then let Windows 10 automatically connect the Sound Blaster again.
Here you might as well unplug all the audio device cable, the Microphone, headphone, etc. On that basis, reconnect your sound blaster, if possible, the sound card will be detected.
Solution 3: Change PCI Slot
Thirdly, you need to make sure the PCI-E slot you plugged in is in good condition and can allow the Creative Sound Blaster to be found by Windows 10/11. Or if what concerns you most is Sound Blaster software doesn't recognize the audio device, it is also wise to change to another PCI slot.
Just manage to plug out your Sound card from the previous PCI slot and then plug it in another proper slot.
Perhaps another PCI slot can get your Sound Blaster to be recognized and to work as usual.
Solution 4: Uninstall and Reinstall the Creative Sound Blaster Driver
It seems that this sound card not detected Windows 10 will mostly happen to you when you are unable to get the sound blaster driver installed for Windows 10. On that occasion, you are supposed to uninstall the sound card driver and then install a brand-new sound blaster again for your PC.
Uninstall Sound Blaster Z Drivers:
1. Open Device Manager.
2. Expand Sound, video and game controllers and then right click the Creative sound blaster to Uninstall device.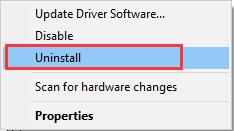 3. Then tick the box of Delete the driver software for this device and then hit Uninstall to confirm the uninstallation.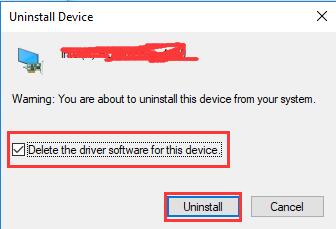 After that, you need to download or update the creative Sound Blaster Z driver that satisfies the system requirements of Windows 10.
Update Creative Sound Card Driver:
To finish that, you may as well turn to Driver Booster, which boasts of millions of drivers and the functionalities like rolling back drivers and scheduled driver scan. Here in terms of sound card no sound Windows 10, you can also notice Fix No Sound feature in Driver Booster.
1. Download, install and run Driver Booster on your PC.
2. Stroke Scan to permit Driver Booster to scan for the missing, outdated or even faulty drivers on Windows 10.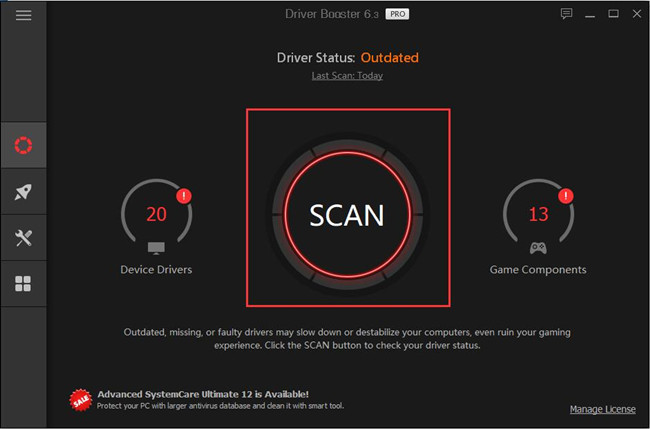 Here as long as the Creative Sound Blaster driver occurs to issue, Driver Booster will show you and let you update the drivers
3. Scroll down to locate Sound, video and game controllers and then determine to Update the sound card driver.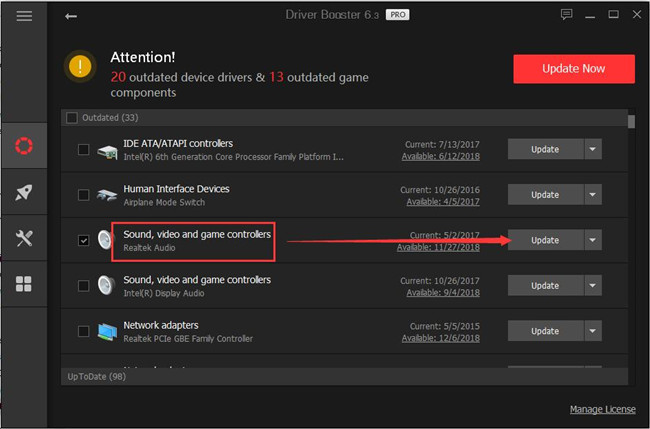 4. Then on the left pane of Driver Booster, pinpoint Tools and then get ready to Fix No Sound.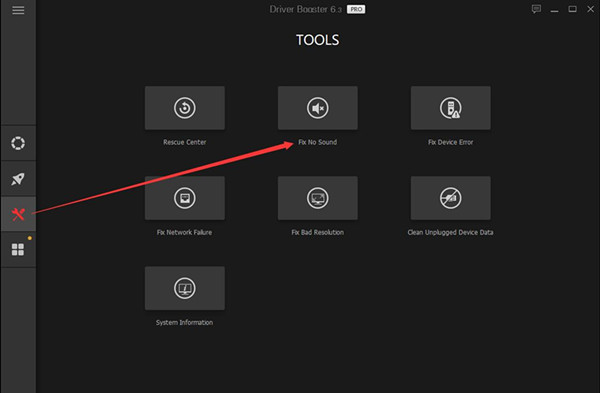 To some degree, Driver Booster is capable of finding the latest audio driver and fixing the Sound Blaster stopped working error on Windows 10. Here in order to get the up-to-date driver for Creative Sound Blaster, you can also choose to search online for the creative Sound Blaster driver to download and update it for Windows 10.
With the updated sound card driver, you can attempt to use your creative Sound Blaster again to see whether you are able to get sound from it and if the Sound Blaster not working is fixed.
Related: 2 Ways to Download Creative Drivers for Windows 11, 10, 8, and 7
Solution 5: Uninstall Third-party Application
Just as you have been prompted, it is likely that some programs you have just installed can prevent your PC from connecting your sound blaster Windows 10.
So while you run into sound blaster Z not detected, much you can do to make your computer figure out the sound card, for instance, uninstall the antivirus software.
1. Go to Control Panel.
2. Hit Uninstall a program under Programs.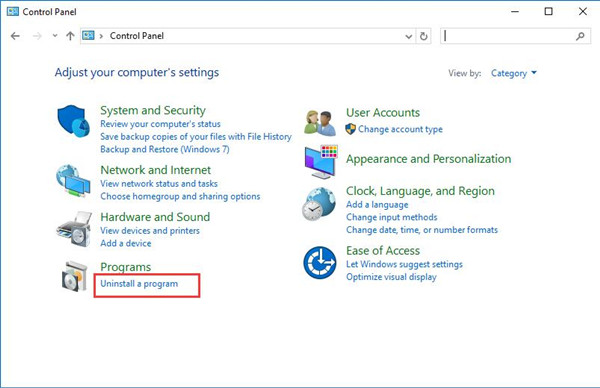 If you failed to locate it easily, you are supposed to View by Category.
3. In Programs and Features, find out the Avast or AVG or any other applications that may cause sound card not working Windows 10.
4. Reboot Windows 10.
At this moment, under the circumstance where there is no more application stopping you from using the creative sound blaster.
This post has offered the most effective methods to solve Windows 10 creative sound blaster Z unavailable and cannot be detected. You can also learn to download the sound blaster Z drivers for Windows 10. Or if your sound card is still out of work, you can only reset Windows 10 to resolve the creative sound blaster issue.
More Articles:
How to Fix Turtle Beach px24 Mic Not Working Issue
Solved: Windows 11/10 Audio Stutter
Tags :
audio issues