How to Factory Reset Windows 10
Now and then, Windows 10 would go into system crashes occasionally, such as BSOD or black screen error. On that occasion, it might appear in some people's minds to reset Windows 10 to solve the system issues.
Or there are some persons who merely feel like to recover their PC system to the default, for as time pass by, Windows 10 would accumulate considerable junk files, programs, left software resources, etc.
No matter what your purpose is in hard factory resetting your computer, do you have any idea how to reset Windows 10 to factory default?
If not, this article will help you complete the factory reset on Windows 10.
Steps to Reset Windows 10 to Factory Settings
It is wise for you to refer to the procedures earnestly unless it is likely you make mistakes in factory resetting Windows 10.
1. Go to Start > Settings > Update & Security.
If you cannot enter update & security settings, view here to fix it.
2. Under Recovery, choose to Reset this PC and then decide to Get started.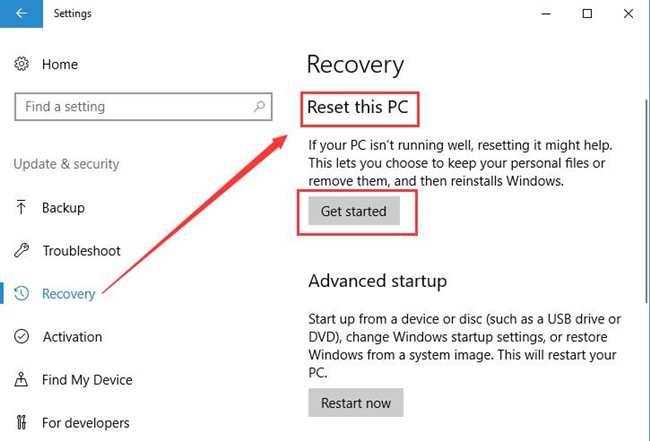 Two choices open for you under Recovery.
Reset this PC, which is to set your computer to factory default.
Advanced Startup, it permits you to start Windows 10 from disk or USB drive.
In fact, unless you have reset your computer within 10 days right after the upgrade to Windows 10, there will be another option open for you — Go to an earlier build, which aims to restore the Windows to the previous version.
3. Then choose to Keep my files. Thus, your personal files would be detained.
Here you can see the other option — Remove everything. It will delete all the files, apps, settings you have saved and then reinstall Windows 10 for you. And it would take some time, like an hour or two.
4. In Do you want to clean the drives, too, select Just remove my files.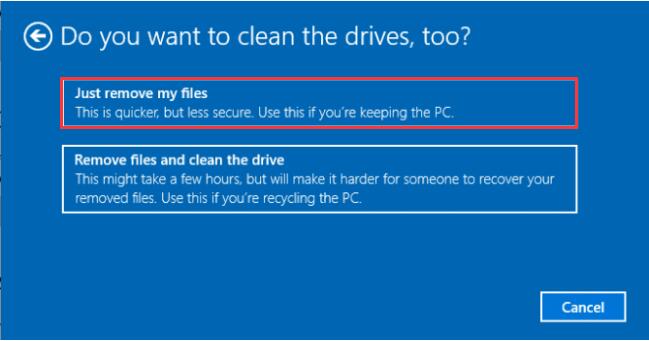 If you would like to use this computer, you need to choose Just remove my files.
If you would rather give it to anyone else, just Remove files and clean the drive. But it will cost you a few hours, though it is harder for others to recover your deleted files.
5. In Warning window, click Next.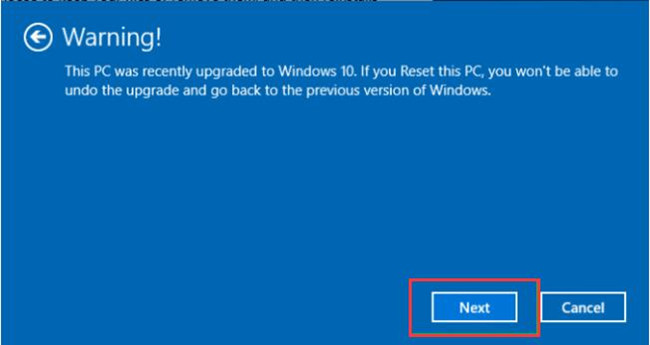 6. In Ready to reset this PC window, hit Reset to confirm it.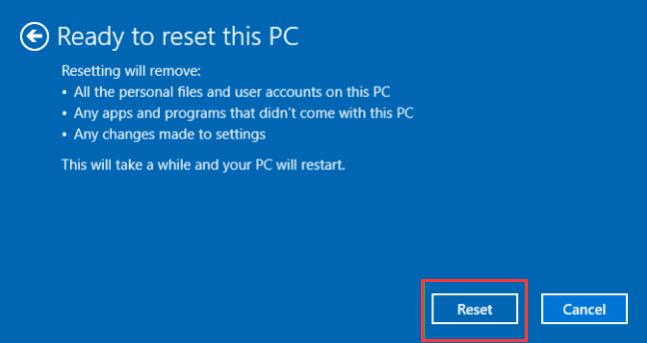 Shortly after that, Windows would restart and reset itself.
And you will have correctly factory reset Windows 10.
Tips:
If you even cannot get to Settings on Windows 10 because of some system problems, it is recommended that you boot your PC from sign-screen, to achieve it, press Windows + L combination key to go to the sign-in screen window where you are supposed to press Shift + Power keys all the time until Restart key comes up. Then select Reset this PC under Troubleshoot.
But in the cases where you cannot come into the sign-in screen, maybe you have to recover the drive to bootable USB in order to reset Windows 10.
The minute you sign in with the factory settings, you are capable of reinstalling some software, programs, and drivers for your PC.
In a word, you can follow the steps above to reset your PC to factory default on Windows 10, but you cannot be too careful when you choose the misleading options.
On Windows 10, besides resetting factory settings, it is also available to restore Windows system.
Tags :
microsoft