Solved: Fix Critical Process Died BSOD on Windows 10
Contents:
Critical Process Died BSOD Overview
Some people argued that their PC went into Blue Screen of Death all of a sudden. And the error message popped up like that: "Your PC ran into a problem and needs to restart. We're just collecting some error info, and then we'll restart for you." Meanwhile, Windows 10/11 won't boot because of the Critical Process Died blue screen.
In other cases, people hit upon Critical Process Died BSOD when running a certain program, which is why many clients complained Microsoft Edge Critical Process Died or Chrome process died.
Faced with this system crashing problem, you may feel rather frustrated. Now struggle to figure out something and to fix this Windows stop error code Critical Process Died on Windows 11/10/8/7 as soon as possible.
What is Critical Process Died Error?
Once a vital system process runs improperly, your operating system would be stuck in the error code Critical Process Died with the error code 0x000000EFand at the same time, your computer displays a blue screen of death.
Why the Critical Process Died Error Happens to You?
When your PC runs into Critical Process Died BSOD error, it means the significant process on Windows 10 has stopped abruptly without any concert reasons.
The possible causes of this BSOD issue led by Critical Process Died:
Outdated or corrupted drivers
Corrupted or damaged files
Memory problems
Problematic settings
According to these Windows problems, get down to solve them one by one on Windows 10.
How to Fix the Critical Process Died Error?
Whenever you have encountered this BSOD issue on Windows 10, either when you are using the computer or you have not yet logged on to it, it will appear suddenly.
Solutions:
Solution 1: Enter Safe Mode
It is common that due to this Critical Process Died blue screen of death Windows 10/11, you cannot log in to your PC, it is advisable that before taking some measures, get into safe mode firstly. If you can, just leave it alone.
In the safe mode, you are able to troubleshoot Windows 10 blue screen Critical Process Died with fewer programs running.
But according to users, sometimes, Critical Process Died no safe mode is what you encounter, in this case, you should move on.
Solution 2: Perform a Full Scan for Your PC
After entering the safe mode, it is urgent and necessary for you to comprehensively scan your PC for errors. No matter it is file corruption, disk error or malware interruption that leads to critical process died blue screen of death on Windows 10/11, Advanced SystemCare will detect it out and fix it automatically.
After that, you can go back to the normal mode of the Windows system to check if the critical process died Windows 10 persists on your computer.
1. Download, install and run Advanced SystemCare.
2. The under Clean & Optimize, try to tick the box of Select All and then Scan for all these items on Windows 10.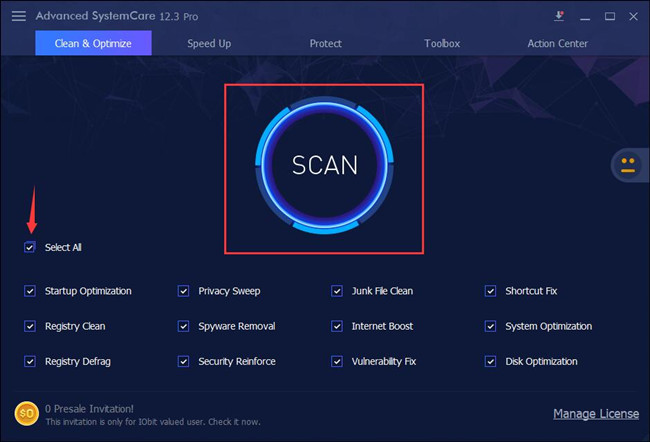 Here it is also up to you to optimize the disk, file or spyware rather than all the items.
3. Click Fix to let Advanced SystemCare deal with the matters on your PC.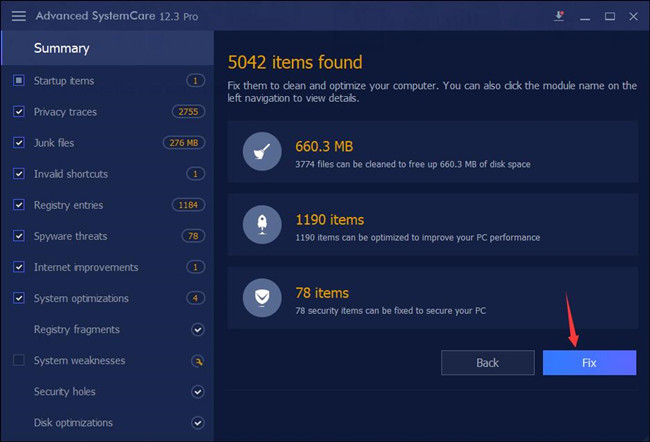 Once done, possibly, Windows 10 critical process died blue screen won't appear again as all the items are troubleshot and fixed with Advanced SystemCare.
Solution 3: Run Driver Verifier Manager
In the light of the possible reasons for the Critical_Process_Died error, you are supposed to detect which drivers are corrupted or incompatible with Windows 10. Use the driver verifier tool to help you scan for the problematic drivers.
1. Click Start and type in Verifier in the search box and hit Enter to open Driver Verifier Manager.
2. In Driver Verifier Manager, go to Create standard settings > Next > Automatically select unsigned drivers > Next.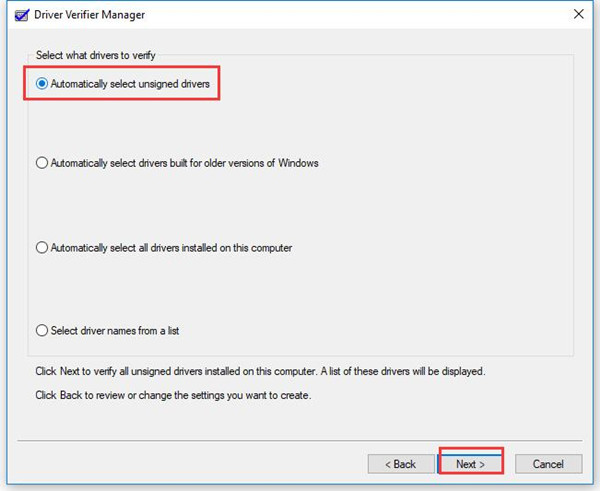 Then Windows will be loading driver information. And after a while, there are some unsigned drivers listed here.
You can also choose to tick other options to check all the drivers, such as Automatically select drivers built for older versions of Windows, for it is a useful option for testing driver compatibility with Windows 10.
3. Click Cancel. Then you can decide to update, uninstall or roll back the erroneous drivers on your own.
In this way, the inbox driver verifier tool will walk you through the outdated or corrupted device drivers. On the basis of that, you can begin to update drivers to see if it works for fixing the Critical Process Died issue for Windows 7/8/10.
Solution 4: Update All Drivers
As you have been suggested, driver incompatibility can result in this blue screen of death on your PC. Under this circumstance, update all the drivers to make sure they are compatible with Windows 10 and will not cause the critical process died blue screen of death.
BSOD caused by Critical_Process_Died error can be confusing if you have little which drivers are incompatible with Windows, thus giving rise to the blue screen of death.
Therefore, why not update all the device drivers with the help of the safe and professional tool — Driver Booster, which is capable of downloading all the latest drivers for you within three clicks.
1. Download, install and run Driver Booster for your computer.
2. After running Driver Booster, click Scan.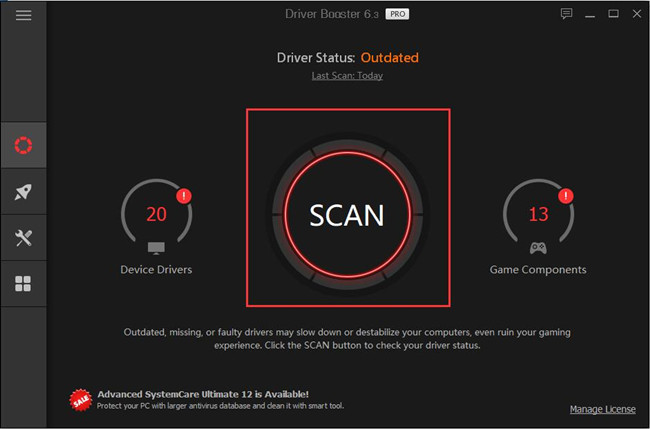 Hence, Driver Booster will get ready to find all the problematic drivers on Windows 10, including any missing, corrupted, and faulty drivers.
3. Hit Update Now to get all the outdated drivers updated.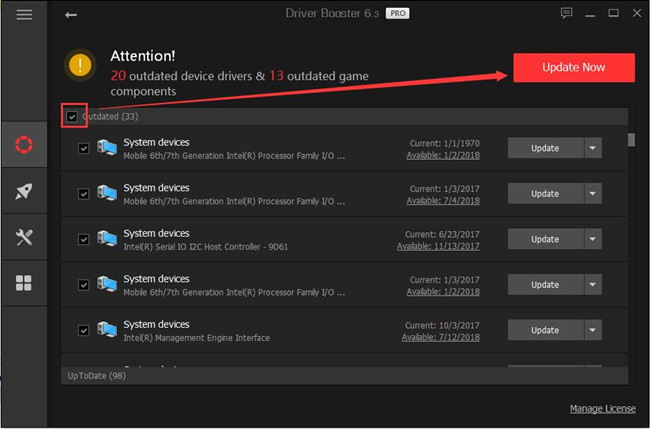 Within clicks, Driver Booster will search for your PC with the outdated or corrupted or damaged drivers. Then download and install them for Windows 10 immediately.
Now, you have just excluded the possibilities that it is the driver issue that causes your PC to die in the critical process. If Windows 10 Critical Process Died BSOD still lingers in your computer, read on.
Solution 5: Run System File Checker
At this moment, you are to check system files on Windows 10. The built-in SFC tool (System File Checker) can not only check for the corrupted files, but also replace the incorrect files with the correct ones. Perhaps Windows 10 error code 0x000000EF of Critical Process Died can be fixed in this method.
1. Input Command Prompt in the search box from the Start. Right-click the best-matched result to Run as administrator.
3. Enter sfc /scannow in the Command Prompt window. And hit Enter to execute this command.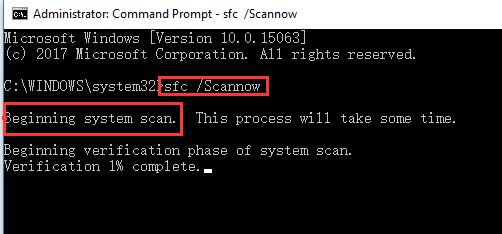 You will see it is beginning system scan.
If there are any improper files on Windows 10, SFC would detect them and replace them. And if the Critical process died problem happened for the presence of the corrupted files or files with viruses, you could have solved it.
Solution 6: Disable Hibernation
Though the hibernation on Windows 10/11 can largely save your power, it may lead to critical process dies issue, too. Try to disable it in registry editor and check if the BSOD disappears from Windows 7/8/10/11.
1. Press Windows + R to open the Run box. Input regedit in the box and click OK to enter Registry Editor.
3. In Registry Editor, go to the path:
HKEY_LOCAL_MACHINE\SYSTEM\CurrentControlSet\Control\Power
Then find out HiberbootEnabled in the right pane.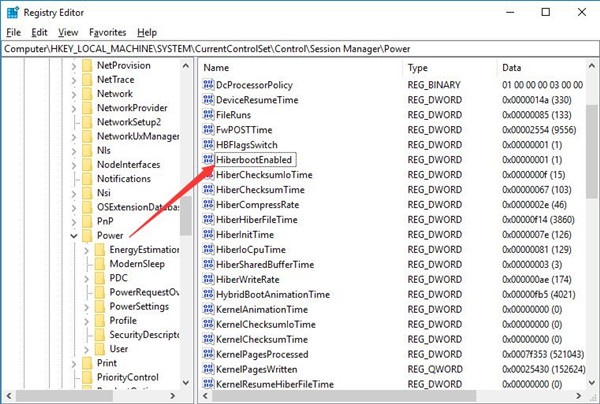 4. Right-click the HiberbootEnabled to Modify its Value.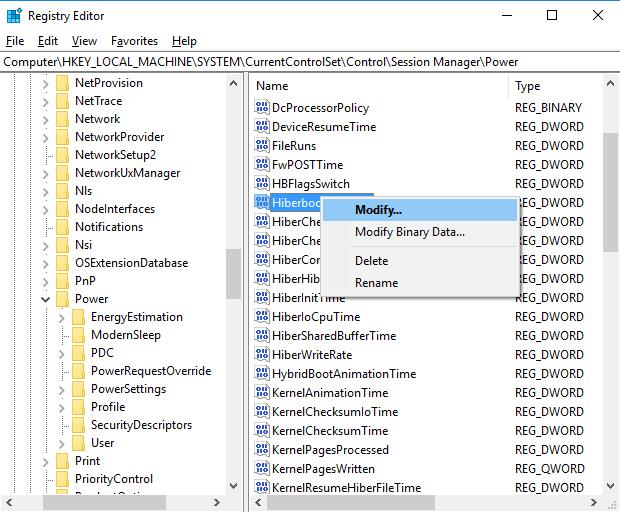 5. Change the Value data to 0. And click OK to save changes.
Here you are to make the Value data as 0 to disable the hibernation for Windows 10.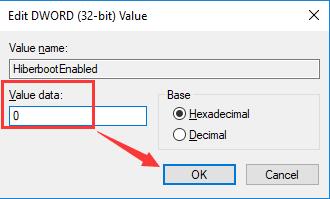 If you choose to set the Value data as 1, it means you enabled the hibernation.
As long as you closed the registry editor, you can see the Critical Process died error resolved. And your PC will no longer in BSOD anymore.
Solution 7: Run DISM
DISM, short for Development Imaging and Servicing Management, is designed to repair system images. If Windows image is unavailable, you can make use of this tool to correct the files to fix the image issue on Windows 10. As for the BSOD propelled by Critical Process Died, this equipment may be a helper.
1. Open Command Prompt as Administrator.
2. Input and hit Enter to execute the following commands one by one.
Dism /Online /Cleanup-Image /ScanHealth
Dism /Online /Cleanup-Image /CheckHealth
Dism /Online /Cleanup-Image/RestoreHealth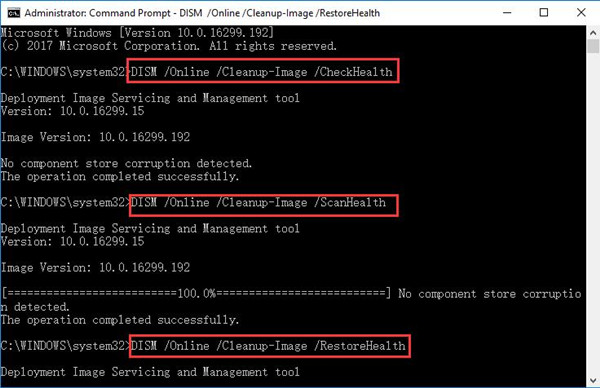 Windows DISM tool will have successfully resolved your system image corrupted issue and may your critical process died loop can also disappear.
Solution 8: Uninstall Recent Updates
Since Critical Process Died results from errors in some significant processes, it is possible that after you got some programs or even the system updated, the Critical_Process_Died blue screen can be fixed by removing these incompatible updates.
1. Bound for Start > Settings > Update & Security.
2. Under Windows Update, choose to View update history.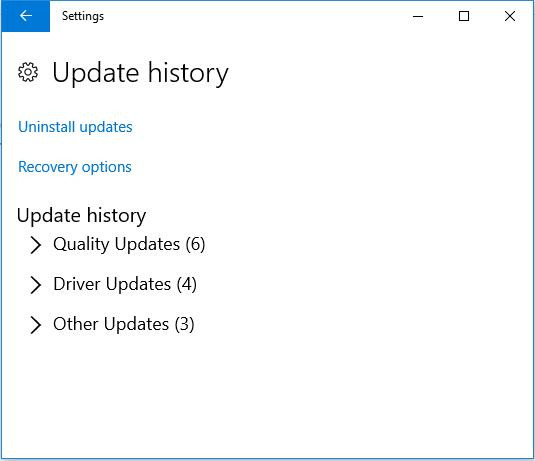 3. Then decide to Uninstall updates. In the Installed Updates window, right-click the update to Uninstall.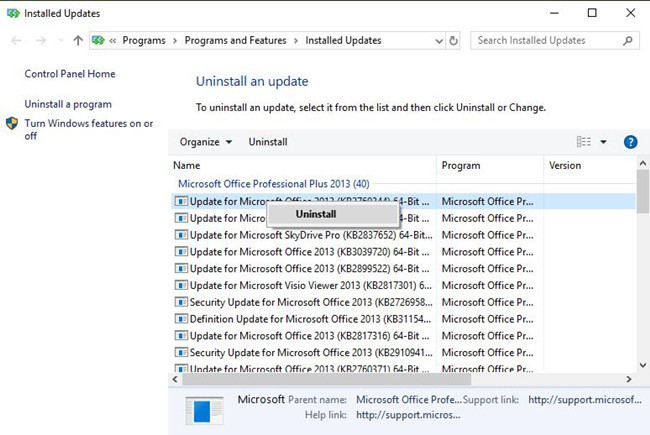 If you have no idea which update is to be removed, you can try to uninstall the most recent program you updated on Windows 10.
4. Reboot Windows 10 to take effect if required.
Without the interruption from the incongruent updates, Windows 10 Critical Process Died after update won't come against you.
Solution 9: Perform a Clean Boot
To pinpoint the problems that give rise to the Critical Process Died error, you are recommended to enter clean boot on Windows 10.
Once you are in clean boot, Windows 10 would log in with a minimal set of drivers and startup programs. Hence, you can easily figure out the problem causing this BSOD trouble.
In the process of entering clean boot, you should choose to disable all the startup software in Task Manager and change some settings on System Configuration.
Solution 10: Troubleshooting Hardware and Devices
Now that you have ensured the driver and file compatibility, you might as well manage to investigate the hardware condition. Maybe the hardware problems can also make your PC crumble in Critical Process Died code error.
Go as the path to run Hardware and devices troubleshooter:
Start > Settings > Update & Security > Troubleshoot > Hardware and Devices > Run the troubleshooter.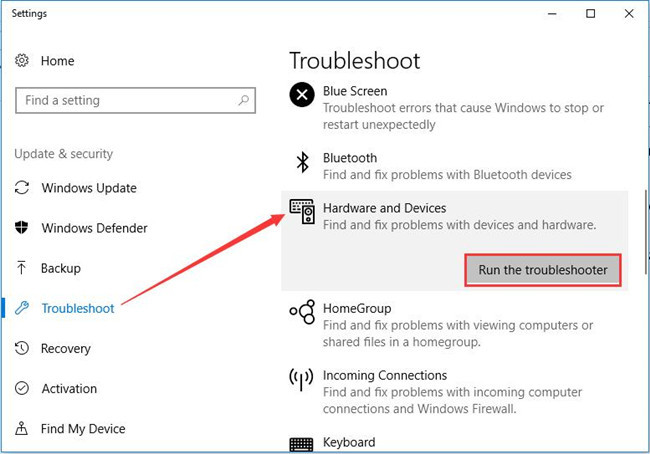 Here you can also run BSOD troubleshooter, If possible, Windows 10 Critical Process Died BSOD can be fixed by Windows 10 itself. Windows 10 will detect the hardware and devices problems for you. If any, you will be informed.
Solution 11: Restore System
Once the methods above aiming at resolving Critical Process Died error is useless for you, you may have to restore your operating system to some point where the BSOD phenomenon vanished from your computer. This can be the last resort to fix blue screen on Windows 10.
In brief, there is always one way which suits your case, as long as you came across the Blue screen of death error Critical Process Died on Windows 10. If not, you can contact us for the specific guidelines.
More Articles:
Fixed: Kernel Data Inpage Error BSOD Windows 10/11
Fixed: NTKRNLMP.EXE BSOD on Windows 11, 10, 8, 7
Tags :
BSOD