Fixed: IRQL UNEXPECTED VALUE BSOD on Windows 10/11
Like other blue screen of death problems, this irql unexpected value BSOD on Windows 10 can also lead to a sudden shutdown of PC in order to prevent data loss. But for most people, you may find that when you boot up again, the computer is still in a blue screen with this error contains a ndis.sys.
IRQL_UNEXPECTED_VALUE BSOD Overview
What's more, from the explanation of the IRQL UNEXPECTED VALUE BSOD (also called ndis.sys BSOD), your PC ran into a problem and needs a restart. We're just collecting some error info, and then we'll restart for you, Windows 10 will also restart the PC, but anyway, you would just stumble upon this irql unexpected value issue.
It is natural that there are many cases where you could get into this BSOD issue with irql-unexpected-value Windows 10. At first, you need to know when you will get this Windows crashing issue.
Irql-unexpected-value when connecting to WIFI
Netgear adapter causing irql unexpected value error
System file corruption leading to irql-unexpected-value
Irql unexpected value PayPal login
But whatever it is, you may as well try the following ways to deal with the Windows 10 system problem as soon as possible.
How to Fix IRQL-UNEXPECTED-VALUE BSOD on Windows 10?
According to the conditions when you encounter the blue screen irql unexpected value error, it is not difficult to figure out what the main reasons for this BSOD problem.
The corrupted system files, such as ndis.sys failed load, and the outdated or problematic network adapter drivers, and some system crashes could all result in irql unexpected value Windows 10. Under this circumstance, you need to take some targeted measures to get rid of the blue screen of death.
Solutions:
4: Uninstall Third-party Software
6: Do a Clean Boot for Windows 10
Solution 1: Enter Safe Mode
There are some people cannot enter the Windows screen normally after the Windows collected the information and restart computer. So if you can do nothing because it enters IRQL_UNEXPECTED_VALUE ndis.sys BSOD before the login window, you should enter the safe mode. And here is the solution: how to enter safe mode.
Solution 2: Update Network Driver
Regarding the situation when you connect your PC to the internet, all of a sudden, Windows 10 irql-unexpected-value pops up, the first action you are supposed to do is to download the latest wifi driver.
Uninstall Wifi Driver:
As for this way, you can make use of Device Manager to uninstall the driver to remove the blue screen of death by irql unexpected value.
1. Open Device Manager.
2. In Device Manager, locate and expand Network adapters and then right click the network driver to uninstall.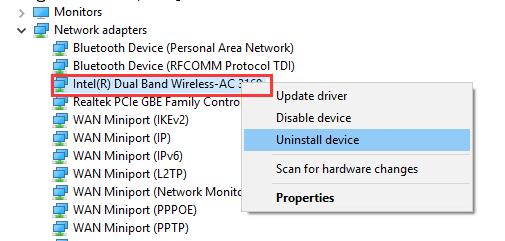 3. Restart your computer.
Update Wifi Driver:
For updating wifi drivers, you can go to the manufacturer's site to get the up-to-date wifi driver. But if you have less knowledge about it or have no time to it, you can use Driver Booster to update it automatically.
Driver Booster is a professional drivers download and update tool, with this software you can update all outdated, missing and faulty drivers with one click.
1. Download, install and run Driver Booster on your computer.
2. Click Scan. After that, Driver Booster will scan all the hardware devices driver and find the missing, faulty and outdated drivers.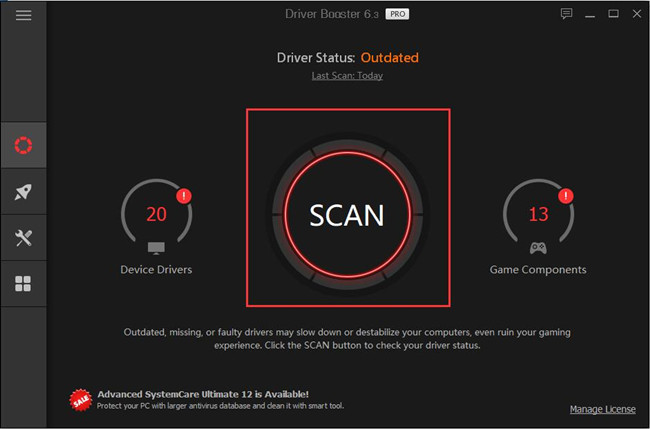 3. Click Update. Find the Network adapters and find wireless driver to update it.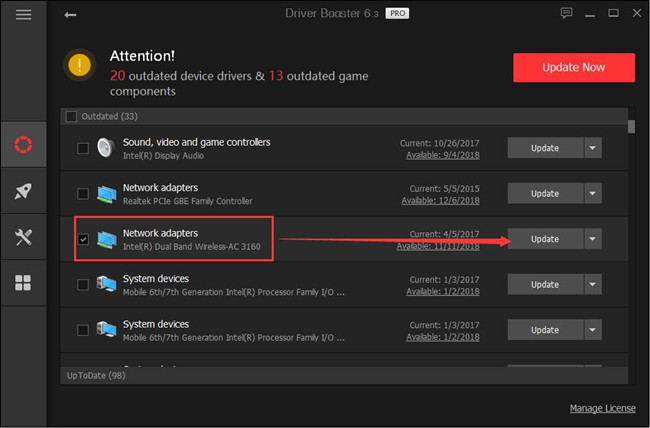 With the compatible network adapter driver on Windows 10, the blue screen of death by irql-unexpected-value can be fixed easily.
Solution 3: Check for Updates
If the downloaded network driver cannot help you resolve irql unexpected value error in Windows 10, you might as well check for Windows 10 updates. Usually, these updates include new features that could fix system crashing.
So when there are any updates on your PC, there is much need for you to check for updates for Windows 10.
1. Go to Start > Settings > Update & Security.
2. Then under Windows Update, click Check for updates.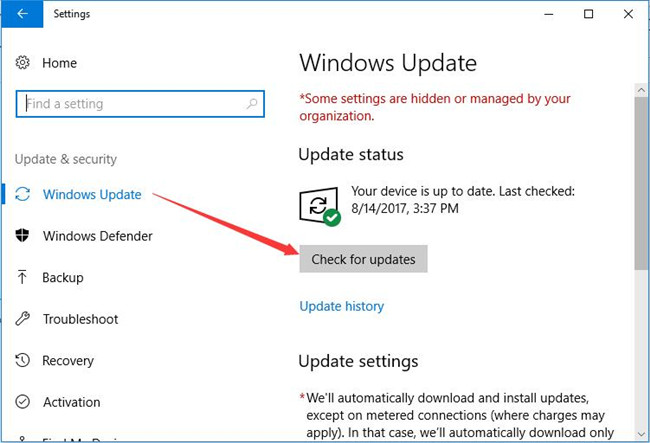 Soon after that, you can see Windows 10 is searching for the updates for you. If there are any, it will install them for you. When the Windows 10 updates installed on your PC, it is likely the blue screen on Windows 10 caused by irql unexpected value disappeared.
Solution 4: Uninstall Third-party Software
Some applications, like Bitdefender and Avast, though can to some extent protect your PC from virus, they can also bring you irql-unexpected-value blue screen on Windows 10.
That is why here you are supposed to remove these programs from your PC to fix blue screen of death error.
1. Go to Control Panel.
2. In Control Panel, decide to View by category and then under Programs, hit Uninstall a program.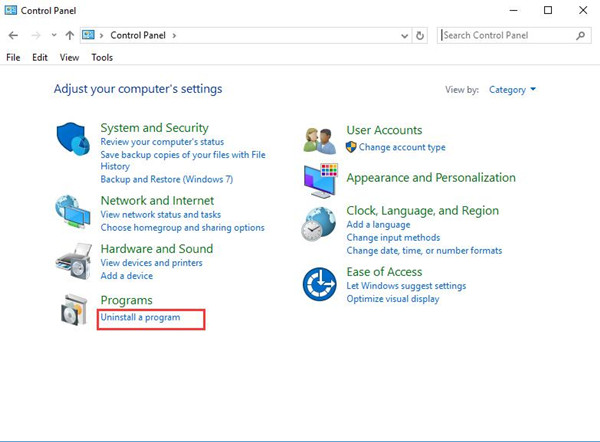 3. Then in Programs and Features, scroll down to find out the software and then right click it to Uninstall it.
4. Restart your PC to take effect if possible.
Without the intrusion of the third-party software, you can take notice that Windows 10 Irql-unexpected-value error vanished and you are relieved from the blue screen of death.
Solution 5: Run SFC and DISM
In order to totally solve irql unexpected value blue screen, you would better run System File Checker to scan for the system files. And on the other hand, to recover the erroneous images on Windows 10, Deployment Imaging Servicing and Management (DISM) is also irreplaceable.
Now get stated to take advantage of these two tools.
1. Input Command Prompt in the search box and then right click the result to Run as administrator.
2. Enter sfc/scannow in Command Prompt and then stroke Enter to perform SFC.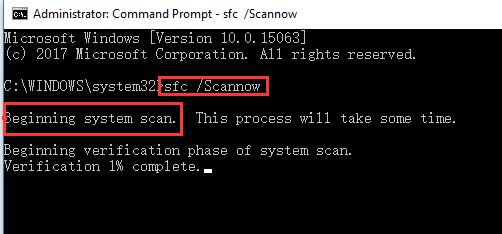 The System File Checker will correct the corrupted system files that can cause irql-unexpected-value error Windows 10.
And after that, it is also feasible that you use DISM to remove damaged images.
To do that, just copy and paste the following commands and run them one by one.
DISM /Online /Cleanup-Image /CheckHealth
DISM /Online /Cleanup-Image /ScanHealth
DISM /Online /Cleanup-Image /RestoreHealth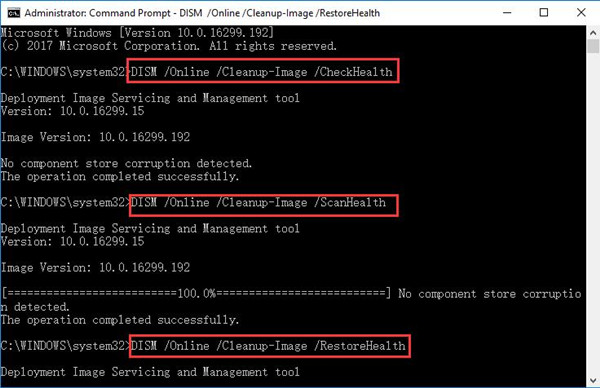 Maybe the DISM is capable of solving Windows 10 blue screen-irql unexpected value error.
Solution 6: Do a Clean Boot for Windows 10
At last, if the methods above are useless for fixing Windows 10 irql-unexpected-value error, it is time for you to consider this issue as Windows 10 crashing. It needs you to deal with system problems.
But in the first place, you should perform a clean boot on Windows 10, which permits few programs to run on your computer. In this way, you can be easier to troubleshoot this BSOD issue.
To perform Windows 10 clean boot, just do as follows.
1. Type in msconfig in the search box and then press Enter.
2. In System Configuration window, under the General tab, uncheck the box of Load startup items.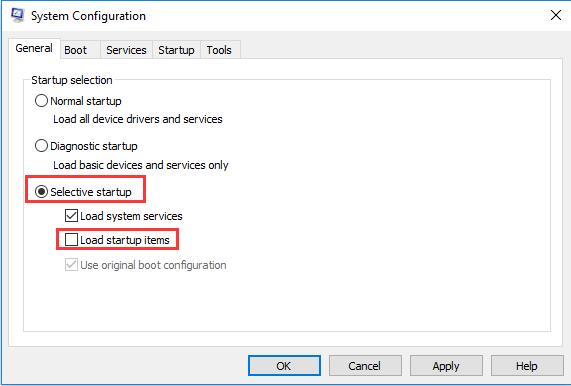 3. Then under Services tab, click Hide all Microsoft services and then Disable All.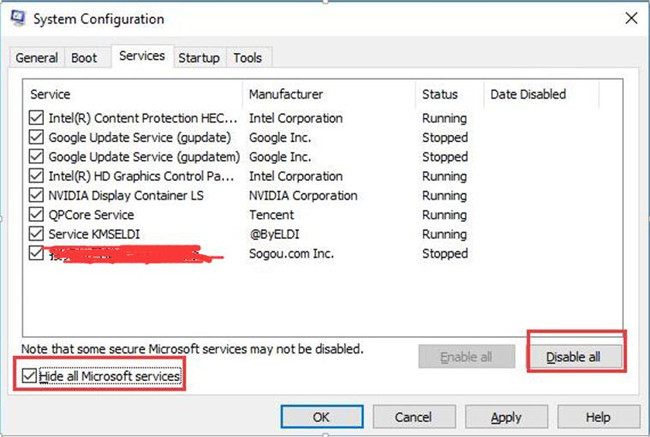 4. Under the Startup tab, Open Task Manager.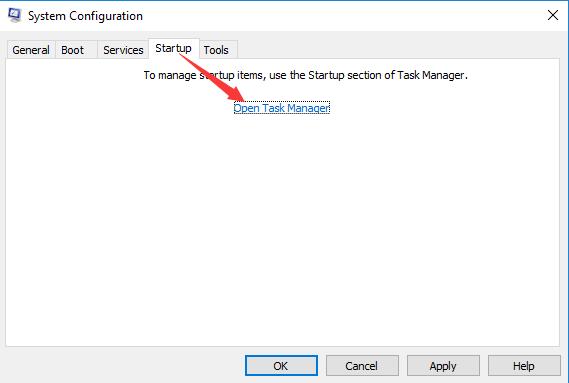 5. In Task Manager, choose the enabled startup items and then Disable them one by one.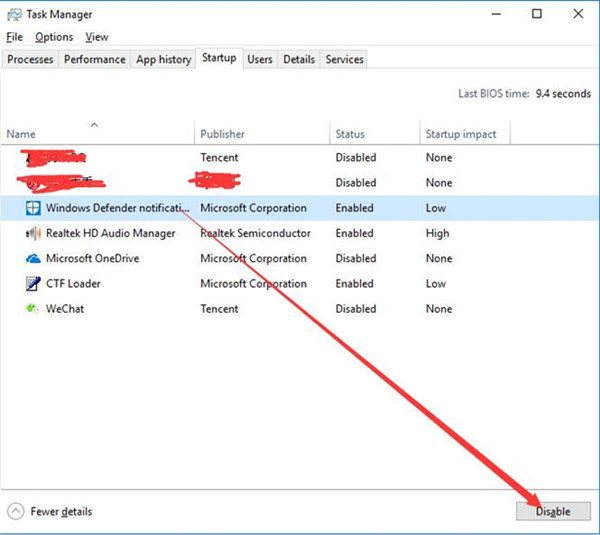 6. Reboot Windows 10 to take effect.
In normal cases, irql-unexpected-value will disappear after you clean boot your PC.
While if clean boot couldn't help you achieve this goal, maybe you have to reset Windows 10.
To make a summarization, blue screen of death is common on Windows 10, as for irql-unexpected-value Windows 10 blue screen, if you can refer to the solutions in this post, you can solve it in some way.
More Articles:
Fix IRQL_NOT_LESS_OR_EQUAL BSOD on Windows 10
Fix VIDEO_SCHEDULER_INTERNAL_ERROR on Windows 10
Tags :
BSOD