Fix: VIDEO SCHEDULER INTERNAL ERROR on Windows 11/10
There are many different types of BSODs in Windows 10 or Windows 11, VIDEO_SCHEDULER_INTERNAL_ERROR is one of them. It has a value of 0x00000119 which means the video scheduler has detected a grievous mistake.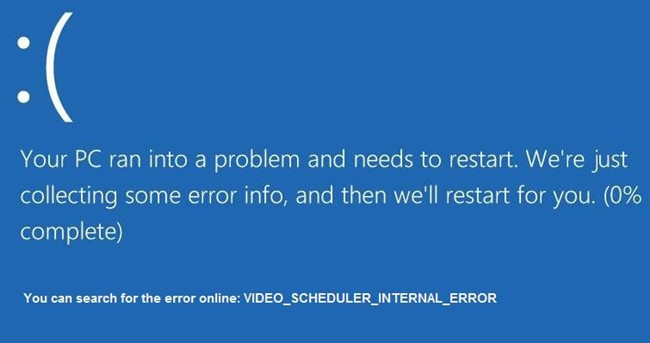 This error appears in many conditions such as upgrading system with the Lenovo Y50-Y70, playing game, installing programs, etc. And some people reported this error running in a loop status. Next are solutions to fix this problem.
How to Fix Windows 11/10 Video Scheduler Internal Error BSOD?
In most cases, the problematic graphics card driver is the most blame for the Video_Scheduler_Internal _Error on Windows 11/10. Otherwise, the video card hardware can also be the culprit. If you feel like getting rid of this internal error, try to troubleshoot your graphics card from its hardware condition to driver.
Solutions:
Solution 1: Disconnect All External Devices
Try to force shut down Windows 11 or Windows 10 and then plug out all the external devices like USB mouse, microphone, etc. Then boot up again.
Luckily, you can log in to Windows 10 and the internal error of blue screen vanished. If not, just go on.
Solution 2: Enter the Safe Mode
If you are still trapped in BSOD by video_scheduler_ internal_error and Windows 10 won't boot, you may as well try to get into safe mode from startup.
In this way, you will not only launch the system but also run it with a minimal set of programs, which is suitable to check what is wrong that results in Video_Scheduler_Internal _Error on Windows 11/10.
Solution 3: Uninstall Graphic Drivers
The graphic driver error may cause VIDEO_SCHEDULER_INTERNAL_ERROR blue screen of death. So try to uninstall the graphic driver.
For uninstall graphic driver, there are two ways.
Option 1:
1. Enter device manager.
2. Expand Display adapters to find the graphic card.
3. Right-click graphic card and choose Uninstall.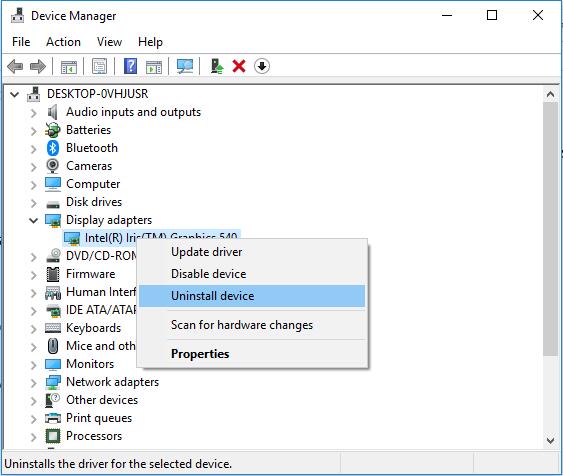 4. Check Delete the driver software for this device, and click Uninstall.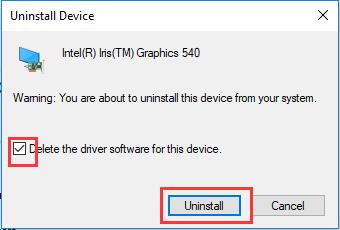 5. Go to Control Panel and then find out Programs and Features in it.
6. In Programs and Features window, locate and right click the graphics driver software to Uninstall it.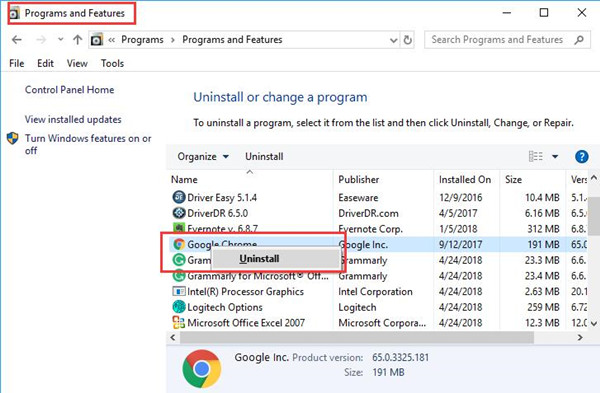 Here you may need to uninstall AMD Catalyst Control Center or NVIDIA Control Panel.
7. Restart Computer.
On this condition, you will notice that the graphics driver has been completely uninstalled from Windows 10, you need to get a new one.
Option 2:
There is another professional way to uninstall graphic card driver completely. Most people are using this tool – Display Driver Uninstaller. This is a graphic driver cleaner software and it is totally free.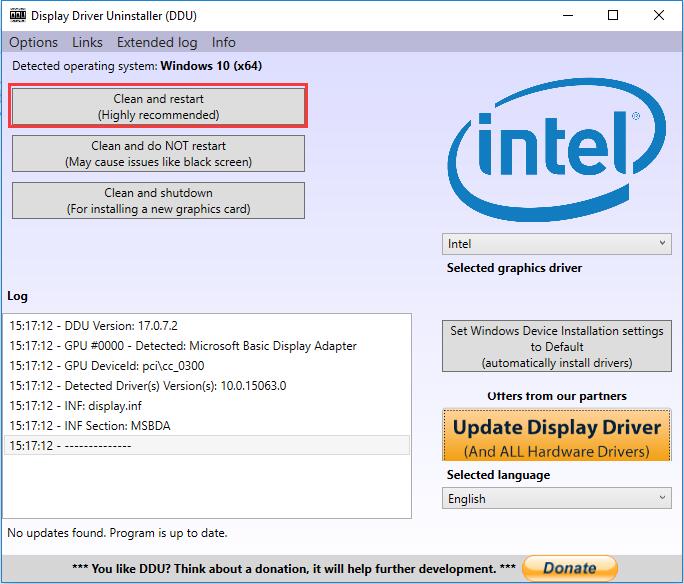 If uninstalling the graphic card driver cannot solve this problem, you can go to ahead.
Solution 4: Update Graphic Drivers
Uninstalling the error AMD, Intel or NVIDIA drivers only re-install the basic drivers, so you should update the graphics driver to the latest version.
Find the graphics card model and go to the graphics card official site to download the latest graphics driver for AMD, Intel and NVIDIA device. After that, install it step by step.
You can also use Driver Booster to help you download and update NVIDIA, AMD, and Intel graphics driver automatically. Using this software, you are not required to find the graphics model and download it manually, what you need to do is install and run it on your computer. It will auto-detect your computer hardware device and recognize them, and then recommend to you the latest drivers.
1. Download, install and run Driver Booster on Windows 10 or Windows 11.
2. Hit Scan to start Driver Booster's searching for outmoded, missing, or corrupted drivers.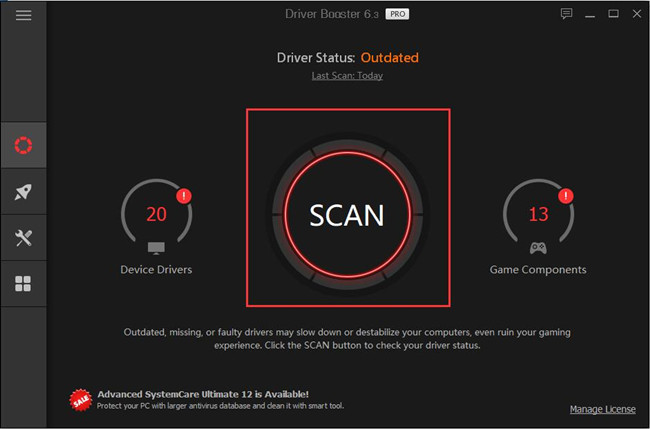 3. Locate Display adapters and then decide to Update the video card driver.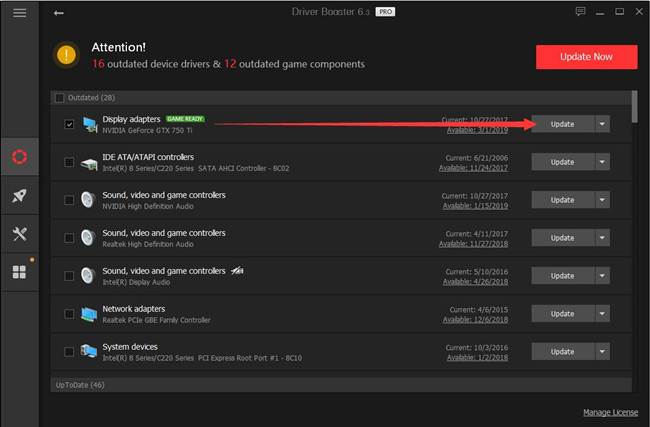 On installing the up-to-date display driver, restart the computer to see if this error occurs or appears in a loop status. This can also help to fix Video TDR Failure BSOD problem.
Solution 5: Check for Windows 11/10 Update
Updating the Windows version can fix this Blue Screen of death error, and Microsoft released the frequency of the new updates. So check if there is a new update for your current Windows version.
1. Type Windows update in search box to enter the Windows update settings.
2. Click Check for updates.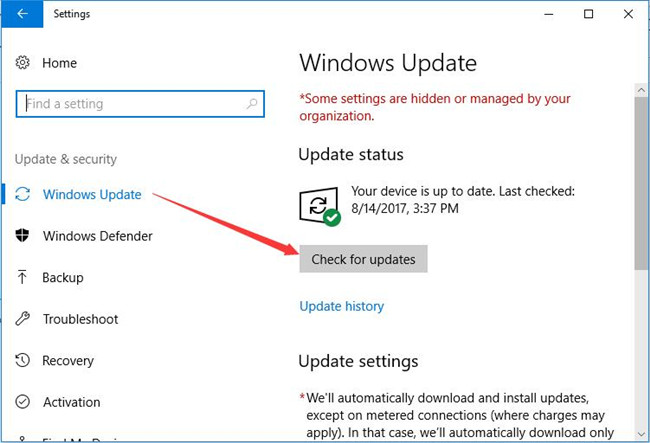 After Windows downloaded and installed the updated files for your system, then reboot the computer. Windows 10 video scheduler internal error will be removed along with Windows updates.
Related: How to Check Your Windows 10 Version and Update Windows 10
Solution 6: System File Checker
If this BSOD error persists, you should check missing or corrupted files by the System File Checker.
1. Type command prompt in the search box, and you will see the result. Right-click it and choose Run as administrator to open the window.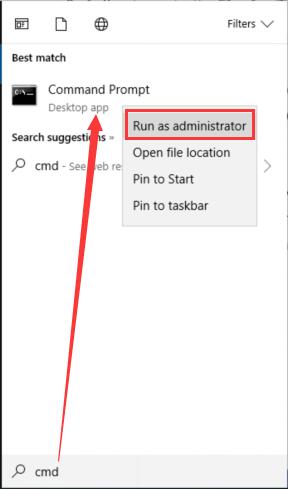 2. In the window, type sfc /scannow, then press Enter.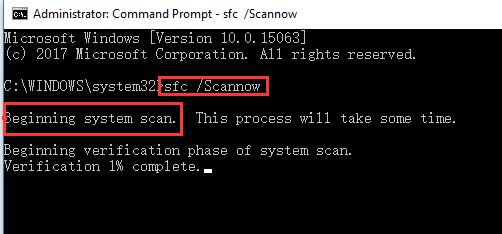 The system file checker will scan all the system files and fix the interrupted files. The whole process will take some time.
Solution 7: Use Hard Drive Checker
Apart from using the system file checker, running the disk drive checker is necessary. It will help to check the states of hard drive, find the reading error and storage related errors, and then fix it as soon as possible.
1. Run the Command Prompt with Administrator permissions.
2. Type chkdsk /f /r, then press Enter. The f means chkdsk to fix any errors it finds, and the r means chkdsk to locate the bad sectors on the drive and recover readable information.
Here will remind you that chkdsk cannot running because of the volume is used by another process.
3. Press Y.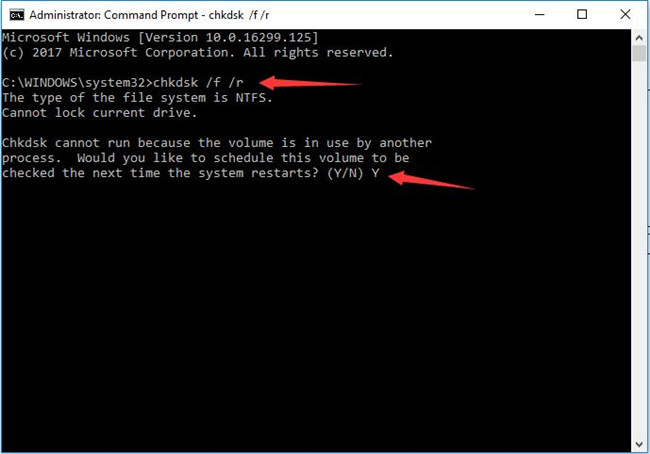 4. Restart your computer, check disk command will run.
After that, leave it alone, it will scan the hard drive information, check all files and bad sectors then fix it automatically.
To summarize, take your time and patience to troubleshoot this Windows 10 video scheduler internal error from the system file, hard drive to graphics drivers.
More Articles:
Fix Internal Power Error BSOD on Windows 11/10
How to Fix System Service Exception (dxgkrnl.sys) Blue Screen Error
Tags :
BSOD