Fixed: System Service Exception (dxgkrnl.sys) Blue Screen of Death Error
If you got a message like SYSTEM_SERVICE_EXCEPTION (dxgkrnl.sys) on the blue screen, it indicates that your computer has a Blue Screen of Death error due to dxgkrnl.sys. "dxgkrnl" stands for DirectX Graphics Kernel. As you can learn from its name, the problems are mainly graphics relevant problem.
For below solutions, solution 1 and 2 apply to all conditions with this problem, while the last two solutions can be used when you have installed NVIDIA Graphics Drivers.
Solutions:
6: Check for Windows 10 Updates
Solution 1: Enter Safe Mode
On some conditions, users can't log in to Windows 10 as dxgkrnl.sys BSOD comes up every time you manage to boot up. So you may as well enter the safe mode. In the safe mode, you are able to troubleshoot this system service exception blue screen error with a minimal set of programs.
Solution 2: Uninstall Graphics Drivers
Just as mentioned above, this system service exception blue screen Windows 7 or 10 is associated with the graphics card. While in terms of the video card, the outdated graphics driver will cause this dxgkrnl.sys failed error in some cases. That is why you should make sure your graphics driver is updated to the latest version.
Uninstall the Display Driver:
1. Right-click Start Menu and choose Device Manager.
2. Expand Display adapters. Right-click your graphics driver and choose Uninstall device.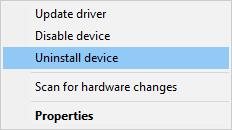 3. Confirm to Uninstall the graphics driver on Windows 10.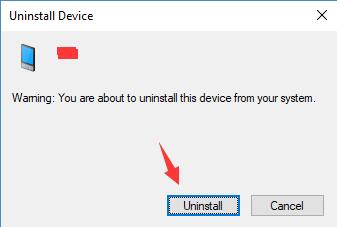 Immediately Device Manager gets rid of the NVIDIA, AMD, or Intel HD graphics driver for you, get down to reinstalling the up-to-date driver again in hope that the dxgkrnl.sys BSOD won't appear.
Related: How to Uninstall Graphic Card Drivers Automatically
Solution 3: Update the Graphics Driver
Now you had better update your display driver to further improve the performance of your graphics card, thus fixing System Service Exception blue screen of death on Windows 10.
Download and Update Graphics Driver Automatically:
Here if you have no time or skills to update the display driver on your own, Driver Booster can be the most professional and efficient driver updater for you. It boasts of 3,000,000 drivers and allows you to do a scheduled scan on Windows 10.
1. Download and install Driver Booster on your computer.
2. Run Driver Booster and click Scan to get it to start scanning for the problematic drivers including the graphics card driver.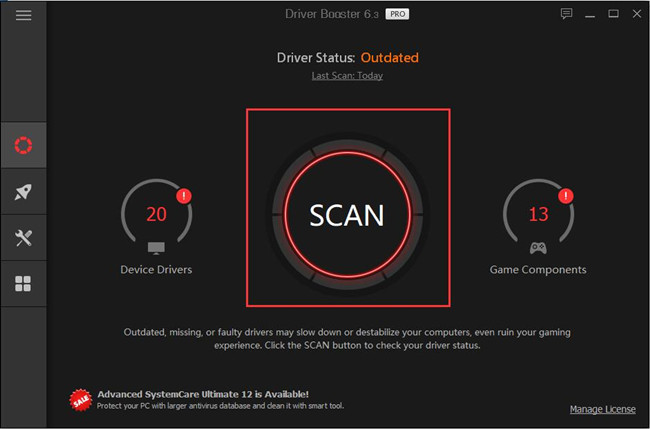 3. Pinpoint Display adapters and then choose to Update your display driver.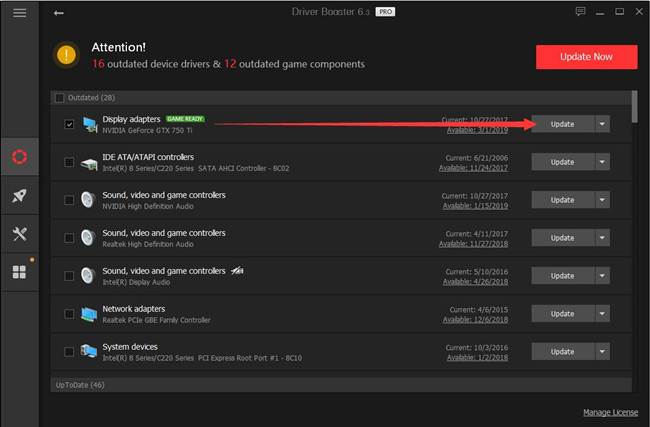 Upon the video card driver is installed by Driver Booster, the error message that your PC ran into a problem and needs to restart. We're just collecting some error info would not pop up now and then.
But even if system_service_exception dxgkrnl.sys remains, it is feasible to further take advantage of Driver Booster to install or update the DirectX for Windows 10. It is said above that dxgkrnl denotes DirectX Graphics Kernel. So it does make sense to ensure the DirectX runs properly as well.
4. Driver Booster scanning result, slide down to find out DirectX package and then Update it.
With the most up-to-date graphics driver and DirectX from Driver Booster, the system service error on Windows 7 32-bit or Windows 10 will be solved.
Of course, in order to update the display driver, you can note the information of your graphics driver in Device Manager. Then go to the manufacturer's Download Center to download the corresponding graphics driver.
After you downloaded the driver from the website, you can open the file and install it according to the on-screen installation wizard.
Solution 4: Disable SLI Technology
SLI mode can give gamers better performance, but it can cause some problems. Some users already find it can result in dxgkrnl.sys error. If you installed NVIDIA Graphics Drivers and enabled SLI, you should disable it following this way:
1. Go to NVIDIA Control Panel.
2. Expand the 3D Settings and choose Configure SLI, PhysX, Surround.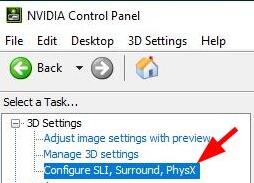 3. Inside this menu, choose Disable SLI.
Tips: What is NVIDIA SLI Technology?
SLI, short for Scalable Link Interface, is a multi-GPU technology by NVIDIA. With SLI enabled, NVIDIA users are able to connect two or more graphics cards but work like just one output. Though it can enhance processing performance, it does also cause various graphics-related errors, like system_service_exception blue screen of death on Windows 7, 8, and 10.
Here you would have turned NVIDIA SLI off. You can check if it helps to fix dxgkrnl.sys Blue Screen of Death on Windows 10.
Solution 5: Turn off NVIDIA Surround
NVIDIA Surround is a kind of technology that can give users 3D experience. It sounds great. However, it has been proved that it can cause problems with Windows 10, and disabling it can help with BSOD error by dxgkrnl.sys.
You can use shortcut CTRL+ALT+S or CTRL+ALT+R to turn it off.
Or you can turn it off on NVIDIA Control Panel too. Go to NVIDIA Control Panel > 3D Settings > Configure SLI, PhysX, Surround > uncheck Span display with Surround.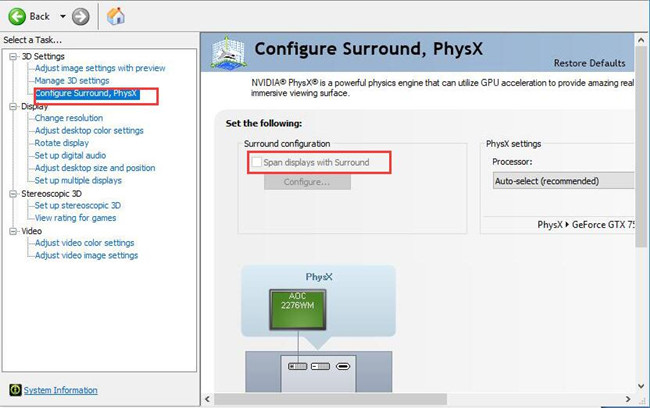 After you disable this feature, your problem should be gone now.
Solution 6: Check for Windows 10 Updates
Windows Update can always fix some problems for you. When you are encountering system_service_exception dxgkrnl.sys BSOD, you can try to update Windows 10 to see if its new features will be helpful to remove the dxgkrnl.sys blue screen.
1. Go to Settings > Update & security > Windows Update.
2. Click on Check for updates.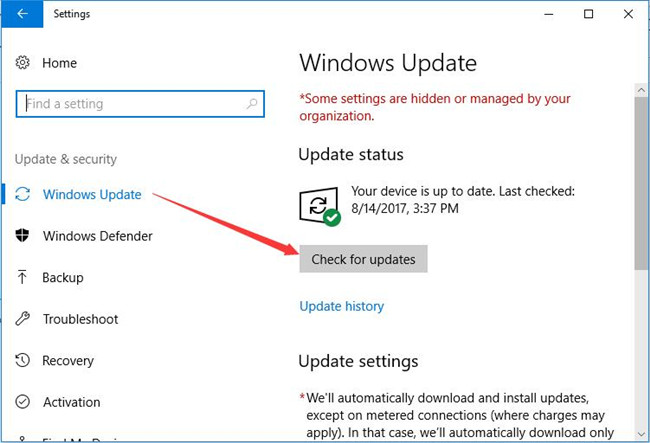 If there are updates available, it will download for you automatically. With the updated system, you can see whether dxgkrnl.sys Blue Screen of Death persists on Windows 10.
Supposing that you have tried all solutions above, but the blue screen error caused by dxgkrnl.sys appears again, you may need to check if there is some problem in your hardware such as RAM module or motherboard. Hope this passage can help you with this issue.
More Articles:
Fix Stop 0x0000007e BSOD Error
FIX FAULTY HARDWARE CORRUPTED PAGE BLUE SCREEN ERROR ON WINDOWS 10
Tags :
BSOD