Download Dell USB3.0 Dock D3100 Driver on Windows and Mac
Dell USB3.0 Dock D3100 device allows laptops to connect with other devices easily or effortlessly. However, are you having trouble using your laptop connected to it? If this happens to you, don't panic. You just need to keep your Dell docking station drivers up to date.
Updating Dell USB3.0 Dock D3100 driver will bring you a perfect connection and give you the best possible experience. So, this post will show you how to download or update Dell USB3.0 Dock D3100 driver on Windows and Mac PCs.
# Method 1: Update Dell USB3.0 Dock D3100 Driver in Device Manager
Device Manager provides a graphical view of the hardware installed on your computer. Using Device Manager, you can determine if the hardware on your computer is working properly, change hardware configuration settings, get information about each device driver, change advanced settings and properties for a device, install outdated device drivers, enable, disable, and uninstall equipment.
Therefore, the easiest way to update Dell D3100 driver is through Microsoft's own Device Manager.
Step 1: In the search box on the taskbar, enter device manager, then select Device Manager.
Step 2: Double-click the Display adapters.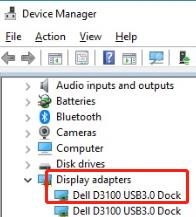 Step 3: Right-click on the Dell D3100 USB3.0 Dock, and select Update driver.
Step 4: Select Search automatically for updated driver software.
Step 5: After searching, follow the instructions to finish the update.
# Method 2: Update Dell USB3.0 Dock D3100 Driver automatically
If your PC's hardware drivers are outdated, they can eventually slow it down and cause Windows to crash. Keeping the hardware drivers on your PC up to date can be tedious work. It is far from enough to use Microsoft's own Device Manager. After all, the Device Manager cannot always get the latest version of the driver on time. Therefore, you need an application that can do the job easily.
Driver Booster is one of the best software to automatically update hardware drivers. It is the fastest and easiest way to scan your Windows system, find out which drivers are old, and update them. The best thing about this software is that it saves you a lot of time and work when you need to update old drivers on your PC. With just one click, you can get updates and put them on your computer.
Driver Booster can find and install drivers for over 8 million devices. This ensures that the customer's "driver powerhouse" always has the latest drivers. All in all, Driver Booster is a must-have app on your PC. It ensures that its drivers and game components are always up-to-date. It's powerful, easy to use and very useful. Therefore, you can use Driver Booster to get the latest driver of Dell D3100 device.
Step 1: Download, install and run Driver Booster on your Windows PC.
Step 2: Scan.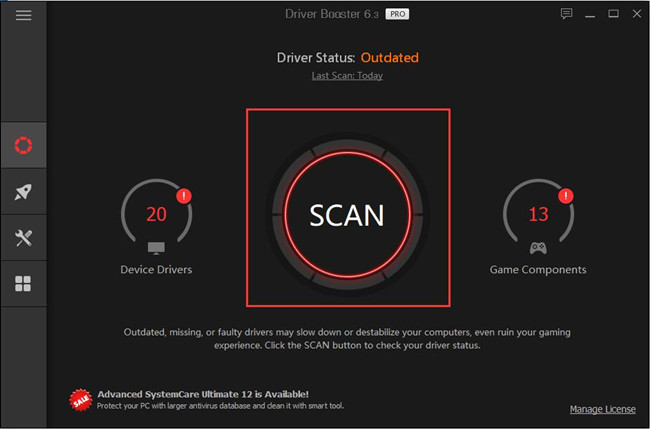 Open Driver Booster and click the icon Scan. The scanning time will last about one minute, and after that, you can get a list of outdated, missing, and faulty drivers on your PC.
Step 3: Check the Dell D3100 device and click the Update icon next to the device.
Tips: You can also update all the drivers by one-clicking the Update Now on the top right.
# Method 3: Update Dell USB3.0 Dock D3100 Driver on the official site
Drivers must be updated when you reinstall your Operating System or when you encounter issues such as the Dell D3100 device not working. Dell frequently releases updated drivers to ensure your computer has the latest security patches, fixes, and features.
By updating your drivers, you are taking precautions to protect your computer and keep your hardware and devices working properly.
The Dell support website allows you to download drivers, firmware, and some software applications for Dell desktops, laptops, all-in-ones, docks, tablets, mobile devices, printers, monitors, projectors, servers, storage and networking devices and more program. Therefore, you can go to Dell's official site to download the latest driver for your Dell D3100 device.
For Windows users:
Step 1: Go to the Support page of Dell D3100.
Step 2: Make sure your Operating system and Download Type.
The official site of Dell can detect your operating system automatically. If you want to change it, you can scroll down the blank to choose another OS. As for Download Type, you can determine it according to your own needs.

Step 3: Download the driver.
Scroll down and find the file named DisplayLink Dock Driver and click the Download next to this file.

Tips: This package contains the DisplayLink Dock driver for the Dell SuperSpeed USB 3.0 Dock D3100/D3000/D1000. DisplayLink Dock drivers help your operating system to communicate with external monitors when they are connected through a dock.
Step 4: After downloading, follow the instructions on the screen to finish the Dell D3100 driver installation.
For Mac users:
Step 1: Go to the downloading page of Dell D3100 driver for Mac.
Step 2: Click the Download icon to get the DisplayLink macOS Software.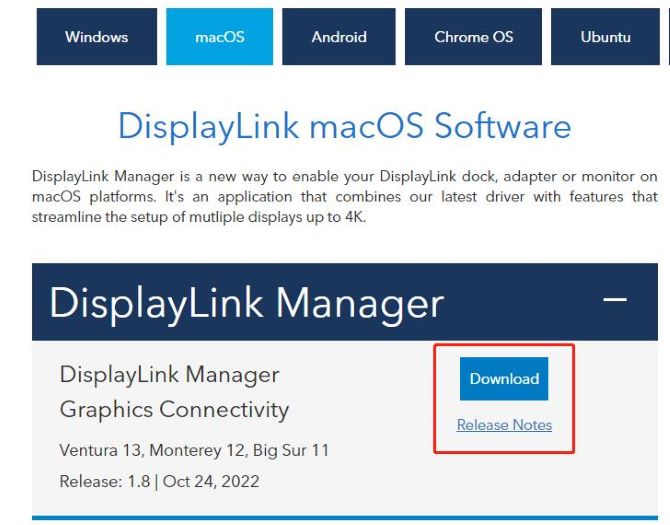 Tips: DisplayLink Manager is an effective tool to enable your Dell USB3.0 Dock D3100 device on macOS platforms.
Step 3: Follow the on-screen instruction to finish the installation on your Mac.
# FAQ about Dell USB3.0 Dock D3100 Driver
Q1: How do I download the Dell D3100 docking station driver?
You can download the Dell D3100 docking station driver manually by Device Manager or by visiting the official site of Dell, or download it automatically with Driver Booster.
Q2: Why is my Dell D3100 docking station not working?
Verify if the device is detected in Windows Device Manager and that the correct device drivers are installed. Ensure that the docking station is connected securely to the notebook laptop. Try to disconnect and reconnect the docking station to the laptop. Check the USB ports.
Q3: How does a Dell D3100 docking station work?
Dell USB Dock D3100 links all your electronic devices to your laptop using a single cable that supports USB 3.0. Connecting to the docking station, you gain access to all your devices, such as the mouse, keyboard, stereo speakers, external hard drive, and large-screen displays.
Q4: Does Dell D3100 dock charge the laptop?
No. The Dell D3100 dock charges peripherals via USB, but it does not charge your laptop.
Q5: Will Dell D3100 work with HP laptop?
Yes. This Dell D3100 docking station will work with HP Zbook laptop provided it has a compatible USB 3.0 type A port.
More Articles:
Dell Laptop TouchPad Settings on Windows 10/11 (2023 Update)
Fix Dell TouchPad Not Working on Windows 10/11
Tags :
dell
drivers
usb issues