What is Dell QuickSet and Do I Need it on Windows 10/11?
Contents:
Dell Quickset Overview
When you find QuickSet utility does not appear on Dell PC on Windows 10 or Windows 11, such as Dell Inspiron 3558 and there is a surge in need for you to manage to get into the detailed information about the QuickSet software.
Here in this post, it will offer you the principal usages of this Dell utility.
Hence, you would be able to decide whether the Dell QuickSet64 utility is required in Windows 10/11.
Or if you hit upon Fn key not working or touchpad out of work, it is also available for you to fix QuickSet problems.
What is Dell QuickSet Utility?
Normally, when one refers to QuickSet, it means Dell QuickSet application on Windows systems. This QuickSet utility is a general dell application to configure the basic settings for Dell laptops, including:
Power Management
Battery details
Volume control
Network opening and closing
Display Brightness
Font Size
Icon Size
Some Fn keys, like Fn + F8
It is said that every Dell computer has preinstalled this Dell management software. What's more, the QuickSet utility has been changed into CentralPoint and then Dell Feature Enhancement Pack in the later Windows versions.
And there is a QuickSet.exe in C:\Windows\System32 folder used to make sure this software run well when necessary.
So to locate the QuickSet.exe, you would better go to the folder above and sometimes if you failed to find this QuickSet.exe here, it means something went wrong with the QuickSet as well on your Dell laptops.
So you can obviously see where you need this Dell software on Windows 10. If you can know how to use this Dell QuickSet application, the fundamental configuration of the system will also be controlled by you, like power management.
Which Dell Models Have Quickset Application?
In accordance with Dell support site, the following Dell computers are inbuilt with the Dell Quickset application, if you have one of the next laptops, you may had used the Quickset utility.
Dell Inspiron Series PC:
3158/ 3153 / 3169 / 3179
3465 / 3462 / 3459 / 3451 / 3458
3565 / 3562 / 3559 / 3551 / 3558
7359 / 7353 /
7568
Dell Vostro Series PC:
Vostro 3468 / 3568 / 3562 / 3561 / 15-3565
What's more, only when your Dell is on Windows 7 64-bit, Windows 8 64-bit and Windows 10 64-bit and belongs to one of the models above can there is a Dell QuickSet utility or QuickSet.
If you are confirmed that the Quickset for Dell does exist on your PC, it is time for you to move on to see if you need it or uninstall it.
Do I Need QuickSet utility on Dell Computers?
Judging from the main usages of this application, you can presumably have an idea whether it is necessary for you to keep the Dell QuickSet utility on Windows 10/11.
Under normal circumstances, you may as well keep this QuickSet application installed on Windows 10 as it takes charge of the configuration of your Dell laptops, like icon and font size.
However, if you are told about any issue about the QuickSet app, for instance, your Dell QuickSet utility has nowhere to be seen and you are unable to install it on your own due to the error message that it does not support the system.
Therefore, when you are wondering if you should remove Dell QuickSet64 on Windows 10, if that is what happens to you, you should attempt to remove this Dell software from Windows 10.
How to Download and Install Dell Quickset on Windows 10/11?
Dell official site has released the latest Dell-Quickset-application on 15 May 2018. So if your Dell is qualified to this Quick Set application and if you feel like getting this new one, you may as well navigate to Dell site.
This page is Dell Quickset application introduce and download page. The new Dell Quickset utility is Dell-Quickset-Application_DD43Y_WIN_11.1.40_A03.EXE.
You can get it from here: Download Dell-Quickset-Application_DD43Y_WIN_11.1.40_A03.EXE
Tips:
Your Dell has to be Windows 7, 8, 10, 11 64-bit on specific Dell models just like what has been discussed before.
After that, you can install it on your Windows 10, 8.1 and Windows 7.
Installation for Dell Quickset Utility
Follow the on-screen instructions to browse the file location and then click start the installation.
1. Read over the release information presented in the dialog window.
2. Download and install any prerequisites identified in the dialog window before proceeding. Click the Install button.
3. Follow the remaining prompts to perform the update.
The instant you installed the QuickSet, you are free to use Dell QuickSet utility on Windows 10.
After that, if there is no need for you to remain this application on Dell PC, it is also possible for you to remove it from your Dell.
How to Protect Dell Computer Without Using Dell Quickset?
Dell quickset has only a limited feature, so it's necessary to use a powerful tool to protect your Dell computer. Advanced System Care is a powerful computer management tool. It automatically protects your computer and your personal privacy.
Advanced System Care cleans up all your computer junk, preventing your Dell Laptop and Dell Desktop from running out of memory for a long time. It can help you optimize and repair the registry to optimize the speed of the Internet. You can also use it to scan your computer for viruses and prevent hackers.
1. Download, install and run Advanced SystemCare on your computer.
2. Select All and then Click Scan. After that, Advanced System will scan your computer and operate the all 12 items such as scan startup items, find junk files, find error shortcuts, scan spyware, etc.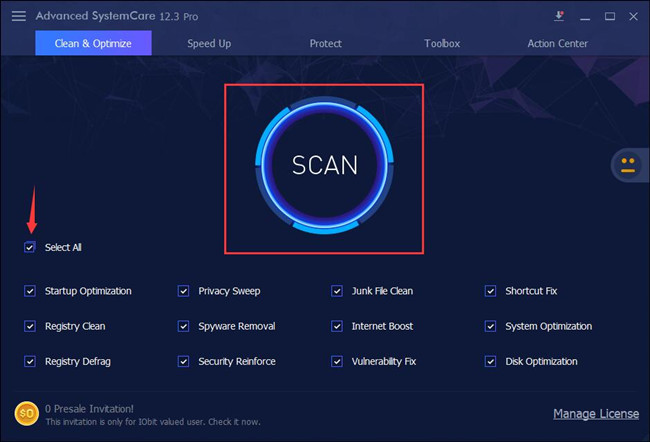 3. In the result window, you will see all the items you should to deal with. Click Fix.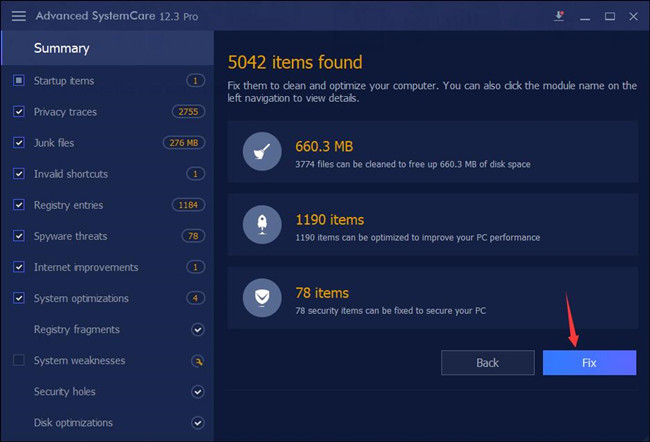 Now, you have already cleaned all the junk files, fixed all the system errors and protected your Dell computer.
How to Uninstall QuickSet64 Utility for Dell Computers?
As long as you are determined to get rid of this QuickSet64 utility for Dell PC in order to deal with the QuickSet errors, go ahead.
You are entitled to uninstall the QuickSet application in Control Panel.
1. Open Control Panel.
2. In Control Panel, locate Uninstall a program in Programs.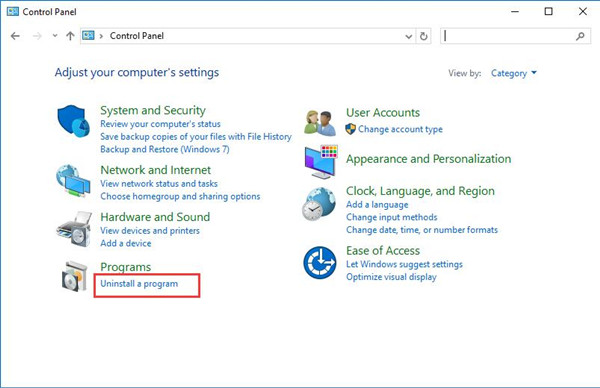 Here you can try to View by Category so as to find the Programs easily.
3. Then in Program and feature window, scroll down to pinpoint the Dell QuickSet Utility and right click it to Uninstall it.
4. Restart your PC to take effect.
In this way, your Dell QuickSet application would have disappeared.
If you feel like using it again, you can exert efforts to download and install a new QuickSet64 for Windows 10 with the help of the last part.
How to Fix Dell Quickset stopped working issue on Windows 10/11?
Some Dell users may get into the problem with Dell QuickSet has stopped working or the Dell Quickset application error on Windows 10/11. Or some other mentioned that when they uninstalled the QuickSet utility from Dell after referring to the procedures above, you are to be told that the removable discs are not unavailable.
Even if you are confronted with this QuickSet application error, do not worry, there are effective solutions that can help you resolve this issue.
1. Load Defaults in BIOS
It is believed that loading defaults in BIOS can be somewhat helpful in some cases where you meet with QuickSet doesn't work on Windows 10.
With the following steps, you are able to load BIOS to default.
Restart your PC and then press the Fn key to enter the setup screen. For Dell PC, this Fn key is F2.
Then you can obviously see Load defaults button, just click it.
Lastly, hit Apply to make it happen.
Reboot your Dell computer again.
This time you can download the Dell QuickSet utility from the Dell site by referring to the contents above. Or you can just manage to update BIOS on Dell laptops.
2. Uninstall QuickSet from Dell PC
If Dell QuickSet keeps not working, maybe you have to get rid of it from Windows 10. Try to uninstall it and then reinstall this utility from Dell official site.
As long as you installed the new QuickSet, you will be free from QuickSet has stopped working error on Windows 7, 8, 10 64-bit.
To conclude, armed with this post, you can grasp almost all the information about the Dell-Quickset-application, for instance, what is QuickSet, do you need it on Dell, and how to download and uninstall it from Windows 10.
More Articles:
Download Dell TouchPad Drivers for Windows 10/11
Dell Wireless Mouse Not Working on Windows 10/11
Tags :
dell