[3 Ways] Download HP ENVY 6055 Driver on Windows 11/10/8/7
Drivers allow your HP printer to talk directly to your device. If you encounter any issues that prevent you from using the HP ENVY 6055 printers smoothly, then you need to download HP printer drivers to resolve the printer issues. Installing the latest printer driver will likely resolve most of the printer-related issues.
How to Install the HP Envy 6055 software and driver? Read on to find out! This article is going to highlight three main ways you can download drivers for your HP Envy 6055 printer on your Windows 11/10/8/7.
Method 1: update HP Envy 6055 driver via Device Manager Tool
A printer driver is a program that connects a computer to a printer. In order for your HP Envy 6055 printer to do its job smoothly, you need to keep its drivers updated. A manual method of obtaining HP Envy 6055 printer drivers is by using Device Manager. It is a default tool in the Windows operating system to manage hardware and related drivers.
Keeping your drivers updated with this utility will help you avoid issues related to connected devices. However, to use Device Manager, you need to have some basic technical knowledge and patience as it is a manual process.
The steps to update the HP Envy 6055 driver through Device Manager follow below:
Step 1: On your keyboard, hit the Windows logo and X key to open the Quick Access Menu.
Step 2: Then, click on the Device Manager option to open the same on your PC.
Step 3: Go to the Printers or Print Queues category and click on it to see the names of printer devices in that category.
Step 4: Right-click on your HP Envy 6055 printer and select the Update driver option from the pop menu that appears.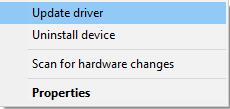 Step 5: Next, select the 'Search automatically for drivers' option.
Your Windows operating system will then download and install the appropriate HP drivers for Envy 6055 printers.
Step 6: After successful driver installation, restart your computer.
Method 2: Download HP Envy 6055 driver Automatically
You can also use the official website to download and install the latest HP Envy 6055 software and driver. However, if you are not sure what operating system you are using, or which driver or software you should download from the HP support page, or if the driver installation fails somehow, Driver Booster can install the latest drivers for your HP ENVY 6055 All-In-One printer automatically.
Driver Booster is used by many Windows users. The program performs a thorough scan of your computer to find out which drivers are out of date. It then downloads and installs the latest drivers compatible with your system. This means you only need to install the tool on your system, giving you peace of mind as the tool automatically handles all of your computer's driver-related needs.
Driver Booster only downloads drivers that have been tried and tested with WHQL. Additionally, the Game Boost tool built into the Driver Booster software, when activated, will close all RAM-consuming background applications to free up space, speed up processing power and optimize your gaming process on your device, providing a more stable and smooth gameplay experience.
Step 1: Download, install and launch Driver Booster on Windows 11 or Windows 10.
Step 2: Click the SCAN icon.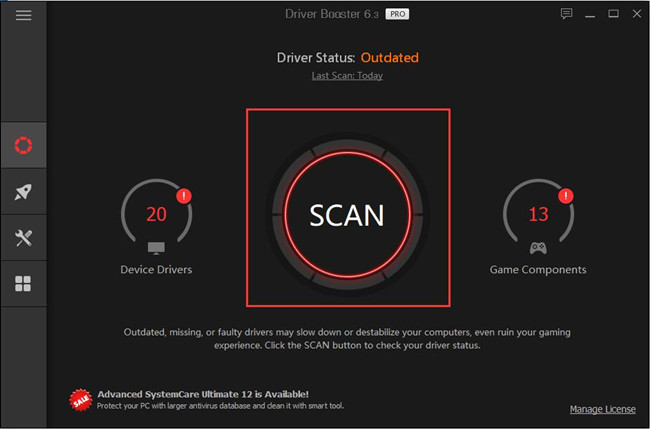 Click the SCAN icon to scan for software that has not been updated. At this point, Driver Booster will start to scan the driver on the computer, if you want to stop scanning, please press STOP. A list of old or missing drivers will appear on your computer after the scan.
Step 3: Click the Update or Update Now icon to download the latest driver for the HP Envy 6055 printer.
You can quickly resolve all driver issues with the one-click "Update Now" button. You can also find HP Envy 6055 in the list of outdated drivers and click the "Update" button next to this device.
Method 3: Download and update HP Envy 6055 software and driver manually from the Official Website
HP is one of the most famous computer peripheral manufacturing companies. In order for their products to run smoothly, they keep releasing new device drivers on their official website. Therefore, you can easily get your HP Envy 6055 software and driver by visiting HP's official website.
Wondering how to download and install HP printer drivers for Windows 10/11? The steps below will guide you to download HP Envy 6055 from the official HP support site, but you must be prepared to put some effort into the process.
Also, you need to be technically sound and have plenty of time. But don't worry, we've shared some step-by-step instructions below to help you:
Step 1: Visit HP's support page for HP Envy 6055 software and driver.
Step 2: Change your OS if needed.
HP will automatically detect and determine your operating system. But you can change it by clicking the "Choose a different OS" option.

Step 3: Over there, expand the 'Installation Software and Full/Basic Driver-Supports print and scan functionality only (2)' section.
Step 4: Then, click on the Download button to download the file named "HP Easy Start Printer Setup Software – Offline Use Only".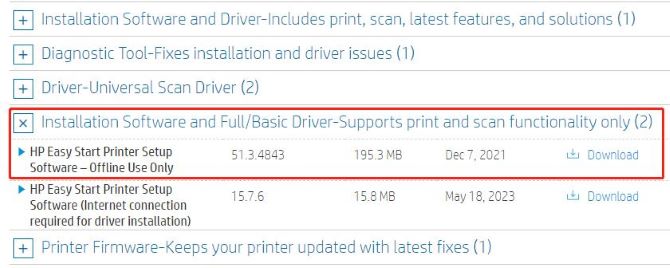 Tips:

This file includes the complete set of drivers, installer software, and other administrative tools for your HP Envy 6055 printer.
Step 5: Once you download the latest HP driver file on your computer, you need to install it.
For that, click on the HP Envy 6055 setup file and follow the steps to finish the installation process.
Step 6: After installing the latest HP Envy 6055 printer driver, reboot your system.
# FAQ about the HP Envy 6055 software and driver
Q1: Why is the driver for my HP Envy 6055 printer unavailable?
An "HP Envy 6055 printer driver not available" error usually indicates that your printer driver is missing, damaged, outdated, or not recognized by your computer.
Q2: Will HP Envy 6055 printer work with Windows 11?
Yes. HP ENVY 6055 printers support Windows 11.
Q3: Is HP Envy 6055 compatible with Mac?
Yes, it's compatible with Monterey.
Q4: Is HP ENVY 6055 Bluetooth compatible?
Yes. You can connect HP ENVY 6055 printer with Bluetooth.
Q5: What is the difference between the HP Envy 6055 and the 60555e?
The HP Envy 6055 and 6055e printers are the same printers. The only difference is the benefits. The HP Envy 6055e printer comes with 6 months of HP Instant Ink on any of the plans and an extra year of HP warranty with HP Plus. The HP Envy 6055 printer comes with a 2-month trial of HP Instant Ink and the standard one-year warranty from HP.
More Articles:
How to Download HP Envy 7640 Drivers on Windows 10, 8, 7 and Mac
Download HP Envy 4500 Driver for Windows 10, 8, 7 and Mac
Tags :
drivers
hp
printer