How to Download Windows 10 ISO Files
If you feel like to upgrade or reinstall Windows 10, you need at first with a blank USB (at least 8GB) or DVD disc. At the same time, it is also a requisite for you to get the disc image or ISO files for Windows 10.
What is and Why should you download ISO files?
Just as other file formats, such as ZIP, RAR, and JPEG, the ISO files are inclusive of various documents for installing Windows 10.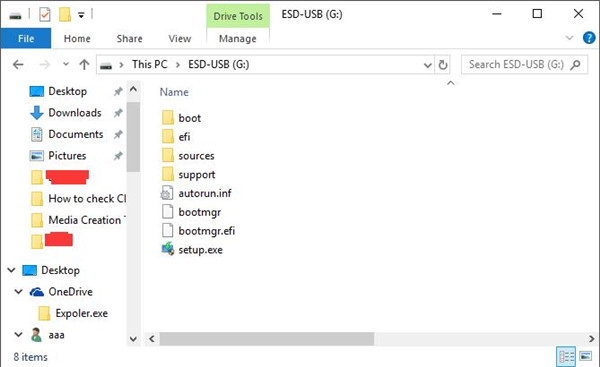 So you can see that disc image ISO files are vital to Windows system installation media.
But it is not necessary for to use only downloading tool for Windows 10 to gain these files. To mount or burn the ISO files, the Media Creation Tool is always ready for you to install it.
After you have known the significance of the disc image file, now read on to learn to create or download the ISO files for your PC.
How to Get ISO Files for Windows 10 32-bit/64-bit?
As you have been hinted above, you can choose one tool to create the disc image file. Either Media Creation tool or third-party applications.
Use Media Creation Tool to Download ISO Files (Recommended)
Once you decide to make use of the media creation tool to install or recover Windows 10, of course, the most urgent thing you are to do is to download the media creation tool on your PC, which is Microsoft Built-in ISO creation software.
On the basis of the presence of this media installation tool, follow the instructions to copy the disc image files to DVDs.
1. Download ISO files from Microsoft site. Then save the files on your PC which is available for you or on which you can burn these files to DVDs.
2. Run the downloaded Media Creation Tool on Windows 10.
At this moment, you can see from the picture that this installation tool are to Getting a few things ready, which will consume you some time.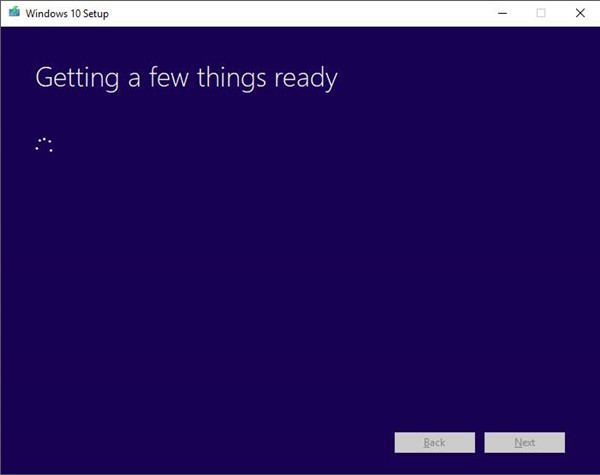 3. Click Accept. That is, to accept all the Applicable notices and license terms. Only in this way can you use the media creation tool to download the ISO files for Windows 10.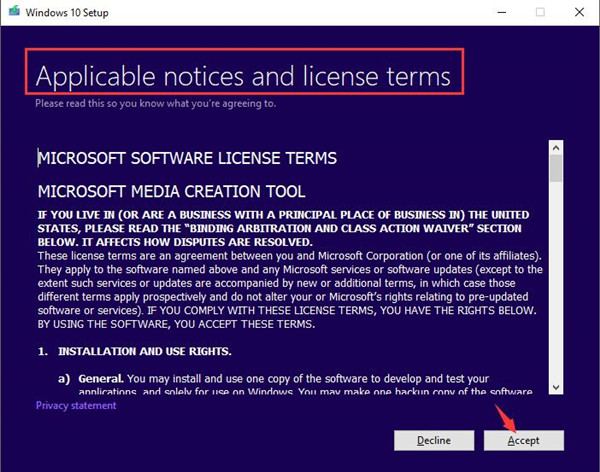 4. Choose to Create installation media (USB flash drive, DVD or ISO files) for another PC.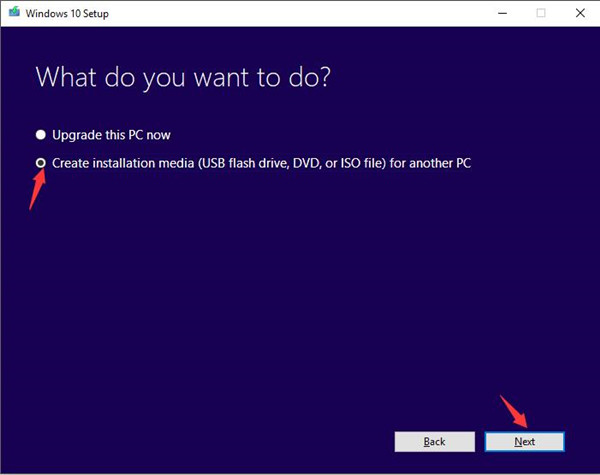 Here select the second choice and you are able to create installation media, such as ISO files for the computer.
5. Select Language, Architecture, and edition.
Here choose to English for Language.
Select Windows 10 for Edition.
Set 64-bit(x64) for Architecture.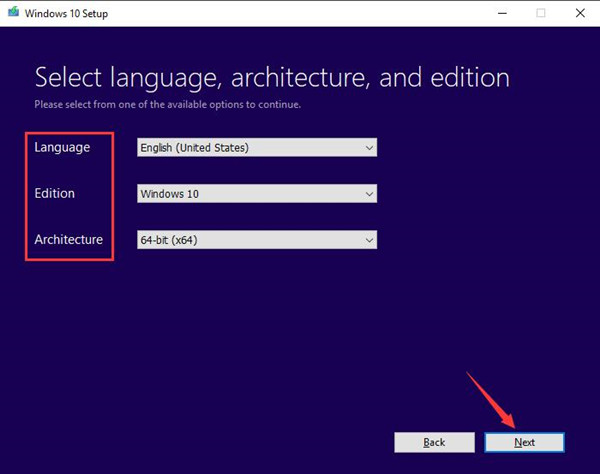 As for this part, you are supposed to set these settings according to your case. It is wise for you to check your OS model in This PC > Properties and make some changes suitable.
6. In Choose which media to use, choose ISO file and click Next to move on.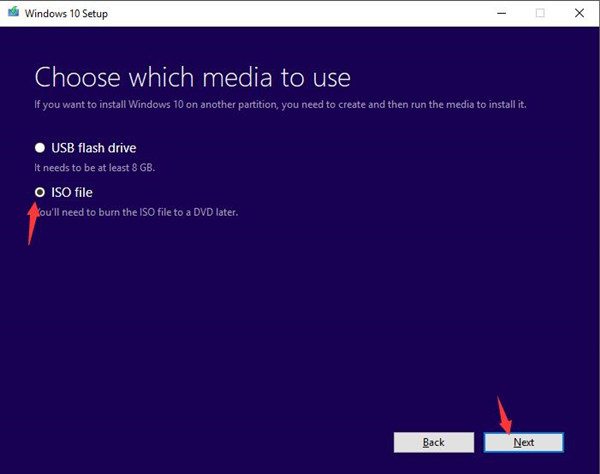 7. Choose to download the ISO files to a local disc and then click Save.
Here take Local Disk(E:) as an example. You can determine you would place these files in which disc as you wish.
In this way, you will have successfully stored the ISO disc files in the local disk.
Tips: You can also choose to change the file name, just edit it in File name. Here changes the name to Windows 10.iso.
8. Then the Media Creation tool begins Downloading Windows 10. It will need several minutes or more, be patient.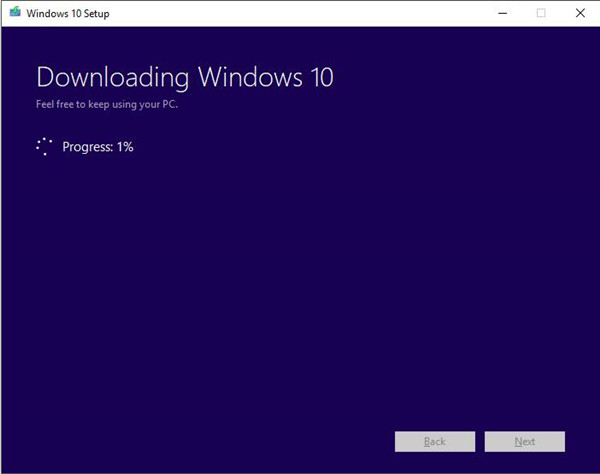 9. It starts Creating Windows 10 media.
You can see the progress status on this window.
10. In Burn the ISO file to a DVD, choose the first option windows 10.iso.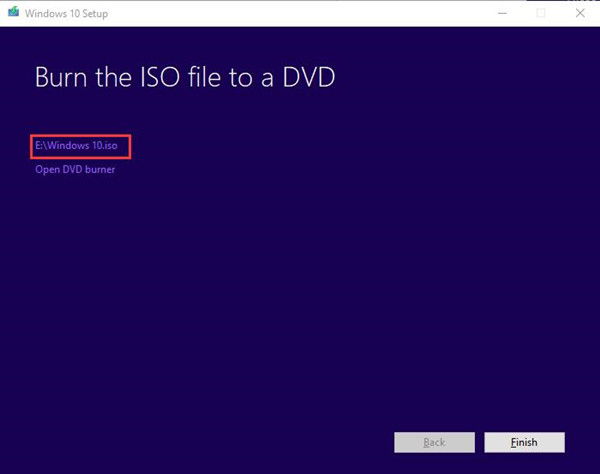 If you have altered the name of the files, you can see the new name here.
11. In the pop-up window, double-click the window.iso files to open it.
Then you can check the ISO files in the local disk you have just set these files in.
When you have downloaded or created the ISO files for Windows 10, it is easier for you to install a new Windows 10 for your PC.
Besides downloading the disc image files, the Media Creation tool is also capable of making or creating bootable USB device for Windows 10. Hope it can help you in some way.
Tips:
Nevertheless, if you have no interest or energy to use the media creation tool to download ISO files for Windows 10, it is also feasible for you to get them by third-party software.
But the disadvantage is that you are unable to enjoy the safety and high speed provided by the Media Creation tool.
If you really like to do that, you can search online for the application concentrating on helping you create disc image files for Windows 10 and obey the procedures to finish this process.
In a word, it is strongly advisable for you to download or get the Windows 10 ISO files with the help of media Creation Tool.
More Articles:
How to Update Windows 10 System
Should I Upgrade to Windows 10? – Easy to Decide
Tags :
microsoft