Fix HID-Compliant Mouse Not Working on Windows 10/11
Contents:
HID-Compliant Mouse Not Working Overview
HID devices out of work is very common on different computers, for instance, HID-compliant mouse driver installed, but it does not work on Windows 10/11. For some people, other HID-compliant devices problem can also come to you as well when you connect HID device, such as Dell HID-compliant mouse, to the PC.
Just like mouse cursor missing on the desktop, HID-compliant mouse missing can also be rather annoying, which means the mouse cannot work properly on your PC.
Some users have no idea about the Logitech HID-compliant mouse on Windows 10, let alone know how to fix hid-compliant mouse not working error.
What is HID-Compliant Mouse?
HID refers to Human Interface Device. And the HID-compliant devices often belong to the human input and output devices, such as the USB mouse, USB Pen and USB keyboard. So all the USB mouse will be a HID-Compliant device such as Logitech MX Master.
Therefore, the USB mouse not working can also belong to a kind of HID devices problems. At the time you connect your Logitech HID-compliant mouse to a PC, Windows 10 would prompt you that a hid device is recognized.
Why would Logitech HID-Compliant mouse stops working?
The reasons for HID device of Dell or any other mouse failed to work can be mainly divided into two parts.
The first one is the HID-compliant mouse driver issue.
Sometimes, the HID device is missing in device manager. That is why the USB mouse or Logitech wireless mouse would not be recognized, thus not working on Windows 10. Under this circumstance, you need to download Logitech Hid-compliant mouse driver and install it on your PC.
The other one is the HID device's condition.
No matter you are using HID-compliant mouse or touch screen, Logitech or Dell, when the HID device physical condition goes wrong, you will meet Logitech mouse not working, which can be called a type of Human Interface device problem.
Hence, to get HID mouse back to laptop or desktop, you are supposed to check HID-compliant mouse hardware condition and download HID-compliant mouse driver for Windows 10 to see if to install an HID-compliant device driver can help.
5 Ways to Fix HID-Compliant Mouse Not Working Windows 10/11
To help you solve Logitech or Dell HID-compliant mouse work failed error on Windows 10, you are suggested to refer to the following five ways, which can also be applied to other HID devices problem.
Solutions:
Solution 1: Check HID-Compliant Mouse Hardware
To make sure your Human Interface Device Compliant mouse is in perfect condition and get the computer to recognize the HID-compliant mouse, you should check the following things to make sure you have the compatible HID device with Windows 10.
1. Check mouse port by plug another intact mouse into this HID-Compliant mouse port.
2. Check the HID-Compliant mouse by using it on another PC.
If you have examined the HID device port, it can make other USB mouse work well and also the HID-compliant mouse can work well on another computer, which denotes that you are using the compatible HID mouse on Windows 10.
But if the HID-compliant mouse not working on Windows 10 remains on your computer, maybe it is the HID-compliant mouse driver issues that cause Windows 10 HID devices not working. On that occasion, you would better go on to fix Windows 10/11 HID-compliant driver problem.
Related: Fix USB Port Not Working on Windows 10/11
Solution 2: Uninstall HID-Compliant Mouse Driver
Just as discussed before, if your Logitech HID-compliant mouse driver is missing or corrupted on Windows 10, the HID-compliant mouse cannot work, too.
In this way, you should uninstall the HID mouse driver in device manager and then download and install the HID-compliant mouse of the latest driver.
1. Open Device Manager.
2. Expand Mouse and other pointing devices.
3. Right click HID-Compliant mouse to Uninstall it.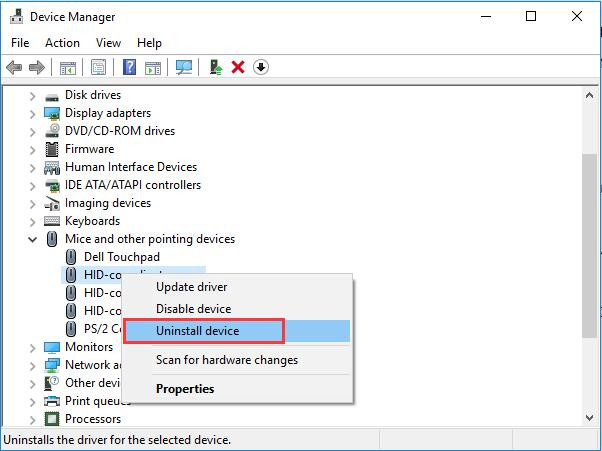 4. Confirm Uninstall device. Here you need to click Uninstall to confirm the uninstalling.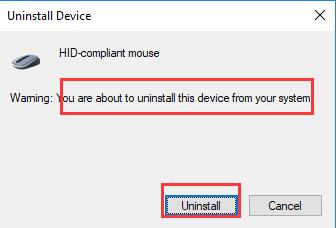 5: Under Action, click Scan for hardware changes button or you can just restart your PC, to let Windows 10 automatically reinstall a new HID-Compliant mouse driver for you.
In many cases, though Windows 10 can find the Logitech HID-compliant mouse driver for you, you will also find that it cannot get your HID-compliant mouse back to work correctly. You still cannot connect HID devices to a computer, such as HID-compliant mouse and HID-compliant keyboard.
Solution 3: Install HID-Compliant Mouse Driver on Windows 10/11
If you failed to download the compatible or latest Logitech HID-compliant mouse driver using the device manager, you can take advantage of Driver Booster to help you fix this problem.
Driver Booster is a professional and absolutely safe driver tool. With the help of it, it can automatically download the latest and advanced HID-compliant mouse driver and then you can install Windows 10 HID mouse driver with the instructions.
Download, install and run Driver Booster on your computer.
1. Click Scan. That is to let Driver Booster scan your computer for any missing, corrupted or even damaged driver. If your HID-Compliant mouse is not working well on Windows 10, maybe you can see the HID-Compliant mouse driver showing up in Driver Booster scanning results.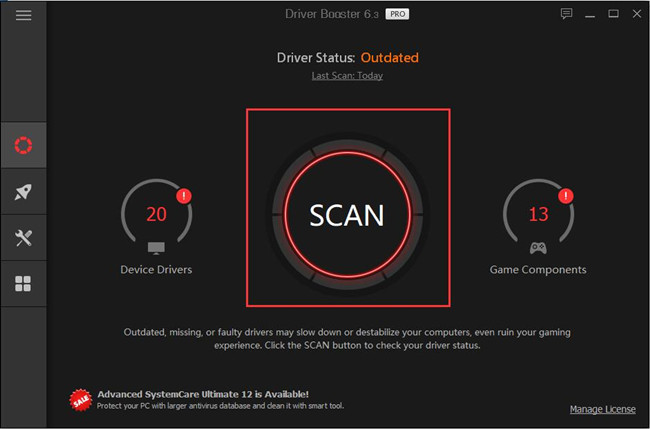 2. Select Human Interface Device, and click Update.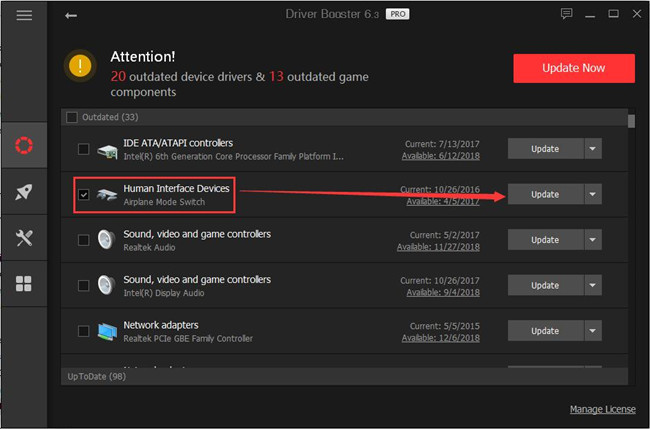 You will find that Driver Booster helps you update latest HID-compliant mouse driver, which makes your HID-compliant mouse out of work or unrecognized issue disappeared from Windows 10/11.
At that moment, you can finally fix your Windows 10 mouse issues if you have downloaded Windows 10 HID mouse driver for PC. While as for the HID-Compliant touchpad missing error, it is also feasible to use Driver Booster to help fix the HID device driver issue.
Solution 4: Restart HID-Compliant Mouse Services
Sometimes, if you have performed a device or program for a long time, it will go wrong without premonition. Similarly, once you have used a HID-compliant device too much, The HID-complaint mouse keeps not working on Windows 10 or just stops working unwittingly. So you may as well try to restart the related services of HID-compliant mouse.
1. Input Services in the search box and click Enter to get into Services window.
3. In Services window, locate Human Interface Devices Service and right click it to Restart it.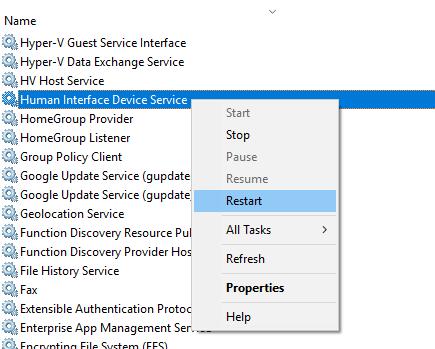 Then you can see that Windows 10 HID-compliant mouse get recognized or unable to properly used error and is working well as you control it.
Solution 5: Uninstall KB4074588 Update
According to the reports from many users, after KB4074588 Windows 10 Update, HID-compliant mouse stopped working, in some cases, other HID devices, such as HID-Compliant keyboard, or HID-compliant touchpad can also be out of work.
In this way, it is wise and feasible to remove the KB4074588 updates so as to fix hid compliant mouse on Windows 10.
1. Go to Start > Settings > Update & security.
2. Under Windows Update, click Update history.
3. Choose to Uninstall Updates.
4. All the Windows 10 updates will be available in the following window. Select the update KB4074588 and decide to Uninstall it.
5. Restart Now. You should restart your PC to apply these changes.
When you log on to Windows 10 again, you can try to connect Logitech HID-compliant mouse to the computer and it is natural that the HID-compliant mouse failed to work issue after Windows 10 update KB4074588 has been resolved.
Related: 4 Things You Should Know about Windows 10 Updates
However, once you find Windows 10 Hid devices problem persists, manage to enter safe mode to detect the mouse issues in a minimal set of programs.
To conclude, this tutorial aims for teaching you how to fix the HID-Compliant mouse not working issue on Windows 10. You can try to uninstall and reinstall the Windows 10 HID-Compliant mouse driver manually or automatically by Driver Booster, the automatic driver downloading or updating tool. Or you can also choose to restart the related services.
More Articles:
3 Ways to Fix Bluetooth Mouse Not Working on Windows 11/10
Fix Mouse Settings keeps Resetting After Reboot Computer Every Time
Tags :
mouse