How to Setup Cortana on Windows 10
Cortana is a digital assistant created by Microsoft for Windows 10, Windows 10 Mobile, Windows Phone 8, Microsoft Xbox One, iOS and Windows Mixed Reality. It can be used in many aspects, for instance, it can set reminders, recognize natural voice without the requirement for keyboard input, and answer questions with information from the Bing search engine.
Furthermore, Cortana is popularized in various countries, in different languages, such as English, Portuguese, French, German, Italian, Spanish, Chinese, and Japanese, etc.
Given the facts above, now you must be eager to enable your Cortana at once.
Here this passage will introduce you how to set up and use Cortana perfectly.
But before you set up Cortana, you must make sure the language and speech are set by default as English. After that, you can set up and use it on the grounds of your personal likings.
Steps to Set Up Cortana on Windows 10
You may already know that Cortana "lives "in Windows 10, so before you use it in many ways, such as getting weather forecast or searching the website, you must at first turn on it on your computer with Windows 10.
Step 1: Press Win + S combination keys to open Cortana.
Step 2: Click Settings to open Cortana settings options.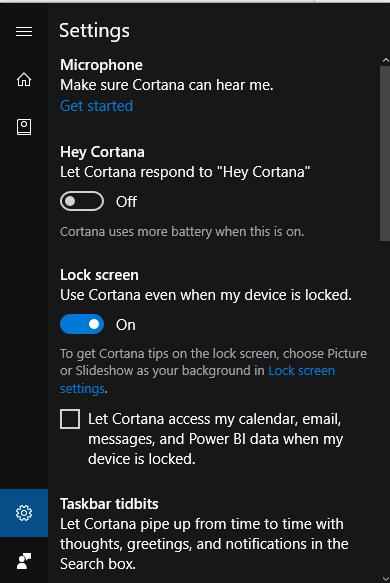 After that, it is the time for you to set up or use Cortana on Windows 10.
Microphone: If you want to talk to Cortana, you can set the microphone settings from here.
Hey Cortana: Open Hey Cortana by moving the switch from left to right. Thus next time you want to set the reminder, search the internet, or ask questions, you have no need to type or click, what you need to do is just talking to Cortana, it will help you do these things.
Lock Screen: You can move the slider to the On option, which means you can have Cortana open though you have closed your devices.
Taskbar tidbits: You can choose to open it when you want to let Cortana pipe up from time to time with thought, greetings, and notifications in the search box.
Cortana Language: If you have just moved to a now place or if your Cortana is not working in Windows 10, you can choose a new language to make it work properly. It is certain that you should gurantee that you have chosen the language which matches your region. Here you should choose English, the United States.
Note: If you are not native speakers, there is a setting for you in Windows 10.
1: Search Speech settings in the search box and press Enter to open it.
2: Check the box Recognize non-native accents for this language. Then Cortana can follow your orders even though you are not speaking the defaulted language.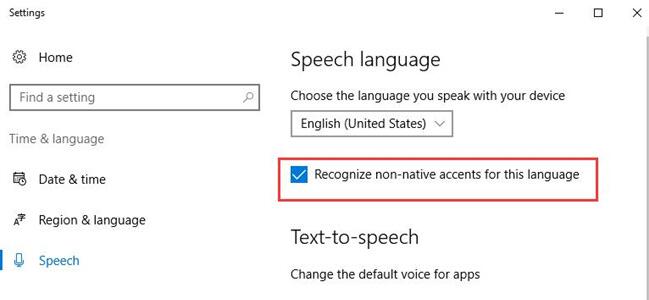 Above all, these are the basic settings of Cortana, if you can learn how to set up and use it on your Windows 10, you will benefit a lot from it.
More Articles:
How to Completely Disable Cortana on Windows 10
Tags :
cortana issues